Sewing your own swimwear is a great way to express your creativity while also having the perfect-for-you options that you want. Color, fit, coverage, and support can all be just to your liking! Whether making a glamorous one-piece or a trendy bikini, choosing the right swimsuit fabric is an important part of the process.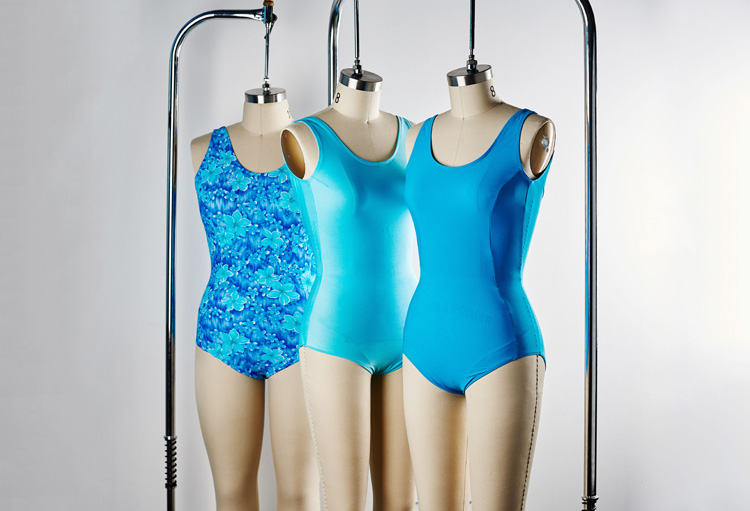 Here's our complete guide to choosing the rights swimsuit fabric!
There are a few options to swimwear fabric, but a common theme is stretch. Swimsuits also need to stand up to sun, chlorine and saltwater, so most are made from a blend of synthetic fibers.
Common swimsuit fabrics:
Modern swimwear is sewn with knit fabrics. Most readily available fabric that's labeled as "swimsuit fabric" is a combination of nylon and spandex: The nylon is lightweight, easy to care for and dries quickly. The spandex gives it stretch and allows for a figure-hugging fit. Most swimwear fabrics are 80 to 90 percent nylon and 10 to 20 percent spandex.
This type of knit fabric is woven to create a four-way stretch, which means the fabric will stretch about 60 to 70 percent in either direction. Be sure to check for adequate stretch in your fabric. Plus, if your fabric has a print or pattern, see what happens to the pattern when stretched, so that the print looks good all over your finished swimsuit.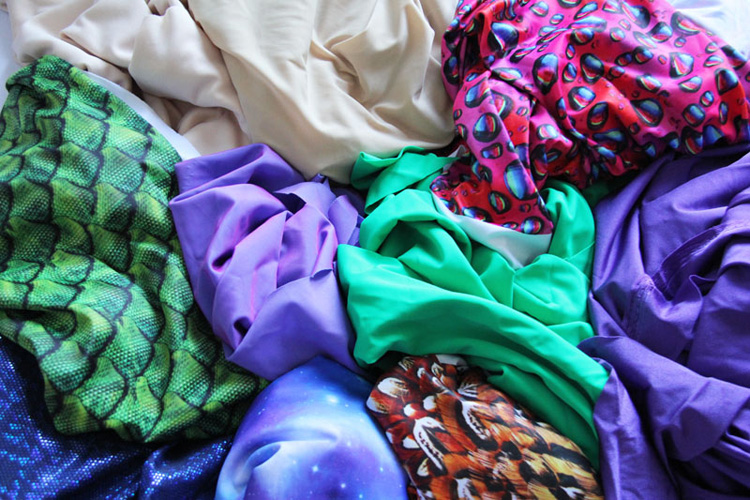 Photo via Seamstress Erin
Less common options for swimsuit fabric:
Polyester-spandex blends (or some combination of all those fibers) can also work for bathing suits. Another comfortable choice is a cotton-poly-spandex knit, which gives a completely different look to the nylon fabrics. These fabrics are prone to a bit more fading, and they won't dry as quickly as ones with more nylon.
We are probably all glad that the days of full-length woolen bathing suits are long past, but if you want a retro look in your swimwear, consider a 100 percent cotton. This fabric will make a completely different type of swimsuit, but the style choices range from a two piece with '40s era boy-short and bandeau top to a '70s style string tie bikini. Cotton can be a sturdy fabric, and the color and pattern choices are endless. It doesn't dry as quickly as some of the man-made fibers, but it does feel really nice on a hot summer day.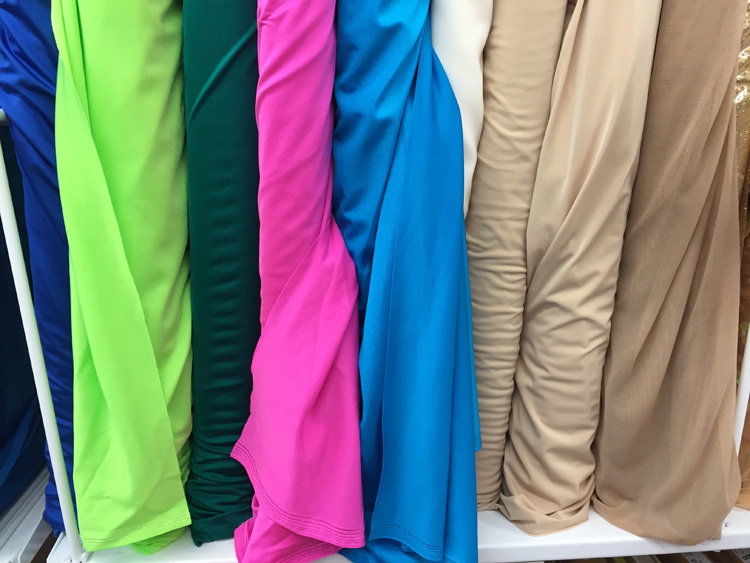 Shopping for Swimsuit Fabric
When shopping for swimsuit fabrics, check the section labeled "dancewear" or "exercise wear." This is usually where you'll find nylon-spandex blends along with various linings.
Whichever fabric you choose for your, swimsuit make sure you carefully choose the other components like elastics, thread and lining. Swimsuit elastics are available and have resistance to the degradation of pool chemicals and sunshine.
Choose a lining for your swimsuit that has similar properties of stretch and fiber content as your swimsuit fabric. Linings are available in a variety of thicknesses (to effect opacity), as well as a variety of neutral colors, such as black, white and beige. Power mesh is also an option for creating a figure-hugging effect.
Whether you choose a bold print or a sophisticated solid fabric, sewing your own swimsuit gives you the ultimate control for your next beach or poolside appearance. Give it a try!
Sew Swimwear That's Comfortable & Flattering
Sew swimwear that fits better than anything you'll find in the store. These online video lessons guide you step by step through creating a custom-made one-piece suit. Plus, you can revisit the techniques anytime, anywhere, forever.
Enroll Now »