There are many milestones during a girl's (and guy's) teen years. But when it comes to celebrations that call for something impressive for dessert, the Sweet Sixteen party is one that really takes the cake. More formal than a regular birthday party but not quite as serious or fancy as a wedding, this is a fantastic occasion to create a treat that reflects a teen's unique personality and tastes. Here are just a few cake decorating ideas which cover a number of different styles and personalities, in hopes that it will give you some ideas for choosing your own decorating adventure!
Photo Credit: Sweet Element Cakes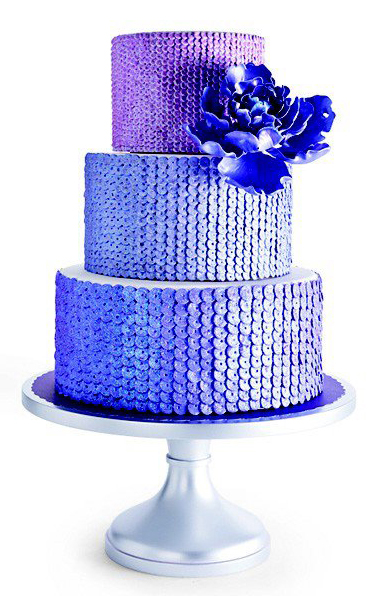 All that Glitters:
For something sparkly and eye catching, this sequin cake is sure to be the belle of the ball. This cake made by Sweet Element was actually done for a wedding, but the concept would translate very well for the teenage set–like a cake wearing a prom-queen worthy dress. Did you know that you can make your own edible sequins? It's true: all you need is gelatin, water, coloring, hole punches, and acetate backing sheets. There's a very nice tutorial on the website
Confessions of a Scratch Baker
.
Tasty Technology: If you ask a nearly sixteen-year-old girl what her most valued possessions are, it wouldn't be hard to imagine that her cell phones, laptops, and other electronic devices would rank very high. After all, it's these devices that enable teens to stay in touch with friends and (most importantly) keep up with gossip. Tell her that you love her, in a language she can understand, with a smartphone or laptop themed sculpted cake. You could follow the example of this phone cake made by Adventures in Savings, which was created using rolled fondant, royal icing detailing, and edible metallic silver paint for the sides of the phone, and personalize it with her preferred "apps." Or you could simply have a text with a personal message on the "screen."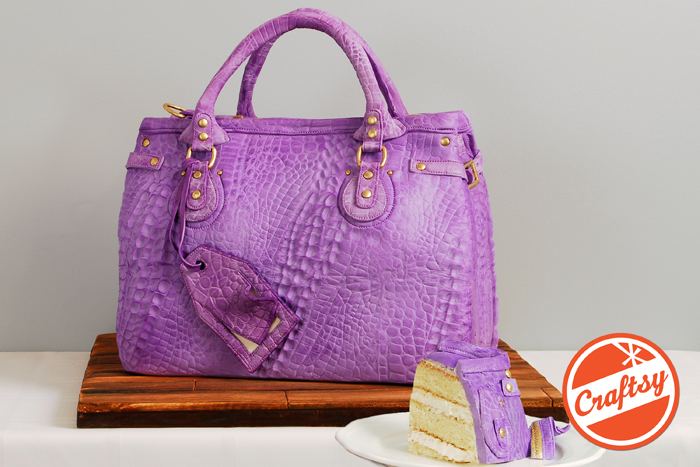 Foodie Fashion: Is she a dedicated follower of fashion? Get the "look"–and the taste–with a designer-inspired handbag cake, such as this one by designer and Bluprint online cake decorating class instructor, Elisa Strauss of Confetti Cakes. Working with rolled fondant, you can raise the bar by adding zippers, rivets, and buckles made from sugar paste. Happily, this designer offers online courses to get you on your way. Other popular themes with girls could include makeup, shoes, or clothing.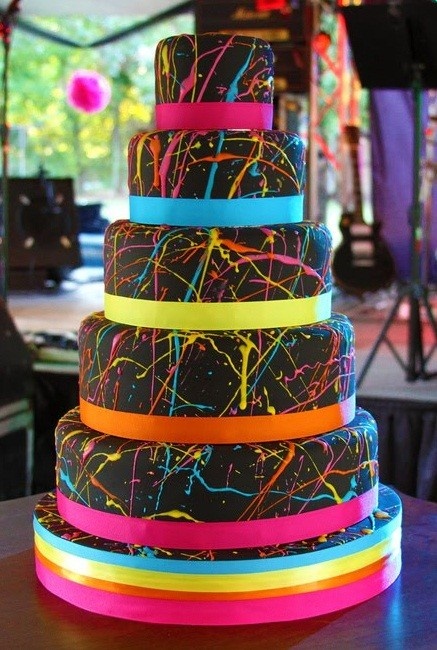 Girls Just Wanna Have Fun:
For the teen, who has discovered the 80's as being "new again", consider something like this Paint Spatter Cake. Spied on
Bluprint's cake decorating projects
 and created by Mrsgillespie, this effect is attained by covering a cake in rolled fondant and spattering it with a fairly thick (because you want spatter, not dribble!) opaque royal icing in neon tones.
[one_half_last]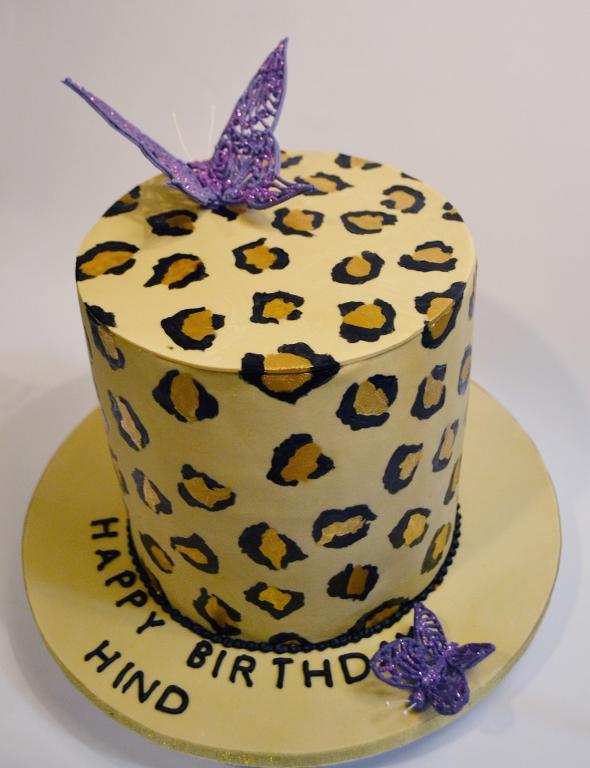 Go Bold:
For a girl who likes to live out loud, consider a striking animal print. You could bake a simple
buttercream cake
with batter swirled to make it look like it has a
zebra print inside
, then cover it in a solid colored frosting so it's a sweet surprise when cut into. Or, for a centerpiece that will wow even before it's served, decorate it with an animal print painted atop rolled fondant, such as on this leopard print cake from Lucakecake in 
Bluprint's cake decorating projects
, which has a fun and colorful contrast owing to a lovely butterfly.
[/one_half_last]
Amazing Athletics: If she's less sugar and spice and more Sporty Spice, why not make a cake inspired by her game of choice? This can be a great opportunity to be clever with your materials. For instance, a basketball cake featured on Taste of Home employs wire mesh to achieve a unique "dimpled" texture, on the ball, which is then accentuated with black rope licorice.
Or for a boy, a cake decorated to resemble a sports field is easy enough to do using any sheet cake. The ingenuity comes in the decorating. You could delicately pipe "grass", like in this clever soccer field cake by Cakes by Liz, or you could even create a green playing field by topping your cake with green-tinted shredded coconut.
Sweet Music: The only thing sweeter than music is cake! For a guy or gal who loves to sing or play an instrument, a munchable music-themed cake is bound to delight. Depending on the instrument, it could be possible to shape or decorate a cake like the instrument of choice, but depending on the difficulty (French Horn cake might be a bit more intricate than you'd signed up for!) you might instead want to opt for an elegant musical note cake, such as this one by Pink Cake Box. Personalize it with gum paste cutouts shaped like notes and staffs, or if you're not well versed enough with the technical shapes, a simple treble clef surrounded by free-form notes scattered around would be very sweet.
Edible Art: Are Monet, Manet, and Matisse her thing? If so, an artist palette cake is pleasing to the palate and is surprisingly easy to make. All you've got to do is cut a sheet cake into a palette shape, cover it with white frosting (buttercream or rolled fondant will both work) and add daubs of colored frosting in a concentric circle around the perimeter of the palette. This example, also by Pink Cake Box, is inspiring, and includes a brush and other small details that make the cake as pretty as a picture, but far tastier.
Baking the Books: For the bookish sort, you might consider investing in an open-book shaped cake pan, which can then be personalized in a number of ways. It could be decorated as a page from her favorite novel or made to look like a page from a textbook of her favorite subject.
Of course, the book concept could also be personalized in other ways–it could be decorated with motifs that reflect her interests, as if from the pages of a scrapbook, or it could even become a DIY project at the party by covering the cake with rolled fondant and only coloring the cover part. Leave the pages blank, supply edible markers, and have the guests personalize the cake with messages for the party girl!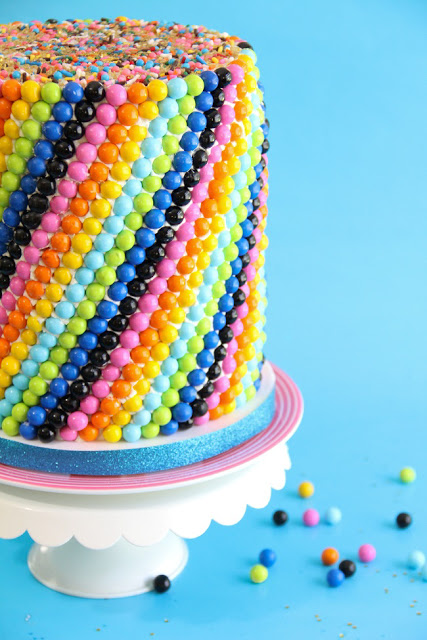 Photo Credit: Sprinkle Bakes
All-Out Sweet: Want to take the "sweet" in Sweet Sixteen very, very literally? Have fun by making a candy-coated cake. Since rainbows–especially those made by lining a generous jacket of frosting with rows and rows of colorful candy–are without age, a cake such as this Sixlets Cake by Sprinkle Bakes is fantastic and full of imagination. Such a concept could be adapted using her favorite sweet treats, but one thing is certain–this cake is fun to regard, and totally sweet to eat.
As you can see, Sweet Sixteen is an opportunity to create a cake that is fancy but also fanciful, and very fun! And with that, please have fun combining aspects of these cake decorating ideas to create the masterpiece that is as unique as the "sweet little sixteen" in question! Happy Baking.
Come on back to the Bluprint blog on Wednesday to discover cakes that have magic in the middle!