What can be cuter than elephants? Elephants and cupcakes! In appreciation of the largest land mammal in the world, Elephant Appreciation Day was declared in 1996 and observed annually on the 22nd of September. If you have an affinity for these massively endearing animals, find out more about the conservation and education efforts by the International Elephant Foundation.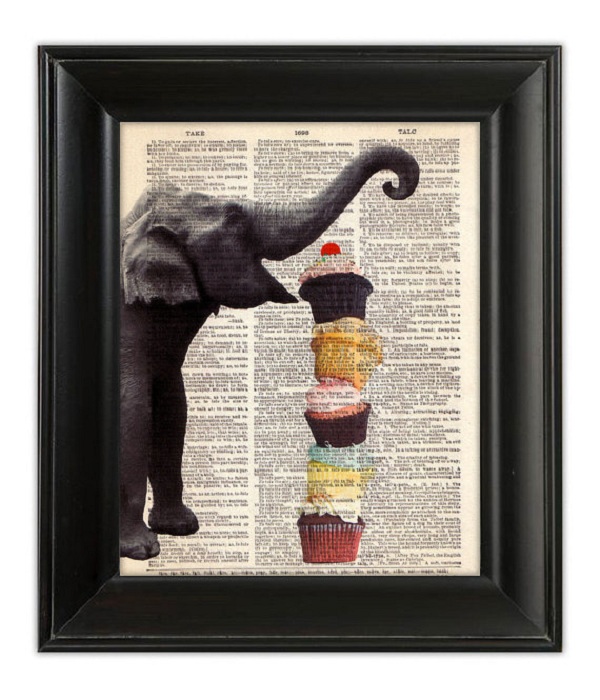 Photo via Patrician Prints
Whether you're commemorating Elephant Appreciation Day or baking for a jungle or circus-themed event, you'll be inspired by these elephant adorned cupcakes and fondant toppers perfect for preparing for a mammoth celebration of your own.
To help you model and create elephants for your cupcake and cake decorating projects, be sure to check out Cake Topper Techniques: Fondant Animals with Sharon Wee for more in-depth tips and tricks.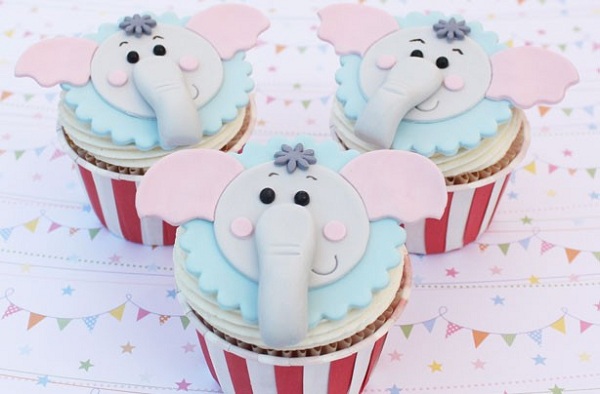 Photo via Good to Know Recipes
Circus elephant cupcakes
Victorious Cupcakes created these adorable and quirky elephant fondant cupcakes, which, paired with striped red and white liners, work perfectly to match a circus or carnival theme. Crafted from fondant out of basic shapes, these simple and sweet two-dimensional toppers will make a colossal impression!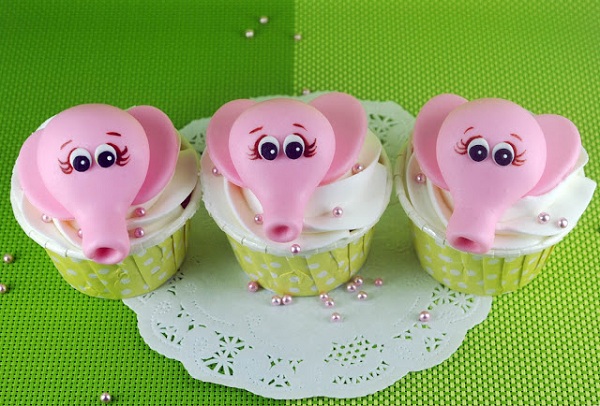 Photo via Bake Happy
Pink safari elephant cupcakes
These sweet and precious pink elephant cupcakes by Bake Happy provide a more three-dimensional alternative for an elephant topper. By modeling the head out of a pastel-colored fondant and embellishing the brows and lashes with gel food coloring or an edible marker, these cupcakes would be a darling addition for a birthday party or a baby shower.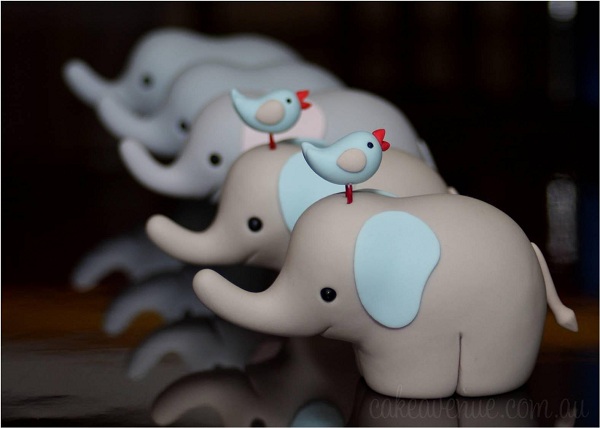 Photo via Cake Avenue

Fondant baby elephants
Cake Avenue made these darling three-dimensional baby elephant toppers out of fondant, matching back to the printable stationery collection by Style Me Gorgeous. The sweet and soft design is topped off by an adorable little bird, perfect for early birthdays, christenings or baby showers.  If you are creating cupcakes or treats for an event, a big source of inspiration stems from the invitation and paper goods. Coordinating elements such as images, colors and patterns provides the perfect details for your toppers.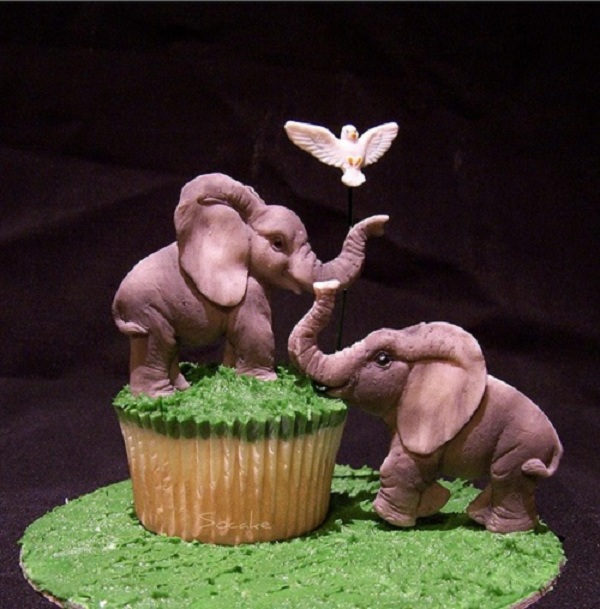 Photo via Socake
Lifelike elephant cupcake
Socake created these incredibly life-like and gorgeous elephants out of fondant with the use of a silicone mold made out of food grade casting gel. To finish them off, petal dust was utilized to color their skin, while the eyes were painted with liquid food coloring. Hard to believe these exquisite elephant figures are small enough to fit on a cupcake!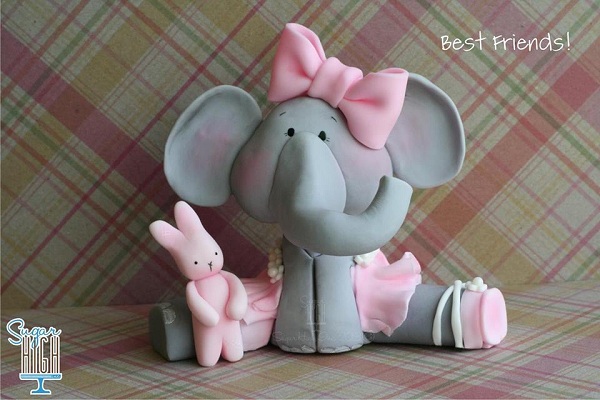 Photo via Sugar High, Inc.
Ballerina elephant fondant topper
These enormous and remarkable creatures can also be delicate and graceful, as so beautifully demonstrated in this elephant fondant figure by Sugar High, Inc. Dressed as a ballerina in her tutu and ballet shoes, this sweet elephant is just as sweet as her bunny friend. The use of petal dust brushed over the fondant generates a great shading effect for the ears and cheeks.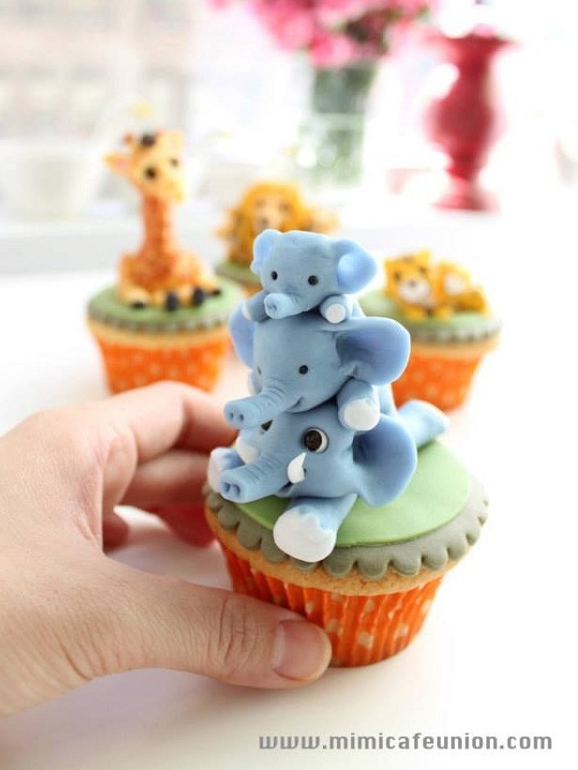 Photo via MimiCafe Union
Elephant tower cupcake
As part of a wild animal set, MimiCafe Union constructed this adorable and captivating fondant tower consisting of an elephant and babies. How cute and playful is this design? From the details on the trunks to the tusks to their darling expressions, these fondant elephants just capture your heart. When constructing a topper that can be quite heavy, covering your cupcake with fondant or a layer of crusted buttercream will aid in avoiding it falling or sliding off.

Photo via Lynlee's Petite Cakes
Dumbo the flying elephant cupcake topper
And who could forget one of the most memorable and beloved elephants of all: Dumbo! I made this big-eared fondant cupcake topper as part of a vintage Disneyland set, depicting the classic rides of the park's cherished Fantasyland for Million Dollar $mile Celebrations. I replicated Dumbo the Flying Elephant in his circus ensemble, holding his magic feather in his trunk, with eyes capturing his sweet nature.
Come back to the Bluprint blog tomorrow to add more to your menagerie of cute little sugar creatures. We'll be sharing a tutorial on how to make adorable little giraffes from modeling chocolate!
Zoo, jungle or circus elephants: which will you make to show your appreciation for these majestic animals?