Cupcake towers continue to be a flourishing trend in the cake decorating and baking worlds, as they consistently grow in popularity for events of all kinds.
These sweet layers resemble those of a stacked cake, but avoid messy slicing and can be dressed up and aptly decorated for weddings, birthdays and celebrations of various sizes and themes. They can be very elaborate or clean and simple, and the size can be as diverse as the designs.
Just as it is with cake stands, cupcake towers can make a big impact on the overall presentation of your creations.
These cupcake towers will show you the numerous ways to plan and adorn a cupcake tower for a range of occasions.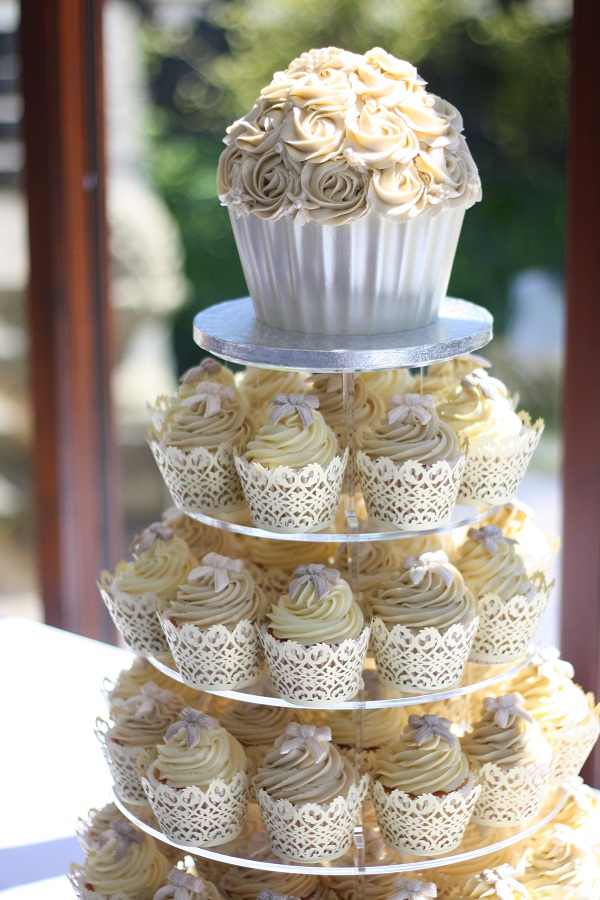 Photo via Jane Rose Cakes
Wedding cupcake tower
This incredibly gorgeous tower by Jane Rose Cakes makes an elegant wedding presentation with cupcakes classically decorated with icing and sweet fondant bows. Chic lace-patterned wrappers embellish the perimeter of each cupcake on the four layers. The fifth layer tops the tower with a lovely giant cupcake adorned with buttercream rosettes.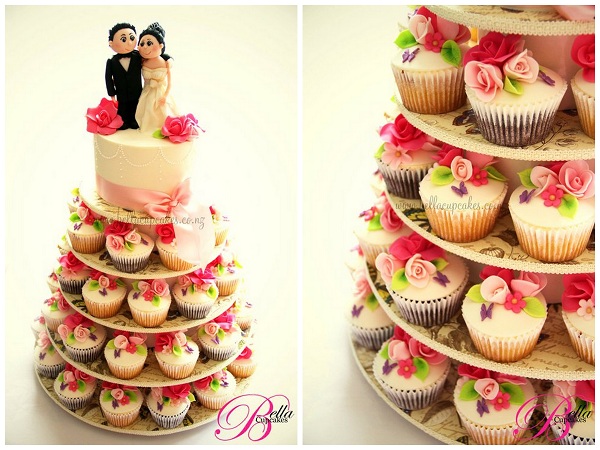 Photos via Bella Cupcakes
Shabby chic wedding cupcake tower
Bella Cupcakes makes exquisite and jaw-dropping cupcake towers, and this wedding display is no exception. The cupcakes are beautifully decorated with fondant in a shabby-chic style with delicate roses in various shades of pink. It's not too difficult to learn how to make rose sugar flowers to create a similar look for your cupcakes.
A simple cake with delicate piping at the top of the tower presents the sweet couple. Each layer of the stands are lined with a design and the edges are accentuated with a lace ribbon to add the finishing touches to a gorgeous presentation.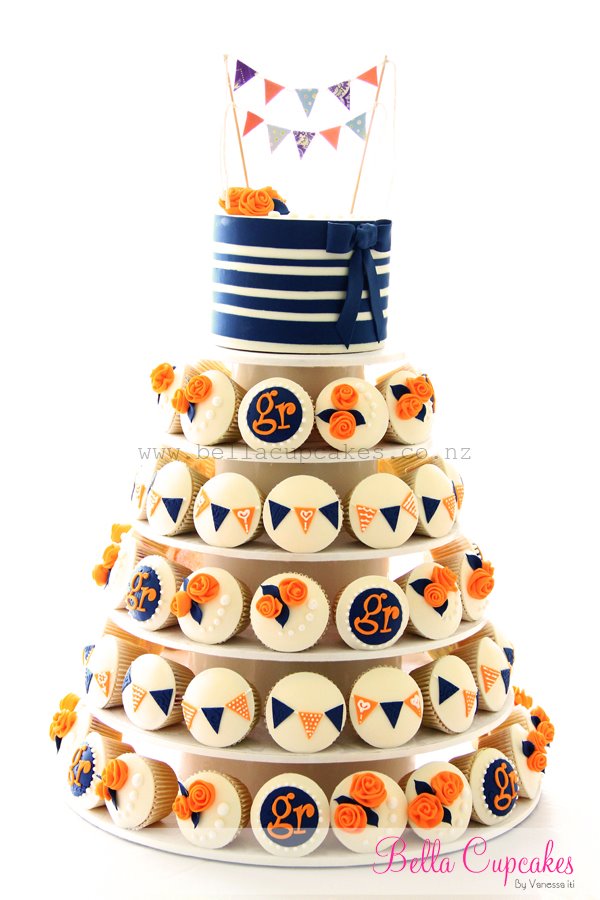 Photo via Bella Cupcakes
Bunting cupcake tower
Another stunning cupcake display by Bella Cupcakes is this bunting-themed tower, but in this instance, the cupcakes are turned on their sides to enhance the viewing of the bunting, initials and rolled rose designs. The sixth layer carries a striped cake, topped with a paper bunting in matching colors. The white stand is very clean and simple, allowing the attention to be focused solely on the sweets.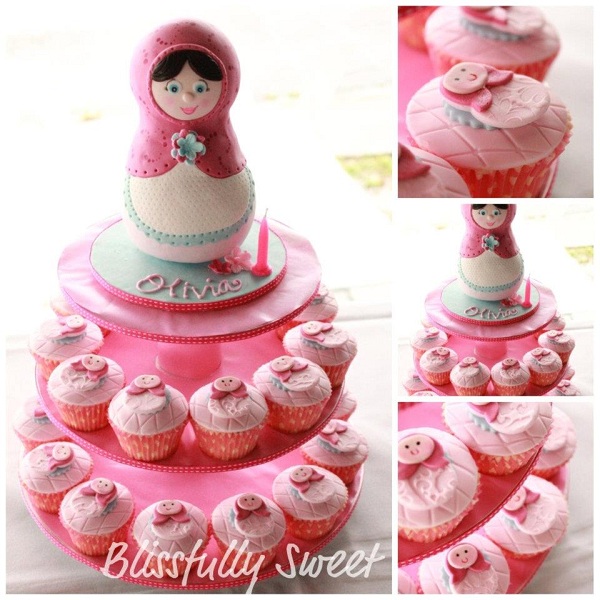 Photos via Blissfully Sweet
Babushka cupcake tower
This adorably sweet and charming cupcake tower by Blissfully Sweet was made to celebrate a baby girl's first birthday. Two tiers were covered with fondant-decorated cupcakes, utilizing a variety of textures and matching back to the theme and invitations.
The mama babushka topping the tower was carved, then covered and decorated with incredible fondant details that really sets this presentation apart.
Learn how to make intricate fondant details like these in the Bluprint class Advanced Fondant Techniques, taught by Marina Sousa.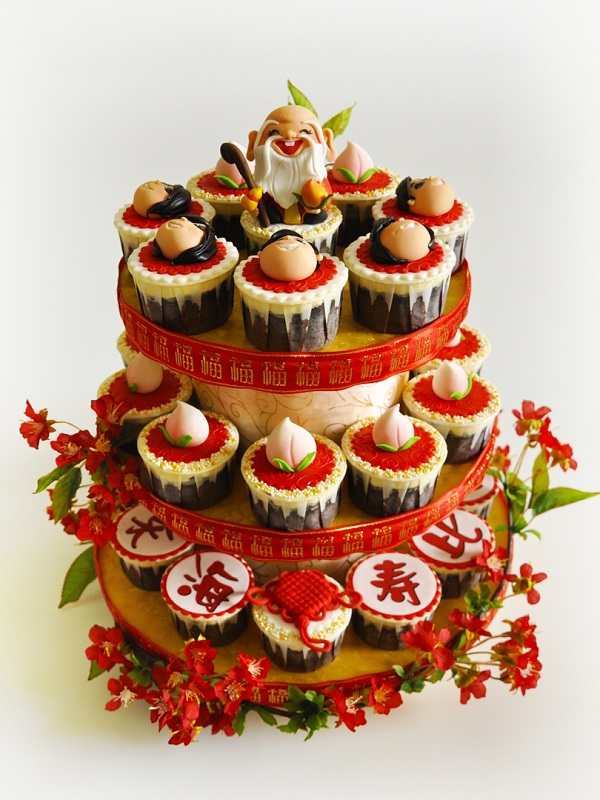 Photo via Buns in the Oven Cupcakery
Longevity cupcake tower
Buns in the Oven Cupcakery created this captivating and incredibly detailed cupcake tower to celebrate the recipient's 80th birthday. The entire tower was decorated with cupcakes, with an exceptional three-dimensional fondant figure in the center, encircled by head shots of his children and traditional longevity peaches representing his grandchildren.
This dazzling presentation was complemented by an adorned stand, demonstrating that cupcake towers don't always have to be topped with a larger cake.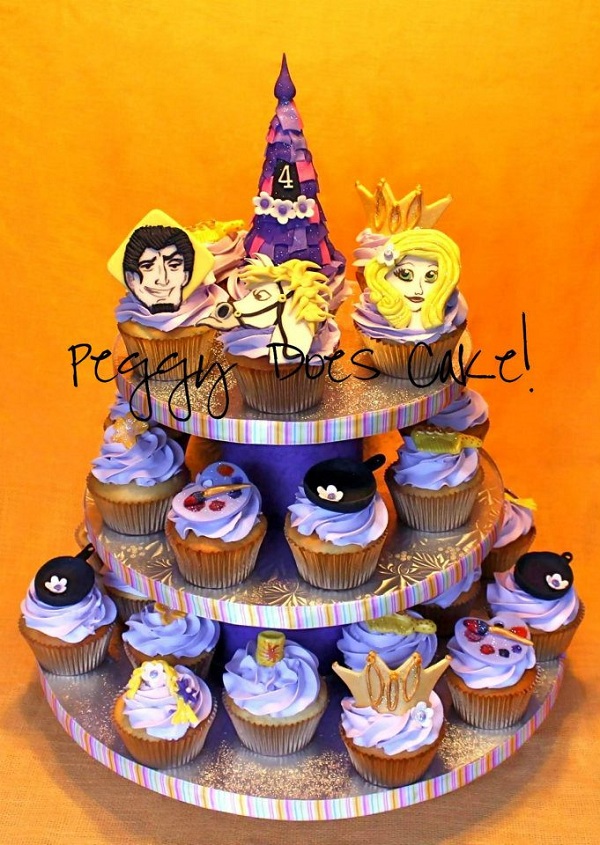 Photo via Peggy Does Cake
Rapunzel cupcake tower
Another tower decorated with only cupcakes is this adorable and dazzling display by the fabulous Peggy Does Cake. Based on the Disney flick Tangled, all three layers captivate the major themes and aspects of the animated movie, while the top includes the larger and more detailed fondant toppers, depicting the characters and adding a bit of dimension to the tower.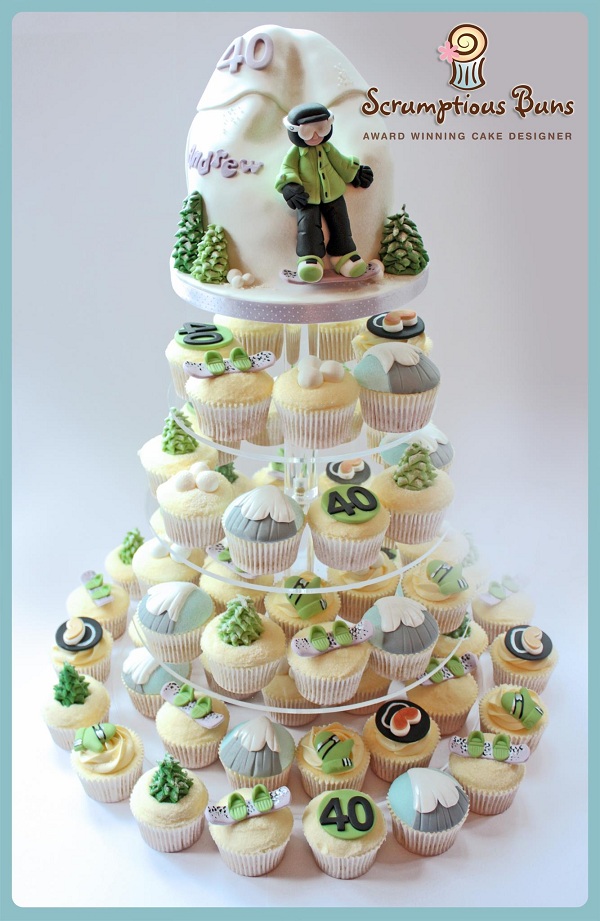 Photo via Scrumptious Buns
Snowboarding cupcake tower
There are times when you might have trouble finding a stand large enough to display all the desired cupcakes. With this incredible snowboarding cupcake tower, Scrumptious Buns shows how you can create an unbelievable presentation and make creative use of the table to expand your arrangement.
The carved mountain cake with the snowboarding fondant figure on top are perfectly accented by the array of themed cupcakes cascading down the tower.
See, there are countless ways to construct a cupcake tower, but before you begin, there are a three key things you need to determine:
How many quests do you need to feed?
What is the overall feel you are going for?
How much time do you have to complete the design?
Bluprint has lots of online cake decorating classes that are sure to enhance your cake presentation skills.

Or, if you're looking to finish off your cupcake tower with a carved cake, try basic cake sculpting with Cake-osaurus Rex.
How do you plan to decorate your cupcake tower and take it to new heights?