There's a rising trend in the world of cake decorating, and is it ever delightful: surprise-inside cakes!
A surprise-inside cake is one that is decorated from the inside out, so that when cut into, an extraordinary interior is revealed. Cake decorators consider the inside of the cake first, designing elaborate configurations of cake or fillings around which the cake is baked and then decorated. It's an opportunity to show cleverness and skill in all aspects of cake decorating and makes for a finished product with serious "wow" factor.
Candle Cake via Decorating from the Inside Out
Here are several stunning cakes with a surprise inside to inspire you!
The Craftsy course Decorating From the Inside Out demystifies the art of creating surprise-inside cakes. Instructor Amanda Rettke, considered a pioneer of surprise-inside cake decorating, breaks down the steps into manageable segments, so you can re-create five amazing cakes, each one with totally sweet surprise!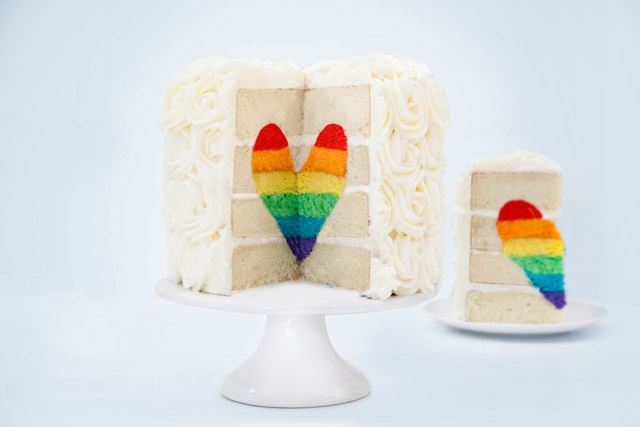 Photo via Craftsy course Decorating From the Inside Out
Rainbow heart cake
This cake is already lovely even before slicing, with an all-over piping of delicate white rosettes. But its real magic is the magnificent surprise inside: a stack of rainbow cakes shaped like a heart. While this double take of a cake might seem to defy logic, it's actually a process that can be accessible to the home baker with a little time, some food coloring and a number of cake pans.
This is one of cakes you can learn in Decorating From the Inside Out and is a definite showstopper, perfect for a birthday party or bridal party!
Photo via i am baker
Pumpkin cake
This pumpkin cake contains not only a surprise, but a visual pun. A "candle" made of cake is centered inside of a cake shaped and iced to resemble a pumpkin. The candle's flame is even embedded in the pumpkin's stem, mimicking the visual of a candle inside of a jack o' lantern. It's not only a beautiful finished product but also a very clever work of art.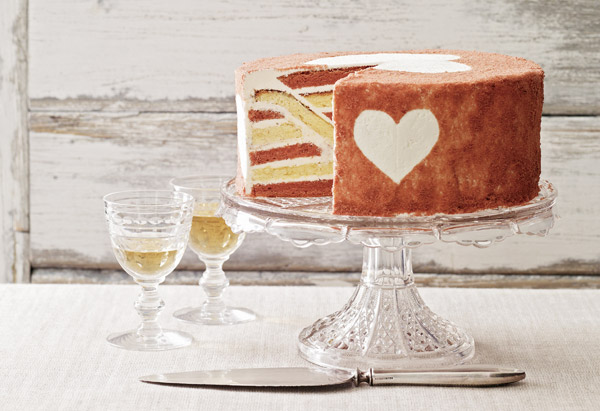 Photo via Tina Rupp
Diagonal and striped cake
A diagonal slash in the middle of layered cakes, as in this fine specimen from Gesine Bullock-Prado's book Bake It Like You Mean It, makes for an awe-inspiring dessert course. Each slice is like a work of exquisite, and delicious, art that'll leave guests wondering how you did it.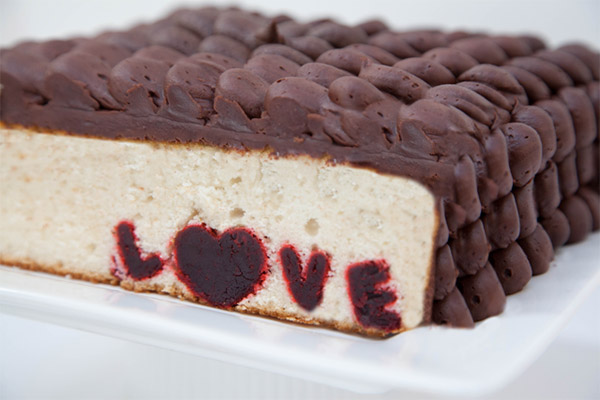 Photo via the Craftsy course Decorating From the Inside Out
Love cake
Letters can be embedded in a cake to make the interior as lovely as its decorated exterior. This cake, which spells out "love" simply and elegantly, makes for a thoroughly delightful slice that is sweet in more ways than one. The method for creating this cake is also taught in the course Decorating From the Inside Out.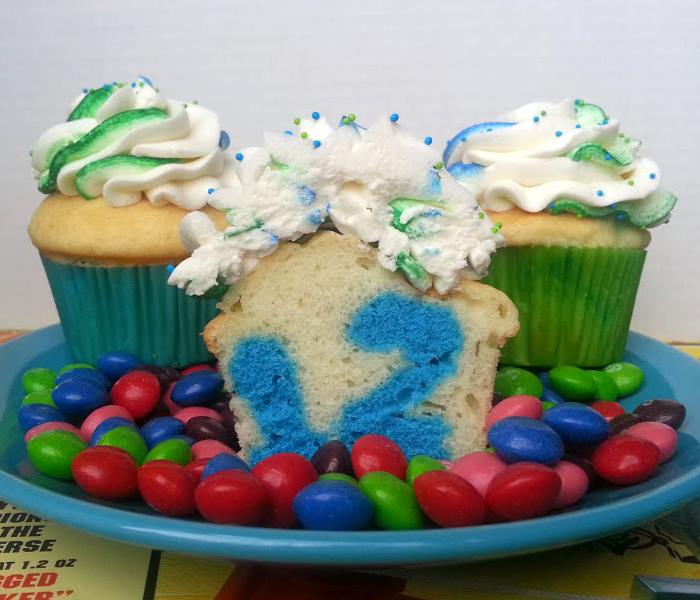 Photo via Bake it in a Cake
Number cupcakes
These adorable number cupcakes are perfect for a birthday or even game day! Decorating your cupcakes in the colors of your favorite team is one way to support your sport. But, decorating them from the inside out with your favorite players' jersey numbers is an even more fantastic way to show your sports fever (or fervor).
The same method for the letters featured in the "Love cake" above can be used to create pretty cupcakes like this.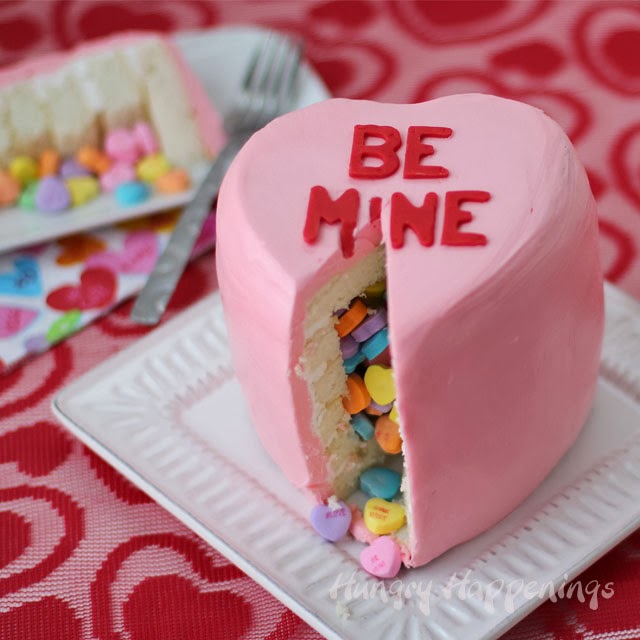 Conversation hearts piñata cake via Hungry Happenings
Conversation hearts piñata cake
Shapes and colors aren't the only surprises that can be contained in cakes. Conversation hearts are upgraded from the candy bowl to a cake's sweet center, where a hollow middle holds this delightful surprise. The thick layer of decorated frosting and cutout modeling chocolate letters really bring the conversation heart theme home.
What's the most amazing "surprise-inside" cake you've ever seen?