Unless you've been inhabiting a far away planet you've most likely spotted the current trend in baking and cake decorating… surprise inside cakes! They're incredibly fun, vibrant and a fantastic way to steal the spotlight at a party or event.
With a little bit of creativity and some planning you can make virtually any message or shape to be revealed inside your next baked creation. For a real surprise why not leave the outside of your cake undecorated and unassuming as this sure is a show-stopping way to decorate your cakes from the inside out.
Here's some handy tips for decorating cakes from the inside-out!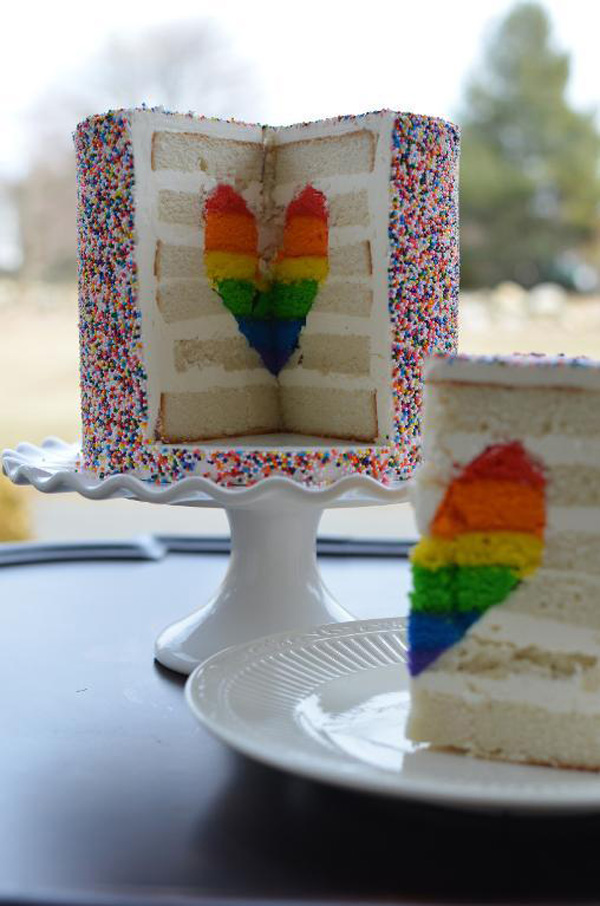 Photo via Bluprint member Palatiello
Tip No. 1: Be bold!
Remember that these kinds of cakes are super fun so bright colored layers are perfect to nestled inside of an otherwise unassuming cake. Why not play around and experiment with color combinations from rainbow layers to ombré. The best color cake to work with for the outside of the cake is a good white or even yellow cake. We'd recommend keeping clear of chocolate as it could become rather messy and blurred when cutting into the cake.
For weddings or parties with specific themes and color palettes decorate the inside of your next surprise inside cake with layers matching the event's chosen color scheme. We love the idea of finishing a romantic Valentine's  Day dinner with a home-made cake featuring a sweet red or pink heart hidden inside!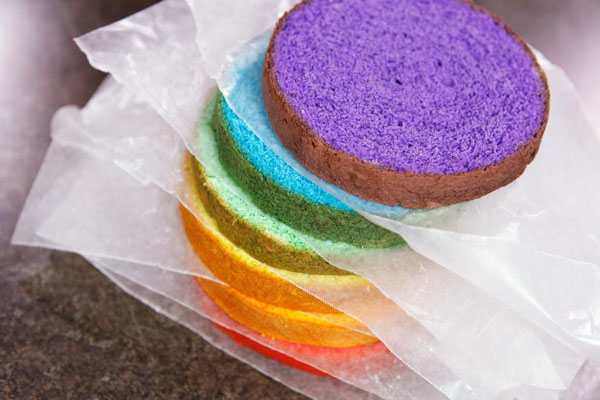 Photo via Bluprint instructor Amanda Rettke
[box type="shadow"]
Enroll in Amanda Rettke's Decorating From the Inside Out class to discover so many adorable and lively hidden designs inside your cakes!
[/box]
Tip No. 02: Plan ahed!
Working out how to arrange your shape, image or message inside your cake can be tricky, however, with a little bit of advanced planning your project should go as smoothly as your buttercream! Sit down with a pen, paper and a good cup of coffee some time before you begin your cake and sketch out your ideas, add notes, sizes or colors too. This really helps you to figure out if a design will work or not as well as how it can be implemented.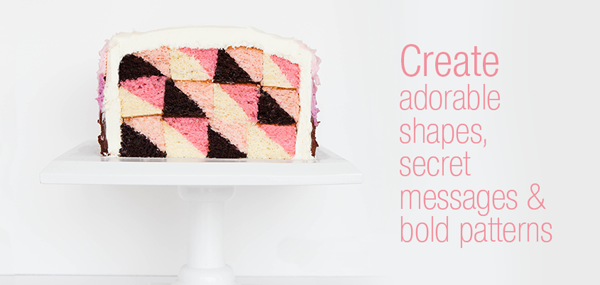 Made in the online Bluprint cake decorating class Decorating From the Inside Out
Tip No. 03: Have fun!
Let your creative juices flow and think outside the box… or in this case think inside the cake! Why not challenge yourself to a fun project of created geometric shapes inside or creating a sweet pattern or stars or hearts? For a fish themed birthday cake we love the idea of a pale blue cake with gold fish 'swimming' around inside.
The triangle patterned cake above is perfect for those with a penchant for a modern style look… or even for math geeks!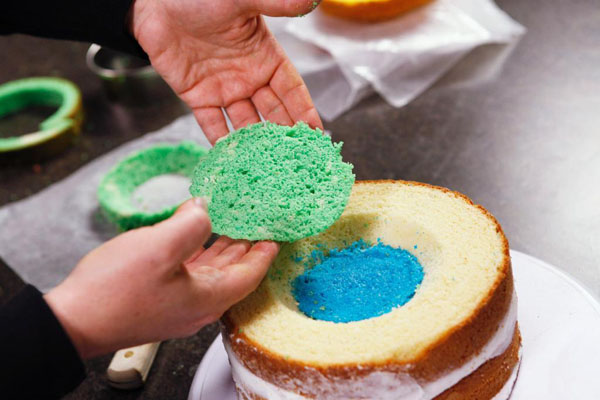 Photo via Bluprint class Decorating From the Inside Out
Tip No. 04: Think sharp!
Sharp, clean knives and cutters are essential tools to make a good inside design or message work. Make sure to sharpen and even test some good straight edge knives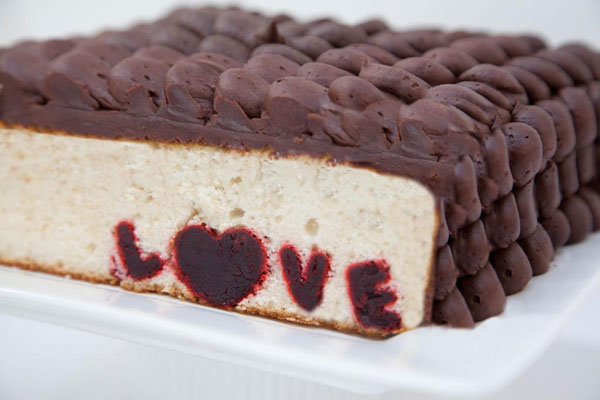 Tip No. 04: Be realistic!
Remember to be realistic when it comes to planning out your surprise; a damask pattern running through a red velvet cake may instead leave you with a strange marbled look or incorporating a heartfelt message 100 characters long could end up turning you into a frazzled heap on the kitchen floor. Keep it fairly simple to avoid sending your blood pressure sky high!
As they say, "Less is more." So, the simple word of love, appreciation or thanks can have a wonderful effect the same, if not more so, than a detailed message.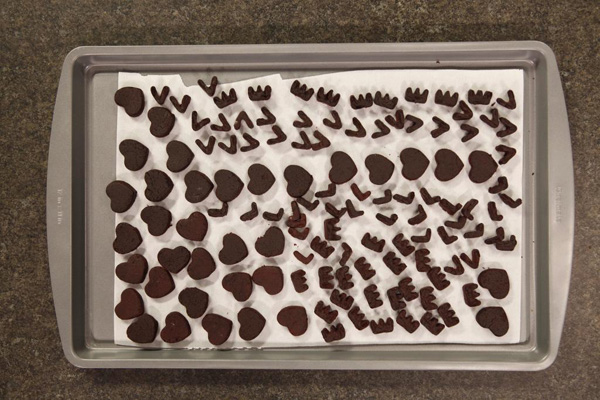 Surprise inside cakes are fantastic for any party or even to present to someone as a thank you gift. We think they'd love the design or special message hidden inside its layers. They're a great way to decorate your next project from the inside-out and you're sure to be the popular person at any event after wowing every guest with your fun cake!
What surprise would you hide inside of your next cake?