It's time for a sweet surprise! Cake decorator Amanda Rettke is the instructor of the newest Bluprint class, Decorating From the Inside Out, and the author of the newly-released book Surprise-Inside Cakes. She's taken the time to chat with us about her Bluprint class, writing her new book and her life as a baker, mom and blogger…essentially the role of "multitasker extraordinaire." Plus, we're giving away a copy of her fabulous new cookbook to a few select cake decorating readers!
[box type="shadow"]
Check out this exclusive giveaway for Bluprint members:
Five lucky readers will win a FREE copy of Amanda's book. To enter, just head here by 11:59 PM MST on March 25, 2014. Then comment on this blog post letting Amanda know the best surprise you ever received. We'll randomly select 5 lucky winners on Wednesday, March 26th.
Join Amanda's Class!
Don't miss signing up for the newest Bluprint class, Decorating From the Inside Out today, and Amanda will walk you though making a beautiful cake with a decorative surprise on the inside.
[/box]
Photo courtesy of HarperCollins Publishers/Susan Powers Photography

But first, let's learn more about Amanda's amazing new class and cookbook!
Amanda is more than just a cake decorator, she is a baker, stay-at-home mom and blogger. After starting the immensely popular blog i am baker in 2010, her passion for creating delicious and stunning cakes has continued to grow. Her cakes have created quite a buzz, and have been featured in other cookbooks, on The Martha Stewart Show and Bride's Magazine. Her first solo cookbook, Surprise-Inside Cakes, is a real treasure.
The book provides photos and step-by-step instructions for making her signature surprise-inside cakes. Learn all the techniques and skills you need to make your surprise cakes a success. The book provides cakes for every celebration: birthdays, engagements and even game day! With over 40 brand-new cake recipes, plus some blog classics, this book will inspire you to bake happily.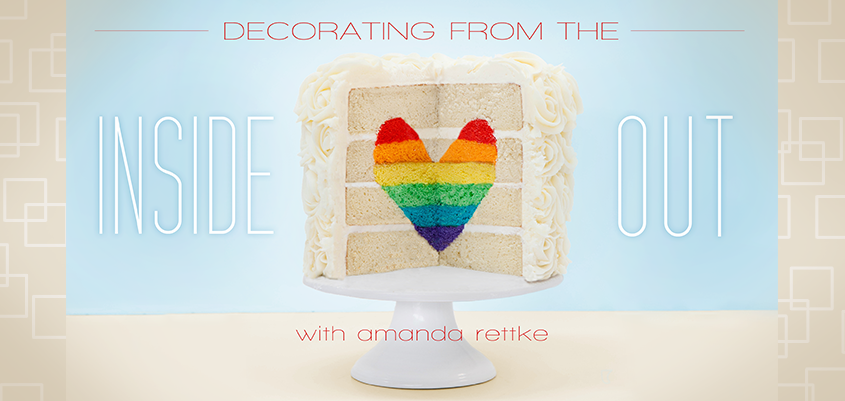 Amanda is also teaching how to create cakes with true inner-beauty right here on Bluprint. In Decorating From the Inside Out, you can join Amanda and find out how to create five different surprise-inside cakes. These fun cakes are stunning not only on the outside, but on the inside as well, as each slice reveals a cute and colorful secret. From the birthday cake hiding an edible cake "candle" to a cake where the surprise inside is a heart-shape of rainbow layers, these beauties are sure to shock and delight! 
Q&A with Amanda Rettke
Hi Amanda! We love your work because it's such a great mix of classic cake decorating with the fun "surprise-inside" twist. How would you describe your cakes to someone who hasn't seen them?
The first word that comes to mind when describing my cakes is "FUN!" I try to incorporate fun into every design. Seeing someone's face light up when we cut into a cake that has a design on the inside is a priceless moment!
You're book is filled with cakes that are beautiful outside with a stunning surprise inside. What's the best surprise you've ever received?
Probably getting engaged to my husband. I had no idea it was going to happen! Turning around and seeing him on one knee stopped my heart…in a good way!
Photo via HarperCollins book Surprise-Inside Cakes/Susan Powers Photography

Where did you come up with the concept of decorating from the inside out?
I started decorating cakes on the inside because I didn't know any better!  I am a completely self-taught baker, and when I started I knew NOTHING about cakes and design. It just occurred to me one day and I decided to make it happen.
Where do you find your inspiration?
Family, friends, life around me, magazines, art… inspiration is everywhere!
In your book, you emphasize having recipes for a variety of cake decorating skill levels. What advice do you have for novice bakers?
Have fun. Enjoy every step of the process, not just the end result. Do not get hung up on perfection. The beauty with surprise-inside cakes is, even if it didn't turn out like you wanted, it's cake — it will still taste delicious!
How about for experienced bakers?
I hope experienced bakers will be inspired. I know that once you perfect a skill, it can lose its excitement. I truly hope that this will get bakers thinking again. That they will take these basic principles and run with them!
Who is your cake decorating role model?
I am a huge fan of Rosie from Sweetapolita. Her talent is second to none.  I also really appreciate Martha Stewart and the amazing teams she has assembled.  The cakes they share are so innovative and lovely!
Love cake by Bluprint instructor Amanda Rettke
I have read you view cakes as a heartfelt gift meant to be shared with family and friends. Here at Bluprint, we totally agree! What else do you love about cake decorating?
I love that its edible art. We crafters and decorators are so lucky that we get to invoke two senses in others: creating a visual feast as well as something that tastes amazing.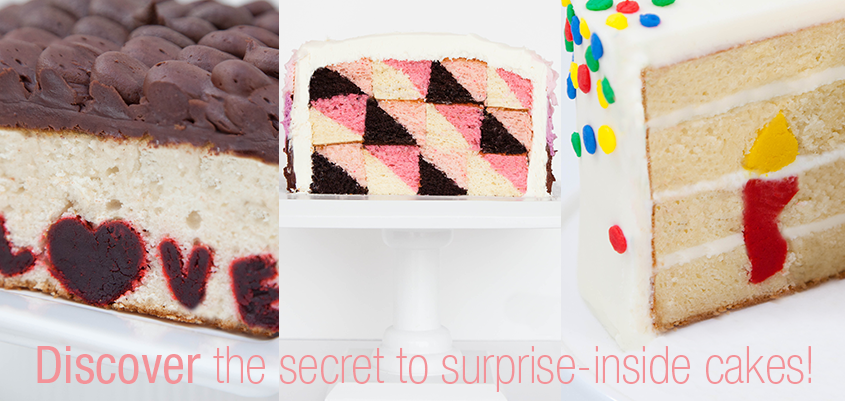 What should students who sign up for Decorating From the Inside Out expect to learn?
Essential techniques for creating designs inside cakes, as well as super-fast frosting techniques that are so forgiving yet so beautiful!
What's your favorite cake memory?
Seeing my heart cake on Martha Stewart's TV show. She said my name. She liked my cake. I may have lost consciousness for a moment.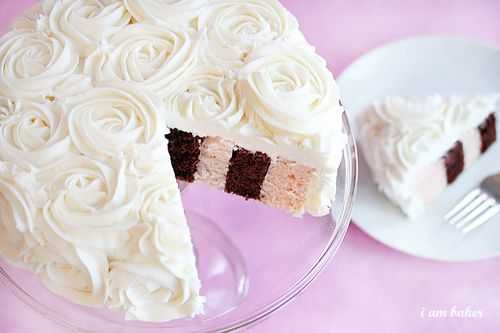 What kind of cake do you request to celebrate your own birthday?
I always make my own cake, so I try to do something decadent and over the top. The crazier the better. That is how my now famous Rosette Cake, seen above, was born!
I'm sure this is like asking you to choose your favorite child, but what's your favorite cake from the book/class?
I love the Rainbow Heart Cake. It's such a great representation of me… I adore rainbows, I adore love and I adore massive amounts of frosting!
Anything else you'd like to share with Bluprint blog readers about your book/class?
I would hope that they enjoy the process of creating. The basic designs that we share in the class (and book) are easily expanded upon and tweaked to fit the reader's needs. I would also hope that people feel inspired! That they would see cake making and decorating differently, and maybe it would create a new passion!
There you have it, Amanda really is as sweet and wonderful as the cakes she bakes. Sign up for her class Decorating From the Inside Out today!
[box type="shadow"]
Enter to win a FREE copy of Surprise-Inside Cakes.
Click here to enter the giveaway and then answer Amanda's question below in the comments for a chance to win!
Amanda asks, "What's the best surprise you ever received?"
[/box]