When anticipating the arrival of summer, I have these grand visions of days spent at the pool, lots of picnics and having a few hours every afternoon to finish up my summer scrapbook album to document all the fun vacations and memories we have shared.
Then, I get back to reality and realize that in between tennis lessons, swim practices and play dates, I have somehow lost my tan, I am starving with no picnics in site and the unfinished summer album is still stuffed in the back of my closet.
If you find yourself in a similar scenario, don't despair. We're here with some simple tips for finishing your summer scrapbook before the season ends!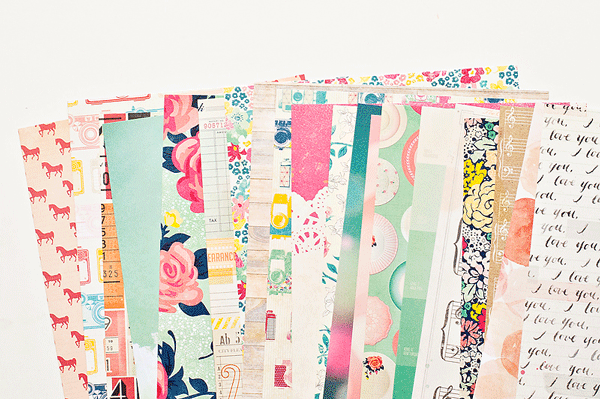 Photo via Maggie Holmes
1. Purchase fun card stock that will inspire you
I don't know about you, but I believe in the power of retail therapy. There is something very inspirational going on when I am purchasing new paper craft supplies. So, go out and pick up some fun new colors to make the perfect background for capturing your summer memories.
If you're looking to get out of the normal paper routine, I've fallen super in love with re-purposing wrapping paper and gift bags for scrapbooking lately! To make them work for you, purchase a large gift bag or roll of paper, cut it down to a manageable size, and then run it through your paper cutter for a perfect 12″ x 12″ scrapbook page size.
2. Create a fun Popsicle page
Popsicles are a fun scrapbook page theme that's perfect for summer. Cut out a popsicle shape (or use a template like this one) and glue a wooden stick onto it. Put a photo of your kids eating the summery treat in the middle. For an extra memory, jot down a new recipe you loved this year with a photo of it being eaten.
Looking for a new delicious popsicle recipe to try? Check out our delicious (and healthy!) berry-yogurt popsicle recipe, our healthy popsicle ideas, or get really creative and try making a 3-D popsicle cake!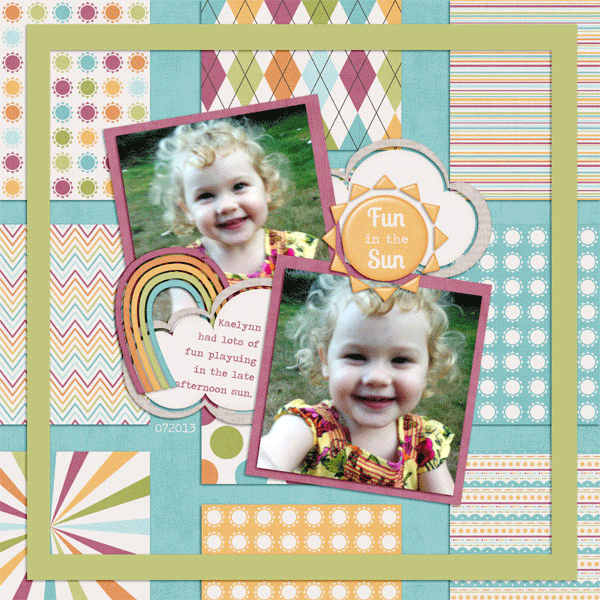 Photo via Suzy Q Scraps
3. Give your album a burst of sunshine
A summer scrapbook is surely incomplete without a little sunshine, so don't forget to include it. Like Suzy did in the picture above, capture and display your loved ones soaking in that beautiful vitamin D. I love how she even provided a caption that was personal and that will instantly bring back nostalgia. Whether the sun takes form in paper craft, photo or just a lovely caption, its bound to be a hit that will brighten your book.
4. Include famous family quotes from this summer.
You know your family has shared at least a few inside jokes this summer that you will never forget, so why not include them in your summer scrapbook? It's important to not only remember images, but also funny or sentimental things that people have said. Use pretty fonts to help capture the moment, create fun text boxes (comic style) for some lighthearted laughter, and even include simple written notes to make it really sentimental.
Tip: Your family's social media accounts can be a great source of quotes for your scrapbook pages!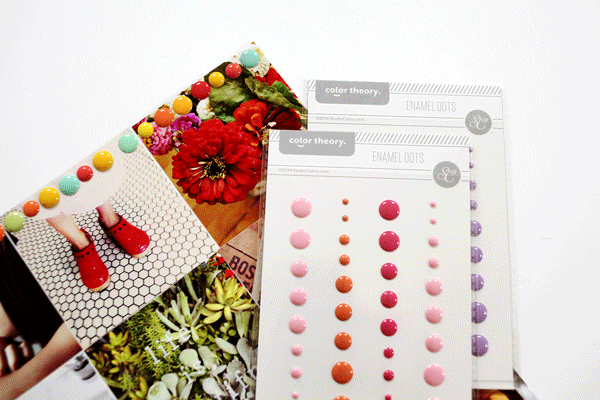 Photo via A Beautiful Mess
5. Use fun embellishments
Elsie from A Beautiful Mess used really pretty enamel dots to take her post to the next level, so why can't you? Sometimes you just feel stuck when you're scrapbooking — I definitely know the feeling. Why not add fun adhesives to puff up your photos just a little bit.
This project is as simple as purchasing these enamel dots and squaring up those photos using your Instagram app (squaring the photo is not necessary, but it is pleasing to the eye!) and printing those images off. Once they're printed, you can apply the enamel dots around the photo however you desire.
6. Scrapbook some of your famous summer recipes
I know you have at least two recipes that people literally beg you to bring to the next barbecue, so why not share them on one of your scrapbook pages and maybe even include a photo of the dish? This not only brings good balance to a page with a simple photo of some food, but also is a great place to write down your recipes to be passed down with your memories.
7. Set aside designated time to scrapbook
I know it sounds a little cliche, but as you sit down to plan your week out, actually mark a spot on your calendar to scrapbook and finish up the album. This helps not only because you are seeing it visually, but it's also something to look forward to and should provide some motivation to finish in those allotted hours. If you're anything like me and have a little competition in your bones, its good to challenge yourself sometimes to complete your goals.
8. Scrapbook in inspiring places
Sometimes just a change of scenery is just what the doctor ordered to help you complete your scrapbook, so consider relocating. I have always found that solitude (hire the babysitter!) and a gorgeous backdrop always provides a little more inspiration.
Learn how to make stunning scrapbook pages you'll cherish for a lifetime with the Craftsy class Scrapbooking With Style: Clean & Simple Layouts. You'll discover how to stylishly preserve your memories with well-balanced layouts, gorgeous backgrounds, embellishments and more.
Click to Enroll Now!
What are some of your motivations to finish up your summer scrapbook album? Do Tell!