For us quilters, nothing says summer like a fun, summer quilt to take along to the mountains, the park, the beach…or just to bring a taste of the outdoors to indoor decor. Summer is the perfect time for bringing out bright prints, patriotic patterns, beach-themed designs and more. Whether you use warm weather motifs or bright scrappy fabrics, here are lovely quilt designs sure to evoke that summer feeling.
Check out these 6 fun summer-themed quilts to brighten your day!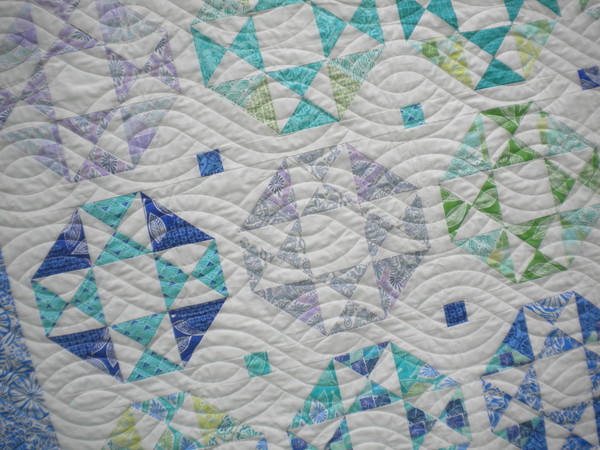 Seashore Drive Quilt Pattern via Craftsy member SherriQuilts
Sea glass summer quilt
If summer makes you think of the sand and the waves of the ocean, then you'll want to make this sea-glass inspired summer quilt. To complete the look, use sea glass colored fabrics. This is a medium sized quilt (64 x 78″), perfect for a twin sized bed, a picnic at the park or day at the beach. This intermediate-level pattern features a simplified method for constructing the half square and quarter square triangle blocks. Add even more details to your summer-themed quilts by using wavy line quilting for finishing.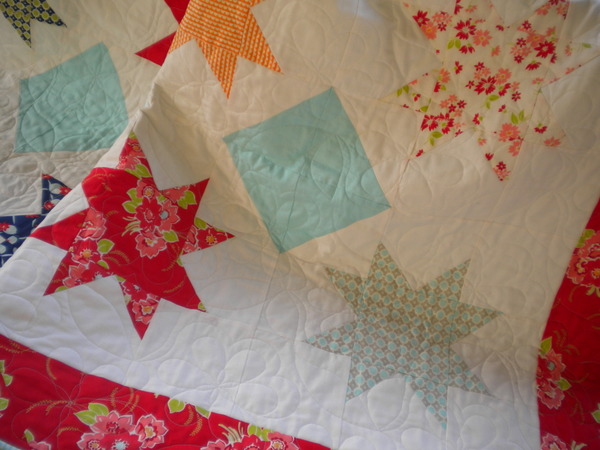 Sparkle Quilt Pattern via Craftsy member SherriQuilts
Big block star quilt
Stars are another iconic image associated with summer, and this gorgeous big block star quilt is not only fun but also easy to piece. The Sparkle Quilt is a 69 x 84″  beginner-level star quilt with a simplified method for piecing the star points, so the points aren't cut off. The block corners create a secondary pattern in the center of the quilt — I like to use a coordinating solid or fun print for the accent fabric.
This is also a perfect quilt pattern for using your summer-themed scraps. Notice the large modern flower motif in the quilting on the Sparkle quilt: Have fun with your summer quilting patterns, too!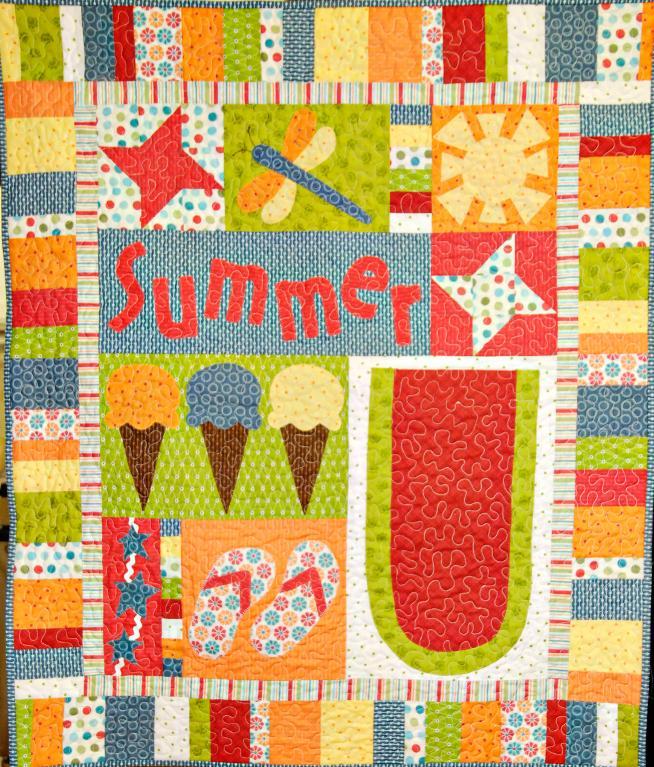 Summer Days wall hanging via Craftsy member Tricia Mathis
Summer motif wall hanging
Now is also the perfect time to piece a summer-themed wall hanging to bring a taste of summer indoors. This 30 x 37″ wall hanging features scrappy-pieced blocks along with simple appliqué. Have fun making the dragonfly, watermelon, stars, ice cream cones, sun, flip flops and "summer" lettered appliqué blocks!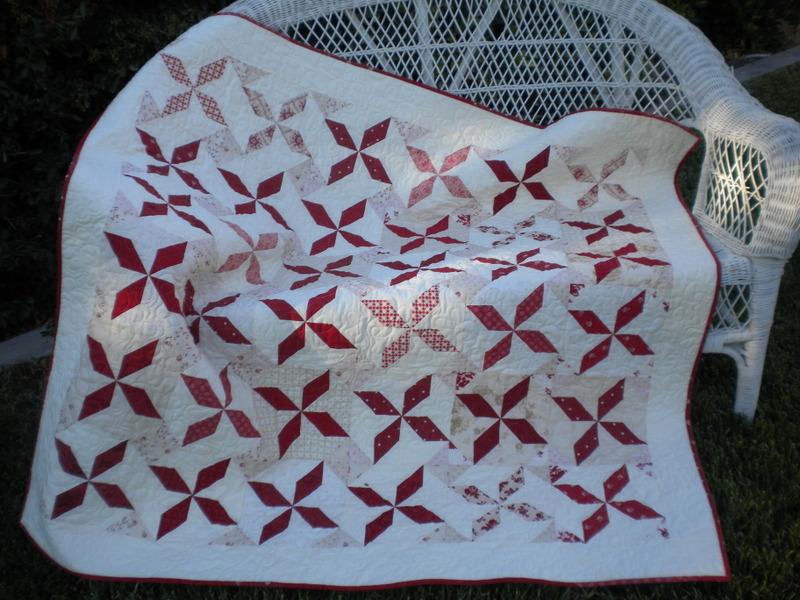 Tribute Quilt via Craftsy member SherriQuilts
Classic Americana
Red and white or blue and white two-color quilts are perfect for summer. Make the Tribute Quilt pattern using just two colors as shown, or make it with a variety of scrap fabrics. These fun pinwheels are easy to piece and can be made from either a Jelly Roll or a Layer Cake or from scraps. This quilt measures 55 x 55″ making it a great table covering, picnic quilt or summer wall hanging.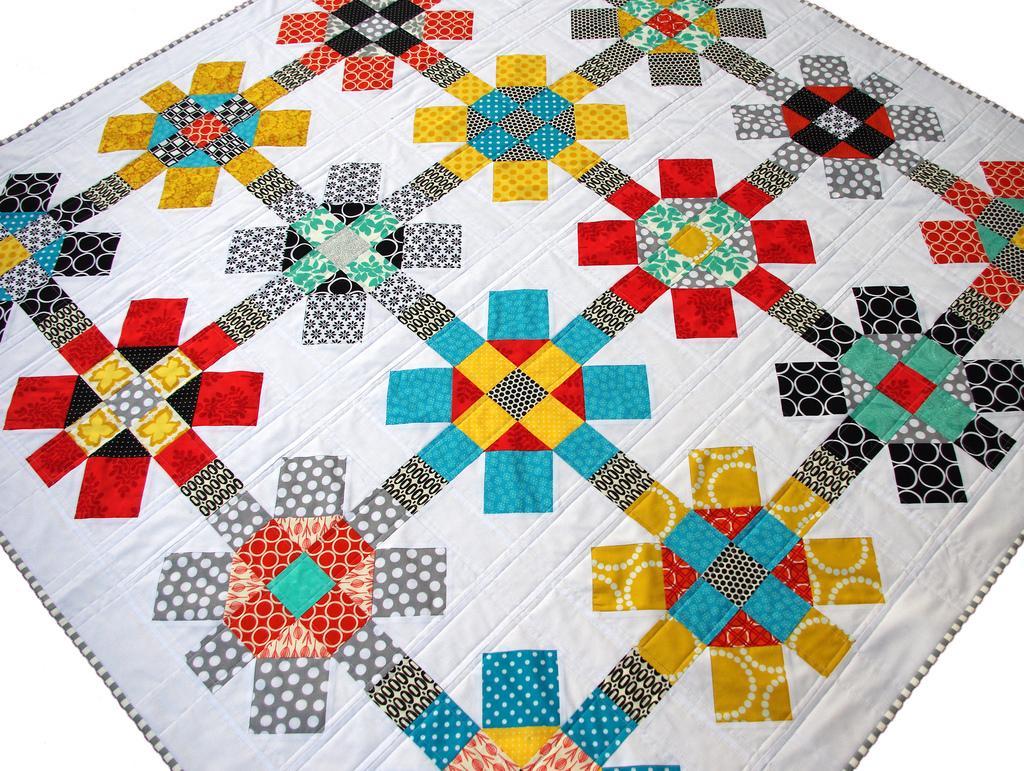 Labyrinth Quilt via Craftsy member redpepperquilts
Paddled wheels
Suitable for a confident beginner to intermediate sewer, the Labyrinth quilt pattern is the perfect summer quilt pattern. Sized at 64 x 64″, this design is reminiscent of paddle wheels pieced in bright colors. Use your favorite summer scraps for this summer quilt pattern, and finish off your quilt with a whimsical binding.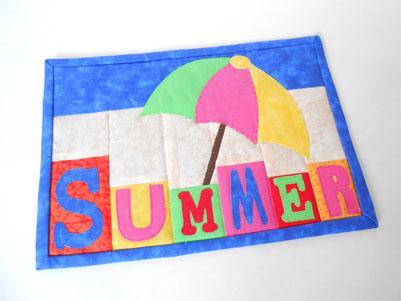 Summer Fun Pattern via Craftsy member Lisa_Marie
Beachside mug rug
For a quick and easy summer-themed project, make this delightful Summer Fun mug rug. At just 6 1/2 x 9 1/2″, this is a project that will go together quickly, so you can even make a set of them if you'd like. Simple piecing and appliqué add up to a fast and fun project for your summer table.
Since summer is a time to have fun with extra special quilting projects, why not begin a summer quilt today? Try the Craftsy quilting class Garden of Quilted Possibilities, where you'll create three blooming quilt projects that bring the beauty of the outdoors to your quilt designs! 
Which summer quilt pattern do you want to make first?