Does the idea of sweater knitting in the summer make you instantly start sweating? Or, are you like me, enjoying creating these wonderful wearables all year long? I've heard from a lot of knitters that they don't know what kind of sweaters to knit in the summer because having what seems like a giant woolen blanket on your lap  can be overwhelming in the hot months.
Here are some tips to keep adding to your hand-knit sweater collection no matter the temperature!
Try a sweaters for layering:
During the summer you won't generally need a heavy sweater. But, consider the times when you do need a sweater: Chilly restaurants, movie theaters, late night campfires and early morning walks. Choose a pattern that will be well suited for layering.
The Robin Cardigan is a fantastic layering sweater. Knit in a cotton/silk/cashmere blended yarn, which is included in the kit, this sweater will be breathable and lightweight. The DK-weight yarn is the ideal weight for layering over light T-shirts or tanks. While the long sleeves would be great for those early mornings, it could easily be modified to have three-quarter length sleeves.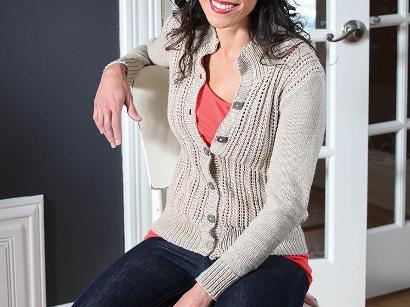 Get the Robin Cardigan Kit here.
Consider the fiber:
While some people aren't opposed to knitting with wool during the summer, if you are, then you should consider some lighter fibers. Cotton and silks are always a great option, and linen has become one of my summer favorites.
These fibers tend to be lighter, more breathable, and cooler to touch while you're knitting. Some of them may lack the softness you're used to when knitting with something like alpaca, but there are definitely exceptions. One of my favorites is Blue Sky Alpacas Worsted Cotton. I was pleasantly surprised with how soft this yarn was to work with. The Afternoon Cardi Kit (yarn included!) puts this yarn to great use incorporating a large lace design that will give this thigh length sweater a wonderful airiness.
Photo via Bluprint member Blue Sky
Get the Afternoon Cardi Kit here.
Go short:
If you're trying to avoid long sleeves in the summer, look for a pattern that has short sleeves! Whether it's elbow length or cap sleeves, it's always fun to work on a project that gets finished quickly: Once the body is done, simple stitch up the sleeves for a beautiful new sweater to show off!
Cecily's Silk Cardigan is a lovely short sleeved, open-front cardigan that's knit with a raglan yoke (that means no seaming!). The kit for this swingy piece includes Blue Sky Alpacas Alpaca Silk, a 50/50 Alpaca and silk blend. Alpaca has fantastic drape and silk has gorgeous sheen, together this yarn will help you create a piece that will look great on cool summer evenings.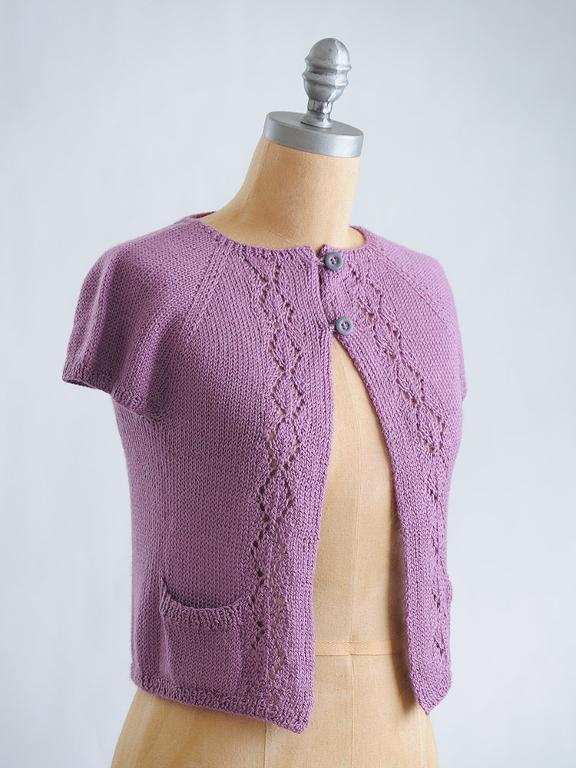 Photo via Bluprint member Blue Sky
Get the Cecily's Silk Cardigan kit here.
Think transition pieces: 
If you're not afraid of a little wool on a steamy mid-summer's day, consider making a piece that will transition well into fall. The Vivido Cardigan is knit in a heavier wool but only uses two skeins! This will hop off your needles and into your closet in no time. The three-quarter length sleeves will still look stylish layered with sleeves of any length. The A-line fit of this piece will also allow you to layer more clothing under as the weather changes.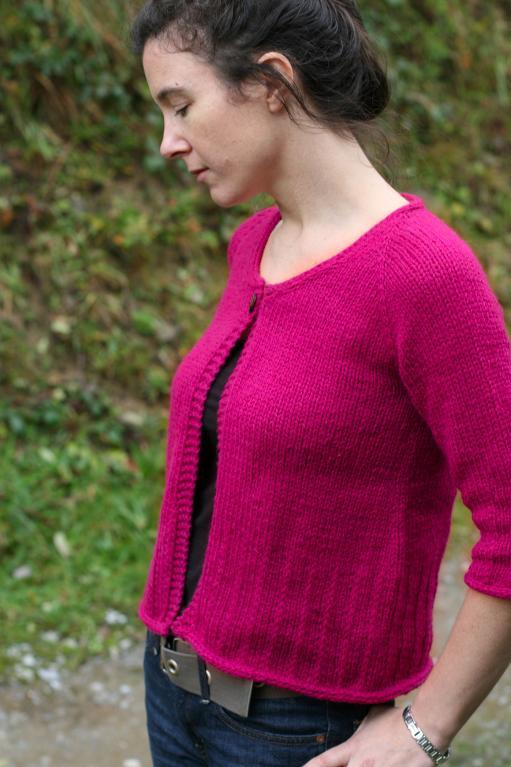 Photo via Bluprint instructor Carol Feller
Get the Vivido Sweater Kit here.
I love knitting in the summer because I tend to have more free time, and it feels like things just fly off my needles. I already have finished three sweaters this month and have great plans for a few more. Even if you don't want to snag one of this kits for summer, now is a great time to get ahead on your fall and winter projects.
And, if you're wondering how I've managed the wool and the weather, my last tip would be to turn that air conditioner to high!
How do you enjoy your summer knitting?