This time of year, there's certainly no shortage of ingredients for beautiful summer flower arrangements. Use flowers from your own garden or forage some from nearby meadows to create an arrangement that's perfect for bringing some color and fragrance to your home.
Enjoy this easy how-to for creating a summer flower arrangement that will perfectly complement any space!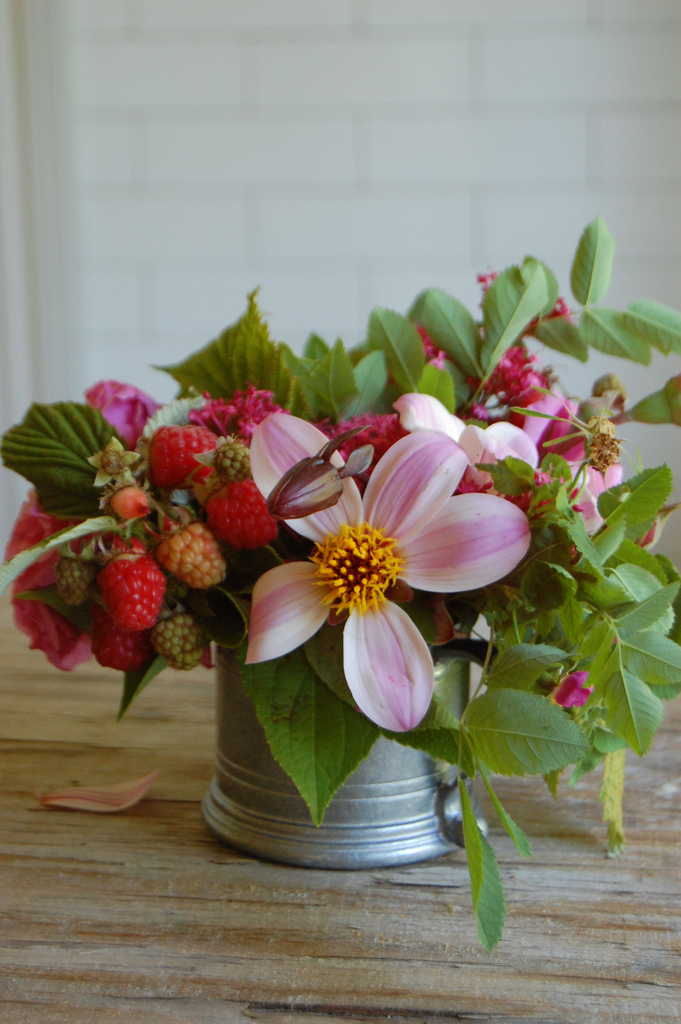 Ingredients for a stunning summer flower arrangement
Here, I used raspberries, Japanese anemone, rugosa roses and a "Gertrude Jekyll" garden rose.
You could add herbs like sage or rosemary, use other berries like blueberries or blackberries, and other large focal flowers instead of roses, like dahlia, ranunculus, calendula or poppy.
Look for a few showy blossoms, some greenery, filler flowers that take up space and other stems that have a light, wispy feel to help create that wildflower look.
This sweet arrangement is made in a vintage pewter cup and packs lots of fragrance! Feel free to substitute with a container you have around your home and with flowers that are blooming in your garden.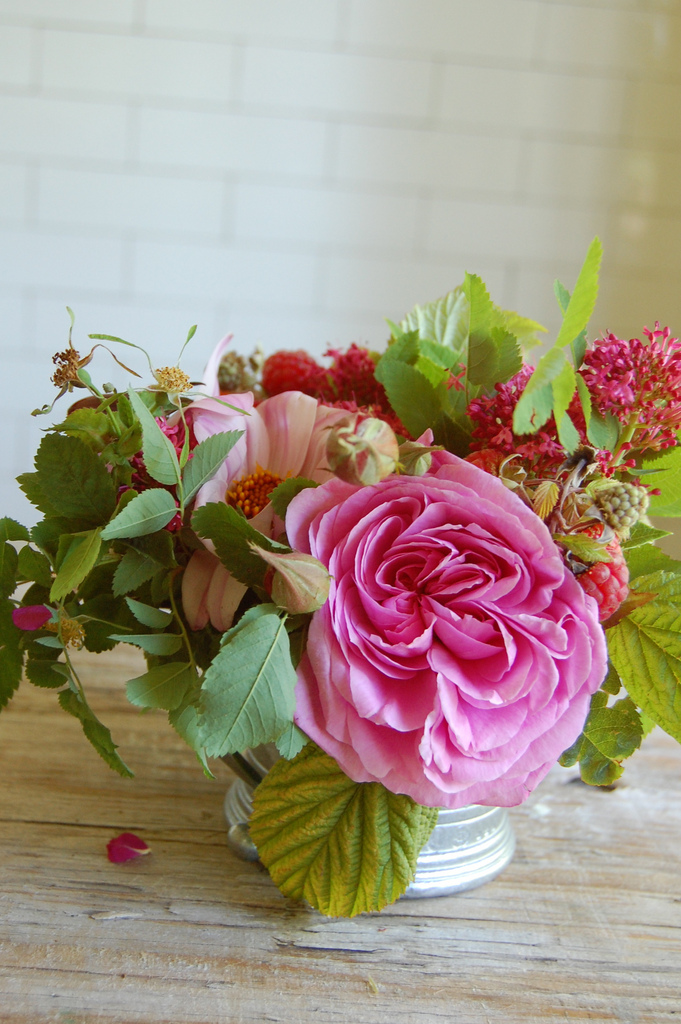 Technique
I've balanced out the anemone on the other side with a big garden rose. Your arrangement doesn't have to match on all sides, it just needs to be balanced. Balance one large focal element with another. The Jupiter's beard and raspberries act as fillers and also help give the arrangement a curvy, wild shape, as I've kept their stems slightly taller.
Start with your filler flowers to create a shape and then add in the focal elements. I always like to remember the "S" shape theory from art class to try and get a bit of a curve at the top of the arrangement and another curve down near the rim.
Directions
1. Harvest your flowers early in the morning or late in the evening when they are most hydrated. If you harvest under the blaring sun, they won't last very long as cut flowers.
2. Ideally, you'll bring a bucket of water out to the garden with you. Either way, place the flowers in water as soon as possible after re-cutting the stems at a 45-degree angle. Let them sit in water for a few hours to get fully hydrated.
3. As you make your arrangement, remember the stems under water must be bare! Remove all leaves under the water line to prevent bacteria from growing. This helps your arrangement last as long as possible.
4. Begin with the filler flowers like the Jupiter's beard and raspberries. Start creating the shape you'd like, with these flowers.
5. Add in focal flowers.
6. Add in lighter, wispier pieces last.
7. When you have the shape and focal points you like, make any adjustments as you see fit!
8. Keep your arrangement away from direct sunlight and drafts.
9. Check the water daily and add fresh water by sitting the vase under a faucet and letting the water run through until the vase is filled with fresh water and the old water has flushed out. Remove old flowers as they fade to keep your arrangement looking fresh!
What are your favorite flowers to include in a summer flower arrangement?