If you're a fan of pre-cut fabrics, you've most likely become acquainted with 2 1/2" pre-cut strips. These rolls of fabric are a great way to get a sampling of fabrics from a collection and save yourself the trouble of cutting so much fabric. Alternately, you can cut your own strips from fabric yardage for a customized look.
If you're stuck for inspiration when it comes to strip quilt patterns, here are just a few ideas to get the creative juices flowing.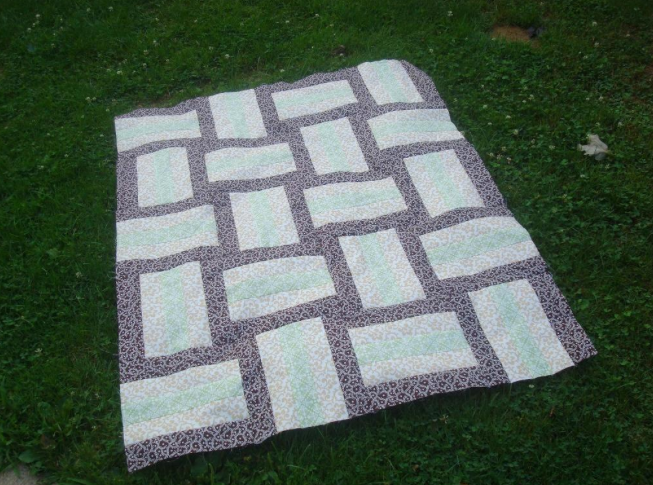 The World's Fastest Rail Fence Quilt is a FREE strip quilt pattern from Craftsy member Honey, Bunny, and Doll. The rail fence design is a traditional quilt pattern that utilizes square blocks sewn from strips, which can be twisted and turned in a number of directions for a custom layout. Simple variations in the number of strips, color choice and block direction can give a totally different look from the same pattern.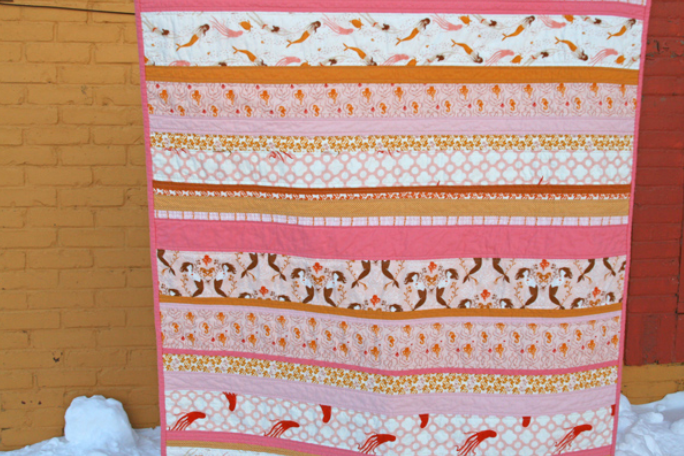 The Strawberry Seas Baby Strip Quilt by Ashley of Film in the Fridge is made from fabric strips of assorted widths, ranging from 1 1/4" to 6". Although this pattern is adaptable depending on the fabrics in your stash, Ashley explains her preferred method of making strip quilts in this tutorial.
This Skinny Strips Quilt is a free strip quilt pattern at All People Quilt. This pattern utilizes a roll of pre-cut strips in both prints and the solid background fabric, but you could also cut strips from yardage. The finished quilt design resembles a haphazard stack of books, and it's a great way to show off a collection of prints or a rainbow of solids, like in this stunning version by Lola Pink Fabrics.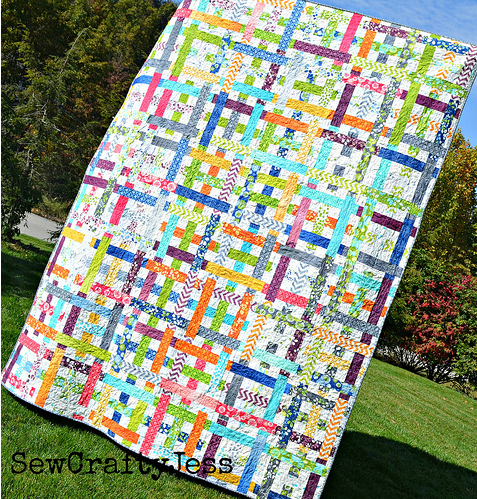 The Simply Woven Quilt by Jessica Kelly for Moda Bake Shop utilizes pre-cut 2 1/2" strips and a solid background fabric for a strip quilt pattern that stands out from the crowd. Unless you really study the blocks, it's difficult to tell where one block ends and the next begins.
Heather Jones of Olive and Ollie designed a strip quilt pattern, which you can download for free at Coats and Clark. The quilt uses 2 1/2" strips in vibrant, bold colors. Straight-line quilting echoes the quilt design for a stunning finish.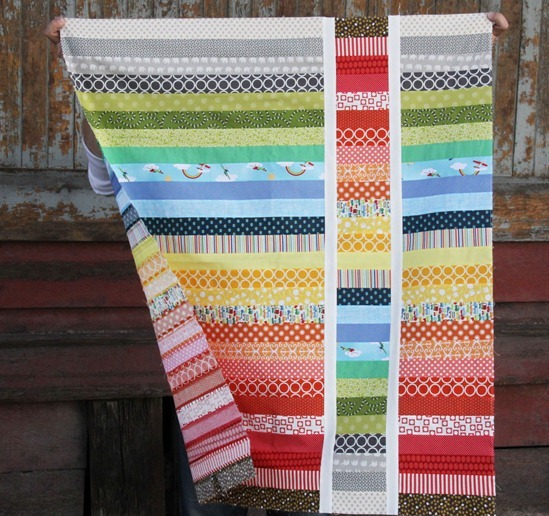 The Strip and Flip Baby Quilt is a fun strip quilt pattern from Allison at Cluck Cluck Sew. She uses 2" fabric strips cut from a rainbow of fabrics. With one section of the fabric strips cut and rotated, the focal point is on the asymmetrical design. You can even modify the pattern to work with a roll of 2 1/2" pre-cut strips if you'd like.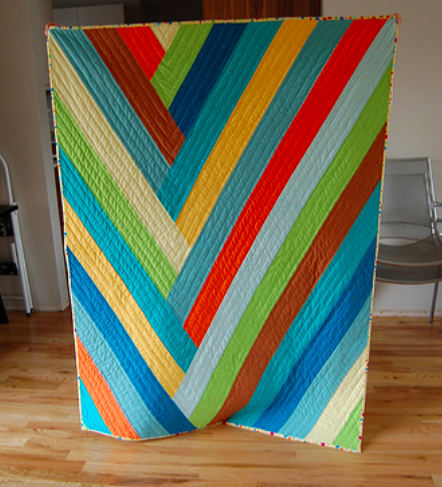 Turn your strips sideways with the Braided Stripe Quilt tutorial by Anne and Will. This free strip quilt pattern starts off with 4 1/2" strips, but the design could be easily adapted to use a roll of thinner pre-cut strips. This design looks bold and beautiful in solids.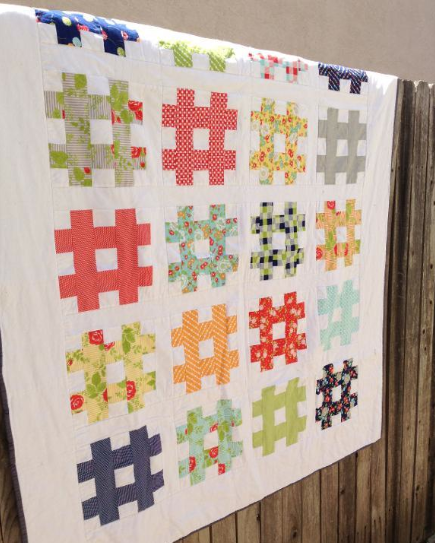 If you're looking for more strip quilt patterns, check out Camille Roskelley's Pre-Cut Piecing Made Simple Craftsy class. In the class, you'll learn how to make the pretty Hashtag Quilt, like this version by Craftsy member mpaasolaw691423!