Two beautiful creamy fillings, two very distinct types of flavor, yet identical in presentation — this strawberry cake filling is a show-stopper! Beautiful macerated strawberries are sandwiched between two layers of cake and topped with either a comforting cream cheese filling or a decadent mascarpone filling.
Is this strawberry cake filling gorgeous, or what?
No matter which filling you choose — the mascarpone or the cream cheese — this strawberry cake layer seriously tickles the senses! It's beautiful, delicious, fragrant and smooth. Both are so versatile, you can use either with your favorite two-layer cake recipe.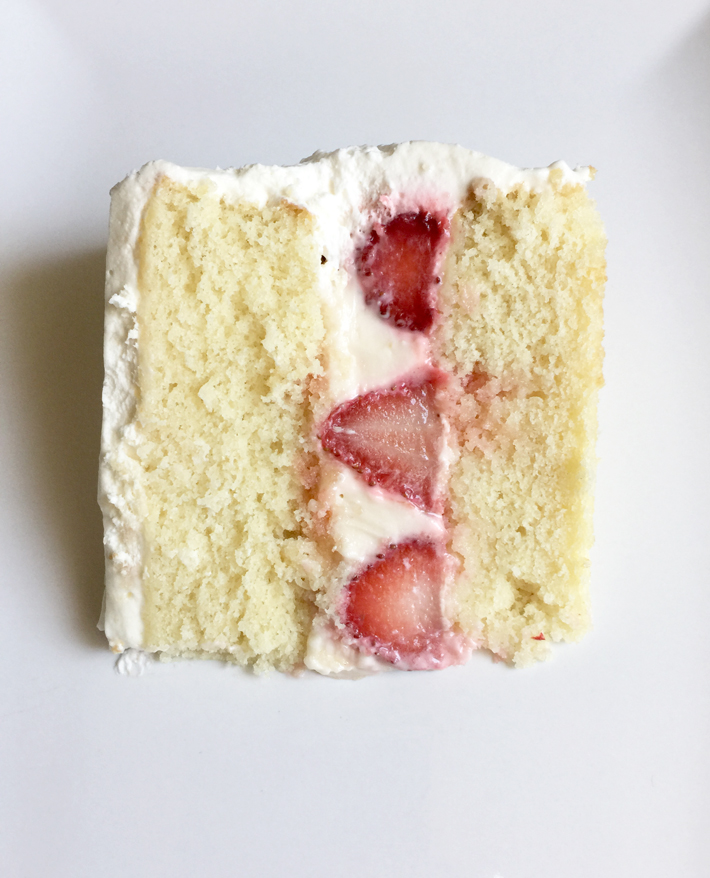 What you'll need to make this cake:
Two 8″ round layer cakes (try this recipe)
Macerated strawberries (including juices)
Mascarpone filling OR cream cheese filling
Keep reading for recipes and instructions for the strawberries, mascarpone and cream cheese fillings.
Start with macerated strawberries.
What are macerated strawberries, you ask? Macerate means to soften. All you have to do is toss some fresh strawberries with sugar, lemon juice, zest and vanilla, and let the mixture rest at room temperature. After a while, the strawberries will absorb the flavors while releasing its own juices, resulting in strawberries that are flavorful, sweeter and a bit softer.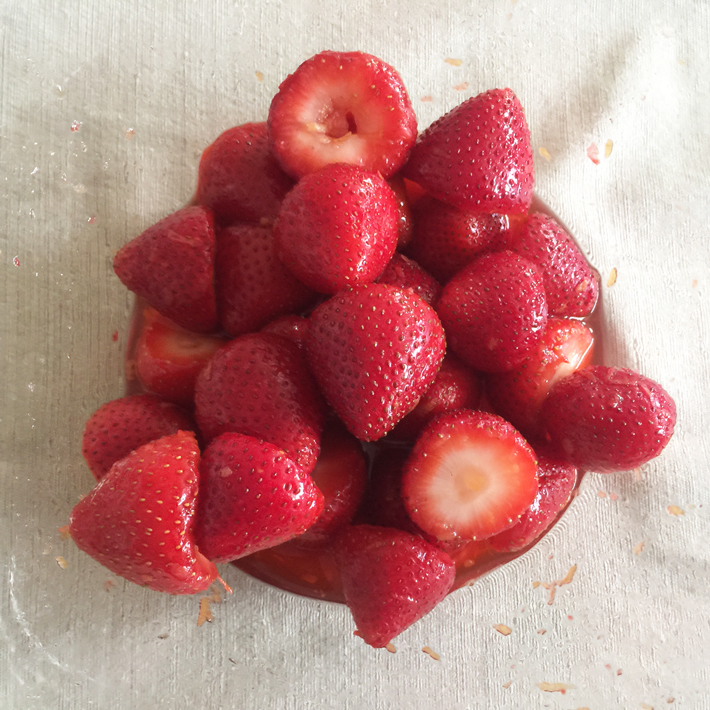 Here's a great tip to figure out exactly how many strawberries you'll need for the filling: Arrange strawberries in one of your cake pans until you've got one nice layer. This is the exact amount you'll need to place over that first layer of cake.
Ingredients:
1 – 1.5 pounds strawberries similar in height, rinsed and hulled (for an 8-inch cake)
3 tablespoons sugar
2 tablespoons lemon juice
Zest of one lemon (approximately 2 teaspoons)
2 teaspoons vanilla
Instructions:
In a medium bowl, toss all ingredients together and let sit at room temperature for at least 45 minutes. Make the rest of your filling at this time
Once 45 minutes has passed, strain the strawberries and reserve the juices.
Reserve ¼ cup of the juices to thin the filling of your choosing (both recipes are below).
Next up, choose your filling.
Your first option is a cream cheese filling.
What you need for the cream cheese filling:
12 ounces cream cheese, softened
¾ cup sugar
1 teaspoon vanilla
2-4 tablespoons juice from strawberries
Instructions:
Using a stand mixer and paddle attachment (or electric mixer), beat the cream cheese, sugar and vanilla until smooth. Scrape the sides down often. Add juices from the strawberries one tablespoon at a time to thin out the filling. Beat until thoroughly combined.
Or, you can choose a mascarpone filling.
Ingredients:
8 ounces mascarpone cheese
1 cup heavy whipping cream
¼ cup plus 2 tablespoons sugar
2-4 tablespoons juice from strawberries
Instructions:
Place stand mixer bowl and whisk attachment in the freezer for 15 minutes. If using a handheld mixer, place mixing bowl (glass or metal only) and whisk attachments into the freezer.
Beat the mascarpone, heavy cream and sugar just until stiff peaks form. Don't overbeat! Use a spatula to stir in the juices from the strawberries, one tablespoon at a time, to thin out the filling. Refrigerate for at least 45 minutes before spreading.
Now that you've prepared each part of the cake, you can put them all together into one tasty cake.
Step 1: Spoon the juices.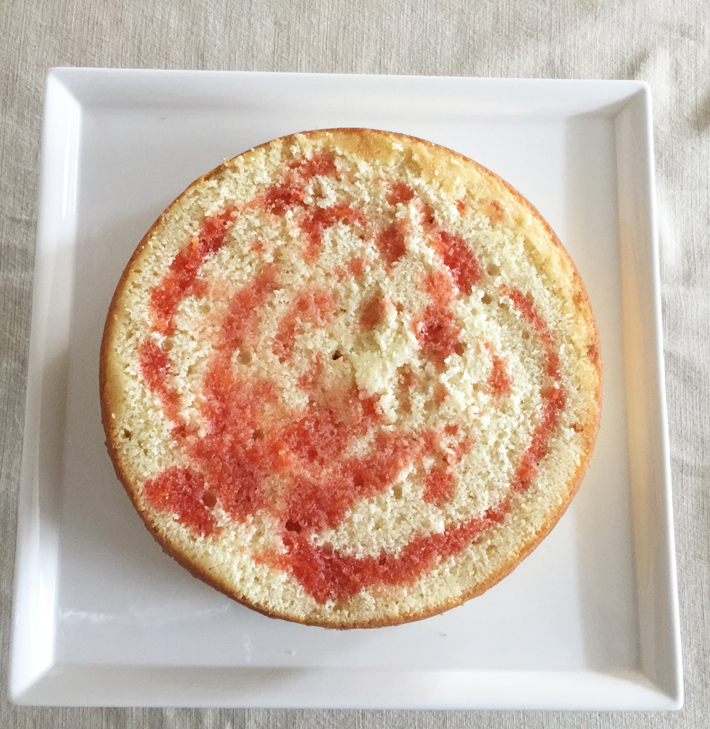 Brush or spoon the leftover juices from the macerated strawberries over your cake. The juices are so delicious — don't let them go to waste!
Step 2: A layer of filling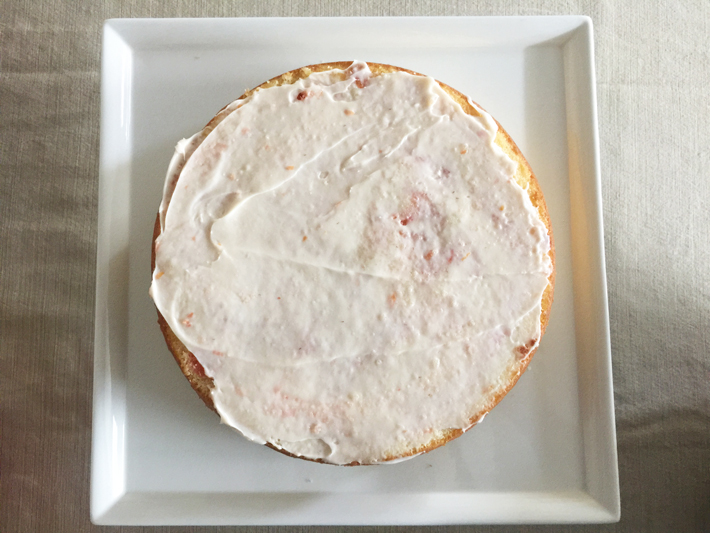 Spread a thin layer of whichever filling you chose over the first cake layer.
Step 3: Add the strawberries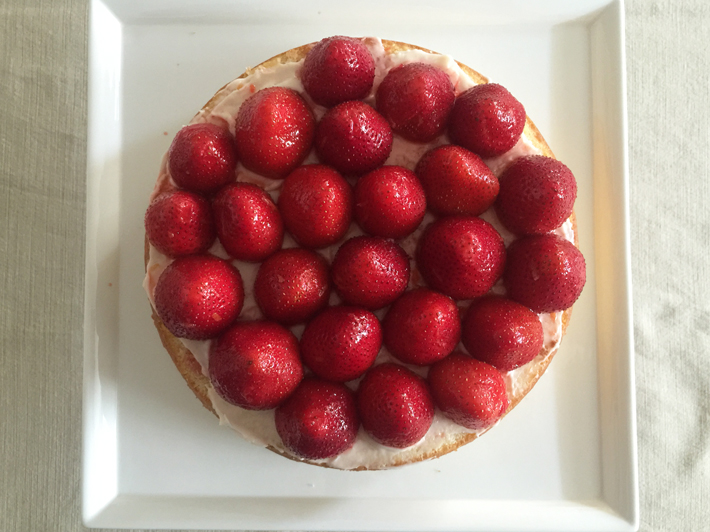 Arrange the strawberries.
Step 4: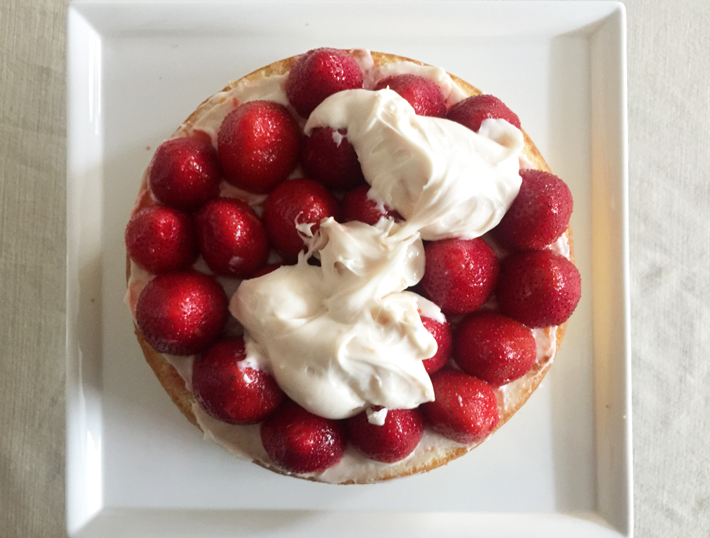 Spread the filling, making sure to fill the space between strawberries. Place the second layer of cake on top, frost and refrigerate for at least 30 minutes before serving.
Enjoy your beautiful cake!