Homemade granola is delicious, but can be time-consuming to make. Many recipes require that you bake the granola in the oven for anywhere from 30 to 90 minutes before it is ready to eat! This long cooking process is fine on a lazy weekend, but granola can be made much more quickly on the stovetop for those times when you just can't wait.
About this recipe
Granola is versatile snack to have in your kitchen. You can serve it with milk, sprinkle it over your oatmeal or eat it by the handful for an energy boost in the afternoon.
This granola recipe starts like many others, using a mixture of oats, vegetable oil, brown sugar and maple syrup, as well as a few spices. Oats are the most important ingredient because they make up the bulk of the dish. I like using whole, rolled oats. Quick cooking oats, which are chopped into small pieces to allow for shorter cooking times, don't give the finished granola enough substance for my tastes, but they can be substituted in a pinch.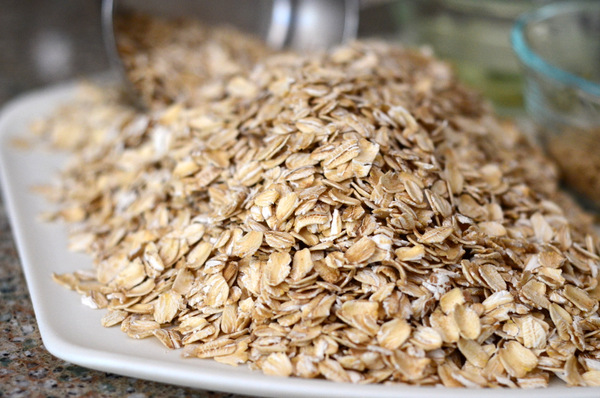 The sweeteners used in granola vary from raw sugar to honey and everything in between. I like the combination of rich maple syrup with the molasses notes from brown sugar, but you should feel free to experiment as you try making your own. To compliment these sweeteners, I added ground cinnamon, ground ginger and vanilla extract to my mixture, giving it an addictive hint of spice.
Once all your base ingredients are combined, the mixture is cooked in a skillet on the stovetop. The oats toast in much the same way that they do in the oven, but over a shorter period of time. The larger the pan you use, the shorter your cooking time will be. Once they start to toast, the oats will cook quickly, so remember to stir regularly and don't walk away from the granola as you are making it. 
Mix-ins
The oat, brown sugar and maple syrup base of this granola is like a blank canvas for other flavors. Once the oats are cooked, you can incorporate almost any type of nuts or dried fruits into the mixture that you like. I recommend buying nuts that are already toasted for this type of granola, since it eliminates the need for additional toasting time. 
For this batch, I used toasted cashews and dried cranberries. Other wonderful combinations include:
Walnuts and golden raisins
Pecans and dried apricots, cut into cubes
Macadamia nuts, toasted coconut and dried pineapple
Almonds and dried cherries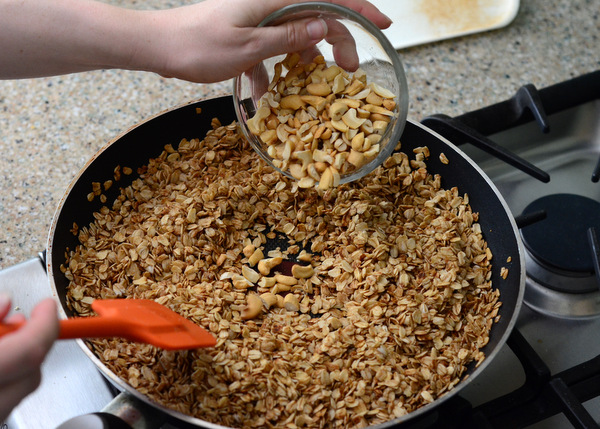 If you're feeling a little indulgent, try throwing in a handful of chocolate chips after your granola has cooled. Dark chocolate goes particularly well with almonds, while white chocolate is a good match for macadamia nuts. 
Stovetop granola recipe
Makes about 4 cups
Ingredients:
3 cups rolled oats
3/4 tsp ground cinnamon
1/2 tsp ground ginger
1/4 tsp salt
1/4 cup vegetable oil
1/4 cup brown sugar
3 tbsp maple syrup
1 tsp vanilla extract
1 cup whole, toasted nuts (almonds, cashews, etc), coarsely chopped
3/4 cup dried fruit (cranberries, raisins, etc).
Step 1:
In a large bowl, stir together oats, cinnamon, ginger and salt.
Step 2:
In a large 10-inch skillet, combine vegetable oil, brown sugar, maple syrup and vanilla extract. Cook, stirring occasionally, over high heat until sugar is melted. Add in dry ingredients and stir until oats are completely coated with wet ingredients.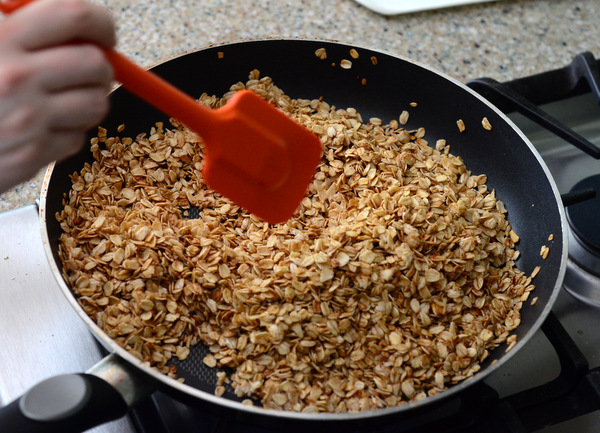 Step 3:
Cook for 5-8 minutes, stirring regularly, until oats turn golden brown. Add in chopped nuts and cook for 1-2 additional minutes. Remove from heat and stir in dried fruit. Pour mixture onto a sheet of parchment paper and allow it to cool before serving or storing. 
You might also enjoy our post on making granola at home and our recipe for no-bake granola bites.