We're excited that Bluprint instructor Carol Ann Waugh's "Springtime in the Rockies" quilt, which was created using her stitch and slash technique and measures 78″ H by 32″ W, is showcased in the April/May issue of Quilting Arts Magazine. Did you spot it too?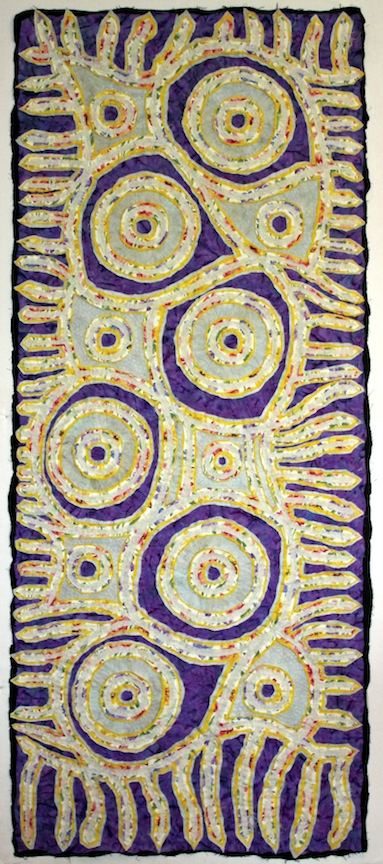 This lovely quilt is part of a Studio Art Quilt Associates exhibit called "Seasonal Palette," which debuted in Houston at the 2012 International Quilt Festival and will be traveling to Cincinnati, Long Beach and Paducah in 2013. 144 artists submitted 572 images for consideration for the exhibition and 37 artists were chosen to make a piece specifically for the exhibit.
As seen above, Carol Ann chose to represent spring and was inspired by a single purple flower poking out of a field of snow in the Rocky Mountains. All of the artists have documented their creative process, including their inspiration, photo images, sketches and diagrams, journal entries, and fabric swatches. The documentation will be on display along with each quilt.
As Carol Ann's quilt shows, with raw edge cutwork you can reveal amazing patterns and dynamics. If you're interested in making a beautiful bold quilt be sure to check out Stitch & Slash with Carol Ann: it's fast and fun. Once you begin slashing, you won't be able to stop!