We love shoe cakes because there's something fabulously architectural about their design — plus how can something edible and predominantly made of sugar stand so elegantly on a thin sugar stiletto heel!
Creating realistic and super chic high-heel shoe cakes is a wonderful, show-stopping cake decorating skill to possess, but we all need some sweet inspiration and handy pointers to help our creative designs run wild!
Here's our top 5 tips for creating a stiletto cake design for the discerning fashionista…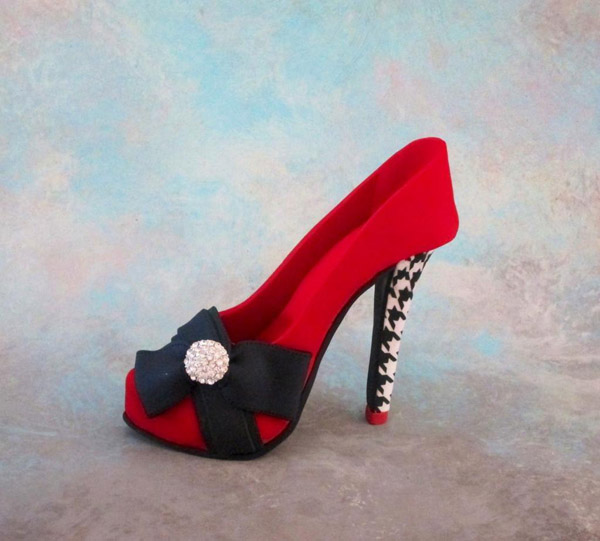 Photo via Craftsy member irezoagli1150229
Tip #1: Pick the right style.
The first thing to consider when designing a shoe cake is the shoe's shape. With so many fashion choices out there is pays to pick the right style — from peep-toe stilettos to platform wedges, each shape evokes it's own personality! Iconic shoe forms like Christian Louboutin's Pigalle 120, with it's subtle pointed toes and slim stiletto heel are perfect for stylish business women, older clients or for the more classic styled fashion follower; peep-toe shoes are ideal for vintage and retro lovers; while platforms are great shoe shapes for teenagers or trend-followers!
The bright heels above feature a patterned stiletto heel paired with a chunky, platform sole. This shape combined with the eye-catching color palette and bold prints make this design perfect for a younger recipient!
Tip #2: Know the recipients favorite brands.
Another tip is to know what brands suit which people. Miu Miu is a 'young' brand with fun prints, fabulous embellishment ideas and more quirky color palettes; Christian Louboutin matches 25+ year olds who appreciate luxury and Manolo Blahnik suits fashionistas who both appreciate on-trend designs and classic style! If you're not sure about other designer names then do your research and write notes to help you with your designs!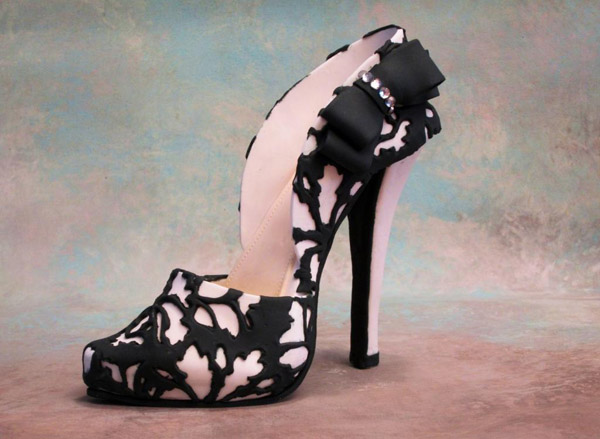 Photo via Craftsy member irezoagli1150229
Tip #3: It's all in the details…
The cut out lace design on the above edible heel is absolutely stunning! Adding a lace element to a design can be tricky, but if done carefully this look can really pay off and impress!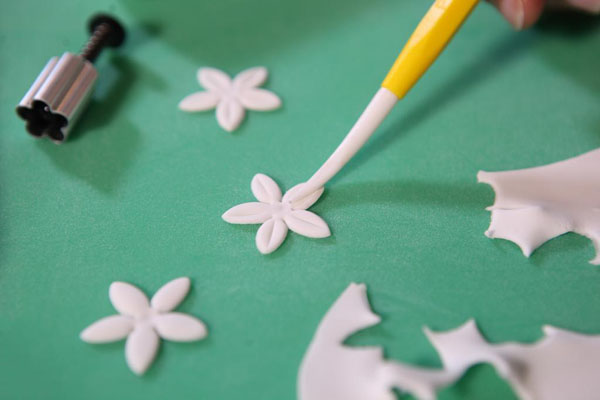 Photo via Craftsy instructor Zoë Clark
When creating a shoe cake with a lace design, decide how you're going to implement this: royal icing, edible lace mats, embossing, hand painting or cutting fondant out delicately? If you're a novice with royal icing a great design tip is to use blossom plunger cutters to cut out fondant florals and work out a base lace pattern before adding swiss dot or teardrop detailing with royal icing!
It's also wise to invest in some key cake decorating supplies to help you get the finer details on your cakes to an absolute art. We keep lots of fine brushes to add tiny details or minuscule writing to our cakes. Remember to keep your brushes (especially the thin) in great condition! Another handy tool is a stand-alone magnifying glass! Yes, you'll resemble the dad in Honey, I Shrunk the Kids, but the result will be worth it!
If you're new to creating gorgeous lace detail on cakes why not sign-up to Zoe Clark's Elegant Lace Cakes class!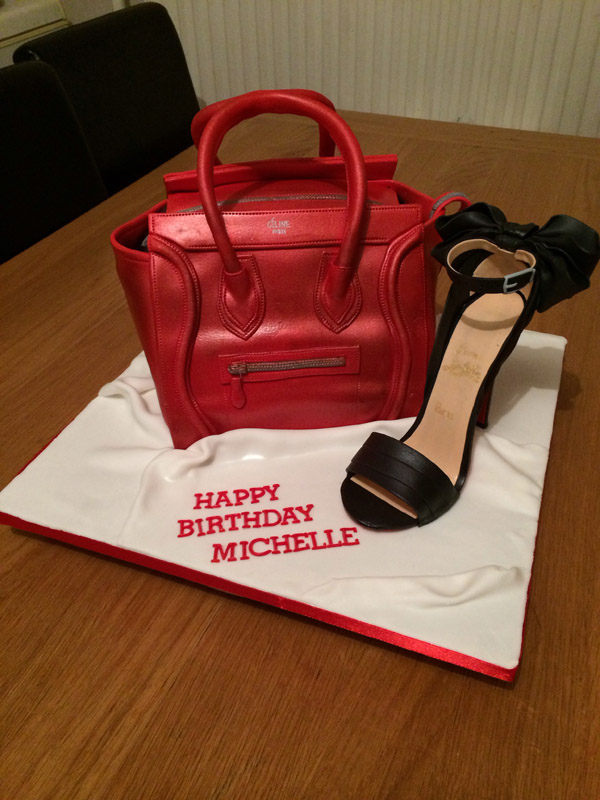 Photo via Craftsy member Sheeks Cakes
Tip #4: Accessorize!
Pairing edible shoes with a designer handbag cake is a classic combination and the above creation does it so well! The cake featured above is such a great copy of the Céline Boston bag — you'll be forgiven for thinking it's the real thing!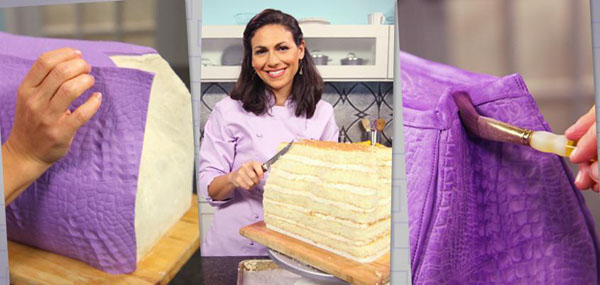 If you're thinking of designing a super stylish shoe and bag cake then our top tip is to choose your items well. Stay away from pairing two fussy accessories together and instead opt for one statement piece coupled with a more subdued design. Whilst Elisa Strauss' moc-croc handbag cake features a bright purple color it would work so well paired with a pair of jewel studded black heels (think Miu Miu)!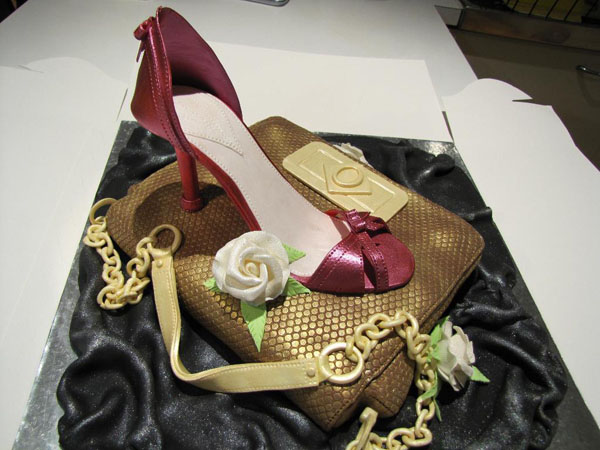 Photo via Craftsy member sneakygecko4
The above bag and shoe cake combination is another fabulous example of pairing together to designs well! The neutral color of the bag helps keep attention focused on the deep red heel with it's subtle leather bow details.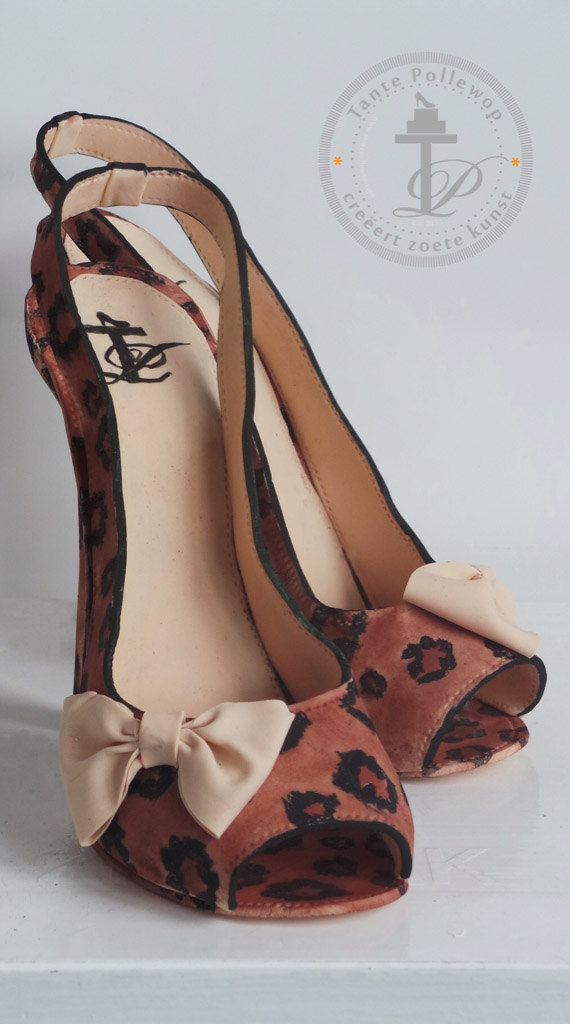 Photo via Craftsy member Tante Pollewop

Tip #5: Pay attention to the fine print…
Adding pattern or print can take your design to a whole other level if done well. There are a few different methods you can utilise to add great prints to your work… hand painting is perfect if you possess a steady hand; edible printed paper works best on sections that don't curve or bump too much; and adding fondant cut-outs can create bold shapes, but can be time-consuming! Think about which technique would work best for your design.
With so many fabulous stiletto heel cake designs and our essential tips on creating your own high-fashion heel we're sure that you're feeling super inspired to begin creating your own pair today. Why not surprise a friend or relative on their next birthday with a wonderful couture inspired cake?
Have you ever made a high-heel cake design? What style & type of shoe did you create?