Fabulous steampunk cake designs are always popular for anyone who loves to escape reality and enter a realm of fantasy! They're also incredibly playful and detailed center pieces for a fun wedding!
If you'd love to create a steampunk-themed cake or you've been asked to design one, then here's some amazing steampunk cake designs that will get your creative cogs working!
Inspiring steampunk cake designs perfect for the imagination!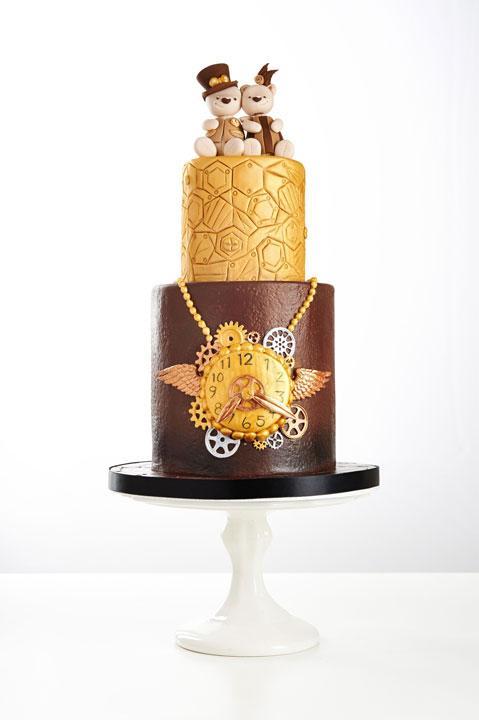 Photo via Craftsy instructor Tracey Rothwell
Steampunk teddy bear cake
This cake adds a pinch of utter cuteness to it's design with a pair of edible teddy bears in steampunk outfits perched happily on top of the sleek cake.
This cake easily manages to be simple yet detailed at the same time which really helps draw the focus up to the teddies and along the cake down to the clock detail. We also really love the etched detail of the cog pieces on the top tier which mimics engraved time-pieces!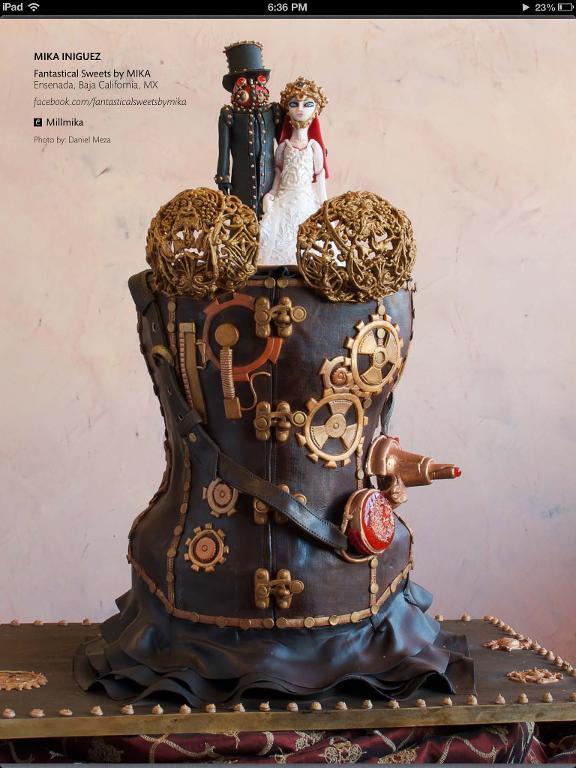 Photo via Craftsy member Millmika3
Steampunk corset cake
With the steampunk genre taking heavy inspiration from the Victorian literary works of H.G. Wells and Jules Verne corsets are a popular motif as well as burnished gold metal-works and time-pieces throughout.
This quirky wedding cake has been carved and decorated to resemble a tall corset embellished with a whir of cogs, buttons and latches. Even the bust of the corset has been designed to incorporate a heavy metallic look.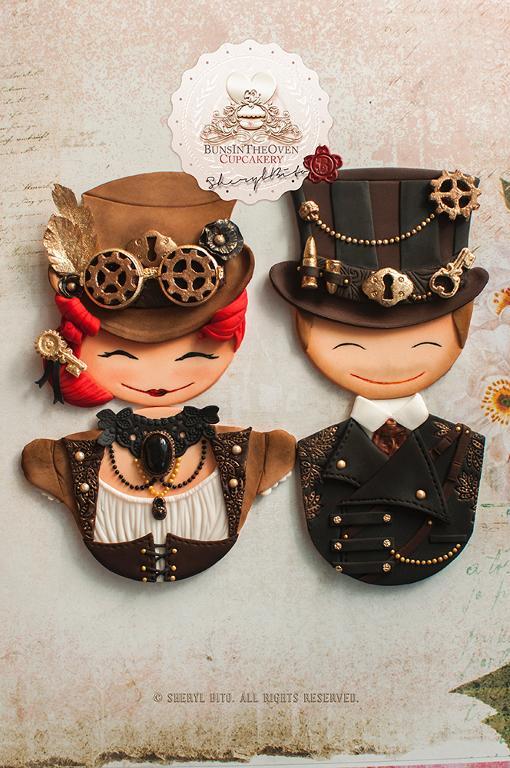 Photo via Craftsy instructor Sheryl Bito
Detailed steampunk cupcake toppers
Wow! These incredibly detailed steampunk-inspired cupcake toppers are simply stunning! We adore the wonderful attention to detail that'd been given to these sweet pieces. Each character has been adorned with glistening gold cogs, bullets, chains, keys, buttons and locks as well as intricate Victorian fashion elements such as lace, collars and stitching details.
To add flat decorations such as these to a cake we love the thought of an aged brown leather-look cake decorated with a layer of fake steam clouds around the sides of the design and your detailed characters layered on top!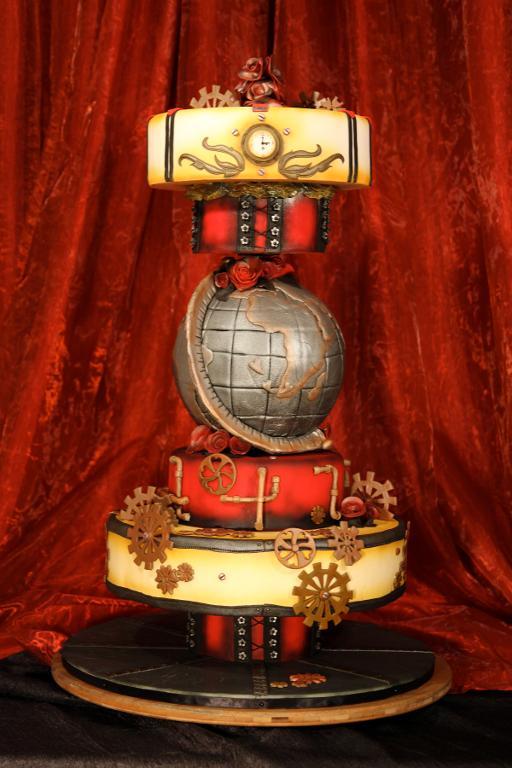 Photo via Craftsy member Chef Sam
Towering steampunk cake
This show-stopping steampunk cake draws some of it's design inspiration from Jules Verne's infamous book, Around the World in 80 Days due to the large metallic globe that features at the very center of this cake. A series of small fondant pipes adorn one bright red tier whilst machinery pieces and corset detailing decorate the rest of the design.
To add a further spin to a fun Around the World in 80 Days themed cake why not nestle a metallic hot air balloon atop the design. Decorate with gold painted ropes, chains and bright machinery buttons before finishing with a gum paste ribbon flowing forth featuring a hand-painted message!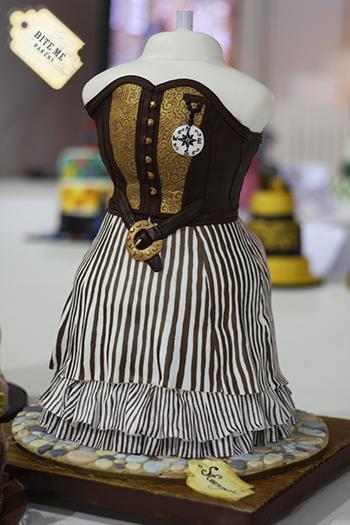 Photo via Craftsy member CakeBakerMoney
Steampunk fashion cake
For a more simplified and sleek cake with a steampunk influence why not take a few small elements from the literary sub-genre. The cake above features just enough steampunk and Victorian elements for anyone to know the design influence, but makes more of a historic fashion statement. We love the striped skirt and bustle paired with a brown leather-look corset and heavily buckled belt.
How would you design and decorate a steampunk-inspired cake?