Looking to shake up your weekly meal rotation? How about fajitas? Every day is the right day for fajitas!
Learn the classic components of a marinade for flavorful and memorable steak fajitas!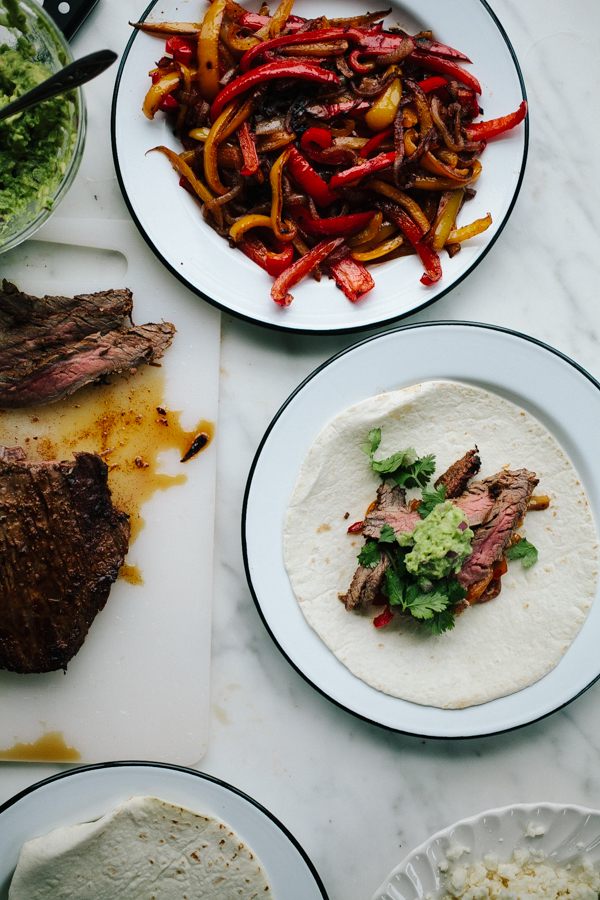 Anything that can get wrapped inside a tortilla is an easy sell for my husband. His father is the mastermind of the "garbage burrito" — any leftovers from the day before recycled into an entirely new meal by wrapping it in a warm tortilla — so it is clear to see that his affinity for tortillas is genetic. I learned early on in our relationship that the way to my husband (and father-in-law's) heart is through a warm and pillowy, soft homemade tortilla.
Because of this tacos, burritos, and fajitas are all regulars around our house. Although, probably not as often as my husband would like. Lucky for me, these are the very sort of dinners that require very little time in the kitchen.
Today we're talking fajitas — specifically the marinade because once you've done the step of marinating the steak it is simply a matter of searing and cooking a few peppers and onions.
You need four components to make a flavorful marinade that will leave you with tender, juicy and deeply seasoned meat; fat, salt, acid and spice.
Fat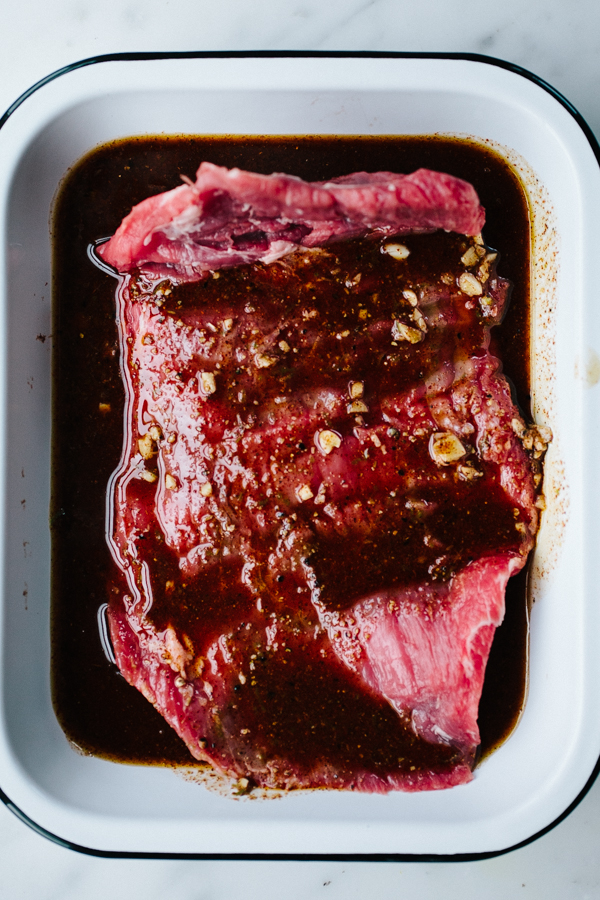 The fat is very important as it will make the marinade stick to the meat, as it emulsifies the other ingredients. Secondly, fat is a great carrier of flavor. Thirdly, flank steak is the meat of choice for fajitas and while it has great flavor it really doesn't contain a lot of fat. So, using a good bit in the marinade is going to not only add flavor while also helping it to cook evenly, without it sticking to the grill or pan.
Stick to an oil in a marinade as it remains liquid at room temperature. My choice? Olive oil because it is one more layer of flavor.
Salt
You could just use salt here, but I took a note from J. who went with soy sauce. Obviously this isn't traditional in a fajita marinade, but I love that it adds salt while also adding loads of glutamates, giving the meat even more umami. Instead of soy sauce, however, I used fish sauce, which is intensely salty in a briny and bright sort of way.
Acid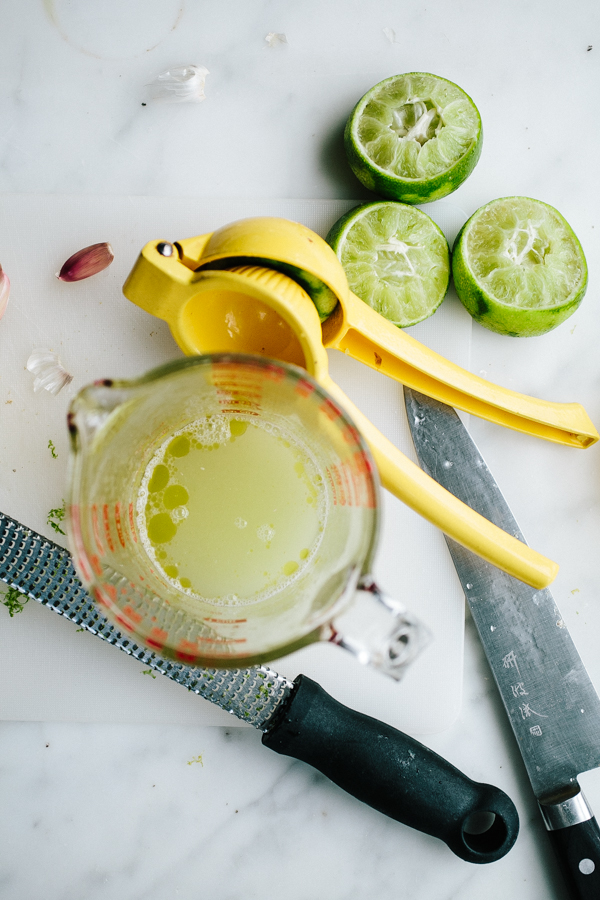 Acid helps liven up the meat with a tang that you can't get from salt alone. Some people worry that too much acid could "cook" the meat as it sits in the marinade but really the marinade never fully penetrates the meat so it is really only there to add more flavor.
My acid of choice here is lime juice.
Spices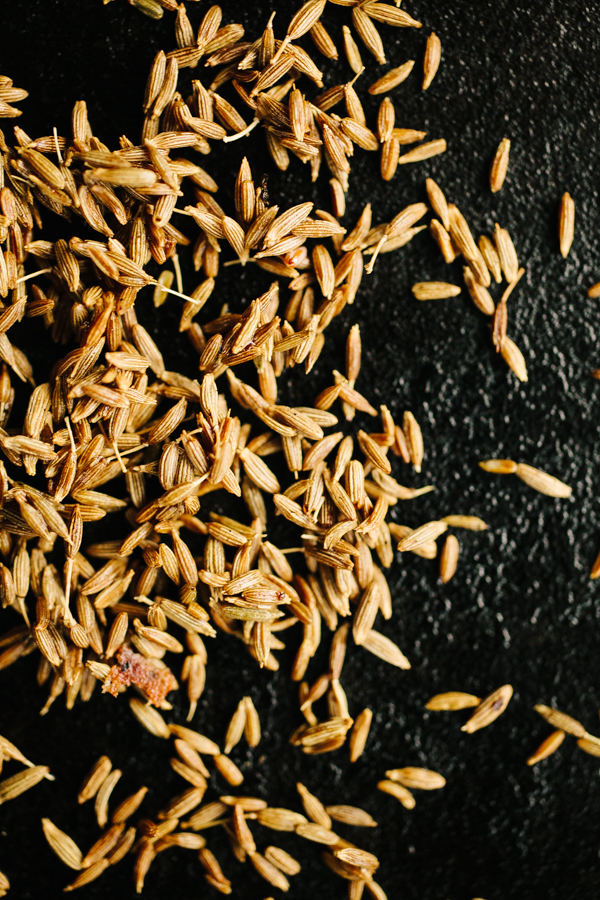 Here is where it gets really exciting, and you can make this your own so easily. I keep it fairly simple: pepper, minced garlic, lime zest, chili powder, and cumin.
One thing to note about spices is that they are their best when bought often to keep their freshness. If you can, buy the seeds, toast them at home and then grind them yourself. There is nothing like that burst of aroma as the freshly toasted seeds whurr in the grinder. It is a far cry from a stale bottle of pre-ground spices.
Feel free to experiment with chili powders here. Next time I'm thinking of using a chipotle powder. I will say, however, to adjust the quantity based on heat.
Steak Marinade for Fajitas:
Adapted from J. Kenji Lopez-Alt
Ingredients:
1/4 cup fish sauce
1/3 cup lime juice (from 2 large limes)
1/2 cup olive oil
2 teaspoons ground cumin
1 tablespoon chili powder
2 teaspoons freshly ground pepper
4 garlic cloves, minced
2 teaspoons lime zest (from 1 large lime)
Directions:
Whisk everything together and pour over a 1 1/2 pound flank steak to cover. You can do this in a ziplock bag if you trust the seal or simply use a shallow baking dish. Cover and refrigerate for 1 to 8 hours.
I like to save a bit of the marinade to toss with the peppers and onions after they get a good bit of charr on them.
Cook Mexican Favorites With Rick Bayless!
Join renowned culinary all-star Rick Bayless in his own kitchen and learn his secrets for flavorful tacos, salsas and much more.
Enroll Today