Busting your stash can take a long time when you're making little projects like gloves, baby booties and jewelry. If you want to de-stash and get rid of a lot of yarn at once, blankets are a great option.
These blanket patterns use techniques like stripes, blocks, hexagons and mitered squares to incorporate dozens of different colors. You might even find that the most creative part of the process is figuring out what color palette to use with your limited (or maybe not so limited!) selection of scraps.
Gather those scraps and random skeins of yarn! You're about to reduce your stash (and give yourself an excuse to shop for even more yarn), thanks to these stash-busting knitted blanket patterns.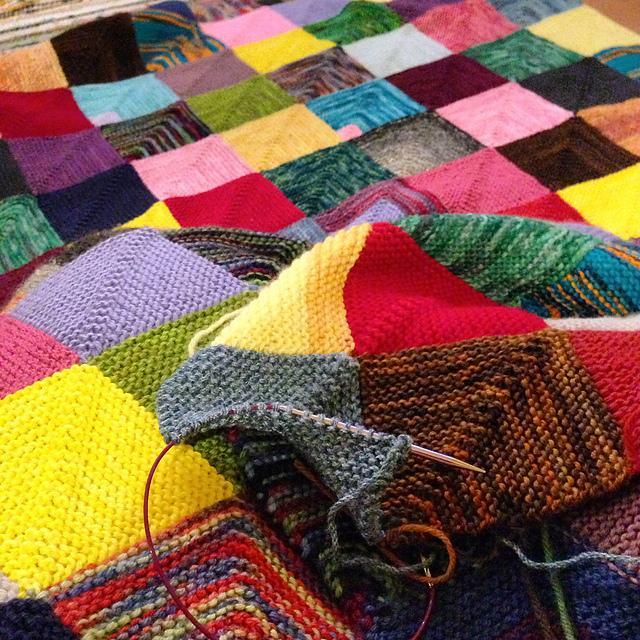 Photo via Georgie Hallum
1. Memory Blanket
Hundreds of little mitered squares come together to form a blanket that's as random as your stash. The sample blanket pictured here was worked up in a DK-weight yarn, but you can use any weight you'd like as long as it's the same gauge as the other squares.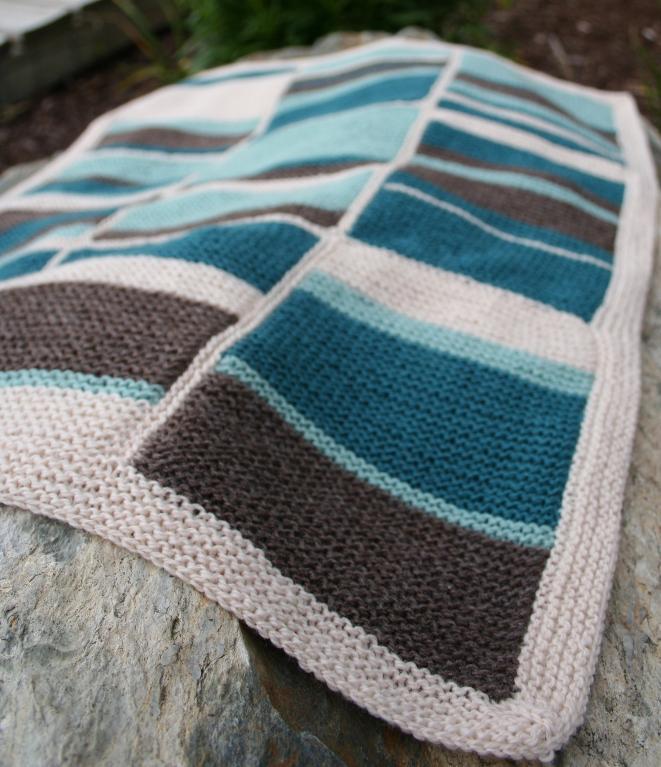 Photo via Amanda Lilley
2. Beach Baby Blanket
Designer Amanda Lilley's friend inspired her to create this blanket when she created a blanket from wool remnants given to her by friends. If you don't have enough yarn to complete the palette on your Beach Baby Blanket, see if you have any fellow stitchers who might want to swap with you.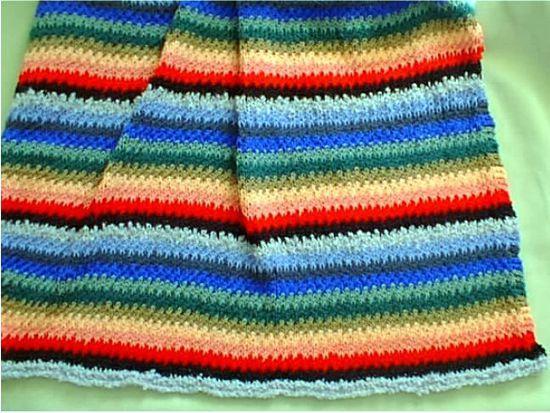 Photo via Frugal Knitting Haus
3. Scrap Yarn Afghan
The pattern stitch here is a four-row repeat that you'll memorize quickly. You can make narrow stripes like the ones pictured here, or do broader stripes and just change the color when you run out of yarn.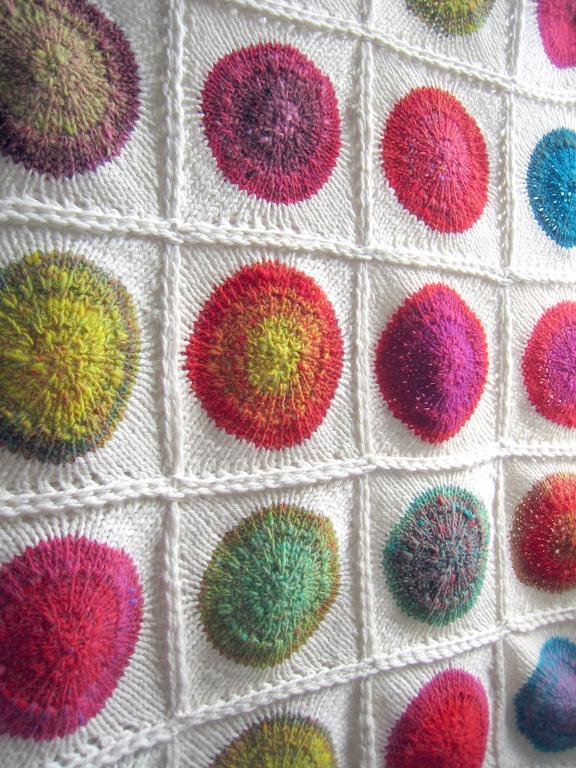 Photo via Tin Can Knits
4. POP Blanket
The pops of color in these polka dots are begging for some de-stashing! Variegated scraps would work well for this blanket, too. Since the blanket is made up of squares, you can just keep stitching until you run out of scraps — or until the blanket is just the right size.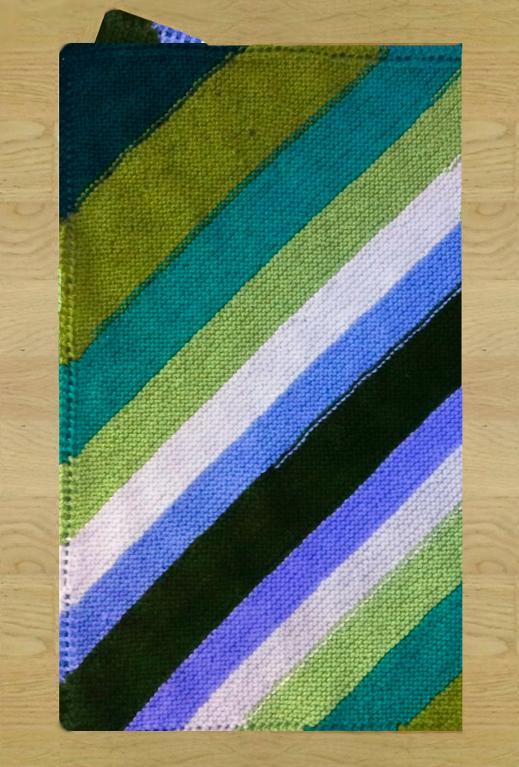 Photo via Your Caprici
5. Diagonal Blanket
You could de-stash by creating a simple striped blanket, sure, but if you're looking for something a little different, try diagonal stripes like these. The garter stitch is basic, so you can focus on the shaping and the color palette instead.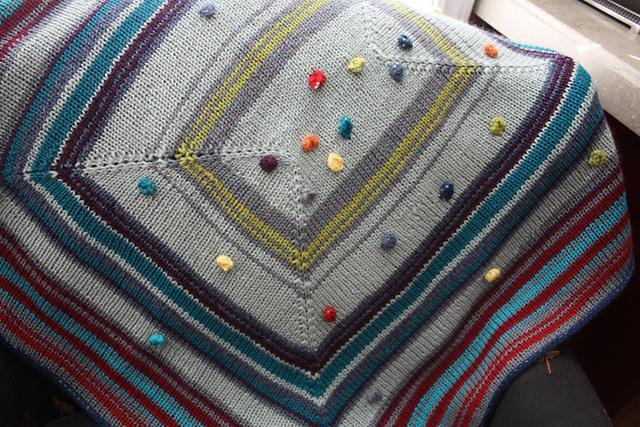 Photo via TheWittyKnitter
6. Jadyn's Blanket
Place these bobbles strategically or randomly. No matter where you put them, little ones will love playing with the fun texture! The color combinations on this pattern are endless. Check out the designer's other photos for a beautiful color palette alternative.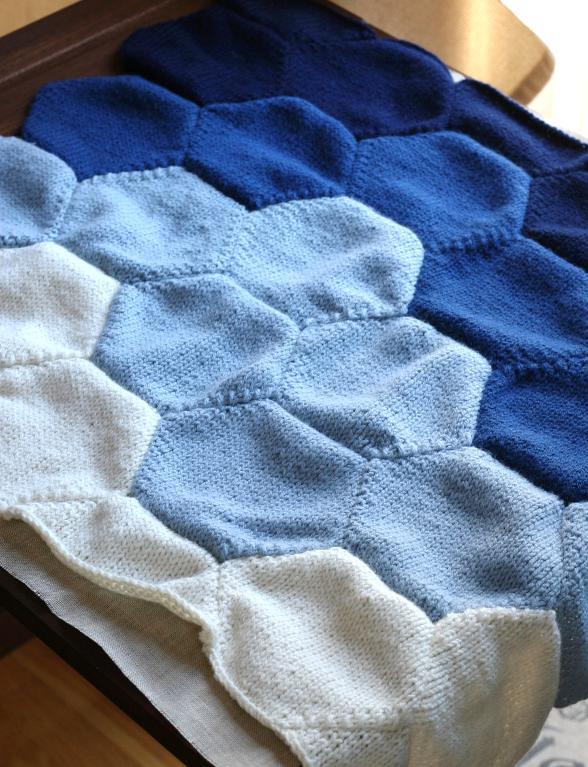 Photo via tentenknits
7. Sky Blanket
This pattern works great for scraps, plus it's an ideal project for traveling thanks to the little portable squares. Work it up in an ombré color palette, or just place random colors side by side to see what happens.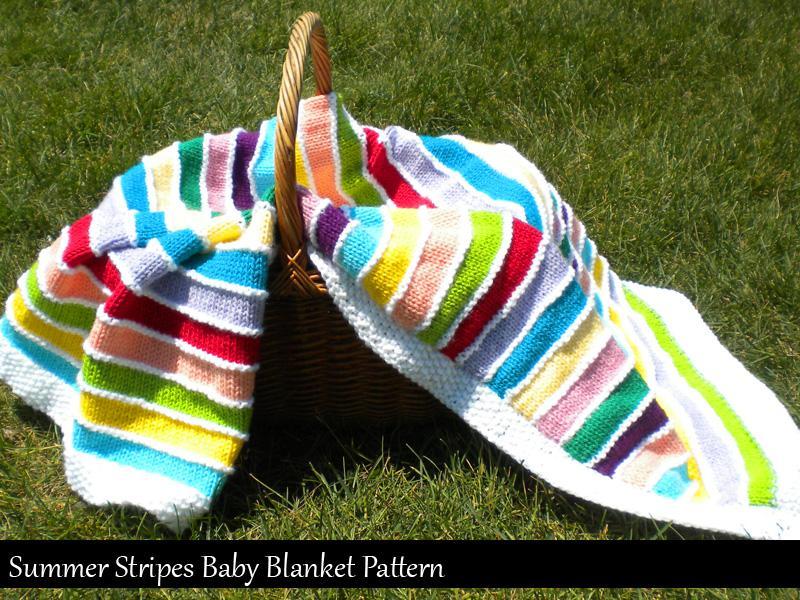 Photo via AuntJanet
8. Summer Stripes Baby Blanket
Designer AuntJanet refers to this as her "obnoxiously bright color theme," so she encourages knitters to swap their favorite colors in. This would even look great worked up in some neutrals, if that's what you have in your stash.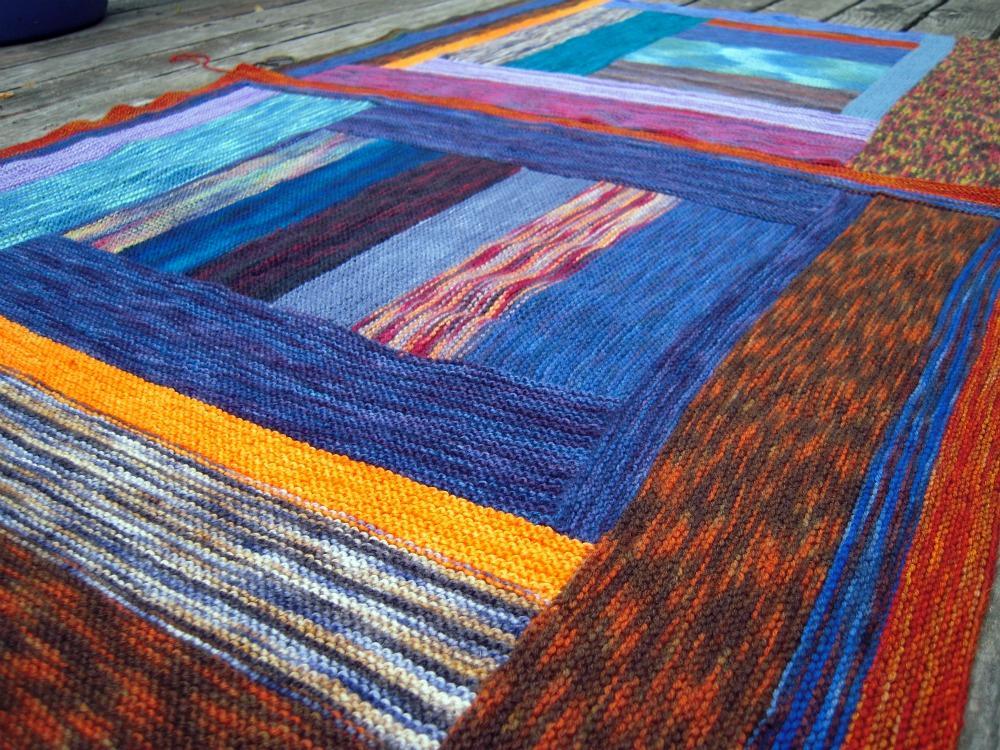 Photo via TreasureGoddess
9. Itty Bitty Sockyarn Bits Blanket
If you knit a lot of socks, you undoubtedly have hundreds of yards of leftover sock yarn in your stash. Combine them in new, cool colorways to make a big blanket that's just as cozy as those knit socks you give everyone for the holidays.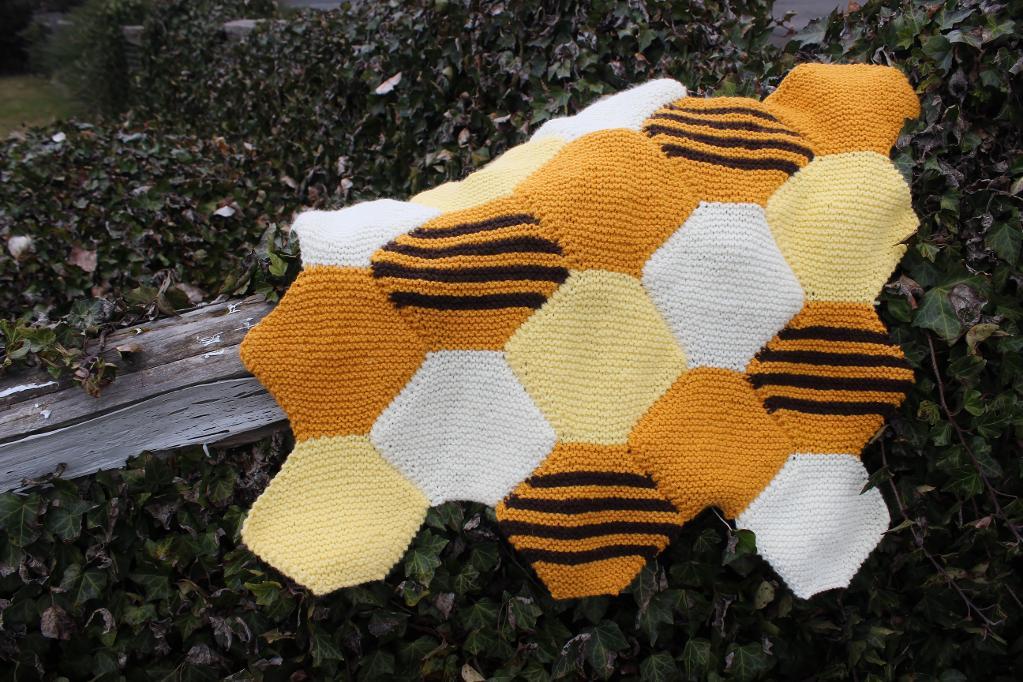 Photo via ErikaShmerika
10. Beehaus (No-Sew Blanket)
Two sizes are included with this pattern, so you can choose one based on your scrap yardage. While the pattern is named after this awesome bee hive–inspired color palette, you can explore other color palettes too. Check out the designer's other photos for more inspiration.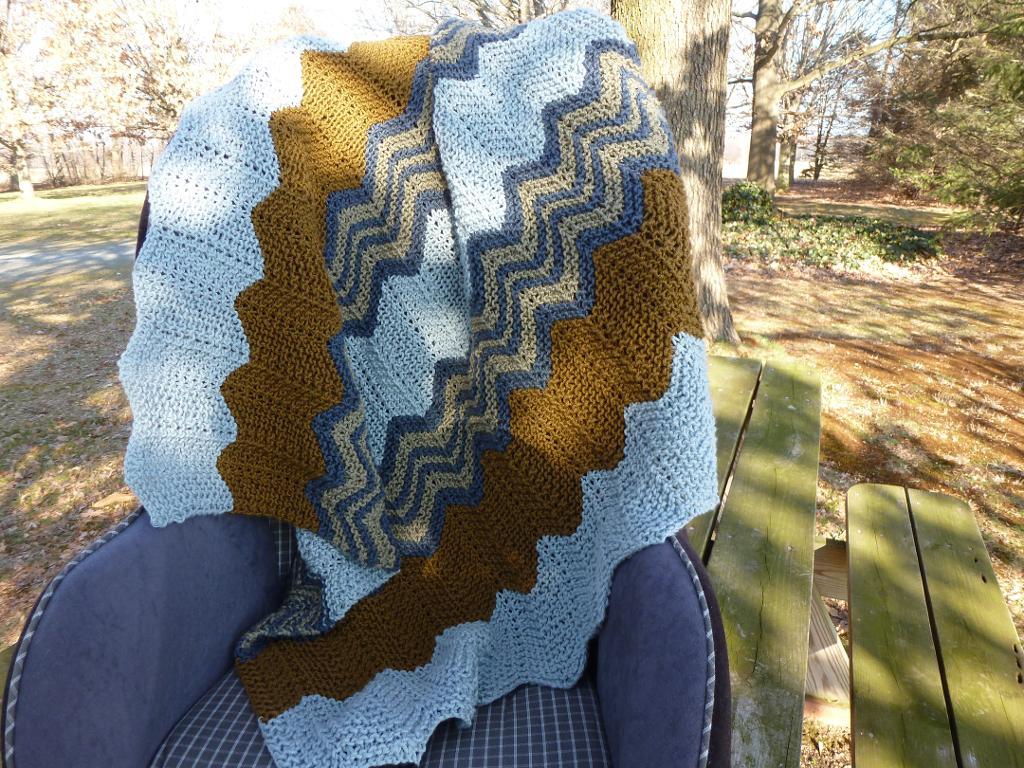 Photo via nickersr
11. Beach Stripe Baby Blanket
The designer encourages knitters to try all kinds of different yarns with this blanket, including cotton. There are even color choice tips included with the pattern to help you get the most out of your scraps.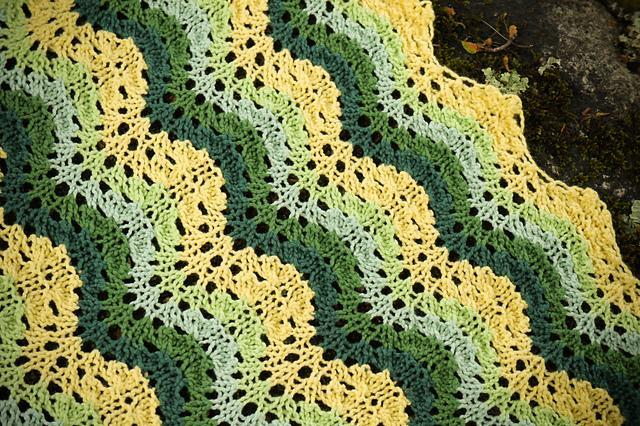 Photo via Tanis Gray
12. Road Trip Blanket
A feather and fan motif like this one is great for striping. The designer used one ball of each color, so this pattern is perfect for those random skeins that you aren't sure what to do with. You can also create broader stripes so you don't have to change colors as often.