Have you ever dreamed of starting your own longarm quilting business? Sometimes, it helps to hear from a voice of experience. We've had fun talking to Jill of Darling Jill Quilts about her longarm quilting and how she turned her hobby into a business.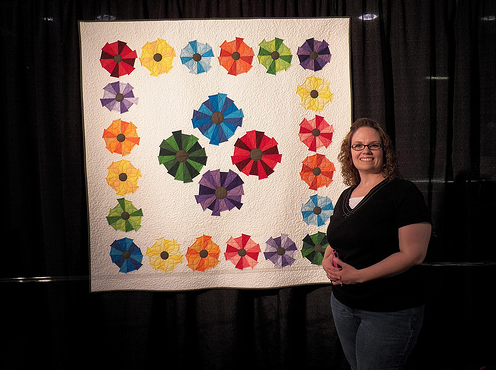 What machine do you quilt on and how long have you been in the business of quilting for others?
I started out quilting on a Viking Mega Quilter that I purchased several years ago when I realized that I really enjoyed making quilts, but didn't enjoy the process of quilting a larger quilt on my domestic machine. The purchase was an impulse purchase. The setup was on sale at a local dealer during a quilt show weekend and the price was just over $3,000.
When I had the opportunity to quilt for some friends who were writing a book, I decided that I should start a quilting business the right way with the goal to be upgrading my machine and frame set up. In 2011, Darling Jill Quilts was "born" and the book was also published.
In April, I figured that I was getting a sufficient amount of quilts in and I applied for and was approved for financing for a HandiQuilter Avante. That showed up the end of April and I got it up and running in May. I am completely amazed at how much easier it is to quilt with a higher-quality machine. I've been in business around two years.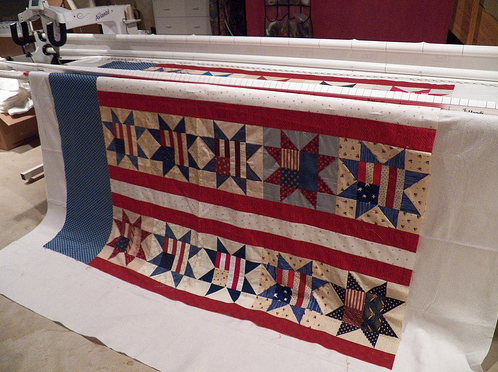 What would you say is the average startup cost of a longarm quilting business?
I think that the startup costs depend on a few different things. I had a lot of the items needed for the quilting business before I actually quilted anything for someone else because I used it all for my own quilts. I would assume that most longarmers would have their own quilting frame setup before decided that they wanted to start quilting for others. And the frame and quilting machine are the biggest cost associated with a quilting business.
I think that if I was starting out without anything, I could have easily spent $15,000 on the frame and machine; the thread, pantographs, needles and other supplies for the machine; business license and tax information (depending on the area and state); legal information and tax preparation; batting inventory; and advertising. I know there are more expenses, but this is what comes to mind.
As it was, I didn't spend more than $500 when I actually started charging for quilting for others.

What are some things you've learned about quilting for customers? What factors does someone need to consider before diving in?
I think the biggest lesson is that not everyone pieces the same way and that is okay. There are always techniques that can be used to fix any issues on a quilt top or backing without the fix standing out. Having the patience to figure out the correct fix is a necessity as well.
I've also had to learn to not make promises that I can't keep from due dates on quilts to quilting designs.
I think that having a thicker skin is needed as well.
It's nice when the customer can give some suggestions. Quite a few people send me quilts and say, "Just do whatever," and that has made it a little tough to make a decision on quilting designs. I might like the design and they might not. I tend to come up with an idea and run it past them before quilting anything. I think that the ones who have a more specific idea of what they want are a little easier to please because we can come up with a plan together and it takes the guesswork out of play.
I actually had someone pick a design and a thread color that she wanted and when I got the quilt, I was unsure about it, but it was what she wanted. The quilt turned out beautifully with her picks and she was very happy so I am glad that she thought outside the box. If I had picked a design, it might not have turned out quite so well.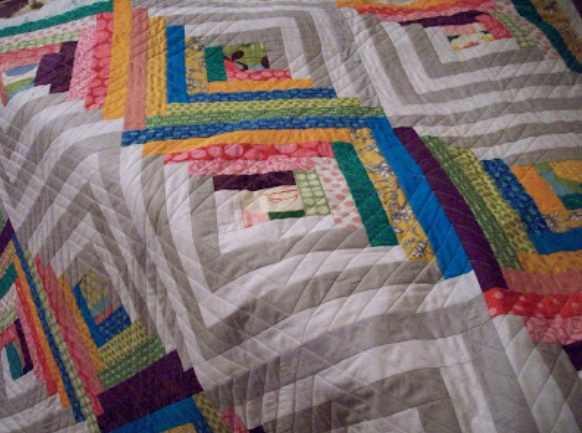 How can someone starting a longarm quilting business decide what to charge?
I started out by going to a couple of shops in my area to see what they charged. I figured that overhead was figured into this price and I could afford to charge a little less. There are also a lot of local quilters in my area and I searched for their prices as well. I decided on a set price based on size that was lower than the shops and a few online quilters, but still what I feel my time is worth.
Once I started quilting, I had to add some prices for various items such as piecing a backing and hand stitching binding because I didn't even realize that it would be something that people might ask me to do.
I haven't changed my prices since starting out, but with the new machine I have wondered if it is time to change my price structure and prices slightly.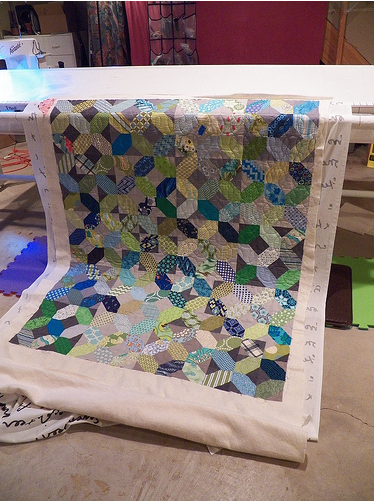 What have you learned by starting your longarm quilting business?
The only other thing is that I have learned that I will never be Angela Walters or many of the other longarmers who do amazing custom designs. I think that there is a lot of practice that goes into her quilting designs and plans, and it always turns out so beautifully. I hope that I can continue to grow as a quilter with the machine upgrade that I made, but I am not going to beat myself up if I don't get to that point quickly enough.
I think that anyone who is thinking about starting a long arm business needs to realize that there is a tremendous learning curve with the machine and the process of quilting on a frame that needs to be done before ever taking money for quilting. If you try to charge for quilting too soon, you could ruin your reputation as a longarmer with one bad experience. I think that I quilted for three or four years for myself and on charity quilts and close friends (not for pay) before I even really considered going the business route.
Be sure to visit Jill's blog to keep up with her longarm quilting adventures. You might also enjoy this video with Angela Walters speaking about beginning a quilting business.
Have you ever dreamed about taking the leap to professional longarm quilting? What questions do you have about starting a longarm quilting business?