Craving for another sweet adventure in a galaxy far far away? You've reached your destination! Travel in light speed to your kitchens and experience the Death Star like you never have before. Channel the sweet side of the Force and learn how to create these Star Wars cake pops in only eight easy steps.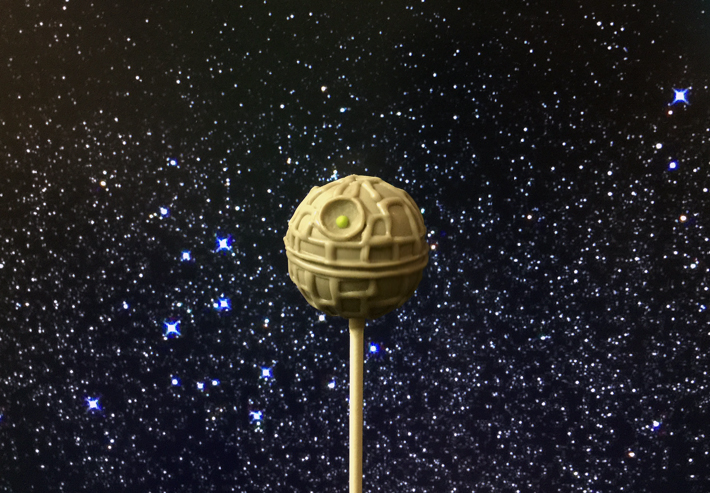 Get Pro Tips for Making Perfect Cake Pops!
Learn how to decorate cake pops that can't be topped with lifetime access to this FREE online class from Wilton decorator Valerie Pradhan.Enroll FREE Now »
Star wars cake pops tutorial
Materials:
Cake pop dough ready for shaping
White candy wafers

Black candy wafers

Light green candy wafers (only a couple of them needed)

Sixlet, peanut M&M, or other small spherical candy or tool

Paramount crystals

Toothpicks

Ziplock baggie

Wax paper

Cake pop stand or styrofoam block
Step 1:
Line your work surface with wax paper. Portion and shape dough into balls.
If this is your first time making cake pops, awesome! Please refer to our cake pop shaping tutorial to get familiarized with handling and portioning cake pop dough.
Step 2:
Use a toothpick to create an indentation around the circumference of each ball. Make sure it's deep because the candy coating will pool into it.
Step 3:
Use either a Sixlet or a peanut M&M to create an indentation into the top half of the cake balls. A Sixlet is used in the photo above. Place all pieces on a wax-paper-lined cookie sheet and refrigerate.
Step 4:
The next step is to create our candy coating. The best way to achieve a light gray color is by melting white candy wafers with a little bit of black candy wafers. The correct ratio would be 10 parts white to 1 part black.
Place candy wafers in a small and deep microwave-safe plastic bowl. Microwave for 1 minute at 50% power and give it a stir. Continue to heat in intervals for 30 seconds at 50% power. Make sure to stir between each interval.
Once the wafers are completely melted, use Paramount Crystals to thin the coating into a paint-like consistency. Heat again if necessary, to melt the Paramount and stir. Let rest in room temperature for 5 minutes.
Step 5:
Remove the cake balls from the refrigerator and let rest in room temperature for 5-10 minutes to take the chill off.
Dip 1/3 inch of a cake pop stick into the candy coating and push in through the bottom of each Death Star until it's about halfway through. Do this for each piece and let set completely.
Step 6:
Dip each Death Star cake pop into the gray coating. Dunk and pull out; while still upside down, gently shake the cake pop side to side to allow the excess to drip off. If you notice any air bubbles, (there will definitely be one within the divot) pierce them using a toothpick. Place on a cake pop stand or styrofoam block and let dry completely.
Step 7:
Pour the remaining gray coating into a ziplock bag. Snip the corner and use it to pipe vertical and horizontal lines throughout the surface of the Death Star.
Step 8:
The final detail is adding a green dot in the center of the divot to show the Superlazer is ready to fire! Melt a couple of light green wafers and use a toothpick to add a dot of green in the center.
May the Force be with you!
Get Pro Tips for Making Perfect Cake Pops!
Learn how to decorate cake pops that can't be topped with lifetime access to this FREE online class from Wilton decorator Valerie Pradhan.Enroll FREE Now »