Stamping cookies is a fabulous and fun technique that yields professional, polished results. Just as scrapbookers or card makers will use rubber stamps to create decorative works of art, cake and cookie decorating enthusiasts can make edible works of art using stamps and edible ink.
Here, we'll discuss some of the ways to stamp cookies, including tricks to ensure success.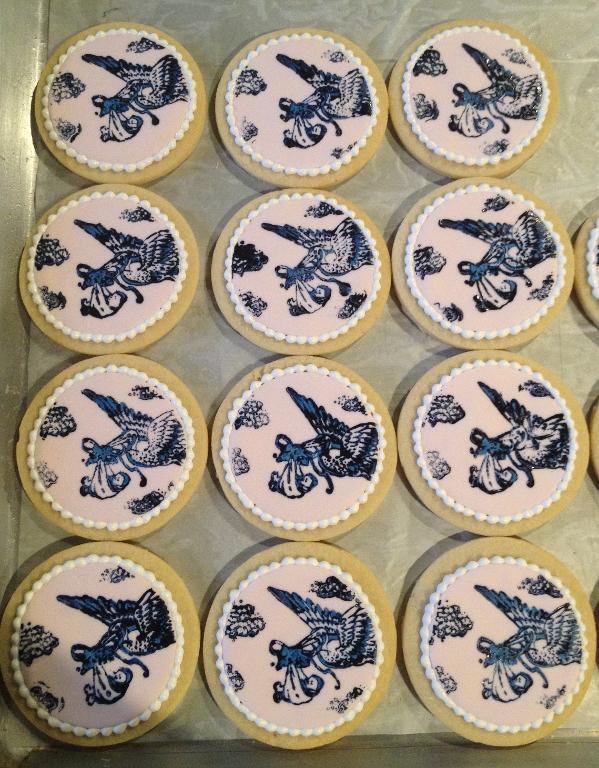 Hand stamped cookies via Erin Gardner
Types of stamps to use on cookies
For single images on a cookie, a clean, unused rubber stamp works best. Unmounted stamps, or stamps with a clear backing, are easiest to center on a cookie. Traditional stamps, with a wood mounting, are still OK to use, but keep in mind that the wooden backing can add a "blind spot" when you're trying to center your design. For best imprint results, choose an image that has strong, clean lines; delicate or crosshatched design elements may not transfer quite as well.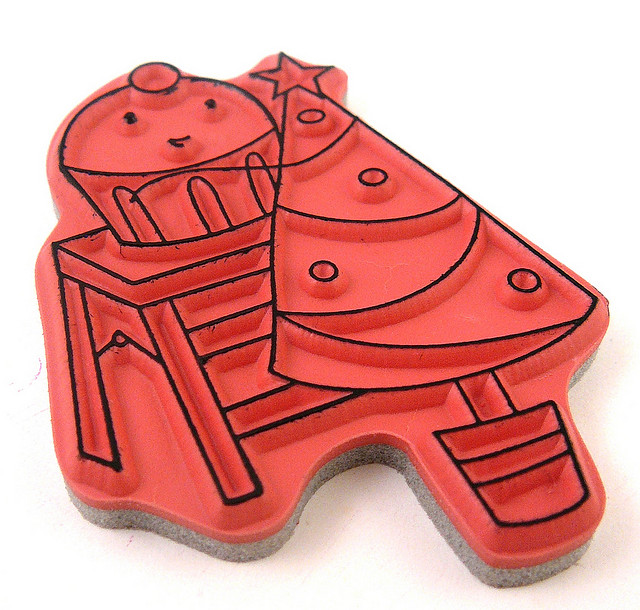 Photo via Taylored Expressions
The perfect surface
While it's possible to stamp some cookies before baking, the methods discussed in this post focus more on stamping finished, iced cookies. Cookies iced with royal icing are probably the most reliable surface for stamping, as the icing will set firm and provides a fairly flat surface.
However, cookies topped with white chocolate or even a simple confectioners' sugar glaze can also be stamped; just make sure to let the icing set fully before stamping. Even if it appears to be firm, it may not be completely set underneath the portion you're stamping, and you may end up with slightly cracked, indented icing, and the stamped image may bleed, like so: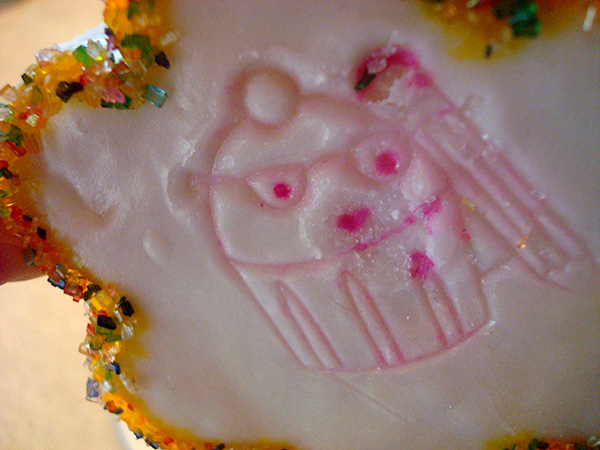 Photo via CakeSpy
A cookie could also be topped with a fondant cutout. First, cut out the fondant and let it dry. Stamp your design, and allow it to set; adhere to the cookie using icing.
Practice makes perfect
Want to practice before taking it to the cookies? Spoon a few rounds of icing on top of parchment or waxed paper and let them set; use these rounds to practice stamping your images to build your confidence. This will give you an idea of how hard to press down on the icing, too; practicing on paper may not give you quite as accurate of an indication.
Photo via CakeSpy
Inking your stamps
How should you ink your stamps? There are a few options. The first, and arguably easiest, is to use edible markers and brush the bottom of the stamp. There are a few advantages to this method. First, you can combine colors with ease, so that you can make different portions of the image in different colors. You can also ink only a portion of the design, rather than the entire thing. You can also add extra design elements by hand, such as names or other small motifs.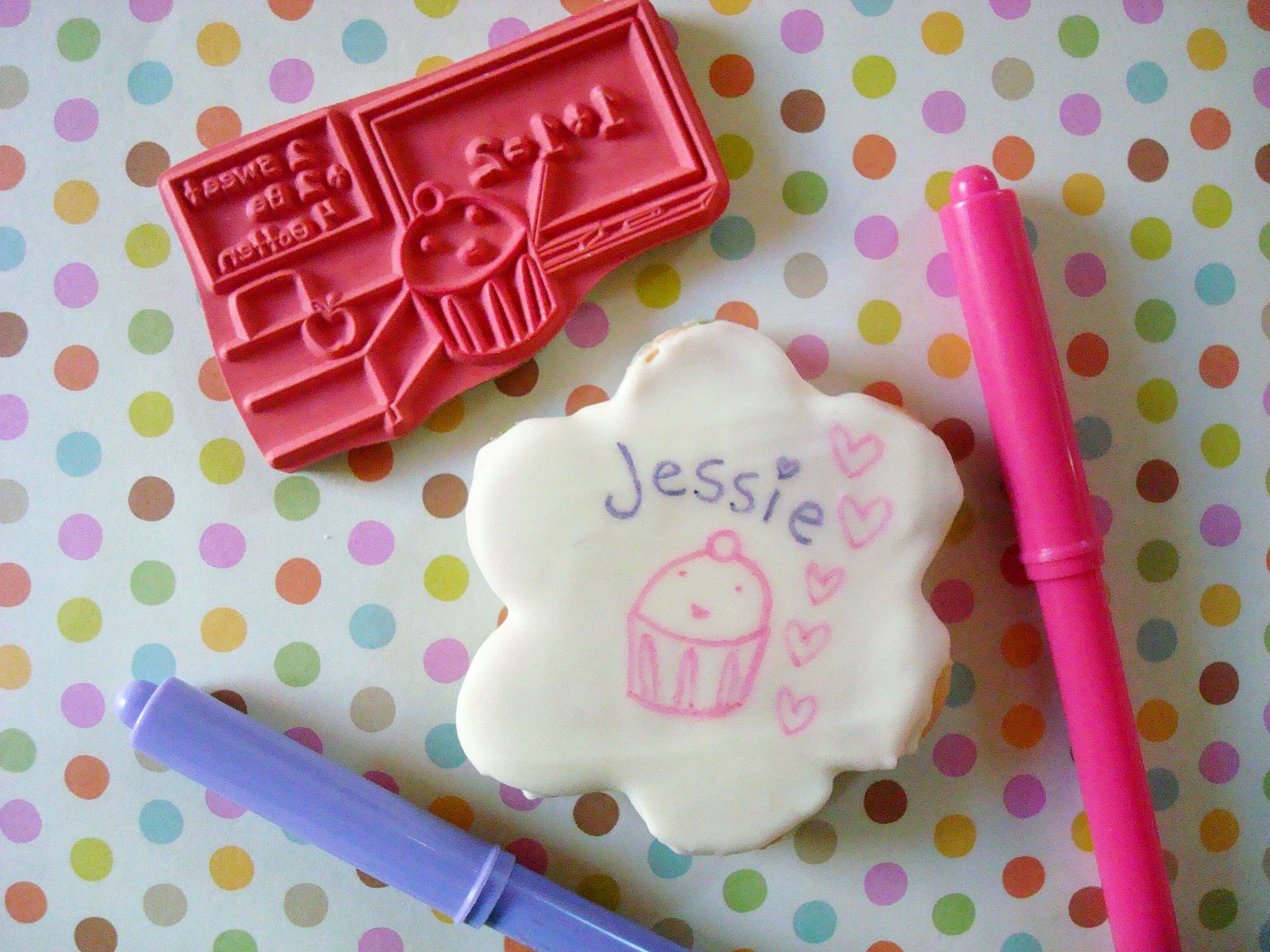 Photo via CakeSpy
The second method, which is reliable but can be a little messier, is to paint on the ink using a brush. Mix gel food coloring with a little vodka or isopropyl to dilute the ink. Once it is to a thick but liquid consistency, you can brush it on the bottom of the stamp.
If you think you might be making a number of stamped cookies, you may want to make your own edible ink pad. Blank stamp pads can be found at craft stores or online: Search for "uninked rubber stamp pad." Make sure it is not treated with any substances as this could be dangerous for consumption.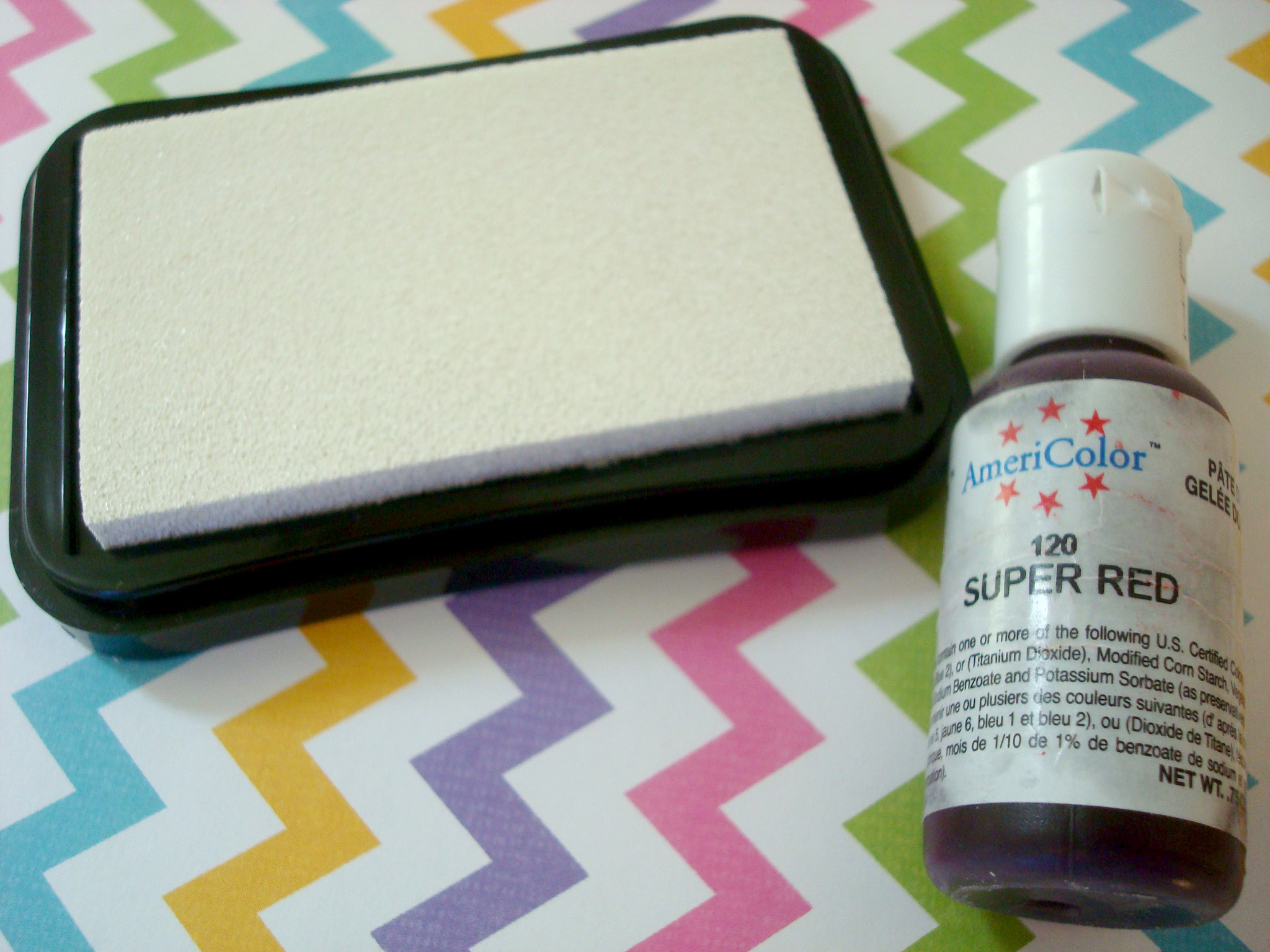 Photo via CakeSpy
If your gel coloring is fairly liquid and can drop without being too thick, simply drip several drops all over the ink pad and then use a spoon to evenly distribute it on the pad.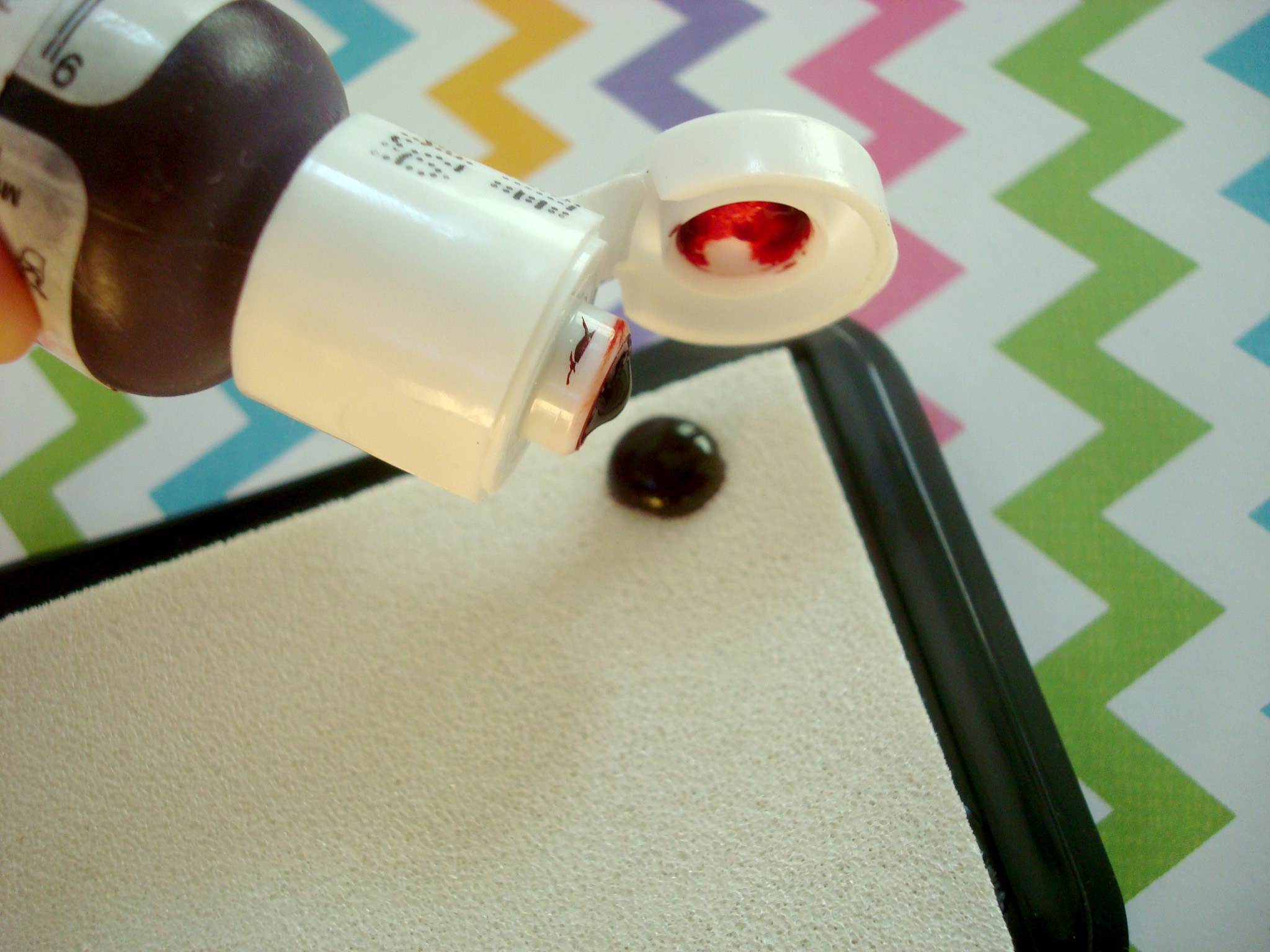 Photo via CakeSpy
You can also dilute the gel with isopropyl alcohol or vodka to thin it, and then drop it on to the pad and spread evenly.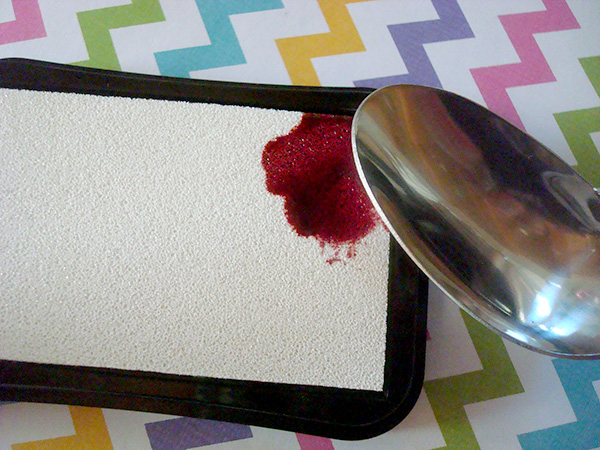 Photo via CakeSpy
After several minutes, the pad will absorb and distribute the ink evenly, and then can be used as a usual rubber stamp pad. It's a good idea to test a few stamps on either paper or rounds of royal icing on parchment paper to ensure that you've reached the desired ink color and consistency.
How to stamp cookies
Supplies:
Cookies iced with royal icing
Rubber stamps
Edible markers, diluted food coloring and a brush, or a stamp pad loaded with food coloring
Step 1:
Gently brush the imprint area of the stamp before stamping the cookie, or press it on the ink pad. Rather then pressing down hard on the pad, overturn the pad and pat it on to the stamp; this make the coverage more even.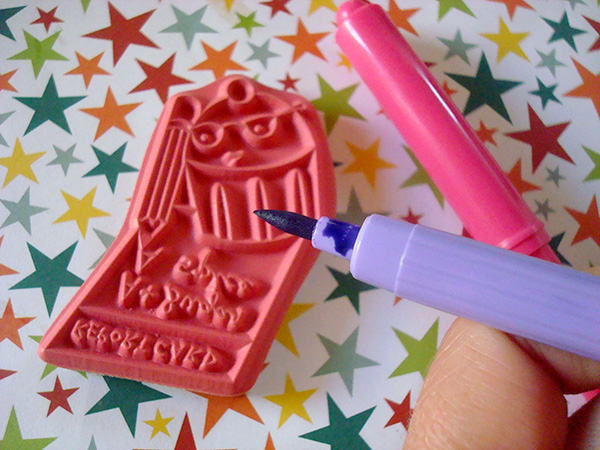 Step 2:
Delicately, keeping in mind that even firm icing may be slightly soft underneath, stamp the image. Using a gentle rolling method will evenly press it into the icing.
Step 3:
Pull away the stamp. If there are areas that weren't perfectly covered, you can lightly brush or draw on the rest of the design.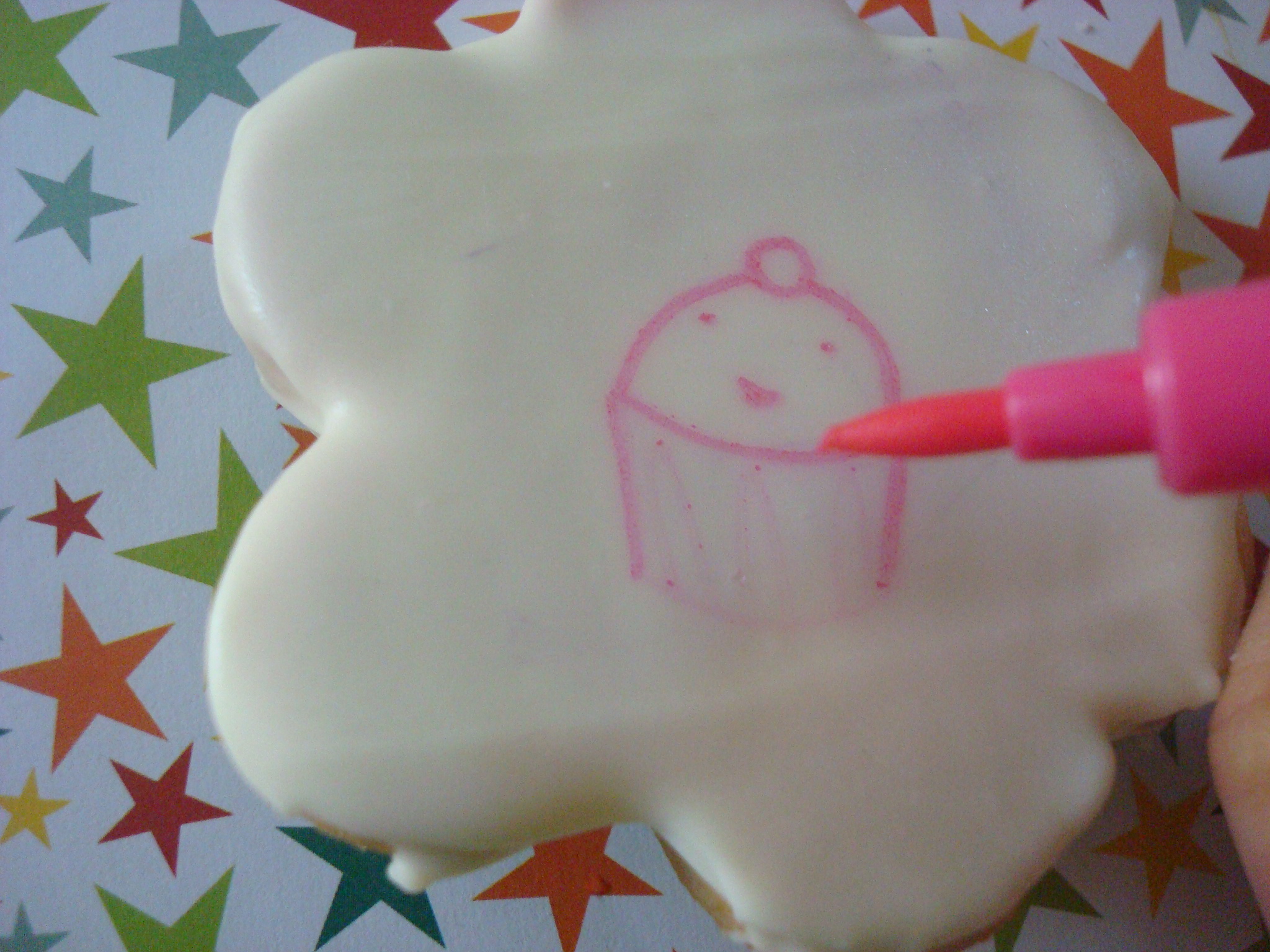 Step 4:
Let the ink set until dry completely. If desired, paint or draw in details and apply any decorative borders you'd like.