Spring is when I feel most inspired to arrange flowers! There are so many flowers to choose from—many fragrant and most very fleeting—which makes bringing them inside a great way to savor the moments of spring and the hard work you've put into your gardens all year long. The options are limitless when it comes to creating beautiful arrangements that will complement any space! Today, I am sharing an easy to make, long-lasting bouquet—read below for the instructions.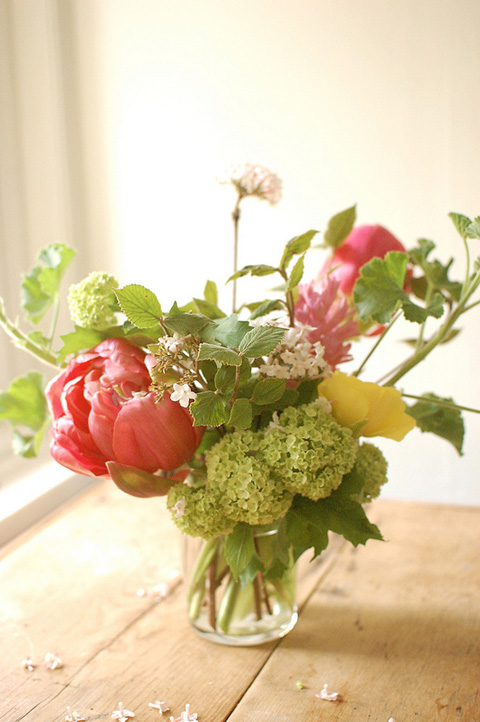 Harvesting and basics
First, some basics. When working with fresh flowers, always choose blossoms—whether from your garden or florist shop—that are firm and have green, fresh leaves. It's just like selecting vegetables! Be picky. If you are harvesting from your own garden, harvest them in the morning or evening when they are most hydrated. Always cut flowers at a 45-degree angle, to allow the most space on the stem to drink up the water. Use clean clippers, a clean vase and cool water.
How to make a spring flower arrangement:
For this arrangement I used:
3 stems of viburnum, 'snowball'
3 stems of daphne
1 hyacinth
2 stems of double tulips (you could easily sub peonies here)
3 stems of ranunculus
5 stems of scented geranium
1 cylinder shaped vase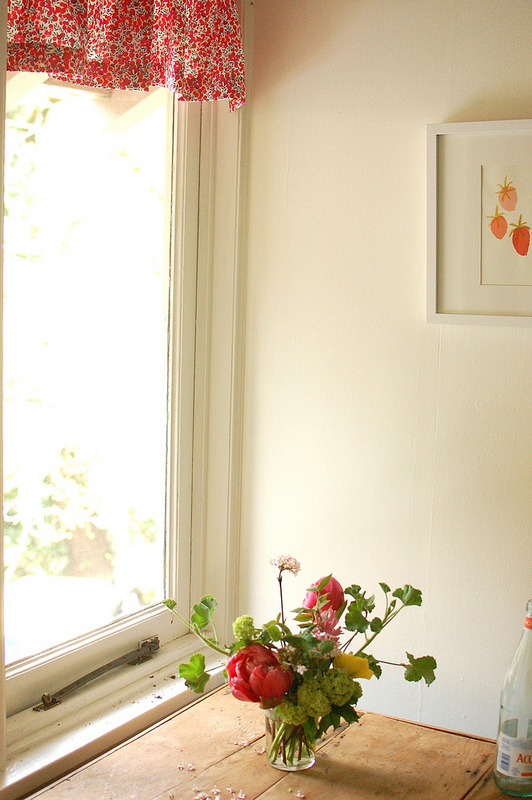 Directions:
Step 1:
Re-cut all stems after bringing home from the florist or the garden. Remove leaves that would be submerged in water. Cut at an angle and let site in cool water for a few hours.
Step 2:
Start with your greenery to make the shape. Go with whatever shape your greens seem to be making and that you like. It's important not to fight against the natural curves of the plants! Go with the flow: If a stem arches to the right, use it in a way that will work with that line. As you arrange, be sure to remove more leaves. Any leaves that would sit below the water line, should be taken off. If you have leaves in the water, it encourages the growth of bacteria and your arrangement won't last as long.
Step 3:
Add your focal flowers. In this case, the double tulips or peonies. I like setting one down low near the rim of the vase, and another up a bit higher with some space in between.
Step 4:
Next add your secondary flower, ranunculus in this case, to begin filling holes.
Step 5:
Add your fillers like the viburnum, daphne and hyacinth to make a shape that you like. I always try to add the most delicate flowers last (like the daphne) so they don't get squished by heavier blooms.
Maintenance
Keep your arrangement away from drafts and direct sunlight. As flowers die, take them out to allow more space for other flowers to open up. Refresh the water daily if possible. Just sit the vase under the faucet and let it run until all the old water is out and the vase is filled with fresh water. Your lovely arrangement should last five to eight days!
What's your favorite spring flower bouquet combination?