As a busy mom of two, I'm constantly dreaming up desserts that look beautiful, taste amazing, and can be created quickly and easily. In my new book EAT MORE DESSERT, you'll find just that. More than 100 simple-to-make and fun-to-eat decorated treats for any occasion.
Today, I'm sharing an delicious spring dessert recipe from my book.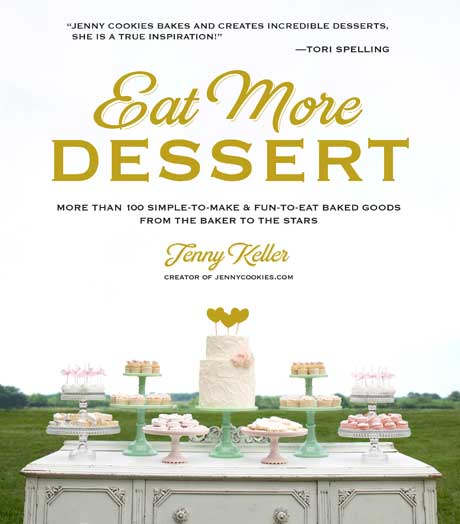 Photos via Kelly Bowie
For the book, I created 10 themed dessert tables ranging from kid's birthday themes, baby showers, weddings, holidays and seasons. One of my favorite dessert tables in the book is the Spring Garden table. It's overflowing with pastel colored desserts in springy lemon, carrot and yellow flavors. With a multitude of cake pops, cupcakes, cookies and cakes — there is something for everyone!
Take a peek at a few of the other fantastic desserts you'll find in the Spring Garden chapter. Terra-cotta potted cupcakes disguised as hydrangeas, brownie nests with edible eggs, garden carrot cookies, and beautiful sugar cookies dressed as flowers.
Because my favorite way to decorate a cake is with buttercream frosting, I included three beautiful textured buttercream cakes on this table. I love how buttercream cakes look, but also adore that they are melt-in-your-mouth delicious.
This gorgeous yellow petal cake's decoration technique is extremely forgiving. There's no need for perfect stars or straight lines, making it simple and irresistible. Below I share the recipe and step-by-step tutorial on how to make this beautiful yellow petal cake for for your spring fete.
Spring dessert recipe for yellow petal cake
Makes one 4″ (10 cm) and 6″ (15 cm) tiered cake
Ingredients:
cooking spray or Crisco or Butter Plus Flour, for pans
2 (18.25 ounce) boxes Duncan Hines yellow cake mix
2 (3.4 ounce) boxes Jell-O vanilla instant pudding and pie filling, dry
2 cups (475 ml) water
2/3 cup (157 ml) oil
8 large eggs
2 batches buttercream frosting (Recipe below)
yellow food coloring
You will also need:
2 (6″ x 2″) and 2 (4″ x 2″) round nonstick cake pans
cake cutter or long serrated knife
2 round cardboard or plastic cake boards
offset angled spatula
large pastry bag
#2d Wilton decorating tip
3 (1/4″ thick) dowels or thick plastic straws
cake decorating turntable
To bake the cake:
Step 1:
Preheat the oven to 350 F (180 C). Coat the 4″ (10 cm) and 6″ (15 cm) round nonstick cake pans with cooking spray, or grease and flour the pans, tapping out the excess flour. Set the prepared pans aside.
Step 2:
In a large bowl, and using an electric stand mixer fitted with a paddle attachment, beat the cake mix, pudding mix, water, oil and eggs on medium speed for 2 to 3 minutes, or until well blended. Scrape the sides of the bowl and mix again until all the ingredients are incorporated.
Step 3:
Pour batter into the prepared cake pans, filling each one approximately three quarters full.
Step 4:
Place the pans in the preheated oven, on the middle rack. Bake 4″ (10 cm) cakes for 20 to 25 minutes, and 6″ (15 cm) cakes for 25 to 30 minutes, or until a toothpick inserted into the center comes out clean.
Step 5:
Remove the pans from the oven and place on wire cooling racks for 25 to 30 minutes. Run a knife around the edges of the cakes, flip the pans over and gently extract the cakes. Return the cakes to the wire racks and finish cooling completely before frosting and decorating. After the layers are cooled, freeze or refrigerate the cakes for 1 hour before decorating to reduce crumbs and make for a smoother icing process.
Step 6:
Meanwhile, make the two batches of buttercream frosting (recipe below). Add yellow food coloring to the frosting until it reaches the desired shade.
To assemble and decorate the cake:
Step 1:
Before decorating, trim the crowns from the cake tops with a cake cutter or long, serrated knife so they are flat and even.
Step 2:
Place one of the 6″ (15 cm) cakes on a cake board. Using the angled cake spatula, spread about ½ cup (120 ml) frosting evenly across the top of the cake layer. Place the second 6″ (15 cm) cake on top of the first, with the cut side on the bottom. Use the angled cake spatula to cover the cake completely with a very thin layer of icing (or crumb coat) to help reduce the amount of crumbs in the final coat of icing. Set the two-tiered 6″ (15 cm) cake aside.
Step 3:
Repeat this process with the 4″ (10 cm) cake layers, using another 1/3 cup (80 ml) of buttercream frosting between the layers, and icing the sides and top of the cake. Once the same process has been completed on the 4″ (10 cm) cake layers, allow them to dry for 1 hour, or until the icing crusts.
Step 4:
Place the #2D Wilton decorating tip inside the pastry bag (no need to use a coupler) and fill with yellow frosting. Set aside.
Step 5:
Create supports for the smaller cake to sit atop the larger cake by placing the dowels into the top of the 6″ (15 cm) cake. Insert the first dowel into the cake and use a pen to mark the dowel at the point where it just comes to the top of the cake. Remove the dowel and cut it at that mark. Cut 3 additional dowels or straws to the same length and place them in a circle, approximately 2″ from the center of the cake, and evenly spaced. Using a large flat spatula, carefully center and place the 4″ (10 cm) tier on top of the 6″ (15 cm) cake tier.
Step 6:
Place the cake on a rotating cake turntable. Using a large decorating spatula, frost the top of the cake for a nice smooth finish. Using the pastry bag filled with yellow frosting, begin at the bottom of your cake. Squeeze the pastry bag to make a star shape. Continue around base of cake, spinning your turntable as you go. Just keep making stars around the base of the cake moving up, covering all sides and bases with yellow buttercream stars.
Buttercream frosting recipe
Makes about 6 cups
Ingredients:
1 cup (225 g) margarine or butter (2 sticks)
1 cup (225 g) vegetable shortening
2 pounds (907 g) =confectioners' sugar (about 7 1/2 cups)
2 teaspoons pure vanilla extract
3 tablespoons (45 ml) whole milk
Step 1:
Combine the margarine and vegetable shortening in the bowl of an electric mixer; using a paddle attachment, beat on medium speed until smooth, about 2 minutes.
Step 2:
Add half of the confectioners' sugar and continue beating on low speed for an additional 2 minutes, or until the mixture is creamy, scraping the sides of the bowl with a rubber spatula as needed. Add the remaining confectioners' sugar, vanilla and milk, and beat until the frosting is creamy and fluffy, about 2 minutes more. Add any food coloring at this time, if using, and beat on low speed until light and fluffy.
Step 3:
Use immediately or store in an airtight container refrigerated for up to 30 days.
What is your favorite spring dessert recipe?
About the author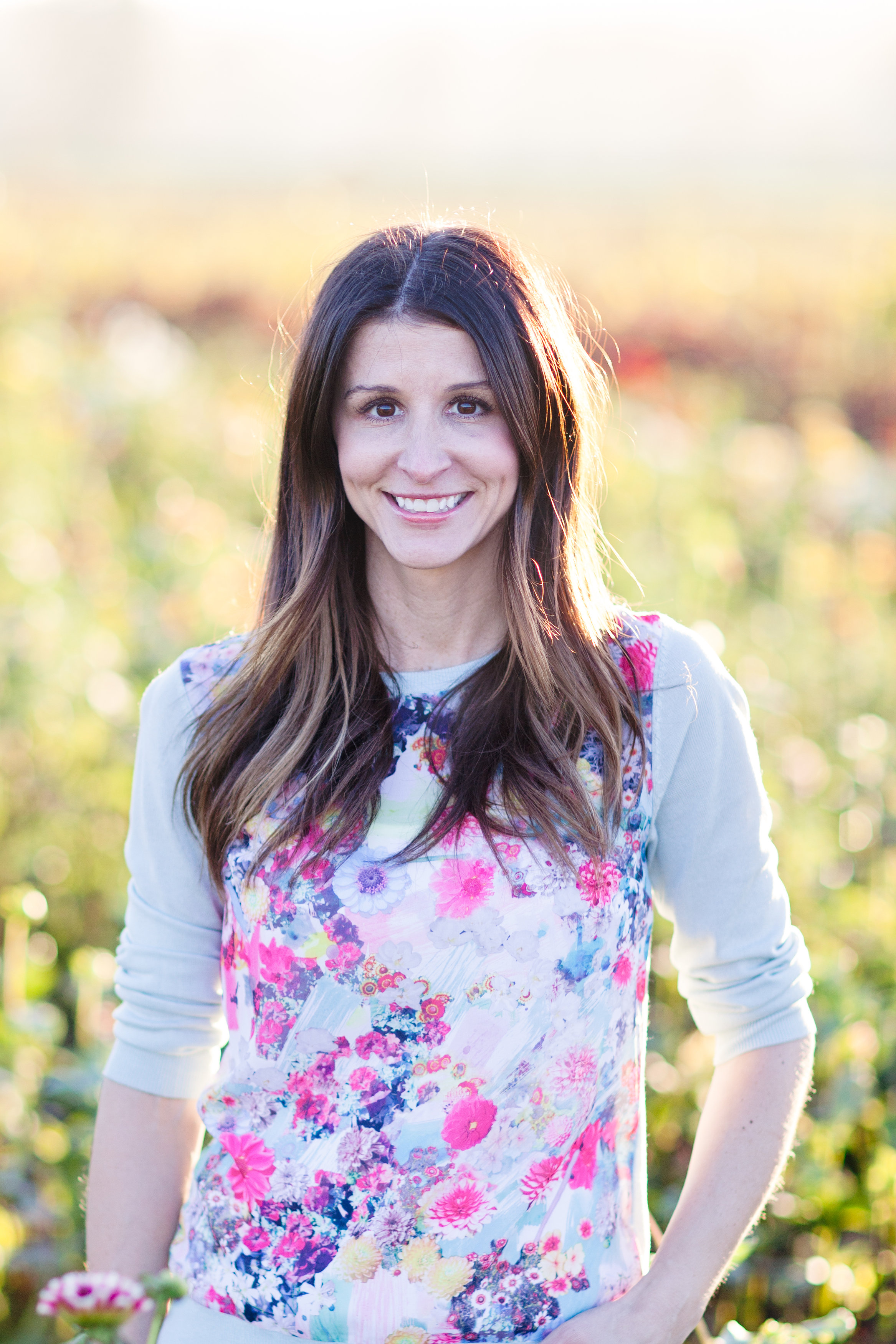 Jenny Keller, creator of the popular site www.jennycookies.com, is best known for the amazing dessert tables she bakes and creates for celebrity parties. Her one-of-a-kind desserts have been featured on people.com, HuffingtonPost.com and E! Online, as well as popular shows such as E! News, Extra, Entertainment Tonight, The Insider and Tori & Dean, Home Sweet Hollywood. Jenny lives in Seattle with her husband and two children. You can also find Jenny on Facebook.