Spools of thread are a necessity, but who knew they could make such charming quilt designs Here are nine spool quilt patterns and projects that will leave you inspired to sew up your own spool quilt.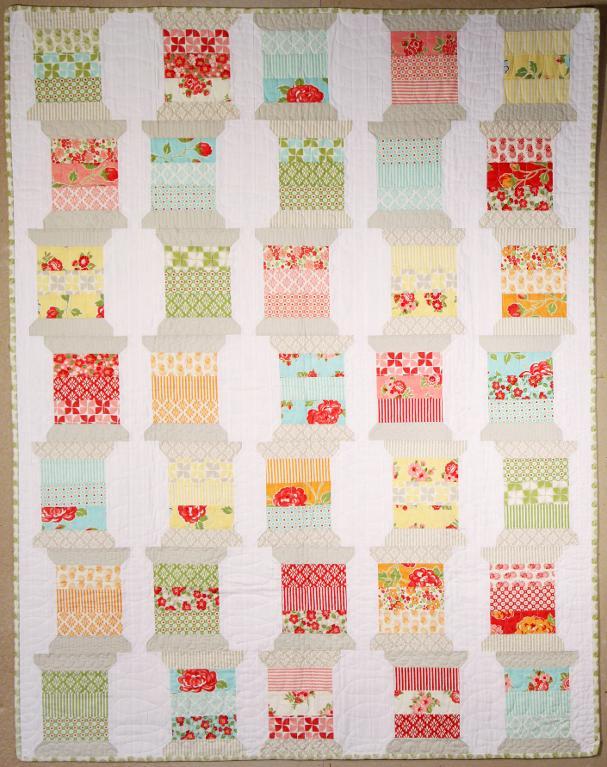 Spools Quilt via the Craftsy class Playful Piecing Techniques
Discover the design possibilities of spool quilt blocks and patterns!
There are several key ingredients you must have to make a quilt. Fabric, batting and thread are all necessary to create a patchwork masterpiece. Many quilters have take something they need when quilting, a spool of thread, and used it as design inspiration. It's a great way to really celebrate your love of quilting! Below are some of our favorite spool quilts. Be sure to click on the photos and links for all of the details.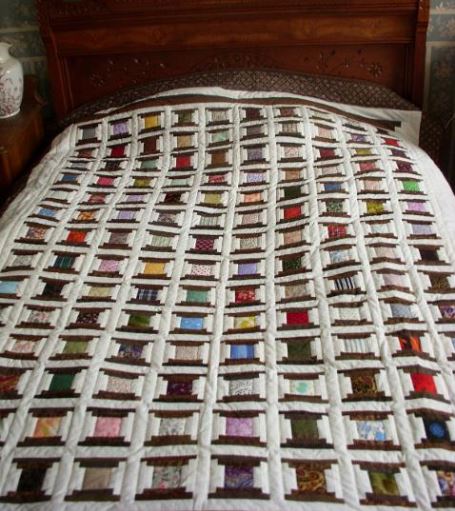 Photo via Craftsy member dottyeb
Charming Spools Quilt
Let's begin with this incredible spool quilt shared by Craftsy user dottyeb.  She used a modified version of the Court House Steps pattern to make 150 different spools, just right for a twin size bed quilt. If you'd like to make your own Charming Spools quilt, you will find the dimensions on her project page.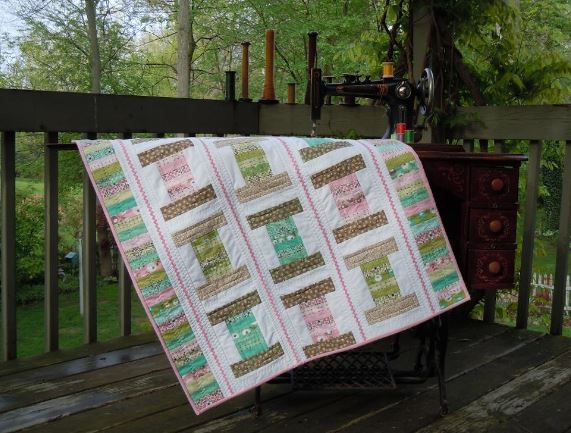 Photo via Craftsy member loftcreations
Vintage Spools Pattern
Use a favorite Charm Pack to sew  the Vintage Spools quilt. It would make a special gift for the baby of a quilter, or use it to decorate the wall of a sewing room. Add buttons to the finished wall hanging for a fun 3-D effect. The finished quilt measures 31.5″ x 36.5″.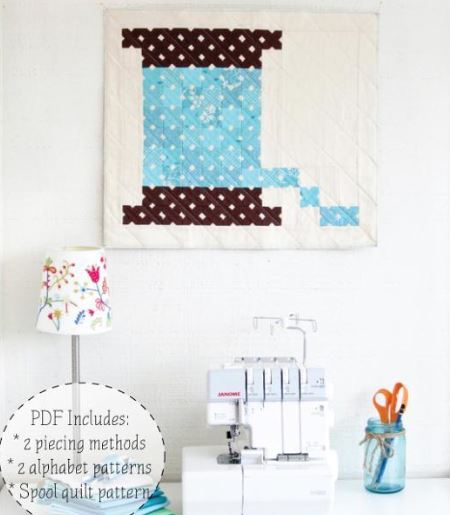 Photo via Craftsy member asquaredw
Quilted Cross-Stitch Pattern
If you love quilting and cross stitching, this mini is for you! Use this sewing pattern to turn any cross-stitch pattern into a quilt. Two sets of instructions are included to piece the cross blocks as well as the spool mini-quilt pattern and two alphabet patterns!
Photo via Craftsy member Brittany Love
Happy Stitchin' Pattern
Nothing celebrates quilting quite like the Happy Stitchin' quilt! (Say that five times fast!) Rows of adorable sewing notions decorate this mini. Spools and more are paired with items from nature in this playful pattern that measures 34.5″ x 45.5″.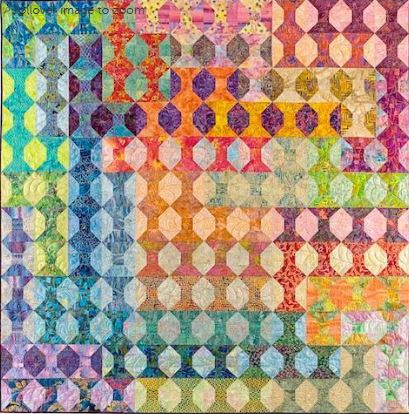 Photo via Craftsy instructor Laura Nownes
Sparkling Spools Pattern
Jelly Rolls and other 2.5″ strips make the Sparkling Spools quilt pattern an quick and easy project. Careful attention to value and color will help you create a stunning quilt. Three quilt sizes are included in this eye-catching pattern.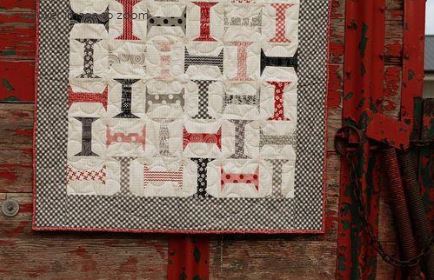 Photo via Craftsy member sweetwater3
Mama's Spools
Here's another downloadable pattern for a spool mini quilt, this one measuring 35″ x 35″. This pattern is Charm Pack friendly, so pull out your pre-cuts for this one! To make a throw size quilt, simply add more blocks!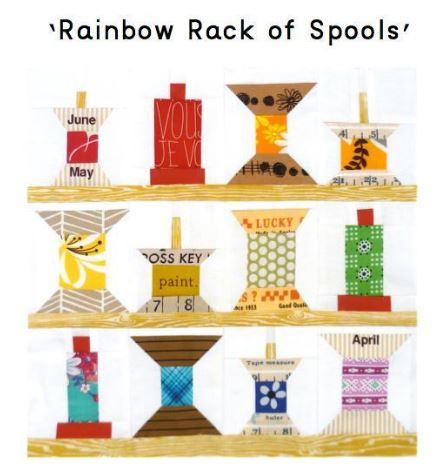 Photo via Craftsy member Sew-ichigo
Rainbow Rack of Spools Pattern
Try your hand at paper piecing with the Rainbow Rack of Spools pattern. This 23-page PDF file includes eight freezer paper templates and paper-piecing spool patterns with directions to make the completed block shown above. Each cute little spool measures only 3″ x 3.5″ finished! If you are new to paper piecing, links to free online tutorials by the designer are included with the pattern.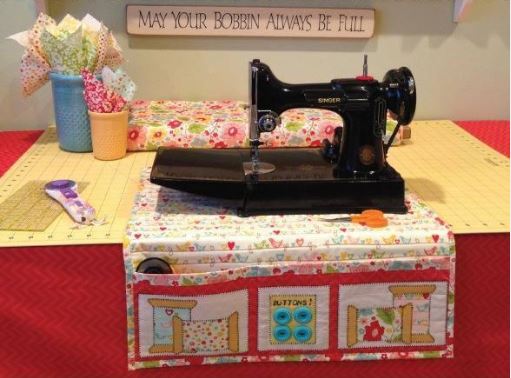 Photo via Craftsy member Brittany Love
Sewing Machine Mat Pattern
Here's another way to decorate your sewing room with spools. Use your favorite scraps along with three Fat Quarters to whip out this sewing machine mat that measures 18″ x 20.5″. The three front pockets are the perfect place to hold small notions that you use at your machine, like scissors, seam rippers and bobbins.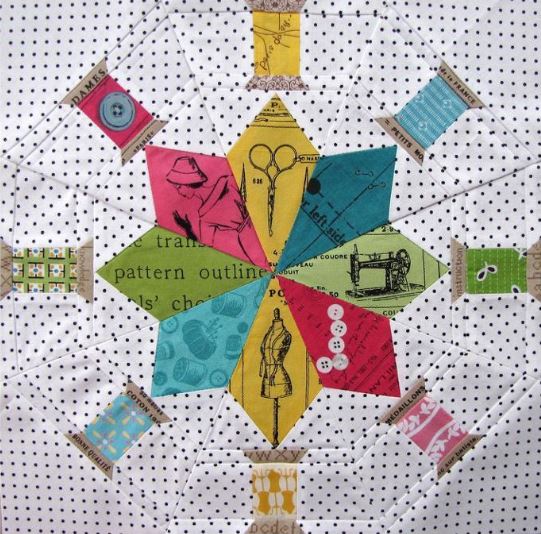 Photo via Craftsy member Charise Creates
Starburst Spools Pattern
Here's one last spool inspired pattern! This paper-pieced Dresden Plate-style block is perfect for a pillow, bag, placemat or mug rug. If you don't enjoy paper piecing, templates are included in the pattern. The finished block measures 12″.
If you enjoy this type of piecework, be sure to check out the adorable spool quilt in the Craftsy class Playful Piecing Techniques with Camille Roskelley. Or, you might also enjoy the creative spool quilt from Joanna Figueroa in her class Simple Fresh Quilts!
Have you made a spool quilt? What is your favorite project or pattern featured here?