While spatchcocking is a fairly new concept to me, the truth is this culinary method for preparing poultry for grilling or roasting has been around since the late 1700s. The idea behind this simple process is to open up a chicken, turkey or really any type of poultry, by removing the breastbone then flattening.
This allows it to cook much more quickly and evenly as well as getting the skin crisped and deeply flavored throughout — not just on the breast.
Learn how to to spatchcock a chicken for quick, even cooking and delicious depth of flavor!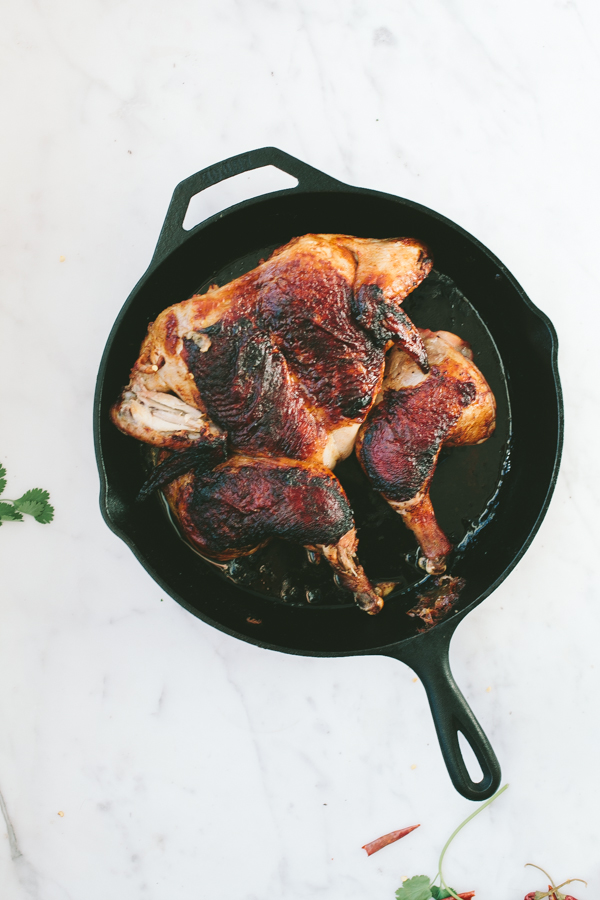 Whether grilling or oven-cooking, this really is the best roasting technique around. The entire roast will be done before the evening cocktail has been consumed. For the winter months I am still quite partial to whole roasts but when time is an issue, spatchcocking is a great method to have on hand.
The process is fairly quick and painless and leaves you feeling a bit like a butcher, which for me is a title that I'd wear proudly.
Step 1:
Start with a clean, dry bird. Here, I'm using a chicken, but any poultry would do. Imagine the time you'd save if you were to use this method on a turkey!
Place the chicken, breast side down, on a clean surface.
Step 2:
Using kitchen shears or an incredibly sharp knife, make a cut along one side of the breast bone. This is easy to find, as it is the long bone that runs down the middle of the back.
Step 3:
Rotate the chicken and repeat along the other side of the breast bone. Save the breast bone to add to future batches of chicken stock. Freeze until ready to use.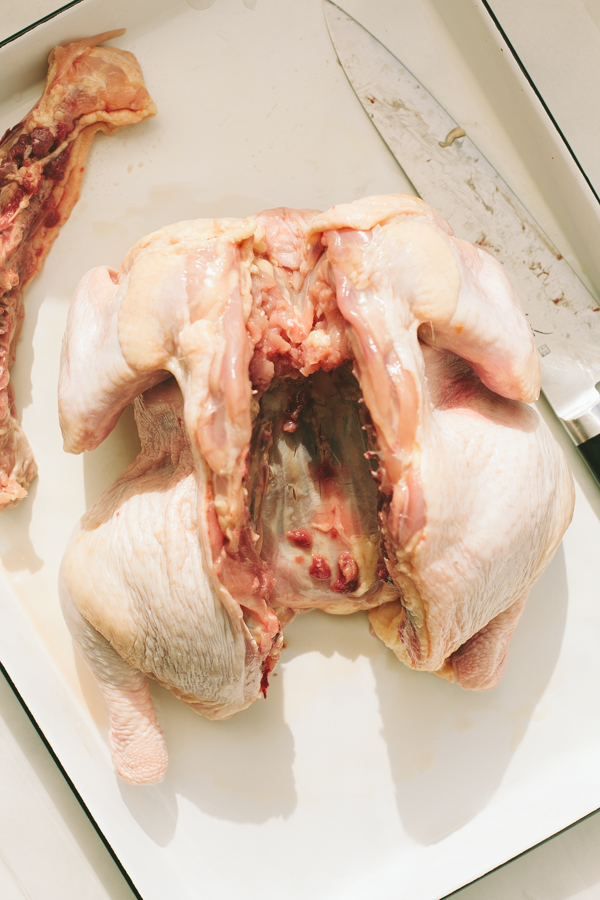 Step 4:
Flip it over, then push down forcefully to flatten out the chicken. You will have to push quite firmly.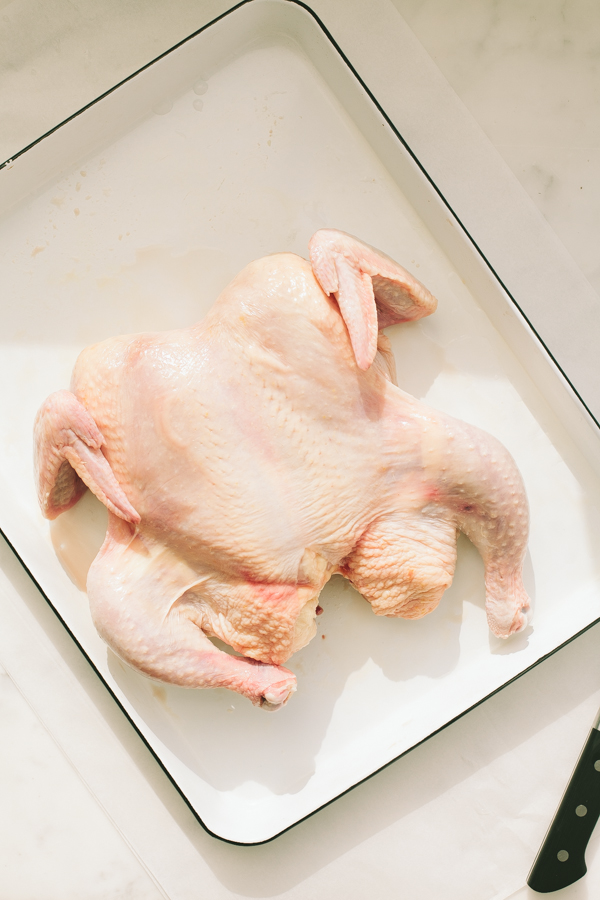 Step 5:
Now you are ready to roast or grill: Here, the options are practically endless. If I've done well by planning ahead, I like to salt and pepper the chicken a day or up to three days before cooking. This way the entire chicken is seasoned as the salt initially releases some of its juices then draws them back in. Quite often I fail to plan ahead, so I can assure you that salt and pepper resting on the skin is perfectly acceptable.
Fresh herbs and thinly sliced garlic tucked under the skin is never a bad idea. For today's recipe, I've doused the entire chicken in a smoked chipotle hot sauce that is pungent with vinegar and has a warming spice that suits the roast nicely.
Step 6:
In a large cast-iron skillet, I added a couple of tablespoons of olive oil then heated the pan until the oil was smoking. Carefully, I placed the chicken in the pan, breast side down, then seared the meat for 5 minutes before tucking the whole thing into a preheated 425 F oven.
All in all the it took just about 40 minutes to roast, shaving off 20 minutes from its usual cook time. I roast chicken until a thermometer reaches 165 F in the thickest part.
I let it rest in the pan for 15 minutes before we descended on it happily.
Looking for more cooking techniques to build your repertoire? Check out the Craftsy class Roasting Techniques Every Cook Should Know with James-Beard Award winning chef Molly Stevens and unlock her secrets to delicious home-cooked roasts for your next dinner party or holiday meal.
Sign me up! >>
Have you tried this method before? What type of poultry did you use?