Making beautiful sparkling cake pops for New Year's Eve doesn't have to be complicated! The beauty of these cake pops is their simplicity. Let's revisit the basics of cake pop–making and start the new year with making beautiful, easy, sparkling cake pops using two different methods.
For these sparkly delicious cake pops, all you'll need is sanding sugar, sparkling sugar or luster dust.
I stuck with the couple of colors that are reminiscent of New Year's Eve. I chose black and white coating; clear, gold and black sugars; and white, gold and silver luster dusts. The difference between using luster dust on a light versus dark base is apparent, as you'll see.
You'll need:
Cake pop dough ready for shaping

Cookie scoop

White or black candy coating

Sanding sugar

,

sparkling sugar

or

luster dust

6″ paper lollipop sticks

Paramount crystals, EZ-Thin or Virgin coconut oil

Fluffy brush (only if using luster dust)

Toothpicks

Waxed paper

Cake pop stand
Shaping and prepping your cake pops
Forming good cake pop dough is the key to making smooth, easy-to-dip cake pops. The process requires some planning, but with this shaping guide, your experience should be uncomplicated.
Step 1: Shape the cake pops
Line your work surface with waxed paper. Use a cookie scoop (4 cm in diameter, 2 tablespoon volume) to form uniform portions of cake pop dough.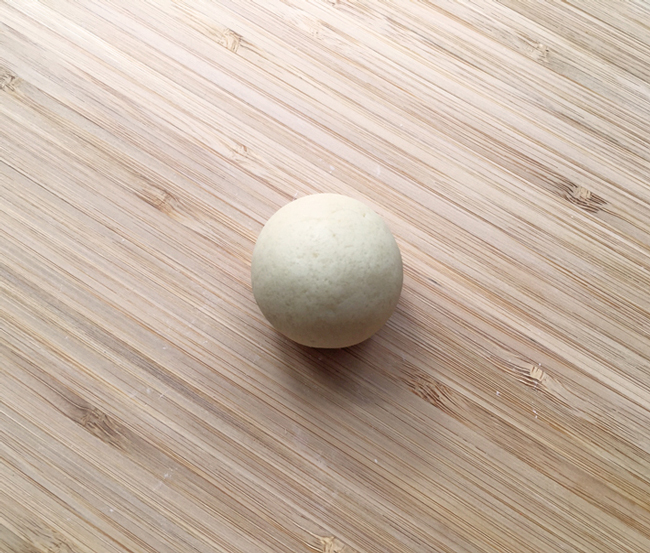 Roll each portion into a ball. Place on your waxed paper–lined cookie sheet and refrigerate for at least 15 minutes, or longer.
Step 2: Melt the candy coating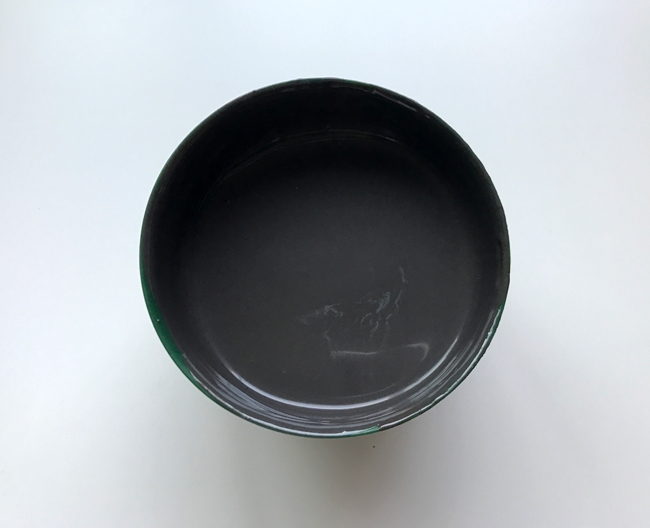 While the cake balls are in the fridge, melt the coating. Place the black or white candy coating in a microwave-safe plastic or silicone bowl or cup. Place the bowl in the microwave and heat for 1 minute at 50 percent power. Give it a stir (though it will still be solid). Continue to heat in 30-second bursts at 50 percent power until the coating is melted and smooth. Stir between each interval.
Once it's smooth and melted, add paramount crystals, EZ-Thin or virgin coconut oil (solid) to thin the candy coating to a consistency similar to wet paint. Let sit in room temp for a few minutes to let the heat dissipate. Coating can always be reheated for 15-20 seconds at 50 percent power if it's starting to harden.
If black coating is difficult to find in your area, equal parts dark brown and navy blue yield a dark slate color that dries and sets to a close black.
Step 3: Insert the lollipop sticks
Remove cake balls from the refrigerator and let sit at room temperature for a couple of minutes, to take the chill off. Dip a lollipop stick about ⅓" into the candy coating. Insert each stick into a ball until it's about halfway through. Do this for all the pieces.
Decorating the cake pops with sugars
(You can jump ahead to the next section if you plan to use luster dust.)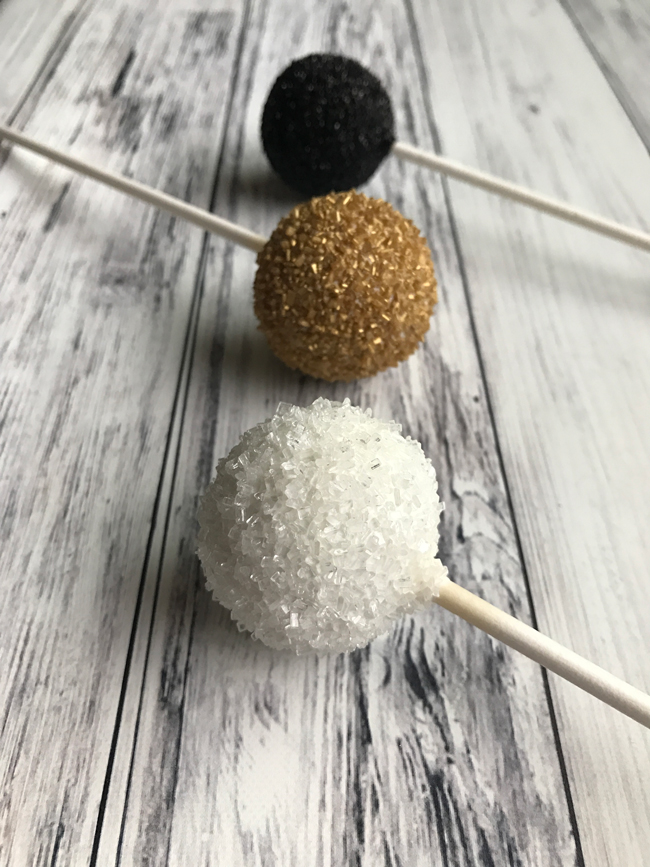 First, choose between either sparkling sugar or sanding sugar. You can tell the difference by the size of the granule: sparkling sugar has a larger crystal shape than sanding sugar.
Feel free to use either, or a mixture of both! I'm using sparkling sugars for the white and gold cake pops, sanding sugar for the black. Use light coating for the lighter-colored sugars and dark coating for the darker-colored sugars.
Step 1: Dip the cake pops in candy coating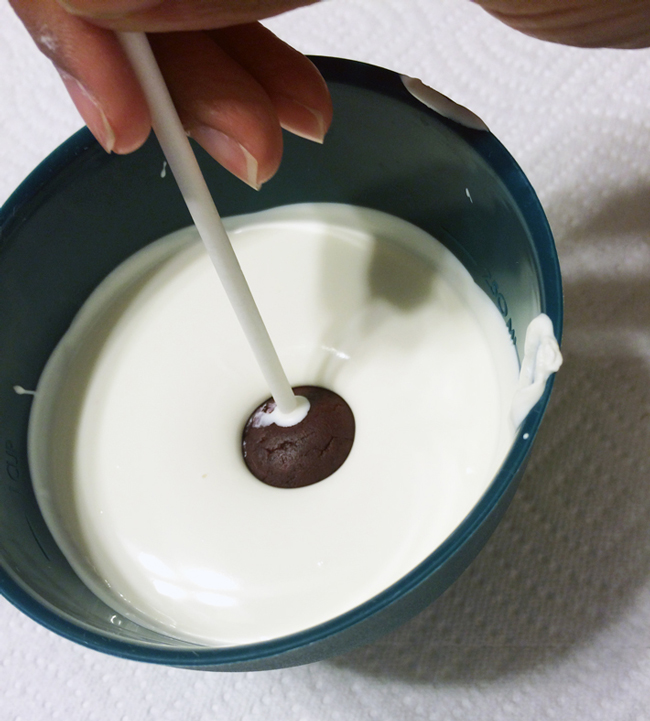 Dip each cake pop into the coating. Gently shake off the excess and use a toothpick to pierce any air bubbles you notice.
Step 2: Pour the sugar on
While the coating is still wet, pour sanding or sparkling sugar over the entire cake pop. Use a plate underneath to catch the sprinkles.
Decorating with luster dust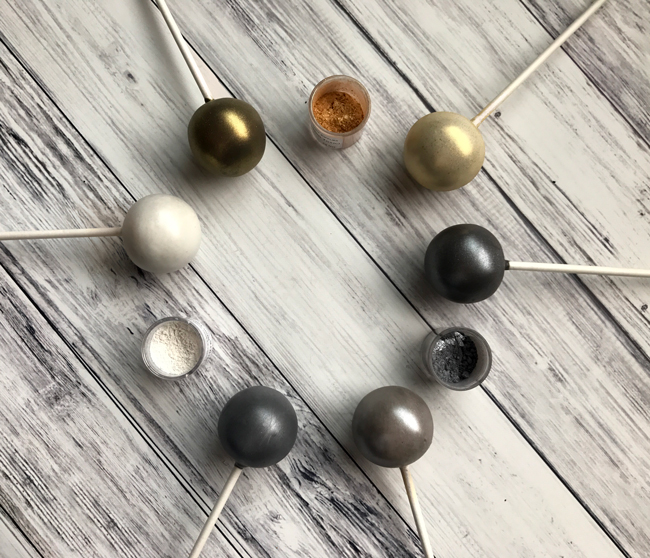 A big fluffy brush is best to use for dusting cake pops. Make sure you have a synthetic brush.
In the photo above, I dusted one of each white and black cake pops with white luster, gold luster and a darker silver luster dust.
Step 1: Dip the cake pops
Dip each cake pop into the coating. Gently shake off the excess and use a toothpick to pierce any air bubbles you notice. Let dry completely on a cake pop stand.
Step 2: Brush on luster dust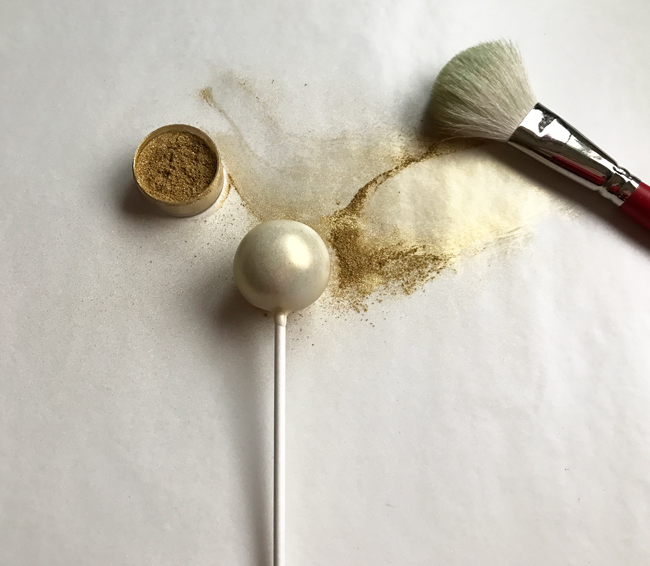 Once the cake pops have set and dried, dry brush the luster dust all over each cake pop. Note that the darker the coating, the more robust the color!