There are a handful of classic recipes that are very important to have in your cooking repertoire. Spaghetti alla carbonara is one of them. It's perfect for a quick weekday meal and yet significant enough for a special meal at home (like a romantic Valentine's Day dinner at home, perhaps…)
It is indeed a hearty pasta dish that is suited beautifully with a salad on the side or add a bit more nutritional heft to this pasta by tossing in roasted vegetables at the end. That's the beauty of classic cooking; it is easy to make a classic recipe your own with a simple addition.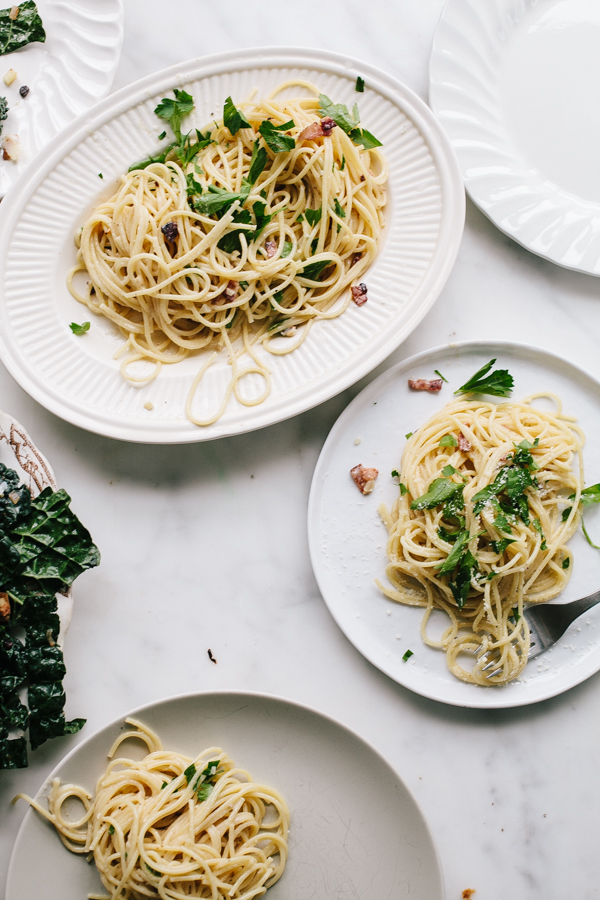 We met carbonara in Italy and twelve years later it continues to be a favorite meal in our house. This simple pasta comes together quickly and has a simple sauce made up of bacon, garlic, eggs and Parmesan. Some recipes call for cream but this version (cream-less) is the classic way to make Carbonara.
There is enough residual heat from the cooked spaghetti noodles to cook any danger out of the eggs that are tossed in at the end. What makes the sauce irresistibly creamy is that a bit of the starchy water in which the pasta cooked in is added back into the noodles. The water helps break down the cheese and eggs and the starch makes it a cohesive, creamy sauce.
If you can find Pancetta, Italian cured pork belly, use that here but I've made this dozens of times with bacon, which I often have on hand, and the results are always delicious
Spaghetti Alla Cabonara
Serves 6-8. Adapted from Tyler Florence
1 pound dry spaghetti (or go all out and learn how to make homemade pasta)
4 ounces bacon, sliced into small strips
4 garlic cloves, finely chopped
2 large eggs
1 cup freshly grated Parmigiano-Reggiano, plus more for serving
Freshly ground black pepper
Sea salt
1 handful fresh flat-leaf parsley, chopped
Directions:
1. Bring a large pot of salted water to a boil. This is your chance to season the pasta so be sure to make the water taste like the sea. Add the pasta and cook for 8 to 10 minutes or until there's still a slight bite to the noodle or al dente, as the Italians say.
2. While the noodles cook add the bacon to a large skillet. Cook until crisp. Add the garlic then sautee for one minute more, until fragrant. Turn off the heat.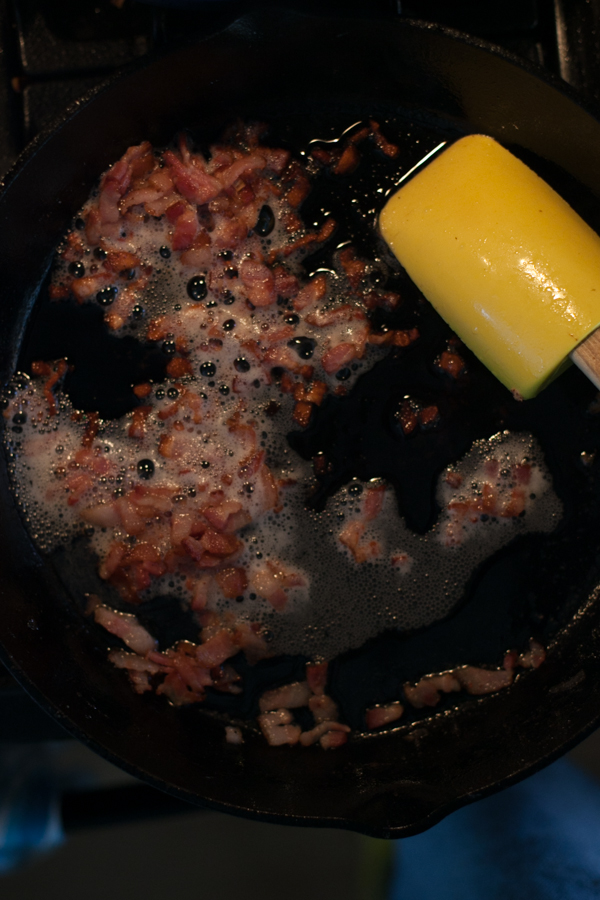 3. In a bowl combine the eggs and Parmesan. Stir well.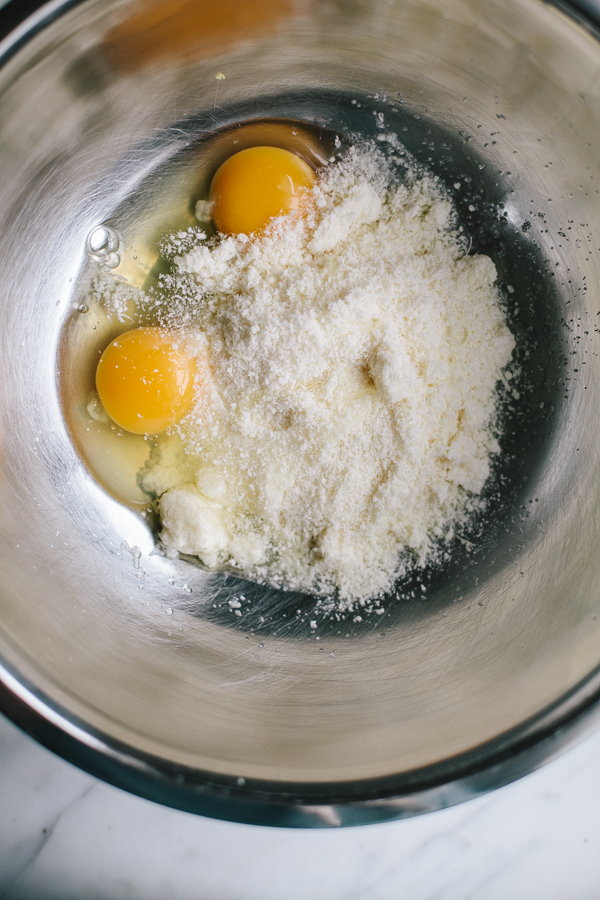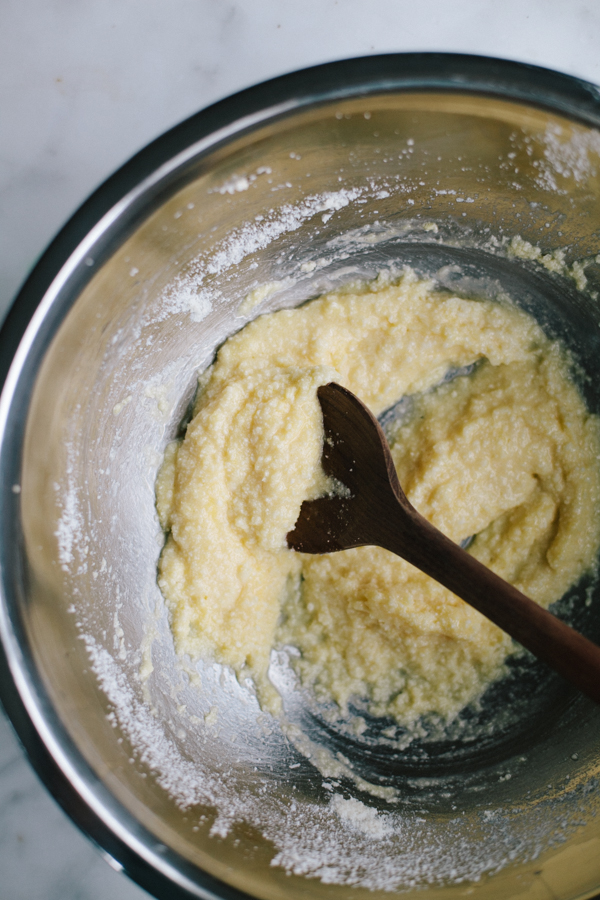 4. Add the cooked pasta to the skillet with the bacon and garlic. Stir in the Parmesan and egg mixture adding with that a bit of the water that the pasta cooked in. The water is filled with starches from the pasta and will help to create a creamy and smooth sauce.
5. The heat of the noodles will cook the eggs so that there is no concern but yet the heat is gentle enough that the eggs will not scramble.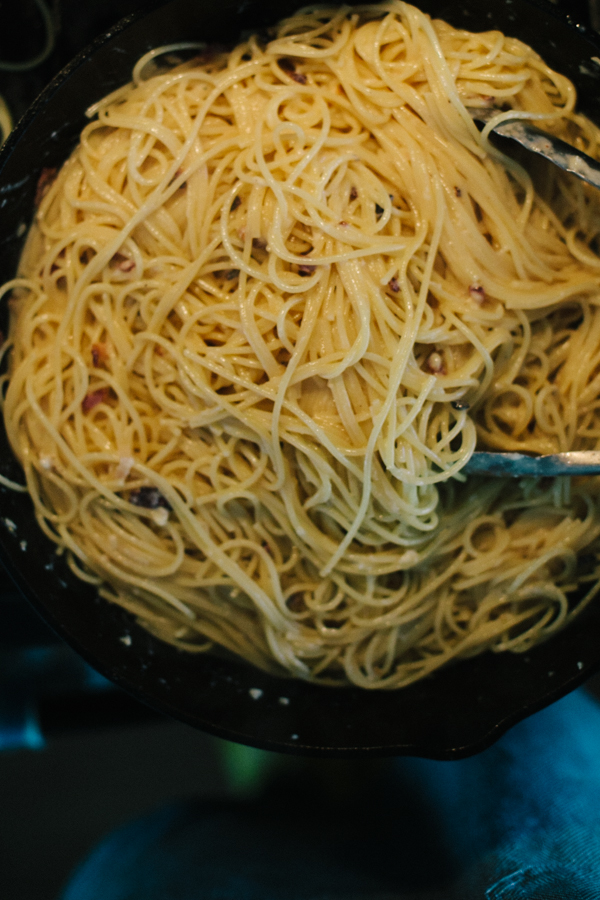 6. Once the sauce has reached the consistency you like add a lot of freshly ground black pepper and taste and adjust for salt.
7. Transfer the pasta to a serving platter and finish with more grated Parmesan and freshly chopped Italian parsley.
Serve the pasta immediately.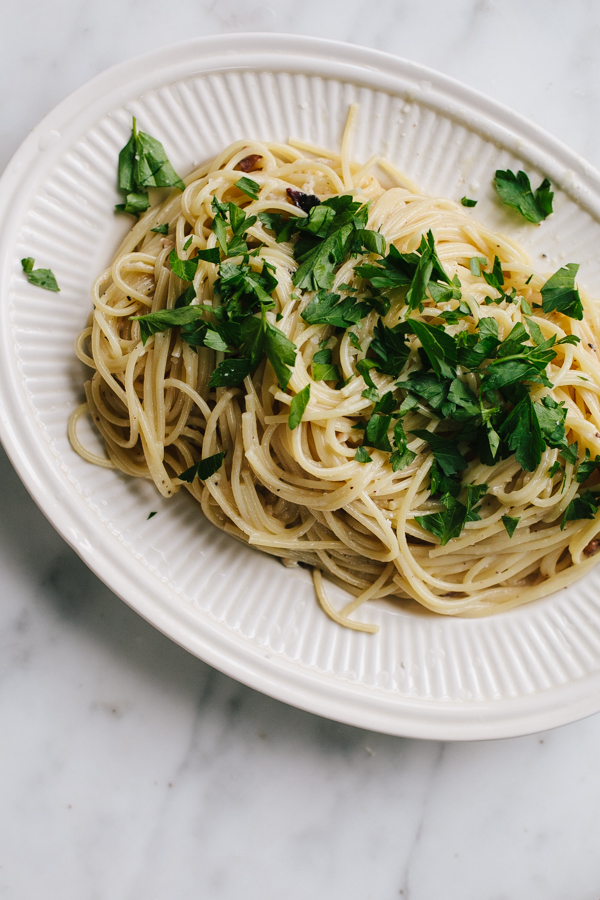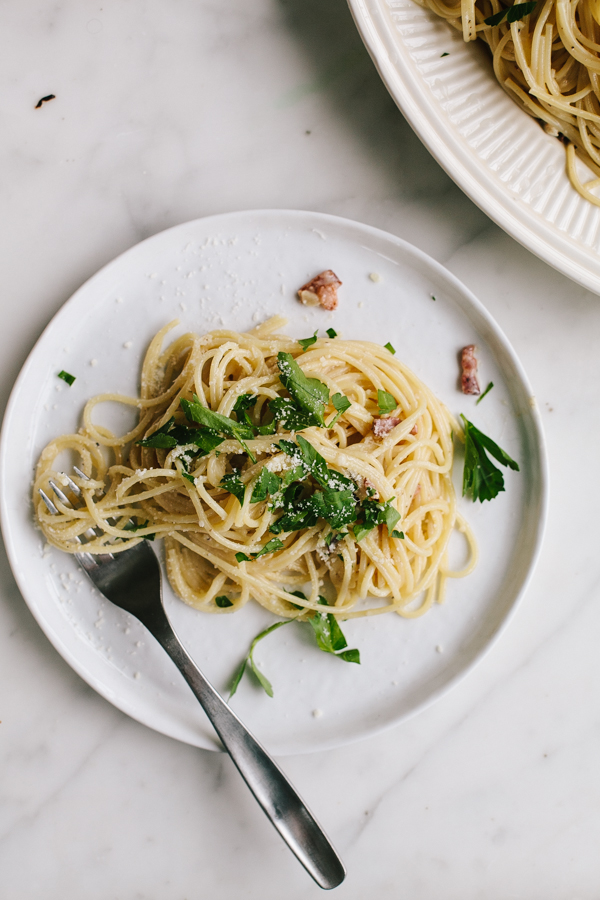 If you have a thing for Italian food you are in the right place. Craftsy offers many classes that teach you all you need to know to make classic sauces and homemade pastas. Check them out!
Bring treasured Italian pastas to your table!
Discover time-honored techniques for making, cutting, filling & cooking authentic fresh egg pasta. Enroll here now »