Everyone deserves a little R&R every now and then and what better way to do it than with a spa-themed party? This collection of spa cupcakes and decorated cakes will motivate you to indulge in your own tranquil and sweet creations.
 Prepare your sugary bubbles and pamper your taste buds with these adorable and inspiring spa cupcakes and cakes!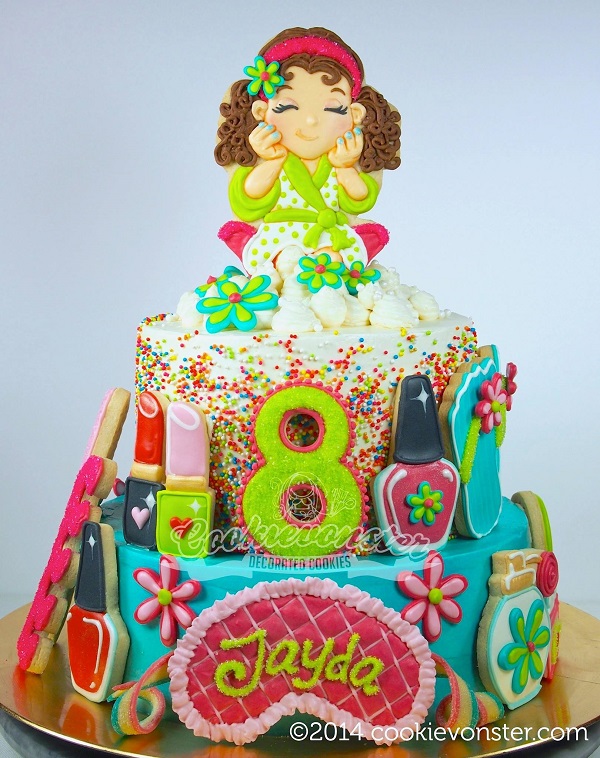 Photo via Cookievonster
Spa cookie cake
This absolutely adorable and colorful cake created by Cookievonster was adorned in a spa theme with sugar cookies! The two tiers were iced with buttercream icing and the second layer was almost completely covered with round sprinkles. The remaining embellishments include custom cut cookies beautifully decorated with royal icing with some addition of sanding sugars.
Learn more about cookie decorating with a variety of techniques in Autumn Carpenter's Decorating Essentials: Designer Cookies.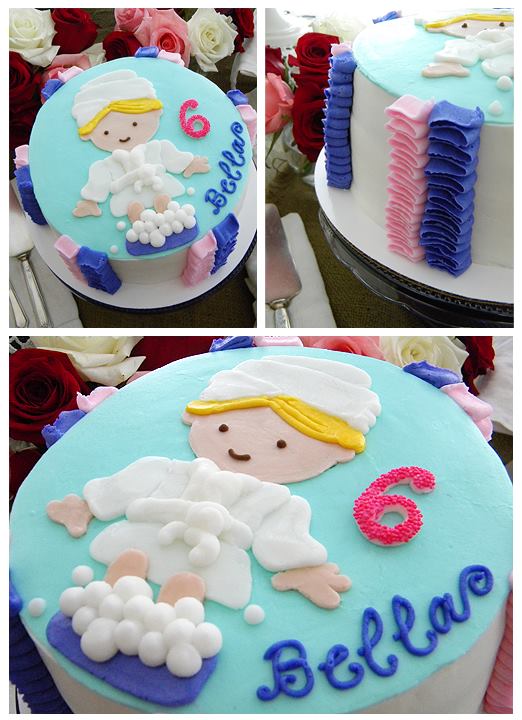 Photo via My Sweet Things
Spa-themed buttercream cake
My Sweet Things is an expert at decorating cakes entirely out of buttercream icing in a variety of designs and techniques, as was done with this precious spa cake! The round cake was covered smoothly with icing and ribbon was piped strategically around the perimeter. The darling spa girl soaking her feet was carefully added to the top of the cake with icing, utilizing a combination of spatulas and piping techniques.
To hone your piping skills and proficiency with buttercream, be sure to check out the course The Wilton Method®: Buttercream Skills with Beth Somers.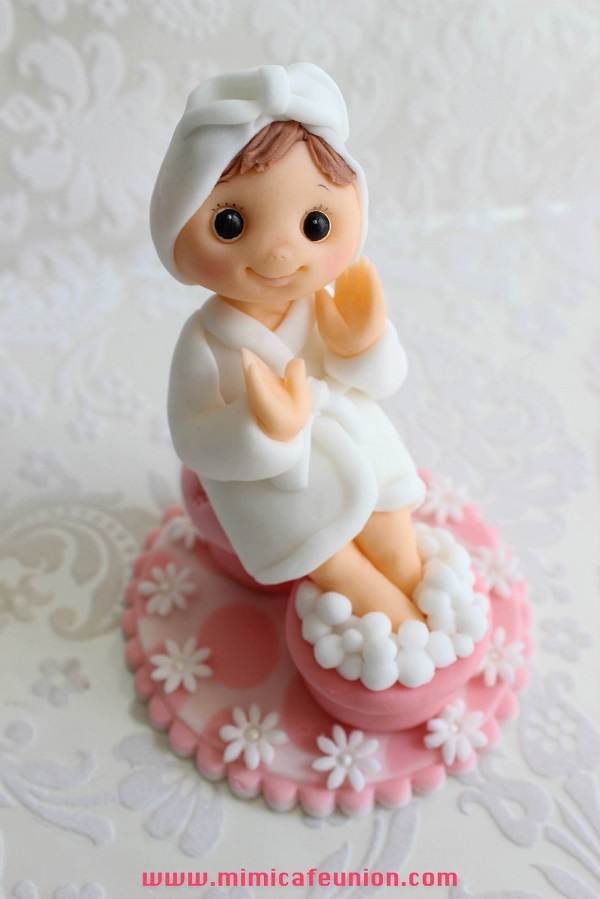 Photo via Mimicafe Union
Spa girl fondant topper
Similar to the above creation, this precious spa girl made by Mimicafe Union is relaxing and soaking her feet in her robe and head towel, but in a three-dimensional version! The flawless fondant figure was carefully hand-molded and propped up on a scalloped topper with polka dot and floral embellishments. This topper is so incredibly detailed from the facial features to the fingers to the bubbly spa water.
If you are interested in learning more about molding fondant by hand to create similar figures, take a look at Anne Heap's Cake Topper Techniques: Figure Modeling course.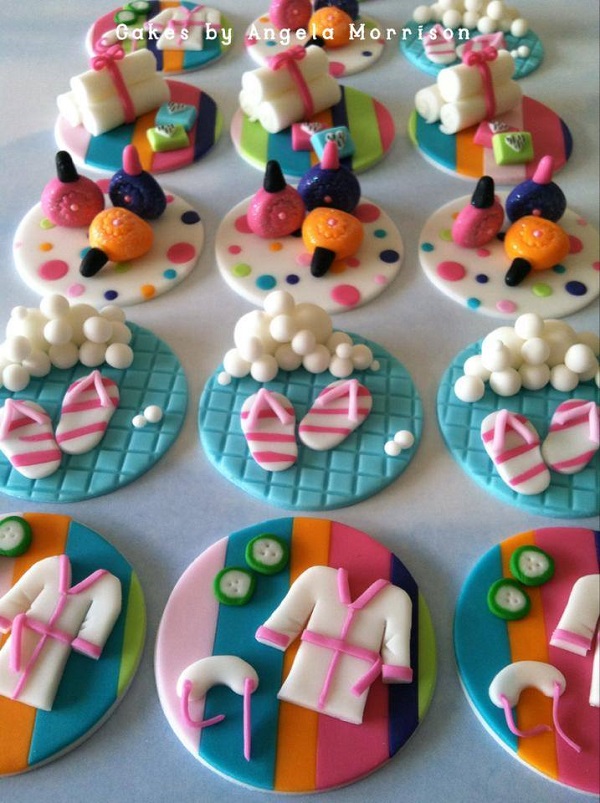 Photo via Cakes by Angela Morrison
Spa-themed fondant cupcake toppers
These gorgeous spa-themed cupcake toppers by Cakes by Angela Morrison are so very fun and vibrant! Recognizable spa elements, such as robes, cucumbers, flip flops and towels, are delicately shaped to top colorful and patterned fondant cupcake toppers, adding dimension to each design. Some markings are achieved with embossing mats, while other patterns are created by layering multicolored fondant on a plain sheet of fondant, then pressed together with a rolling pin prior to cutting the discs.
Practice making miniature figures and shapes to achieve a similar look in Sheryl Bito's Tiny Cupcake Toppers class here on Bluprint.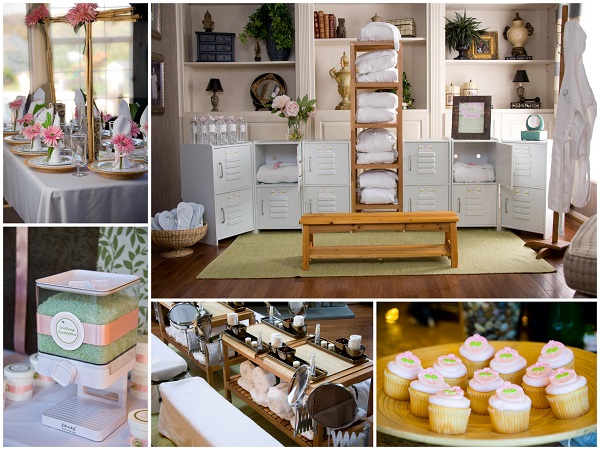 Photo via Giggledust Parties
Sweet spa party
For a little girl's spa-themed birthday, Giggledust Parties styled this stunning and sweet party where guests were pampered with an afternoon of relaxation! The girls were provided with robes and flip flops and they were able to sit at decorated treatment tables where they applied chocolate facials. Additional ideas included a bath salt station, manicure stations and cupcakes with adorable fondant toppers of little faces adorned with a head towel and cucumbers.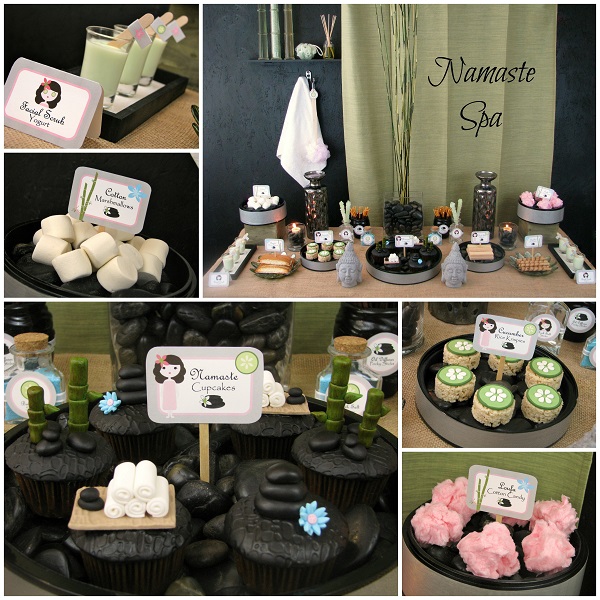 Photo via Lynlee's Petite Cakes
Mature spa-themed party
For a mature spa-themed party, Lynlee's Petite Cakes created this Namaste Spa dessert table with a sophisticated feel, perfect for an adult birthday party or bridal shower. The table was styled with a calming and serene palette of neutral colors paired with black, gray and light green, along with the use of both real and candy stones utilized as serving displays.
The cupcakes were covered completely with fondant pressed with an impression mat, while fondant stones, bamboo and towel trays were shaped and molded to adorn the tops. Other creative desserts, such as cotton marshmallows, luffa cotton candy and cucumber Rice Krispies treats fill the rest of the table. See the entire Namaste Spa party for additional details and inspiration.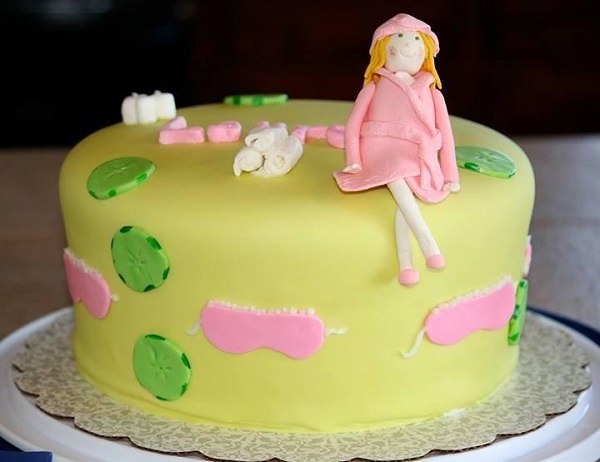 Spa cake via Bluprint member regiane_61342742
Spa cake
Bluprint member and cake artist regiane_61342742 created this adorable spa cake after taking the course Cake Topper Techniques: Figure Modeling with Anne Heap. The round cake was covered smoothly with fondant and decorated with cucumber slices, rolled towels and sleep masks. From the techniques learned in the Bluprint course, the figure of the woman was hand-modeled from fondant and dressed in a pink robe, ready for pampering! The cake was further personalized with the birthday girl's name with fondant letters.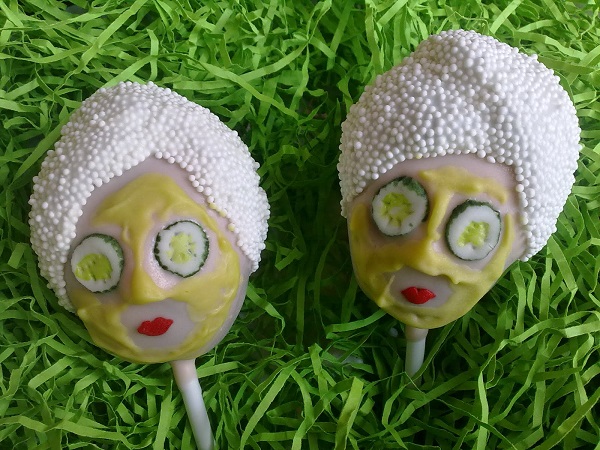 Photo via Cake Pop Princess
Ladies Who Spa cake pops
Aren't these Ladies Who Spa cake pops by Cake Pop Princess so creative and charming? The face-shaped cake pops were dipped in chocolate candy coating and the towels were created with adhered round sprinkles. Fondant cucumbers were placed over the eyes, and the facial mask and mouth can be piped with chocolate in coordinating colors. These would be perfect as party sweets or favors!
How do you take time out to relax?