Soutache jewelry can truly be a piece of art. Beautiful and bold, it has made a noticeable impact in the few years it has been on the market.

I have never worked with trim (soutache) before, but really wanted to try it and want you to try it, too! The soutache necklace I made is simple enough if you are a beginner.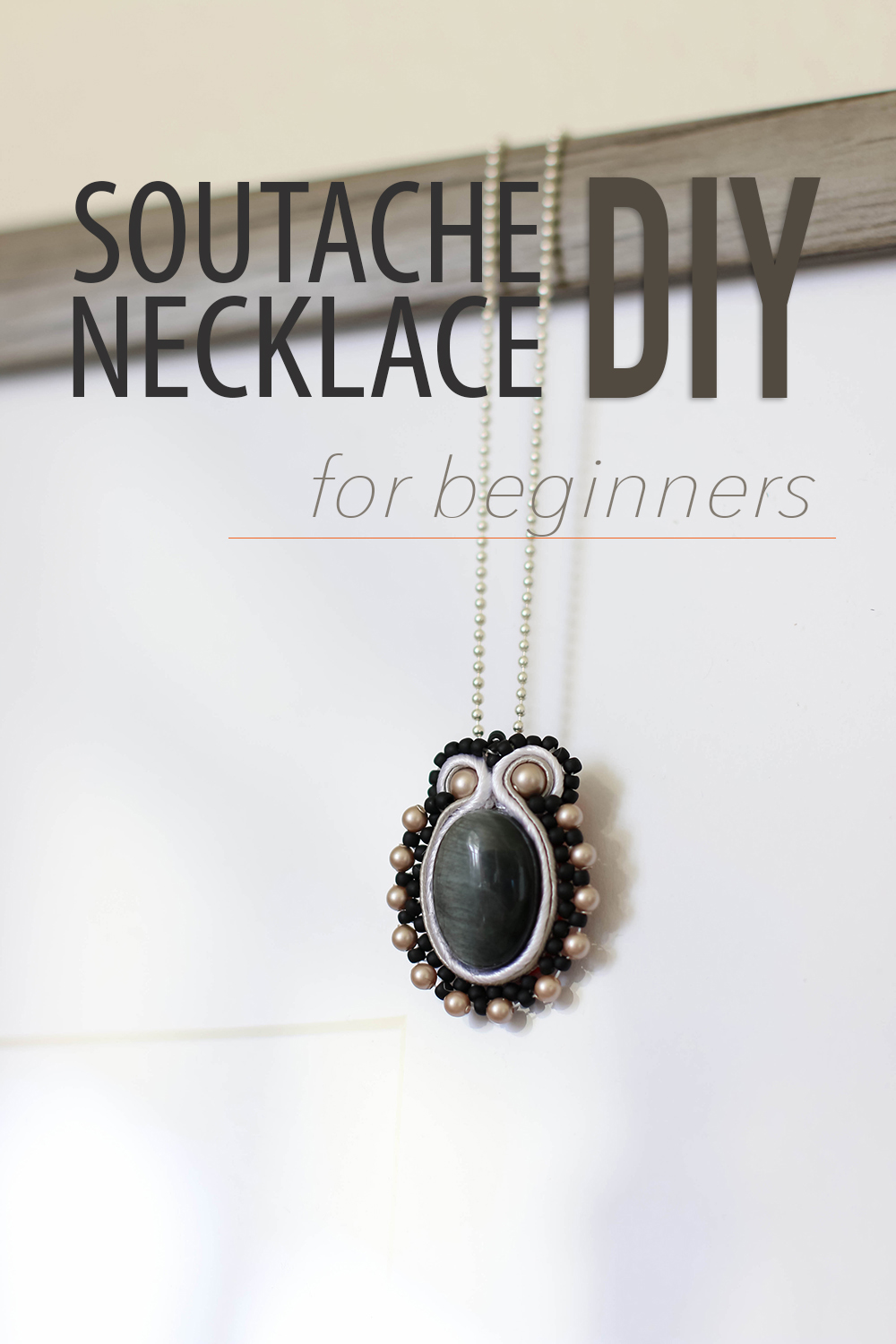 Soutache necklace tutorial for beginners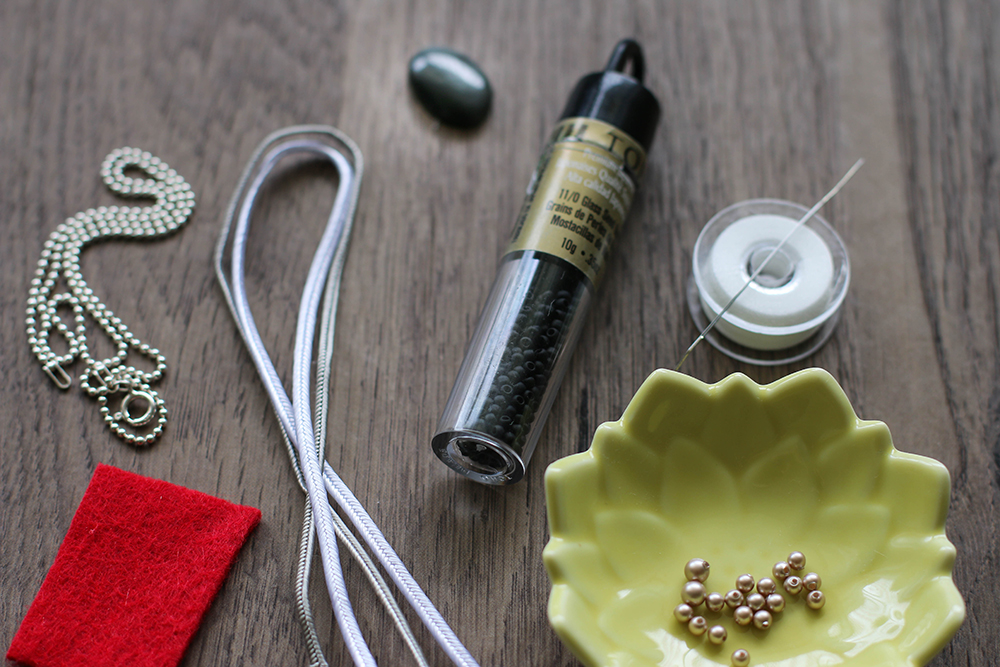 Tools needed
2 different colors of soutache trim 6-8″ long (I used gray and white)
1 beading needle and beading yarn
Seed beads (size 11/0)
1 cabochon 
Piece of felt
E6000 glue
12 x 3mm and 2 x4mm almond colored pearls 
1 x 18″ ball chain
Step 1.
Sew the two pieces of soutache trip together. Note that with soutache, you have to make sure to always sew along the center of the trim or it won't look good and frizz. Sew until you have a 2-inch string (if you use a bigger cabochon or other bead, make sure you can wrap the trim once around your bead).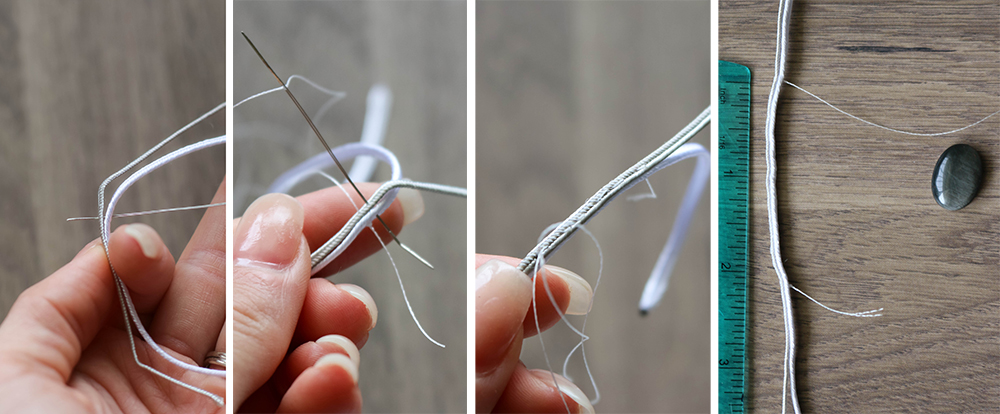 Step 2.
Make sure your trim fits around your bead, then sew each end together to create a loop.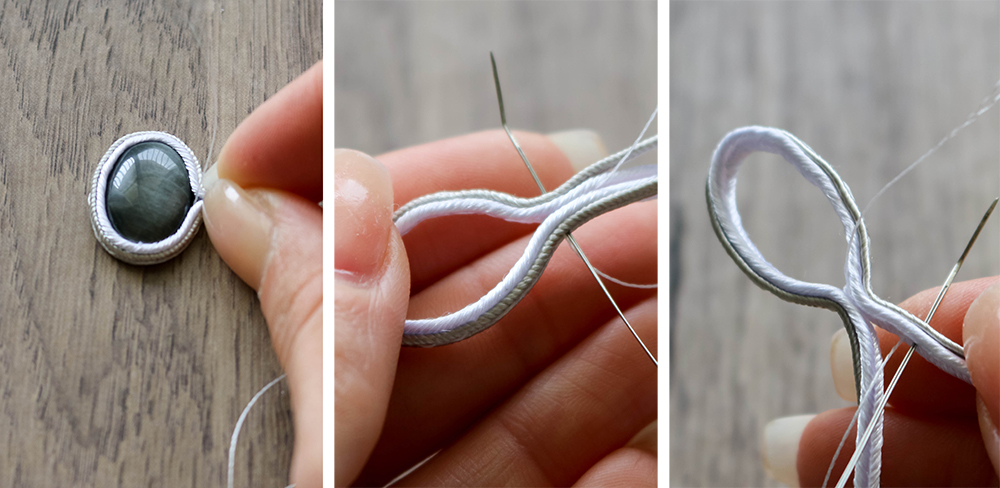 Step 3. 
Once your loop is secure, make sure it still fits around your cabochon. Continue to sew one side of the trim together about 8-10mm, add your 4mm pearl and sew it on as shown in the images below.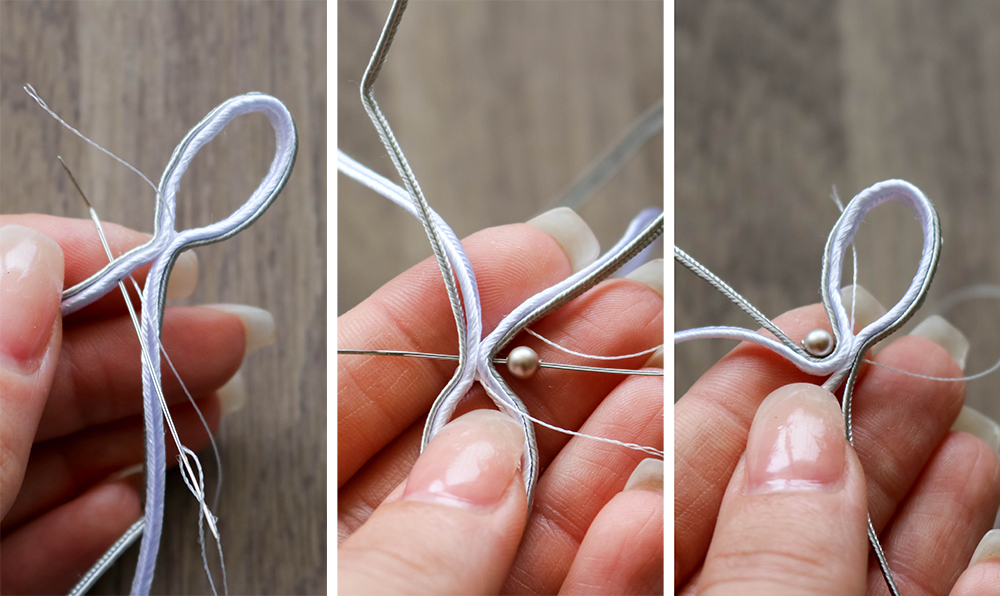 Step 4.
After your pearl is in place, secure the leftover trim to the back side of your loop. At this point you can still choose which side will be the backside (go with the prettier side). 
Sew the trim onto the loop, by going under and over the excess trim.

Step 5.
Repeat the same process with the other side of your trim.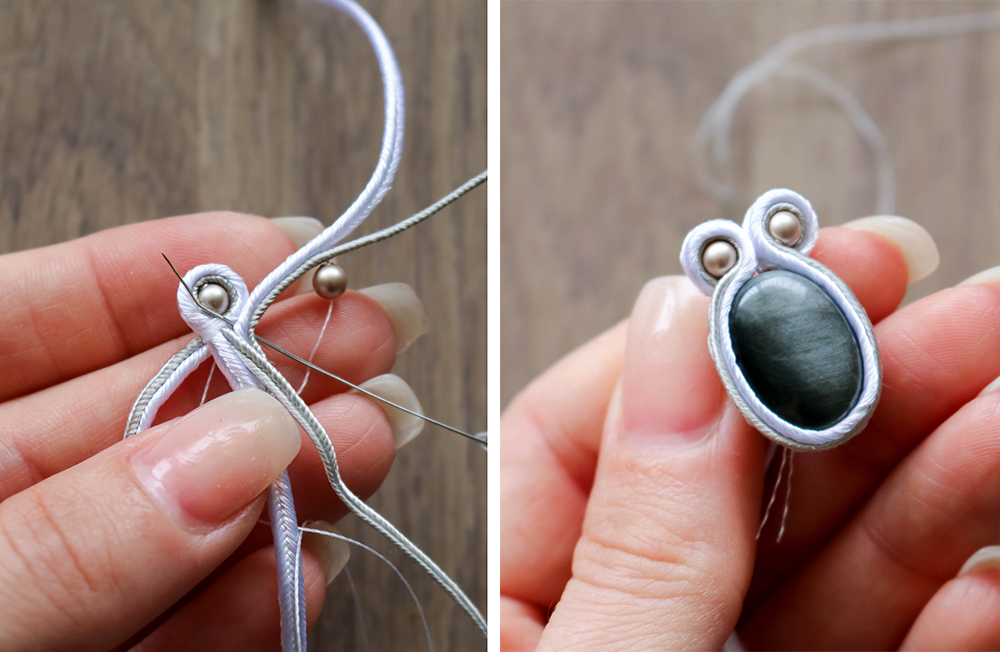 Step 6.
Add your cabochon to the loop, and cut off the excess trim. 
Tip: Depending on what type of trim you have, you can use a lighter to stop the frizzing. On this piece, only my white trim was made or polyester and it frizzed really bad. But using a small flame stopped it.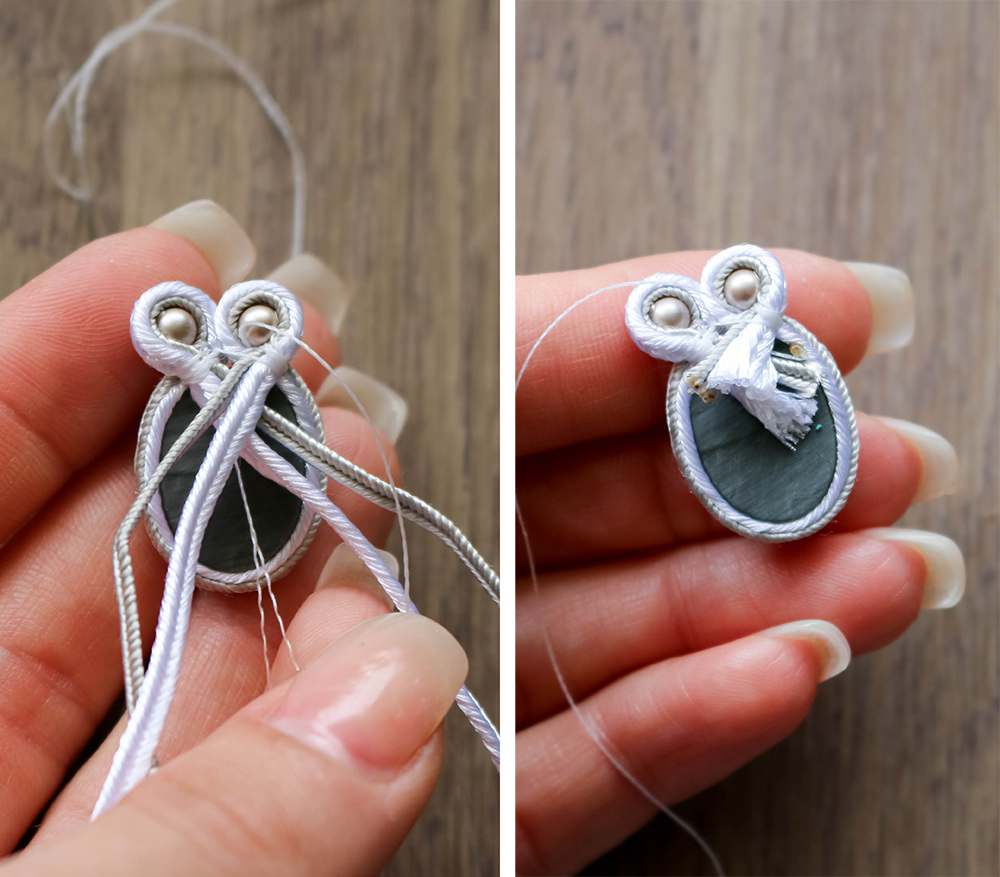 Step 7.
Glue on the backing, but first you want to trace your piece to give it a perfect fit. I used E6000 glue and let the piece dry for 12 hours before I continued.

Step 8.
Secure the felt to the backside, and add beaded details to the pendant.
Step 9.
String on three seed beads, but only give the room for two on the trim. 

Example: One seed bead is 3mm thick, you have three beads on your needle. Place the needle only 6mm into your trim. This will naturally bump up the third bead and place it on top of the bottom beads.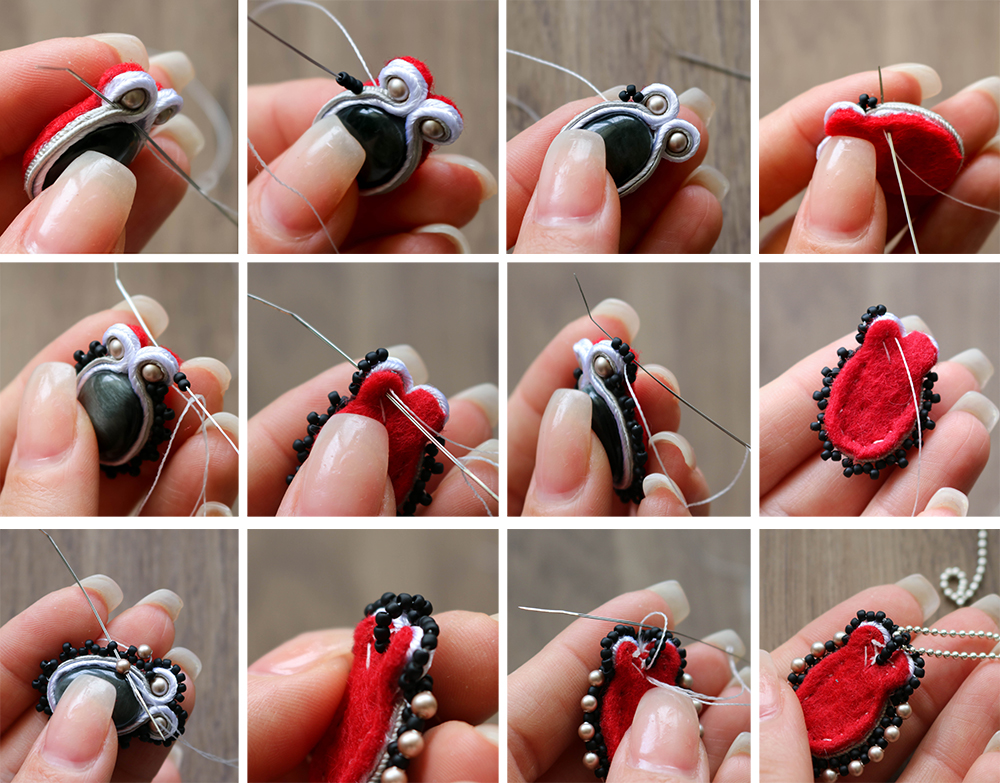 Step 10.
Complete the entire piece with this method, while stitching through the red felt.
Once you are done with the details, we add a simple row of beads along the top (see second row of images). Here you only take two beads at a time and give them the exact amount of space on the trim, but before picking up two more beads, place your needle three beads back. Sew through all the beads before adding two more beads.
The 3mm pearls give this piece a nice amount of detail. Sew them on through the top black seed bead as seen in the third row of the pictures.
To finish this piece of, add 7-10 beads (depending on the thickness of your chain) to your needle and sew right trough the top of your pendant. This will create a bail to hold your chain. Follow your needle trough the beads one more time before securing your yarn to the felt (see last row).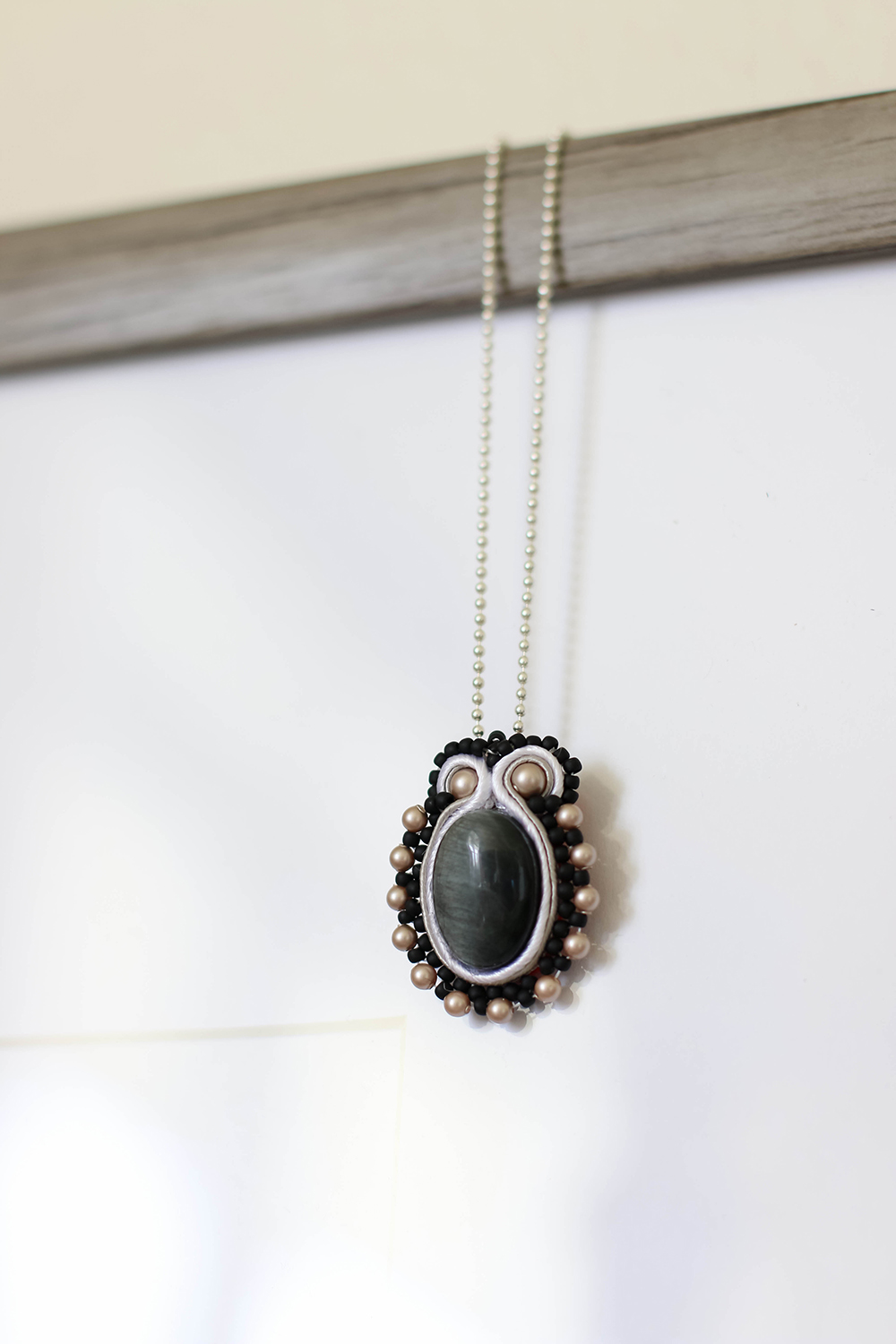 Finished Soutache necklace by OhEverythingHandmade