Have you heard of sopaipillas? These fried, pillowy portions of flatbread, typically served with honey, are native to (and ubiquitous in) New Mexico, but are little-known elsewhere in the United States. Crispy on the edges, tender on the inside, this flatbread doesn't necessarily feature fancy or innovative flavors, but perhaps its simplicity is its beauty: It tastes absolutely divine when smothered in honey.pita bread while it fries, is well worth a try and is bound to make an impression on your taste buds — regardless of your geographical location. But before we get to the actual sopaipillas recipe, there are some important questions we should address.
Sopaipillas or sopapillas?
If you ask Google, you'll mainly find sopapillas recipes (note the missing "i" after the a). But having lived in New Mexico for three years, I can personally (albeit anecdotally) attest to the fact that in the Land of Enchantment, it's usually written sopaipillas. But hey — they taste the same no matter how you spell it.
Dinner or dessert?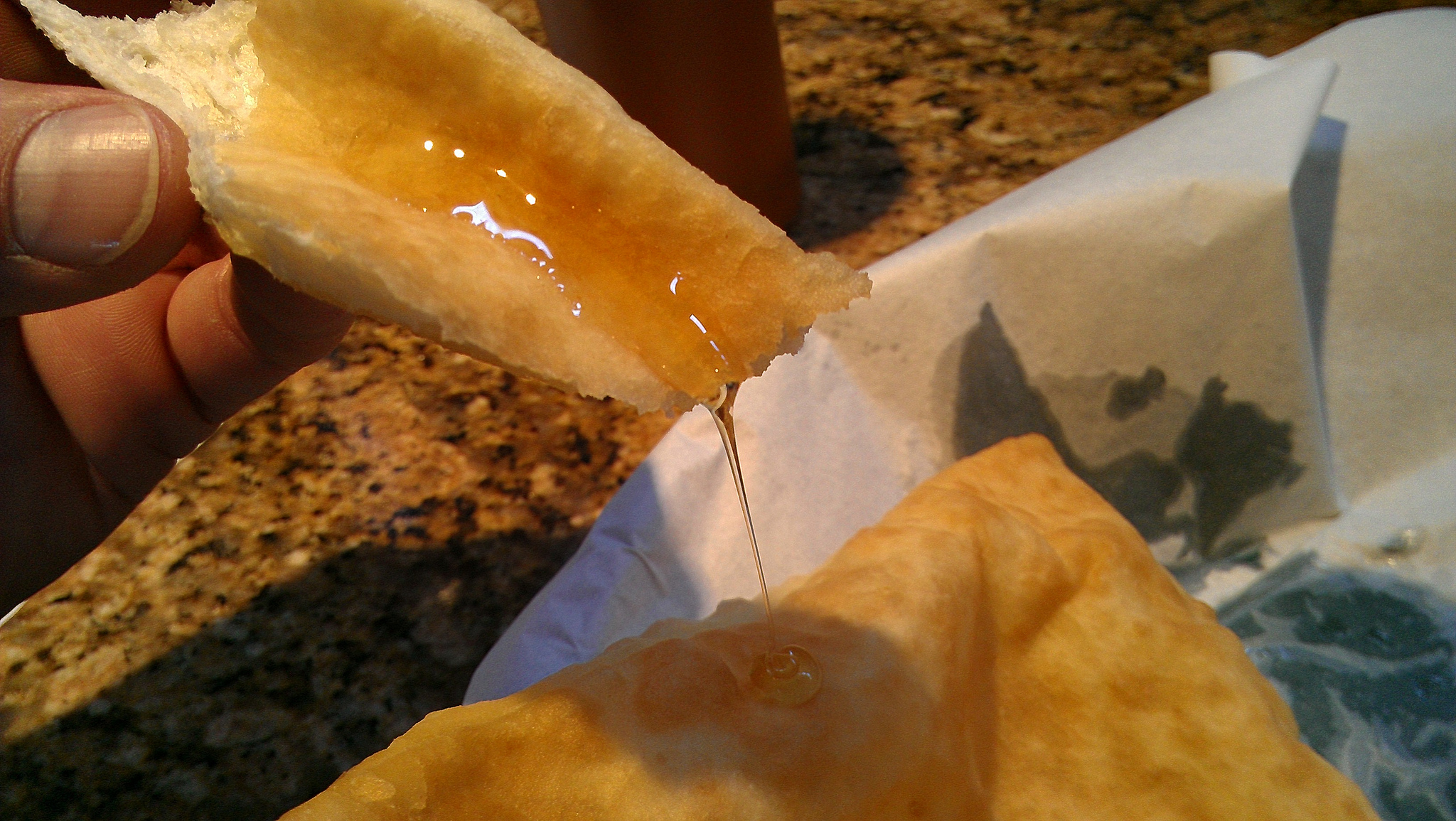 Sopaipillas are made using a slightly sweet dough, which is fried to crispy perfection and then served with honey on the side. This might tempt you to think of them as a dessert. Yes, they certainly can fit the bill, but they're actually more frequently served as a side to savory foods. In New Mexican eateries, a basket of freshly fried sopaipillas arrives alongside a hot bowl of green chile or plate of spicy-rich carne adovada. It's said that the sweetness is the perfect counterpart to spice. You'll even see stuffed sopaipillas (filled with burrito-like fixings) on many a menu.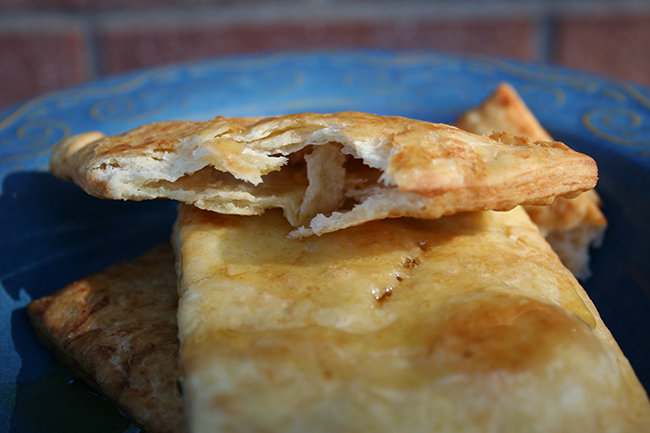 Sopaipillas recipe
Makes about 24 sopaipillas
4 cups all-purpose flour
2 teaspoons baking powder
1 teaspoon salt
4 tablespoons vegetable shortening (can substitute lard or butter)
1 teaspoon honey (can substitute sugar)
1½ cups warm water
Oil, for frying
Honey, for serving
Note: This recipe can be halved.
Step 1:
In a large bowl, sift together the flour, baking powder and salt.
Step 2:
Cut the shortening into the flour mixture using a pastry cutter. The mixture should resemble a coarse meal.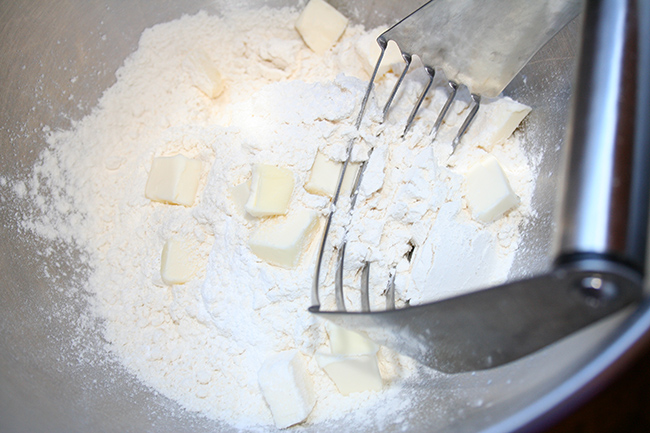 Step 3:
Add the honey and water, and mix with a wooden spoon until the mixture is cohesive. Turn the dough onto a work surface (you can lightly flour the surface, but I didn't find it necessary) and knead until the dough is fairly smooth and can be formed into a ball. Place in a bowl, and let it sit for about 20 minutes.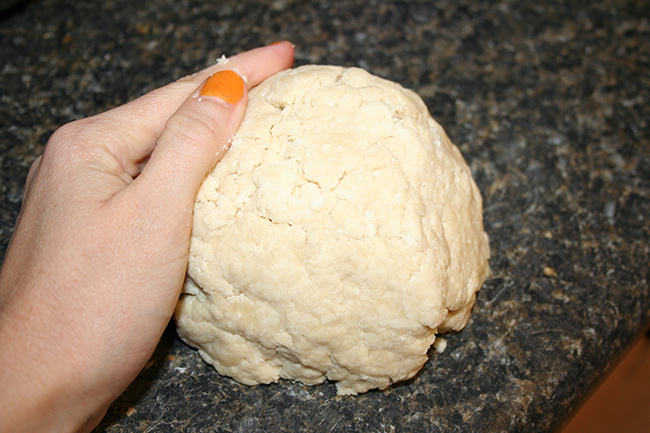 Step 4:
Turn the dough onto a work surface (lightly floured if your dough is sticky) and use a rolling pin to roll the dough to approximately 1/8″ thick. I found that it was easiest to divide the dough into two separate portions and roll out one at a time on limited counter space. Re-roll the scraps to get more cutouts. These portions may not puff up as nicely, but they will still taste just as good.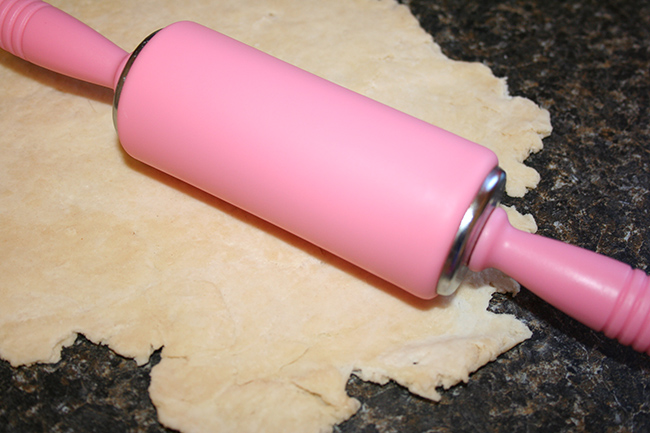 Step 5:
Cut the dough into approximately 3″ squares (I used a bench scraper to cut them). They can be slightly larger or smaller if you prefer.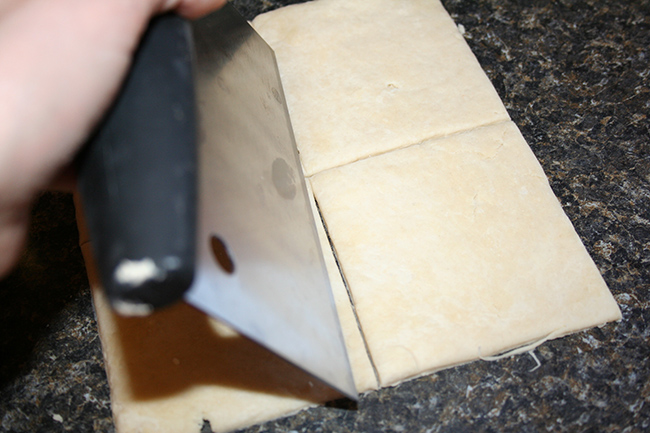 Step 6:
Fill a skillet (10″ to 12″ works best) with about 2″ of oil. Heat the oil over medium-high heat, looking for a target frying temperature of about 350 F (the heat of the oil helps them "puff"). While you wait for the oil to heat, place a few sheets of paper towels over a wire rack. This will be the resting place for the finished sopaipillas after frying but before serving.
Step 7:
Drop the dough into the hot oil, a few portions at a time (make sure that they have room, so that they don't stick together). Cook the first side until browned to your liking — it won't take long, only about a minute — then flip and cook the second side to match.
Step 8:
Remove the fried sopaipillas and place on paper towels above a wire rack to blot excess oil. Let cool briefly; they will deflate slightly as they cool. Serve warm with plenty of honey.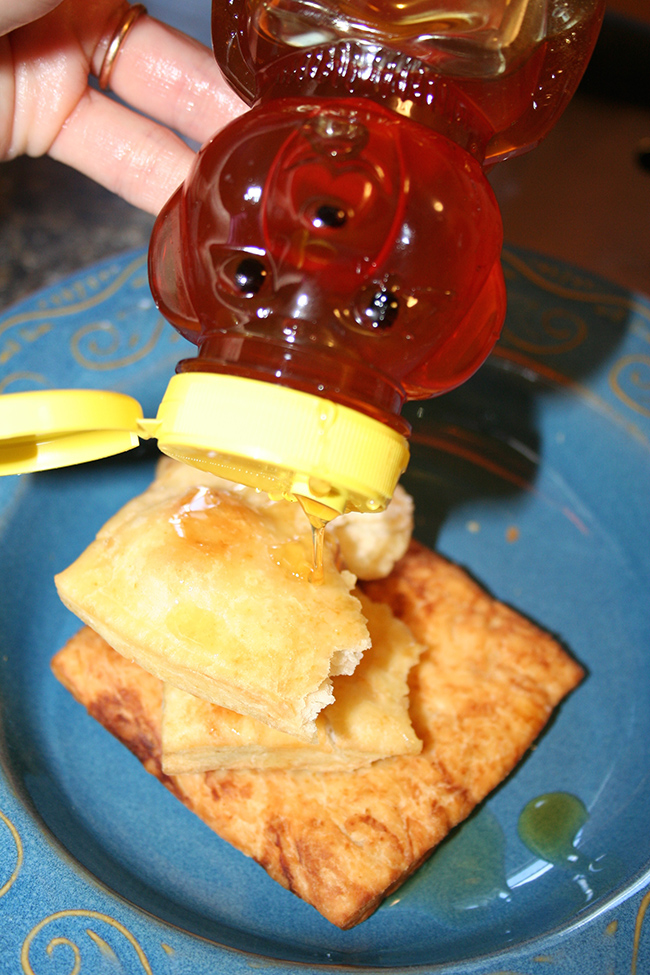 If you love traditional and regional flatbreads, then you've got to check out Craftsy course Focaccia & Flatbreads From Around the World! You'll explore the art of making flatbreads from around the world, including naan, homemade tortillas and so much more.
Have you ever tried sopaipillas? 
Suffice it to say that this fried flatbread, which puffs up like