There are two kinds of sock knitters in the world: Those who swear by double-pointed needles and those who looooove their magic loop.
I've always been into double-pointed needles (aka DPNs), since I've been using them to knit socks since forever. And I never thought I'd cross over … until recently, when I tried knitting a pair of socks with the magic loop. Mind. Blown. While I still have amazing respect for my DPN sisters and brothers, I'm seriously thinking about making a permanent move to the other side. Shocker!
If you've always used one method for knitting socks and are curious about the other (or you're new to the whole knitting-socks thing and not sure which way to go), you've come to the right place. Here's some intel on each technique.
Magic Loop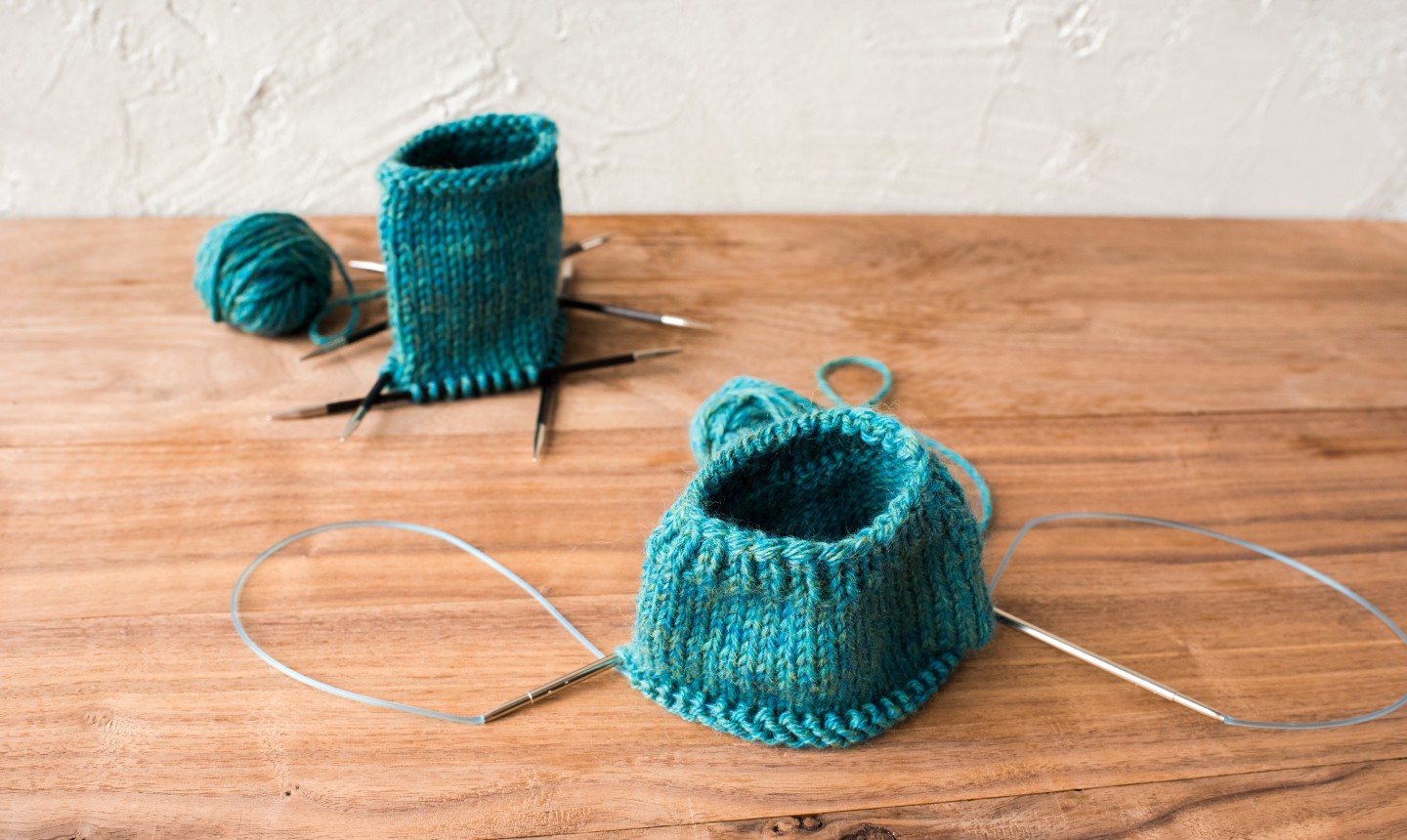 The magic loop method uses one long circular needle. Half the stitches are slipped onto the cable part of the needle while the other half are worked between the needles; then the halves are switched. If you don't know the technique, check out this easy magic-loop tutorial.
Pros:
It's Travel-Friendly: I love that I can just pull the sock to the center of the folded-over needles and then stick it in my bag. I don't have to worry about stitches slipping off, losing one of the needles or having any of the needles snap in half (yes, that's happened).
It's Pretty Chill: With DPNs, you're frequently swapping out your right needle and rotating the sock around. With the magic loop, it's easier to get into a relaxing rhythm. You just knit straight across half of the sock, tug on the needles a bit, and knit straight across the other half. This setup also simplifies working cables or other special stitches.
Cons:
Patterns Can Be Problematic: Many patterns are written with DPNs in mind, listing Needle 1, Needle 2 and so on. If you're new to sock knitting and are using a magic loop, it may be confusing to follow along. While you could override the problem with stitch markers, you'd need a LOT of them!
Needles Can Be Pricey: A good, flexible magic-loop needle will cost you more than a set of DPNs. I've found that lower-cost circular needles tend to be too stiff for the magic-loop method and end up causing ladders (stretched stitches that form when your stitches separate too much between needles).
Double-Pointed Needles
With double-pointed needles, you'll use a set of needles (usually four or five). After you cast on to one, you distribute the stitches evenly across all of the needles and work in the round.
Pros:
It's Tradition Knitting: socks on double-pointed needles has stood the test of time. It is the tried-and-true traditional way and gives you instant cred within the knitting community. Think of it as a rite of passage, like learning classical music before you veer off into rock or jazz.
It's Easy to Count Stitches : Having multiple needles makes it easy to count stitches and see exactly where each section divides. This is especially important when you start decreasing for the gusset. If you're really good, you may not even need to use stitch markers.
Cons:
Stitches Can Slide: When You Store 'Em I find that when I set aside or put away my in-progress DPN sock, the stitches sometimes slide right off the needles. Of course, you can purchase needle point protectors to stop this, but it's an extra step you don't need to take with the magic hoop.
Needles Tend to Break: Sock-size DPNs aren't quite as sturdy as larger DPNs. so you have to be careful when you're handling them and toting them around. Once I stuck a sock on DPNs in my bag to take to a baseball game. (Yes, I knit socks while watching baseball — don't you?) When I opened the bag, I saw that one of the needles had snapped in half just from jostling around in my purse.
What's right for me, or your knitting buddies, may not work best for you. So think about how, when and where you like to knit and try out each method for yourself. There's a great pair of socks waiting for you at the end of your experiment!