This year I was lucky enough to attend the Southeastern Animal Fiber Fair (SAFF). I usually attend with a couple of knitting friends so that we can help each other control our spending. (That rarely works out.) This year, my friend Sami had just one thing on her SAFF wishlist: a sock blank.
I had never heard of a sock blank before, but I soon discovered its awesomeness. If you're a knitter interested in experimenting with colors, you're gonna love the sock blank too!
Photo via Craftsy member Debbi Houtz
What is a sock blank?
A sock blank is a long, rectangular piece of knitted fabric created by a knitting machine and then dyed or stamped with color.  The edge of the sock blank isn't bound off — it's loose so that you can knit from it, pulling the stitches out as you go. The basic idea behind the sock blank is that you'll get an amazing yet unpredictable colorway when you knit with it. 
When you see it at shows or in stores, it's usually rolled or folded up like a scarf. (Check out the photo above to see an example of a dyed sock blank.) You don't have to wind the blank into a ball; you just knit right from the yarn end. Sock blanks are most popular for knitting socks, but you can also use them to knit things like mittens.
Most sock blanks contain the same amount of yardage as one skein of sock yarn. Like yarn, sock blanks have labels to indicate the fiber content as well as the yardage.
Different types of sock blanks
There are many different design and color options for sock blanks, of course, but when you're shopping for them you'll come across two different types:
A regular sock blank with just one strand of working yarn
A double knit sock blank with two strands of working yarn — perfect for knitters who like to stitch two socks at a time.
You can also find a lot of color options for sock blanks. Some come undyed and ready for you to experiment with your own dyeing technique, while others (like the one pictured at the top of this post) come already dyed.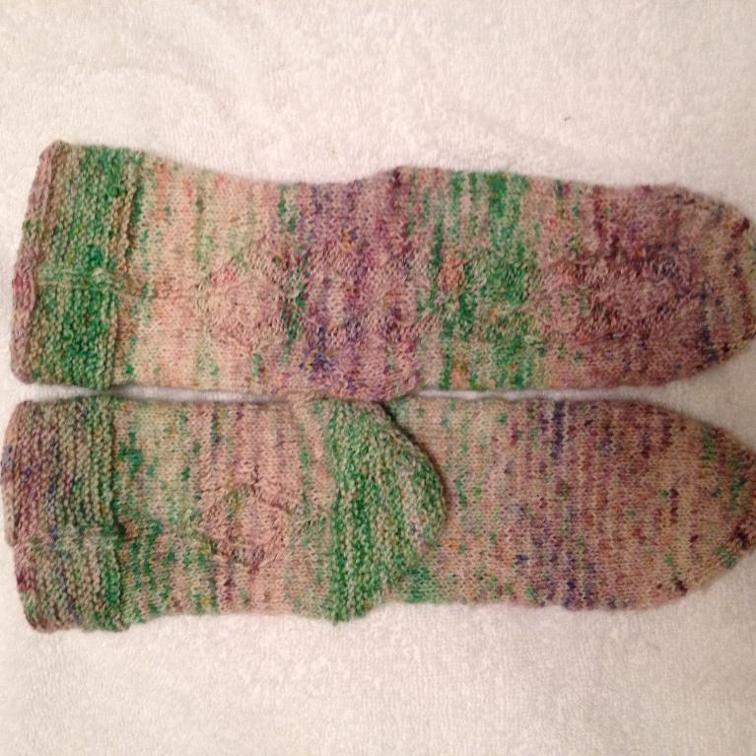 Photo via Craftsy member Debbi Houtz
How to use your sock blank
Think of a sock blank as a skein of yarn except that instead of winding it, you're just pulling the working yarn right from the sock blank.
The beauty of the sock blank is that you never know how the colors are going to turn out. Depending on what you knit and its size, the colors might turn into a stripe pattern. The colors could also pool in large chunks or maybe even create an ombré effect.
In the photo above, you can see what the sock blank at the top of the post produced when it was knitted into a pair of socks.
The importance of blocking
The yarn that comes off the sock blank will be a bit curled, since you're pulling it off as live stitches. This can cause your knitting to look a little bumpy and uneven, but don't worry! All you need to do is block your finished project to relax the stitches.
Tips for making your own sock blank
You don't have to buy a sock blank! There are a few different options for making your own.
If you own a knitting machine, you can knit up a sock blank yourself then dye it or stamp it yourself.
Upcycle clothing. Check out your local second-hand store for sweaters that need to be rescued. Sweaters with designs or lots of color are a good choice if you don't want to dye it yourself. Just remember that the colorway will look totally different if you're knitting something small like a sock, since it's not as wide as the sweater.
Look for solid white knits that you can dye at home. If you're new to dyeing, check out Sarah Eyre's Professional Yarn Dyeing at Home class. The same techniques used in the class can be applied to undyed sock blanks or upcycled sweaters.
Have you ever used a sock blank? Were you happy with how the colors turned out?