Soccer, or football, as it's known throughout the world, is beginning its biggest tournament: the FIFA World Cup! Every four years, 32 qualifying teams from various countries convene for this global competition, which takes place in Brazil this year. Celebrate this exciting event in world sports with these victorious cake dec confections — perfect for your game-viewing festivities!
Kick off the World Cup of Football with these soccer cakes, cupcakes and parties, flagged for certain victory!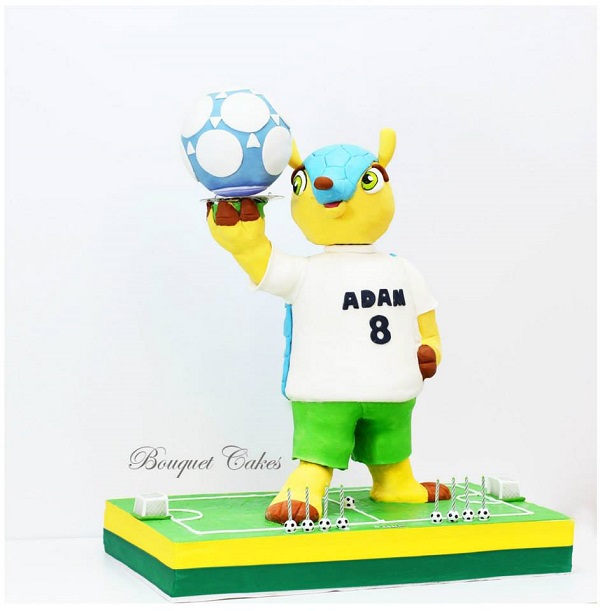 Photo via Bouquet Cakes
World Cup mascot cake
This year's official World Cup mascot is the Brazilian three-banded armadillo named Fuleco. Bouquet Cakes re-created Fuleco into a sugary 3-D masterpiece with this amazing cake. The cake was beautifully carved and constructed to bring the football-playing creature to life, while the pièce de résistance is undoubtedly the spinning soccer ball he's holding! And finally, the design was personalized with the birthday boy's name and age on his jersey.
To learn how to build your own 3-D cake, including tips on stacking and carving, check out the Bluprint course Sculpted Dog Cake with Elisa Strauss. And when you are comfortable with the skills you've learned, try your hand at Mike McCarey's Advanced Cake Sculpting: Bobbleheads, which includes instruction on constructing cake stands and support systems for your cake projects.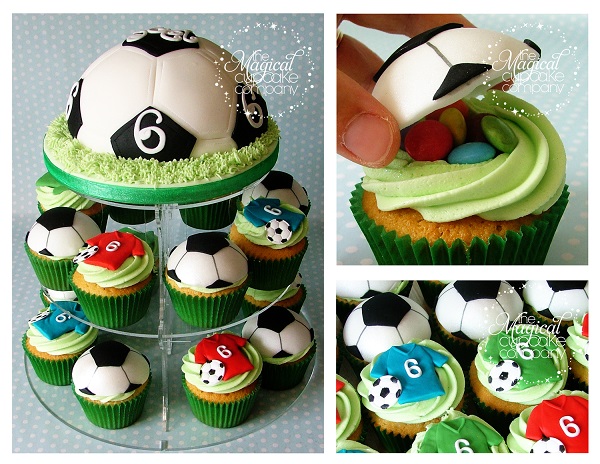 Photo via The Magical Cupcake Company
Football cupcake tower
This adorable cupcake tower by The Magical Cupcake Company is the perfect presentation for any soccer lover or team celebration! The half-spherical cake is covered in fondant and decorated to resemble a soccer ball, while coordinating cupcakes fill the stand's bottom two layers. Fondant jerseys with a miniature ball adorn the tops of half of the cupcake assortment and the remainder of the collection consists of fondant soccer domes that, once dried completely, serve as as a lid to hide extra surprises, providing an added treat!
Learn to work with fondant to transform your cake projects into works of art such as this in The Wilton Method®: Decorating With Fondant with Beth Somers. To get insight on creating show-stopping sports-themed cakes, from footballs to soccer balls to athletic shoes, make sure to enroll in the course All-Star Cakes with Mike McCarey.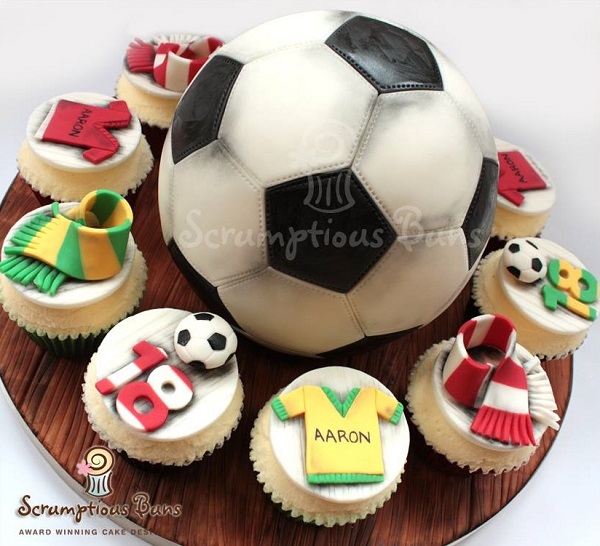 Photo via Scrumptious Buns
Soccer ball cake
This soccer ball cake and matching cupcakes by Scrumptious Buns are incredibly detailed: from the seams on the ball, to the exceptional shading to the embossed covered cake board. Though two teams with differing colors are represented, the hues are carried out perfectly throughout the rugby-striped jerseys, scarves and numbers, all personalized with the birthday boy's name and age. Follow this perfect sphere cake tutorial to create a sports ball of your own!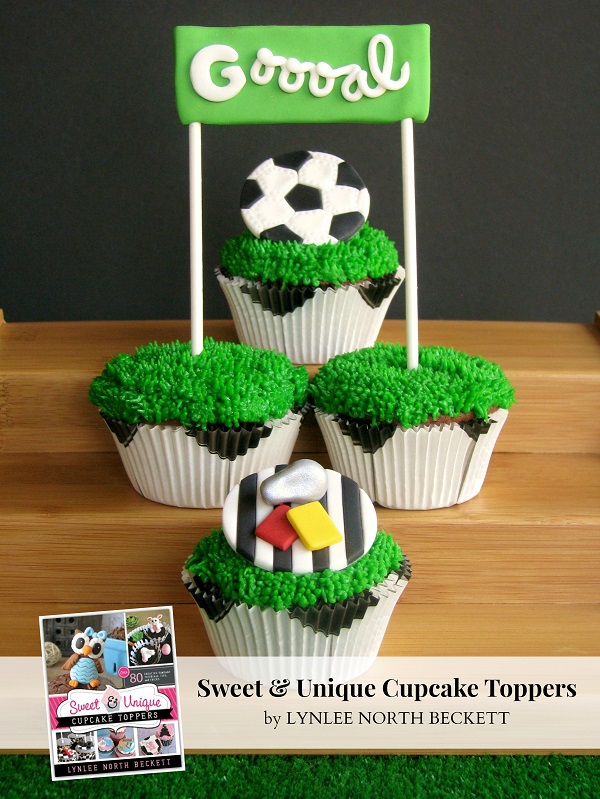 Photo via Lynlee's
Just for Kicks cupcakes
The tutorial for these Just for Kicks cupcakes featured in the recently released book, Sweet & Unique Cupcake Toppers, demonstrates the techniques to create fondant patterns, such as the soccer ball and referee stripes. In this tutorial, you'll learn to add dimension and height to your presentation utilizing lollipop sticks as well as creating grass with buttercream icing carefully piped with a decorating tip. Put the collection together to construct a soccer field with a cupcake cake!
Perfect your piping proficiency in the course The Wilton Method®: Buttercream Skills with Beth Somers and feel comfortable working with fondant on a smaller scale in Sheryl Bito's Tiny Cupcake Toppers.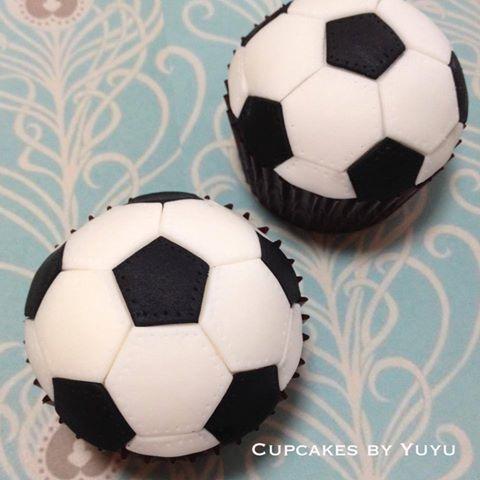 Bluprint member cupcakesbyyuyu
Soccer ball cupcakes
These captivating soccer ball cupcakes by Bluprint member cupcakesbyyuyu are ideal for World Cup football viewing! By covering the cupcake in fondant, the cupcake's spherical surface lends itself perfectly to a ball's shape. Make sure to work quickly with your fondant when shaping it to your desired silhouette to avoid cracking or "elephant skin." Or, consider utilizing a more pliable medium, such as modeling chocolate.
Learn more about the use of modeling chocolate with Lauren Kitchens in her initial course Intro to Modeling Chocolate: Cityscape Cakes, then advance to her newest class, Modeling Chocolate Magic.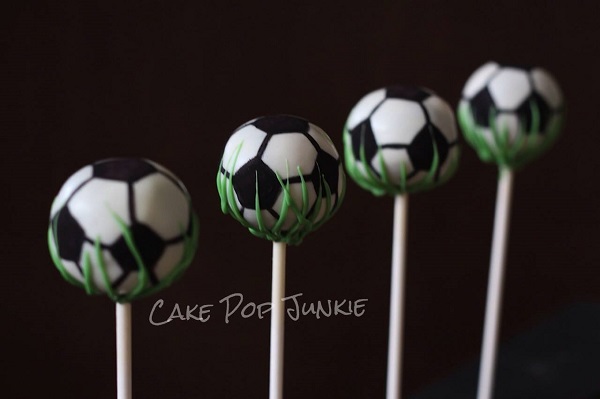 Photo via Cake Pop Junkie
Soccer ball cake pops
Cake pops continue to be an extremely popular confection, and these game-ready soccer balls from Cake Pop Junkie are superb. Follow this cake pops tutorial to form and coat the balls, then add the soccer ball pattern with the use of edible markers, piped chocolate or royal icing. The addition of grass is simply the icing on the cake… pop!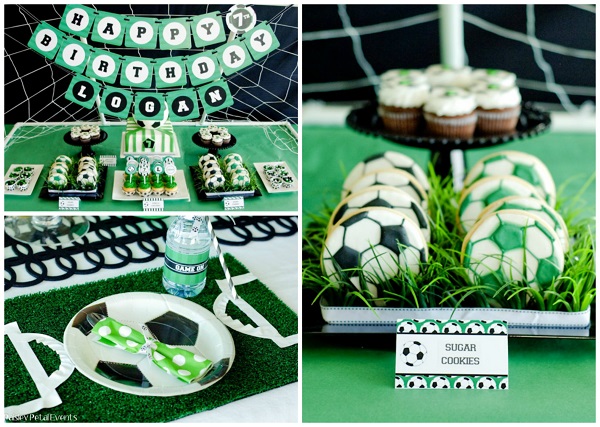 Photo via Paisley Petal Events
Soccer-themed party
If your goal is to throw a Soccer-themed party or World Cup event, this soccer party by Paisley Petal Events will surely help you score big! The cheerful dessert table includes super creative details, such as the goal net and awesome soccer ball cookies (by Cookie Craving) nested in faux grass. Be sure to check out the entire celebration for additional football/soccer ideas and be inspired to add some Brazilian aspects with these Rio-inspired treats!
Learn to design and embellish cookies in the Bluprint course Decorating Essentials: Designer Cookies with Autumn Carpenter to make a lasting impression!

You might also enjoy our roundup of Brazil-inspired cakes and cupcakes.
Will you be watching the World Cup this year? What's your favorite championship sports event?