When creating sugar flower arrangements, it's easy to get hung up on big, bold open peonies or large ruffly garden roses. Think beyond those focal flowers and really bring your arrangements to life by adding filler flowers!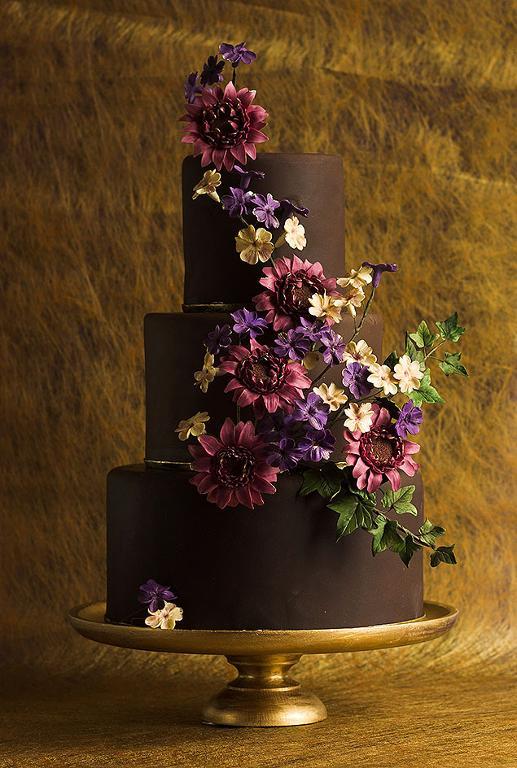 Cake via Bluprint member ModernLovers
Transform Sugar Flowers Into Exquisite Arrangements
Learn how to create simply chic looks, elegant cascades, timeless separators, sweet pomanders & much more in the online class Arranging Sugar Flowers.Enroll Now »
What are filler flowers?
When building sugar floral arrangements, cake designers generally combine focal flowers and filler flowers to create lush, balanced designs. Focal flowers are large in size, the "star of the show," or centerpiece. These can be peonies, roses, large daisies, dahlias and more. Fillers are small sugar flowers used to fill in the gaps or add background support to the larger flowers. Smaller blooms and leaves can also be used to help draw the eye to the focal florals.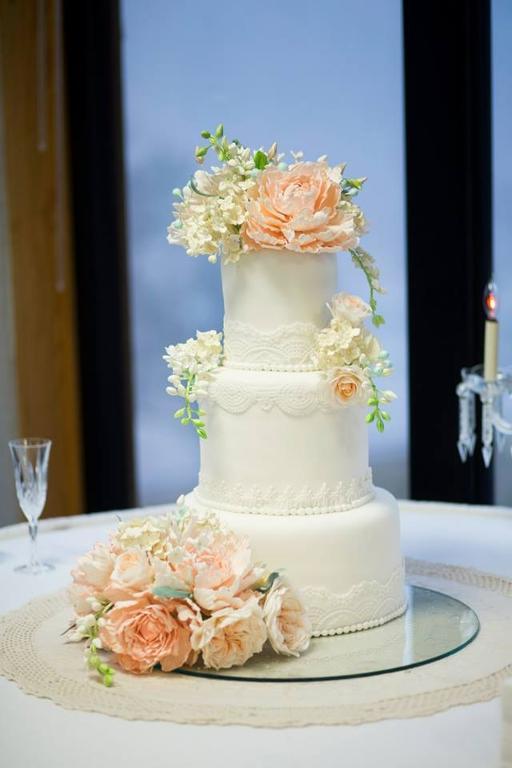 Photo via Bluprint member Alex Narramore
Tips for incorporating small sugar flowers on your cakes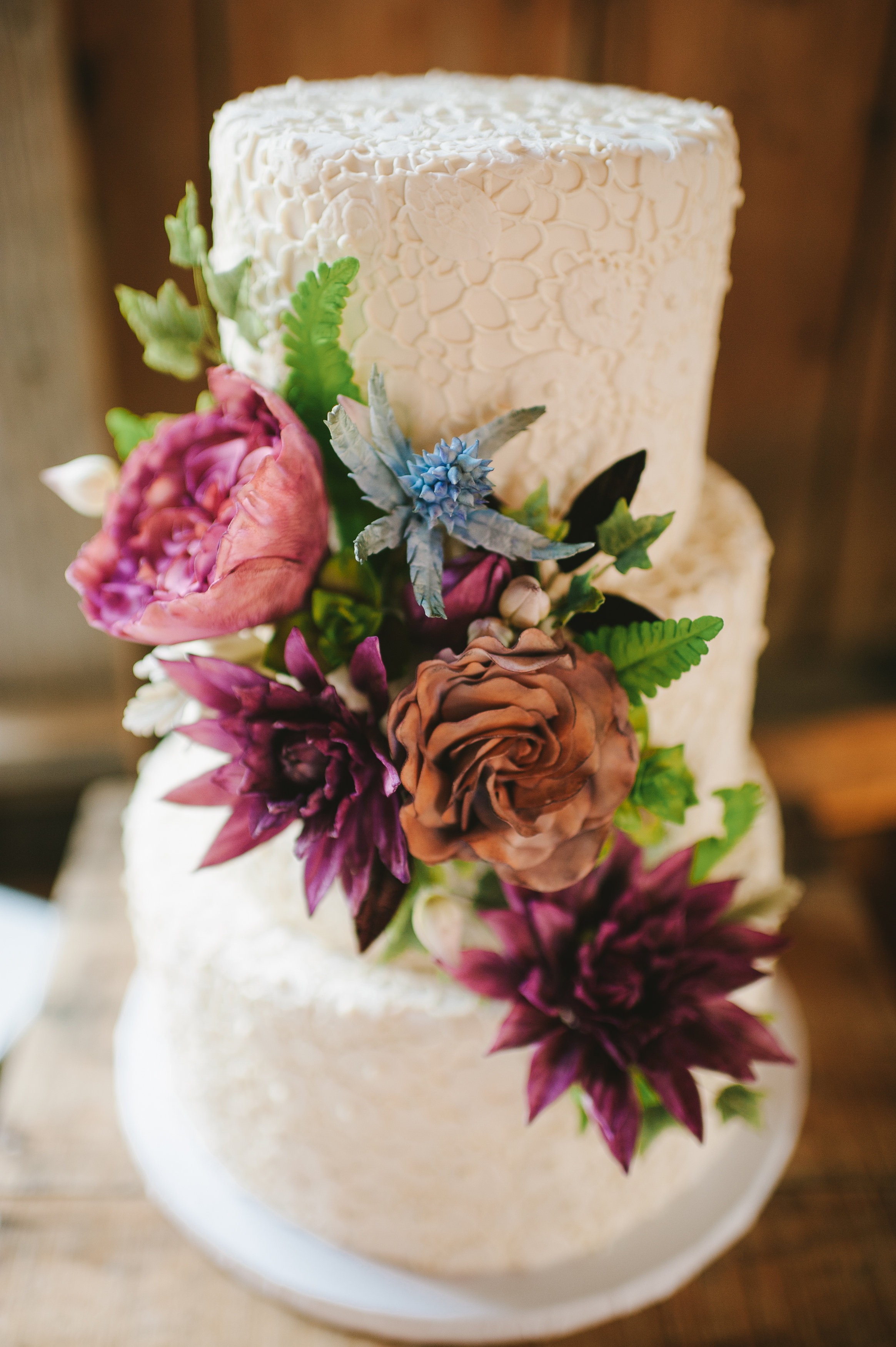 Photo via Erin Bakes
1. Stay in season
There's a saying in cooking, "What grows together, goes together." The same theory applies when creating floral arrangements. Look to the season to give you direction when choosing supporting flowers and foliage for your statement blooms. Surprisingly, you'll find that just by sticking to what's in season, shapes and colors of flowers will naturally balance each other out.
Photo via Bluprint member ModernLovers
2. Pop of color
Filler flowers and foliage present a terrific opportunity for adding pops of color into your sugar flower arrangement as well as your overall cake design. In the image above, Bluprint member ModernLovers uses brilliant green leaves and softly colored small blossoms to balance out a solid black cake design and jewel tone focal flowers. Below, I added tiny pale green sugar hydrangea to add interest to a monochromatic white floral arrangement.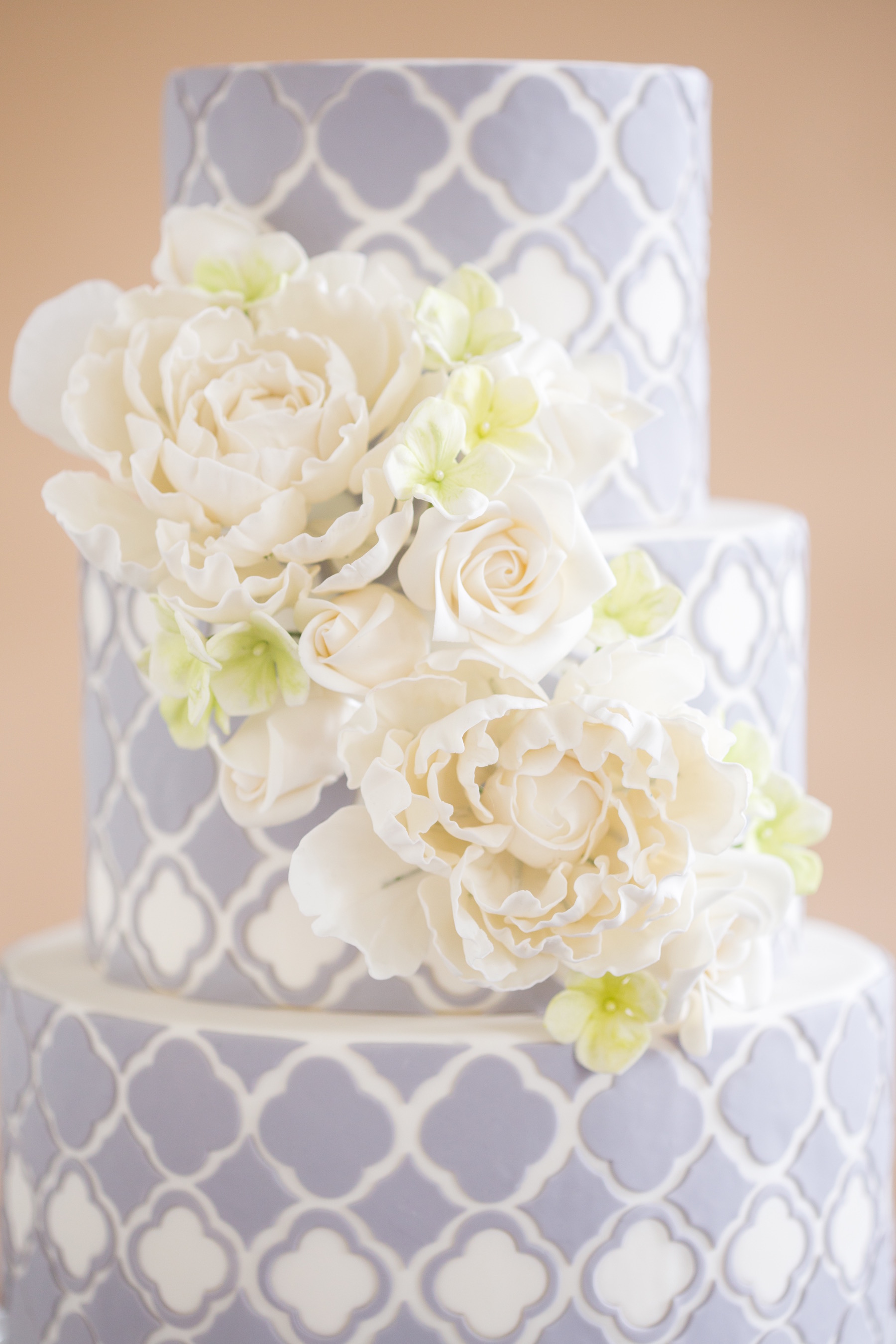 Photo via Erin Bakes
3. Anchor a focal flower
Many times a client would come to me wanting a single statement flower on their cake. Peonies were always very popular used this way. Adding a few pieces of foliage, or other tiny blooms or berries, helps tie the flower back into the overall cake design. Otherwise, large blossoms can sometimes appear to have just been plopped onto a cake rather than artfully worked into the design.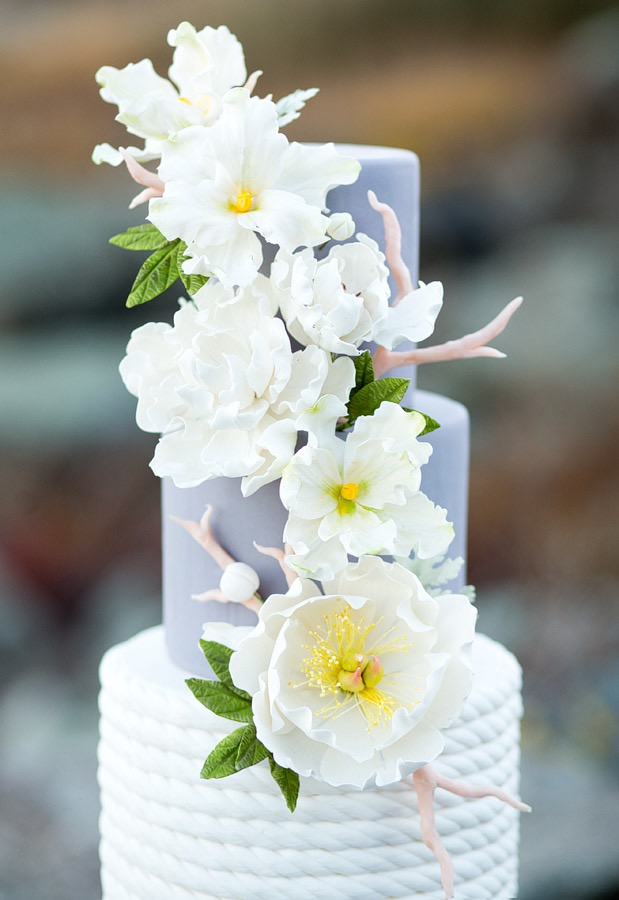 Photo via Erin Bakes
4. Get twiggy with it
Adding branches or twigs to your floral design can help add dimension, height, and drama. In the arrangement above, I added modeling chocolate manzanita branches to mimic the idea of coral and help add to the cake's nautical theme.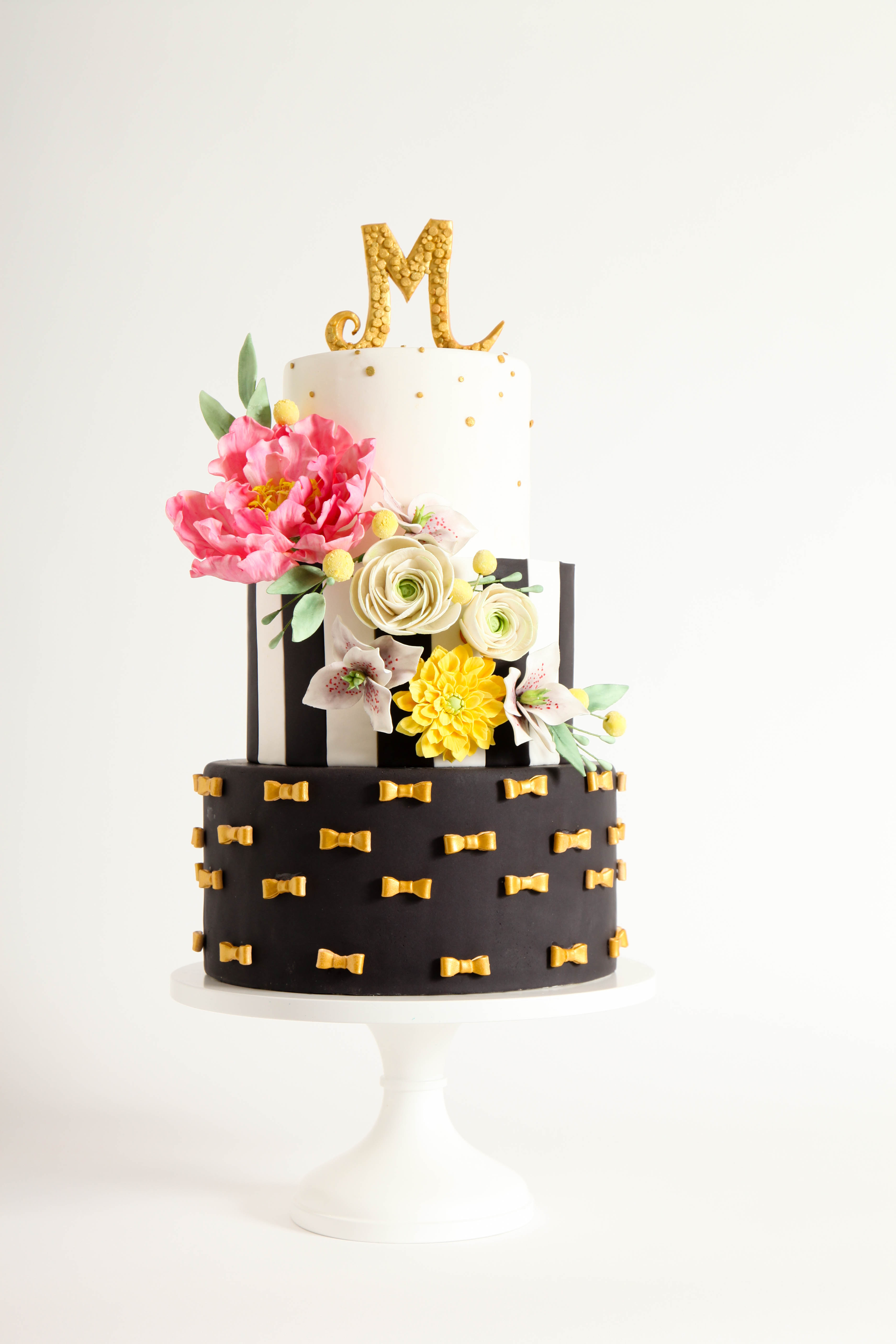 Photo via Bluprint instructor Erin Gardner
5. Whimsy & playfulness
There's no denying the beauty of sugar flowers, but sometimes they can make a cake design feel too serious or heavy. Using filler flowers in bright colors or playful shapes, like billy balls or eucalyptus, can help lighten up an arrangement.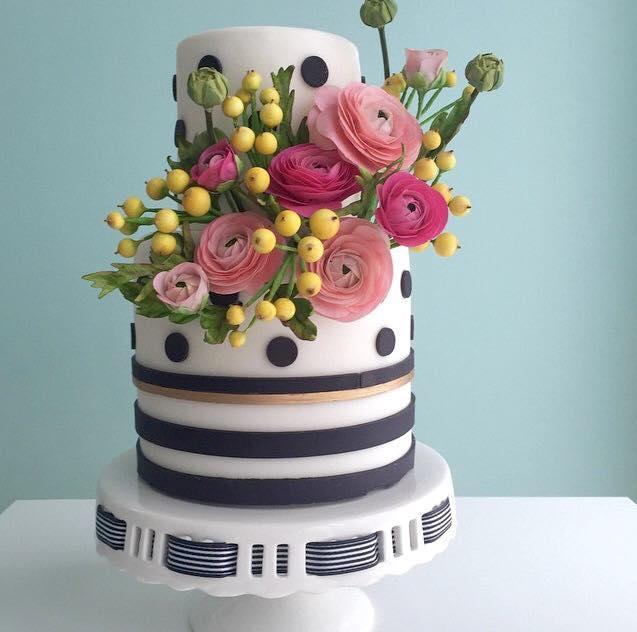 Photo via Bluprint member Alex Narramore
6. Fruit and berries
When dreaming up your sugar flower showpiece, don't limit yourself to blossoms and leaves. The addition of berries or other fruit helps add shape, color and seasonality to your arrangements. Blackberries or strawberries would look right at home in a summer arrangement. Lemons or limes might help freshen up a tropical floral design. Hypericum berries (above) are popular with florists year round.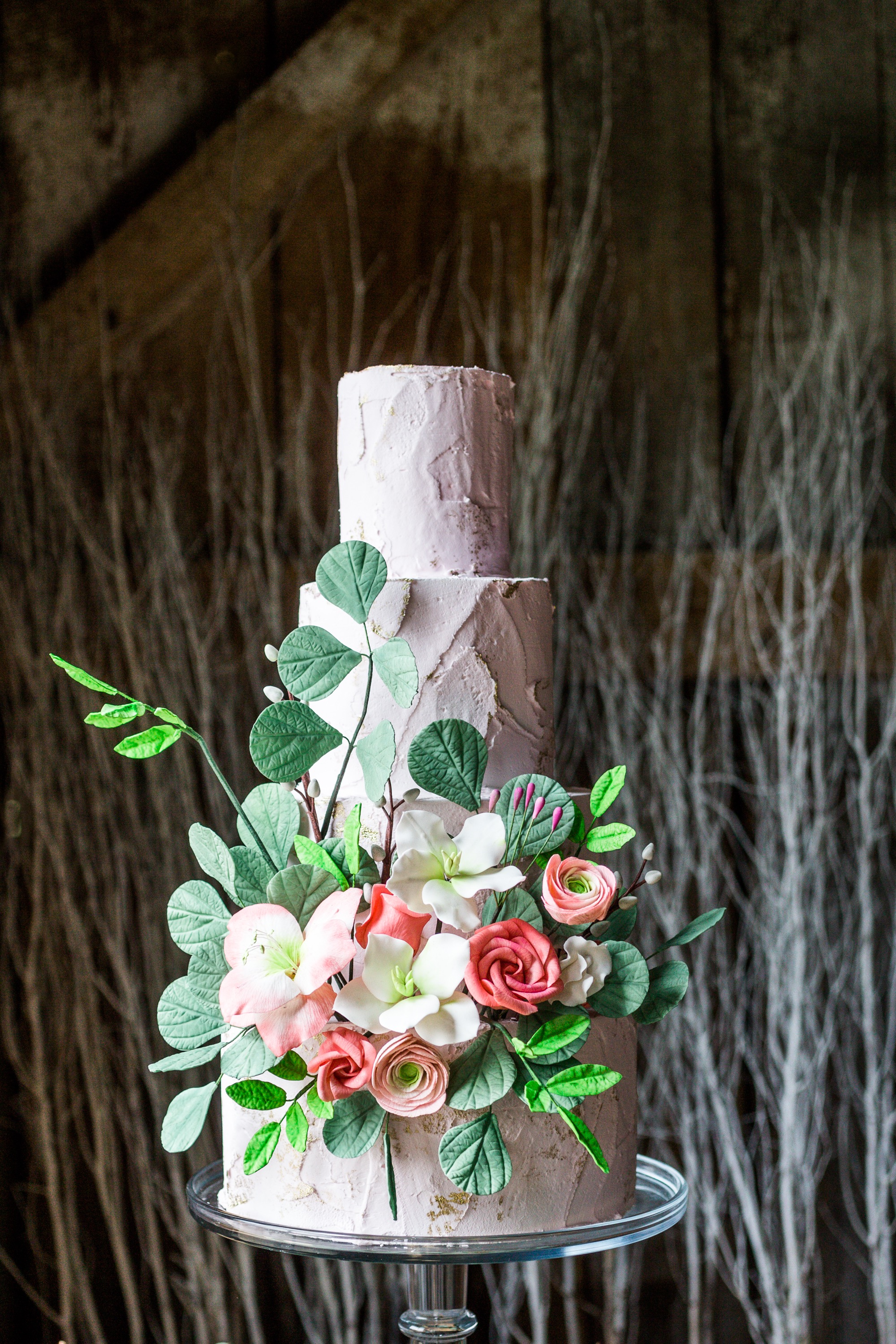 Photo via Erin Bakes
7. Stages of Bloom
Take a cue from florists and look no further than developing focal flowers for interesting filler. Adding buds, closed flowers and statement flowers at various stages of bloom can help add to the realism of your sugar flower arrangement.