What's better than meatballs? How 'bout meatballs stuffed with cheese?
Photos via CakeSpy
Talk about a meal that will make pasta an even happier food: Mozzarella-stuffed meatballs cooked in a slow cooker.
In spite of their "how'd they do that?" appearance, these savory morsels are actually quite easy to make. The recipe starts as if you're making meatballs as usual, but before cooking, you mold the meat around small circles of mozzarella. Give them a short sear and then let the slow cooker do the rest of the work. In a few hours, dinner will be served. While they look like fairly standard meatballs from the outside, once cut open, they are filled with deliciously oozy mozzarella, which adds moisture to the meat and flavor to every bite.
Enjoy them with pasta, or put them on crusty Italian bread for a truly memorable sandwich.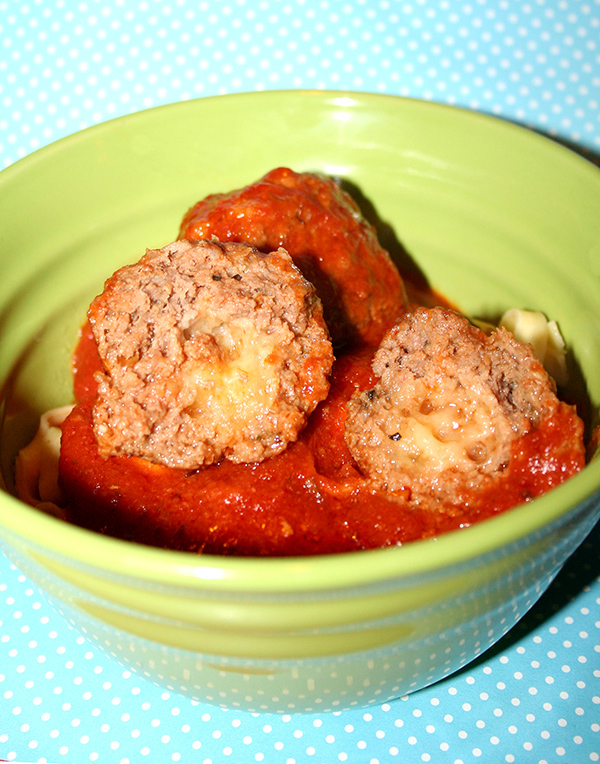 Slow cooker stuffed meatballs
Makes 8-10 (recipe can be doubled)
Adapted from Betty Crocker
Ingredients:
1 pound lean (80% or more) ground beef
1/4 cup panko bread crumbs
2 tablespoons grated parmesan cheese
1/2 teaspoon salt
1 teaspoon oregano
1/4 teaspoon pepper
1/2 teaspoon sriracha sauce
1 clove garlic, minced
1 egg
8-10 small mozzarella balls (about 1 inch in diameter; can also cut portions from a larger piece of cheese)
3 tablespoons olive oil
1 1/2 to 2 jars (25 oz each) spaghetti sauce Spaghetti, for serving (optional)
Note: International readers may enjoy our handy metric conversion guide.
Step 1:
In a large bowl, combine the beef, panko bread crumbs, parmesan cheese, salt, basil, pepper, sriracha, garlic, and egg. Mix until everything is combined and there are no streaks of egg remaining. Shape the mixture into about 9 approximately 2-inch balls.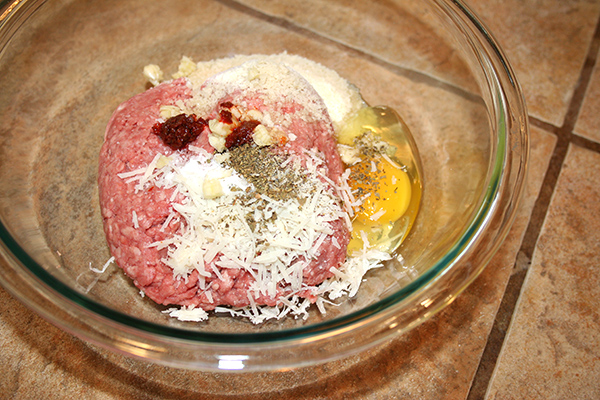 Step 2:
Lightly flatten one of the balls with your hand, press a small mozzarella ball in the center, and mold the meat around it, covering every surface of the cheese and "sealing" it in. Repeat with the remaining balls.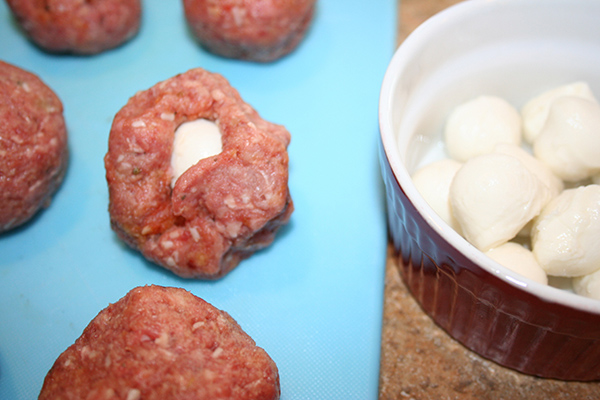 Step 3:
Place the olive oil in a 12-inch skillet, and heat to medium-high. Once the oil has heated (you can test it by flicking a drop of water into the pan; if it dances, you're good to go), add the meatballs to the pan, giving each meatball a little space around.
Cook until just lightly browned on all sides. You don't have to worry about fully cooking the meat at this point, as this "sear" is for texture; you'll fully cook the meat in the slow cooker.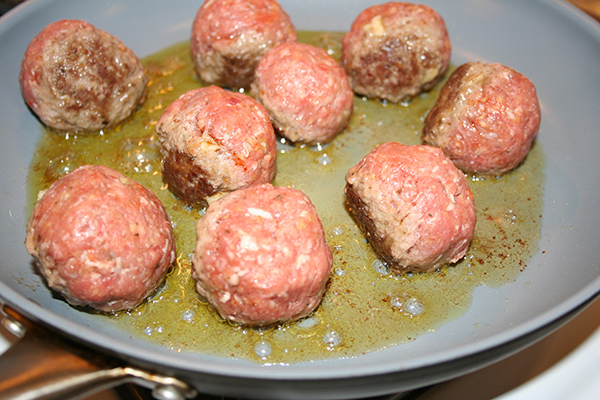 Note:
If any of your meatballs begin to come apart, don't panic. If it's a small "tear", the meatball will probably fare just fine in the slow cooker. The one below did. However, if multiple meatballs begin to tear, make sure that you have fully sealed the cheese within the meat no the rest of the meatballs.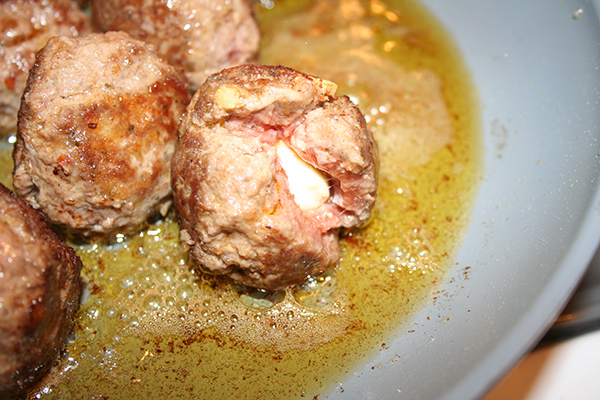 Step 4:
Pour one jar of pasta sauce into your slow cooker. Place the meatballs on top.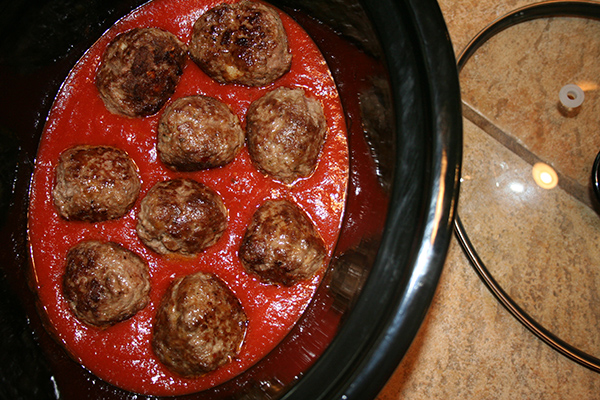 Step 5:
Open the second jar of sauce, and pour enough sauce on top to cover the tops of the meatballs (about half the jar, or more depending on the size of your slow cooker). Cover the slow cooker, and set to the low setting. Cook the meatballs for 5 to 6 hours.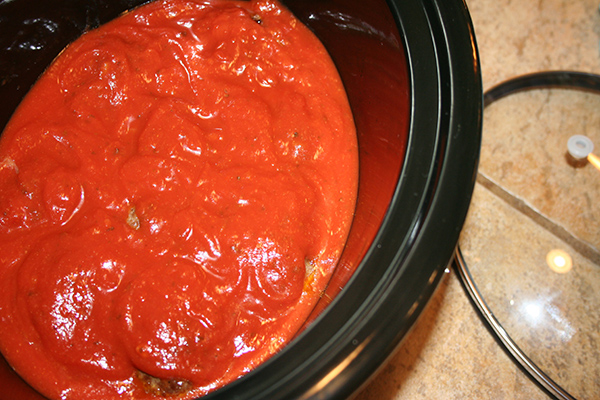 Step 6:
Near the end of your cooking time, cook the pasta as specified by the manufacturer instructions. Serve meatballs atop the cooked spaghetti.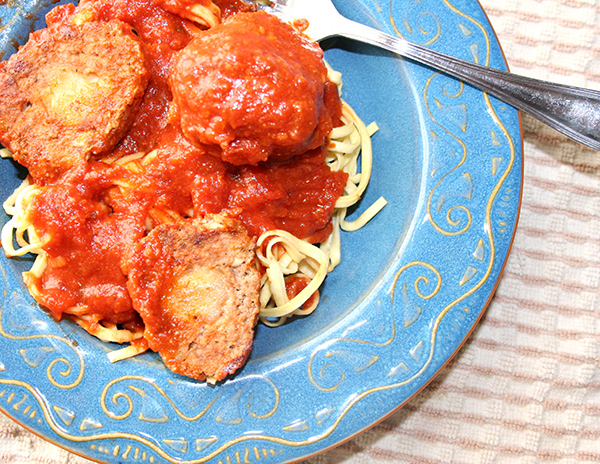 Store leftover meatballs in an airtight container in the refrigerator for up to 2 days.
Have you ever tried stuffed meatballs?