What exactly is the slip-stitch in knitting? Most knitters already know about slipping a stitch. Abbreviated as "sl st," you can slip a stitch knitwise or slip a stitch purlwise. Slip stitches in knitting are especially helpful for making decreases (the ssk — slip slip knit — is one of my personal favorites). But did you know that the slip stitch is also handy when you're knitting colorwork?
Slip-stitch knitting, sometimes known as mosaic knitting, involves using multiple yarn colors at the same time. One thing that separates slip-stitch knitting from its other colorwork counterparts, like Fair Isle, is that there are none of those crazy, tangled floats on the wrong side. Instead of carrying the floats behind the work, you slip the stitches of the color you're not using. Let's say, for example, that you're knitting a square that uses red and green yarn. When you're knitting with the red yarn, you'll slip the green yarn. When you're knitting with the green yarn, you'll slip the red yarn — no twisting or floating involved.
This pretty slip-stitch afghan from Bluprint instructor Rhonda Fargnoli might look crazy complicated, but guess what! — Rhonda used slip-stitch knitting to carry all those colors, which means she never carried both colors in the same row. I know, it seems like it's too good to be true, but it's not. The afghan is straight out of Bluprint's My First Slip-Stitch Afghan class, where Rhonda walks through step-by-step how to work from the center out. The afghan is a great example of slip-stitch knitting because the afghan pattern — available exclusively to Bluprint members enrolled in the class — uses six slip-stitch patterns that are all equally lovely.
Advantages of slip-stitch knitting
I've already mentioned that slip-stitch knitting is awesome because it avoids floats. (Come on. Does anyone really like floats?) But there are other advantages to using this type of colorwork.
Because you're not floating the yarn in the back of the work, you'll actually use less yarn when knitting your project. This is especially helpful for larger projects, like Rhonda's slip-stitch afghan pictured above. And no floating also means that you can knit faster, since you don't have to worry about the tension the floats are creating. Just slip those stitches and move on.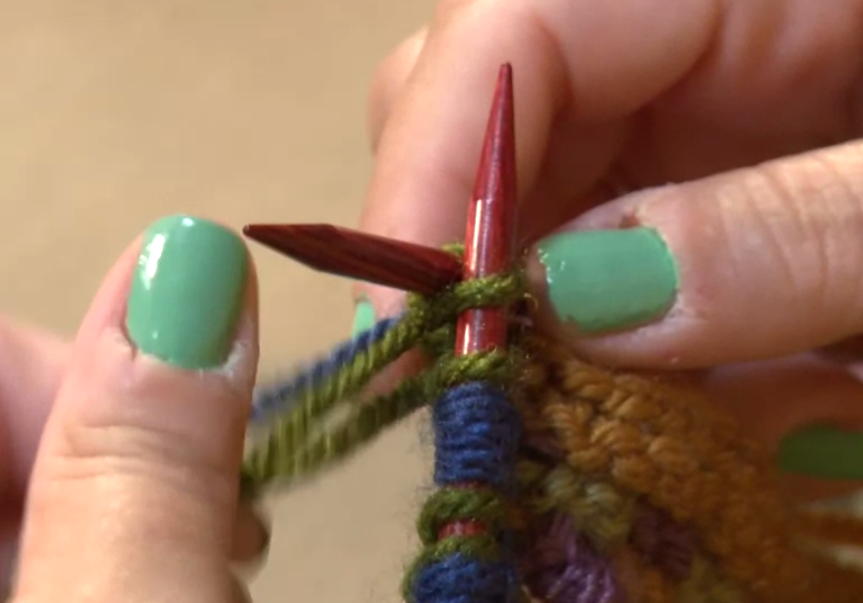 Another advantage to slip-stitch knitting is that your completed knitting project won't be so heavy. This is not only a relief for your wrists and arms, but it also makes for a nicer finished project. Items like sweaters and blankets won't be so heavy from all that extra yarn that was carried in the back. Speaking of the back, a slip-stitched wrong side looks a lot neater and prettier, too!
[box type="shadow"]
Does slip-stitch knitting sound kind of wacky? Don't worry!
Rhonda Fargnoli is happy to walk you through your first attempt in the My First Slip-Stitch Afghan class. 
The best part is that every student's afghan looks completely different because the yarn colors are so customizable. Rhonda used nine colors in her afghan, but you can use any color palette you choose.
Sign me up! >>
[/box]
Do you despise floats? Have you ever tried slip-stitch knitting for colorwork?