It may have snowed last week in my neck of the woods, but that doesn't mean I'm not thinking of warm weather sewing. I'm longing to hang my coat up in the closet and not reach for it again any time soon. My box of skirt and shorts sewing patterns has also been calling my name and, if the weather keeps warming up, it's just about time for me to answer (knock on wood). I've never been one to follow fashion trends, and I love sewing my own clothes because it means I'm the one who gets to pick what's "in" this season.
Here are some warm weather styles that I'm really looking forward to making.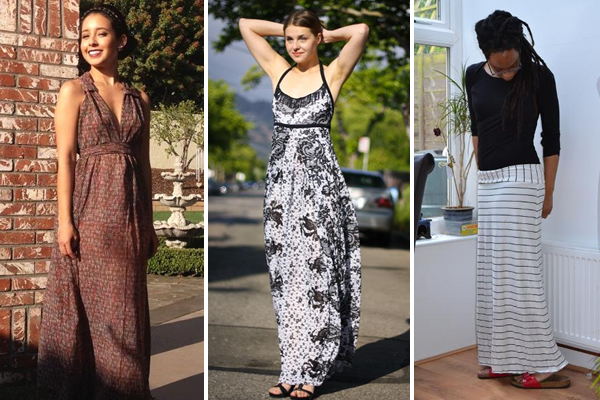 (Left to Right) Photos via Bluprint members VenusSeamstress, tracy.boeing and Montag_Mildred.
Maxi dresses
I've always loved maxi dresses and skirts for their ability to look so effortlessly chic. You can dress them up or down for any occasion, and it's a style that you can literally throw on and still look great.
They work in both woven and knit fabrics, and usually are pretty simple as far as a number of pattern pieces. With new pattern releases like the Gabriola from Sewaholic, and old favorites like the Mission Maxi,  I foresee a lot of these dresses and skirts popping up in the online sewing community soon!
Get the Mission Maxi Pattern here.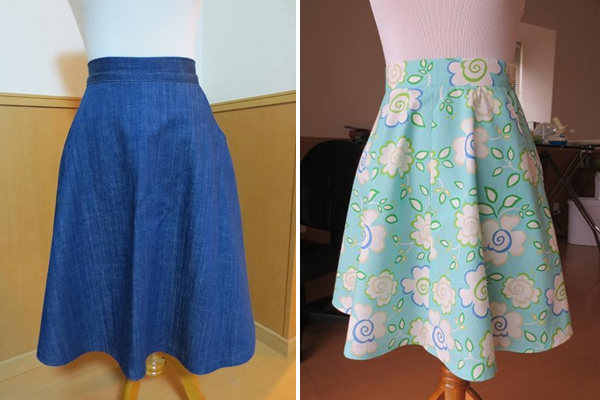 Photo via Bluprint member DatPixieGirl
Classic A-line skirts
A classic A-line skirt, like the Hollyburn pattern shown above, makes an excellent seasonal transition piece to add to your wardrobe. They look just as nice as in corduroy or wool as they do in seersucker or linen! Gotta love a pattern that works well for year-round wear.
Get the Hollyburn Skirt Pattern here.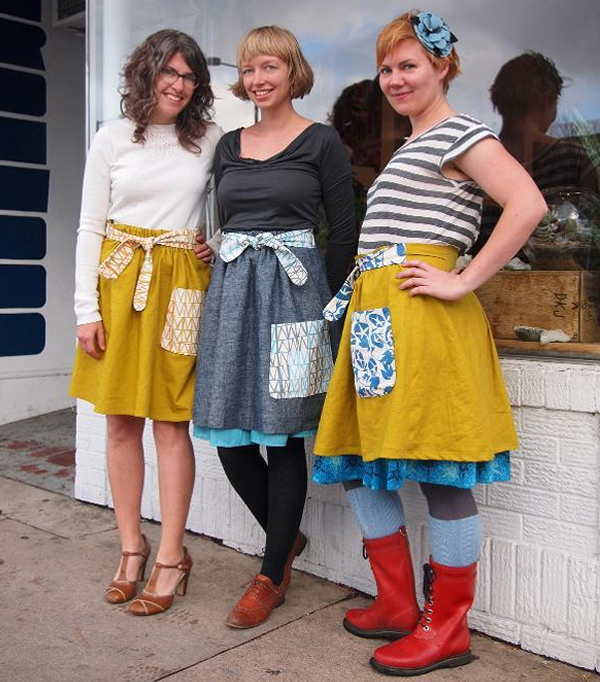 Photo via FancyTiger
I also love this free skirt pattern designed by Ysolda Teague. The option of three separate fabrics (each under two yards) makes it a great stash buster and the simple design makes it a pretty quick project to whip up. Plus it's just plain cute!
Get the Ysolda's Pocket & Ties Skirt Pattern here.
Photos via Colette Patterns and Bluprint member LaraGa
Shorts with button accents
These Iris shorts are great because of the versatility of fabrics you can use to make them. I've seen them made in everything from quilting cotton to wool blends and can be another potential seasonal transition pattern when paired with tights! They're such a classic shape! The in-seam pockets and invisible zipper create a tailored look effortlessly, and the optional buttons give them a nautical-style that's absolutely timeless. 
Get the Iris Shorts Pattern here.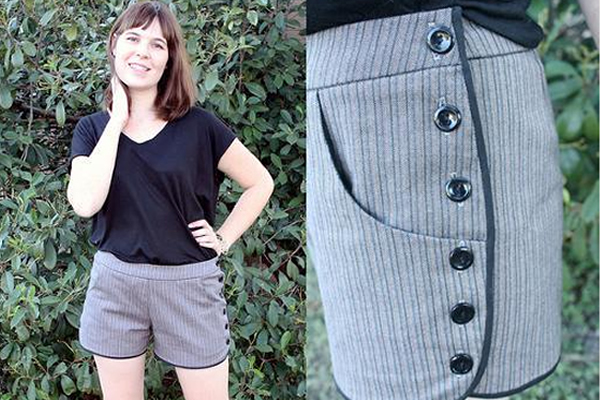 Photo via Dixie DIY
Speaking of buttons, take a look at this unique pattern by Dixie DIY. I'm loving the piping and the curved hem. Such a fun pair of shorts to sew and wear!
Get the Movies in the Park Shorts Pattern here.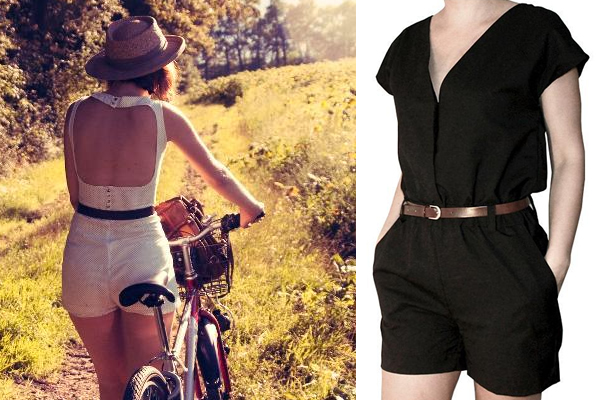 Photos via Bluprint member Ron McQuade and Salme Patterns
Vintage-inspired jumpsuits
I like playsuits or jumpsuits because they're easy to wear and have a very vintage vibe. The Polk Dot Open-Back Playsuit  from Ron McQuade and 113 Playsuit from Salme Patterns are both absolutely adorable. They're perfect for the beach, a bike ride or practically any other casual summer activity. It's a suit for play time! We could all use one of those, right?
Get the 113 Playsuit Pattern here.
Well, hopefully, these patterns got you excited for warm weather sewing! I know I am!
What summer styles are you looking forward to making?