This week we sat down with Christine Haynes, a blogger and instructor of our online class The Sassy Librarian Blouse. Christine shared all about her must-have sewing supplies, her first sewing project, and what most interferes with her sewing.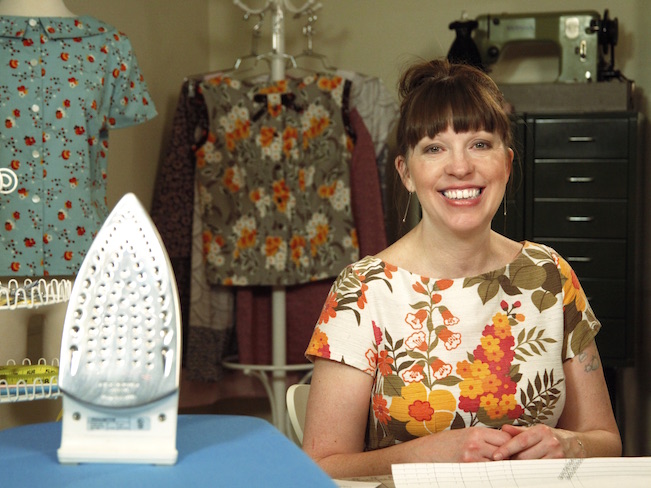 1. What was your first sewing project?
It depends on what you consider "sewing." I have a Christmas tree ornament from kindergarten that I sewed by hand. It wasn't exactly great, but technically, it was sewn! The first project I remember attempting in a semi-serious way was a white cotton floor length skirt when I was around 10. I don't know what I was thinking and of course I never finished it!
2. What are your three desert island sewing supplies?
Absolutely a seam gauge and good scissors! But number three is tough… well, unless you aren't automatically tossing in a sewing machine, in which case that would have to be number three! Though, I'm guessing there wouldn't be electricity on a desert island, so it'd have to be a treadle machine!
3. What item has been in your stash the longest?
I am not a hoarder in any aspect of my life, but I do have some fabrics that I just can't part with and also don't have the heart to cut yet. I have some gorgeous off-white silk with red strawberries on it from a trip to New York about eight years ago that may never get cut. It's just too pretty!
4. Cat person, dog person, or do pets just interfere with your sewing time?
I'm absolutely a cat person! A three-cat person to be specific! And yes, they do interfere with my sewing time!
5. What was your biggest sewing disaster? 
I remember about five years ago making a black seersucker vintage caftan. The lady on the envelope looked so chic! It was very 1970's YSL looking. I, however, looked like a sack of potatoes!
6. In 10 words or less, what inspires you?
Life, love, and kindness. Oh, and France.