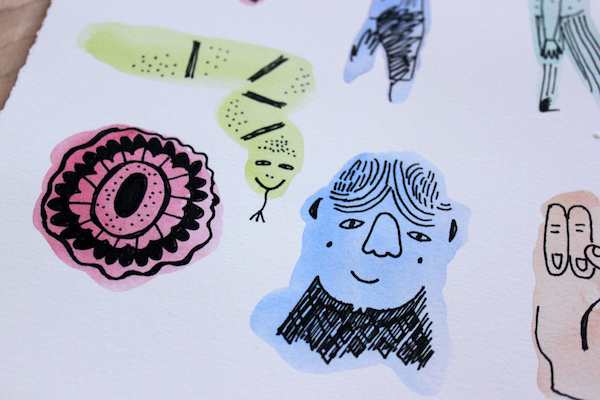 Watercolor painting is a great and easy way to create works of art. While there are many ways to approach it, you don't need to labor over your compositions to produce something great.
Learn a fun exercise for creating simple watercolor art while stretching your imagination!
This exercise in simple watercolor art will get your creative juices flowing!
This technique is one that you can repeat over and over again. It's a fantastic way to jump-start your creativity and to refine your illustration skills. Plus, it's straightforward — you start with a brushstroke.
Tips for selecting supplies:
Hot press watercolor paper provides a smooth surface that's perfect for drawing with a pen.
Make sure you use a waterproof pen on the off chance that your paper is still damp.
Step 1: Fill your page with colorful lines and shapes.
Using your favorite watercolor pigments and paper, paint a series of brush strokes on paper. Make sure they aren't connected, and that you create a variety of styles: some that are big, skinny, straight, rounded and more. You can even paint circles! These strokes will be the launchpad for the next part of the exercise where we turn them into people, places and things.
If you have a subject in mind — such as people — you can create your strokes accordingly (by painting the silhouette of a human, for example), but remember to vary them.
Step 2: Use a pen to transform your brushstrokes into imaginative drawings.

Once your paint has dried, it's time to transform the lines into fantastical works of art. Using a pen, draw on top of your paint to create casts of characters, special landscapes, beautiful flowers, abstract patterns and much more. The watercolor spots should be an outside guideline for your doodle. For instance, if you have a rounded shape, work inside of the colorful stroke and turn it into someone's head.
Don't worry about making mistakes — these are a way to flex our creative muscles without feeling the pressure to produce something that's perfect.
Artwork inspiration: Marion Barraud

Image via Marion Barraud
French illustrator Marion Barraud regularly uses this same technique to create her whimsical works. She uses fine-tipped pens to create casts of characters with big personalities. Notice all of the great details she works into these simple brush and pen strokes: there are scarves, hats, short people, tall folks. The bears have furry chest and coffee mugs — how delightful! It really goes to show that the only limit for this exercise is your imagination.

Image via Marion Barraud

Image via Marion Barraud
After you've created one sheet of doodles, why not start another one? This time, change up the shapes you paint and alter themes. Challenge yourself to draw something that you wouldn't normally sketch.
Quick Tip:
Keep these exercises once you're done. Put them in your sketchbook or somewhere that you refer to often. You can look back at them for inspiration. Or, if they're character-based, the subjects of future work!