"A world without tomatoes is like a string quartet without violins." Laurie Colwin, Home Cooking.
When tomato season finally arrives, my mind reels with tomato recipes — from the humble tomato toast to the more throughout tomato pesto, which uses both fresh and sun-dried tomatoes. Ready to make use of the seasons bounty?
Here are tips on working with tomatoes along with some simply delicious recipe ideas you can make in mere minutes.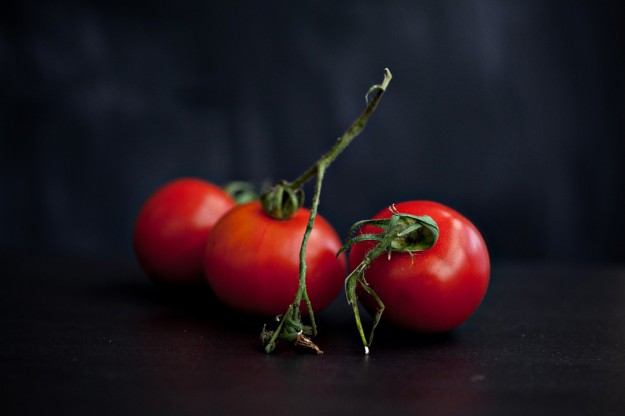 Photos via Not Without Salt
A few things to note when caring for these delicate beauties…
Tip #1: Be wary of off season tomatoes.
I don't bother with tomatoes in the winter, except for the occasional cherry tomato which I will roast to mimic the sweetness of summer. This is the time of year I eagerly wait for and praise the hot sun because I know it is those rays which sweeten and intensify the tomatoes flavor. It's the time when tomatoes reach their true flavor potential
Tip #2: Never refrigerate a tomato.
The texture goes from soft and buttery, to slumped and mealy. They lose their hard earned flavor and well, they just don't do themselves justice once refrigerated so keep them stored on the counter.
Tip #3: Buy them as fresh off the vine as you can find.
It's true tomatoes will continue to ripen off the vine and a few days in a brown paper bag can actually improve the flavor but we're talking a few days which is not enough time to turn a green tomato red. If you live in some sun grow your own. If not, make friends with a farmer or find a grocery store who has made the friendship for you.
There are so many ways with a tomato — from sauce to gratin, sorbet to stuffed and baked. Here I'm sharing a few recipes that really highlight all that we know and love of tomatoes: their sweetness, acidity and deep flavor.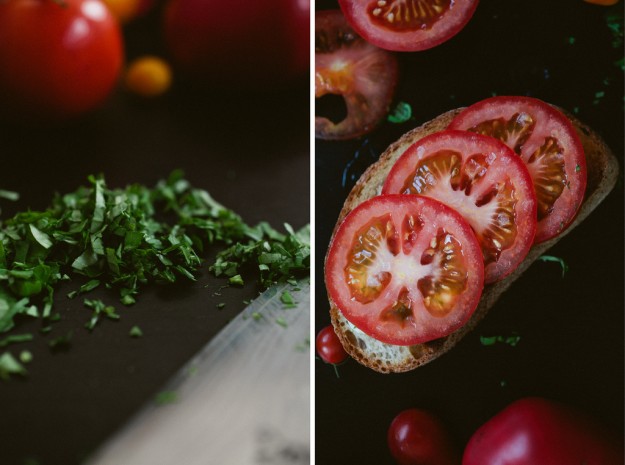 Tomato toast with basil butter
With a beautifully grown tomato I argue that very little should be added to it. A thick slice with salt is the perfect way to enjoy a sun-ripened tomato. This recipe has only a few more ingredients and has quickly become my favorite late-summer lunch.
This butter is summer's condiment. On grilled corn it's magic.
1 Tablespoon chopped basil
4 Tablespoons butter, softened
1 piece of rustic bread, toasted
3 slices of thick-cut, slave-free tomatoes
Sea salt
Directions:
In a small bowl combine the basil and butter. Spread a bit on the warm toast. Top with tomatoes then sprinkle with salt.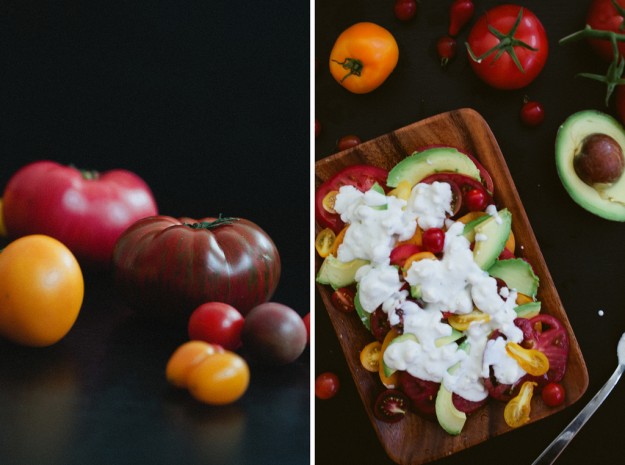 Tomatoes and avocado with blue cheese dressing
Inspired by Ina Garten
With so few ingredients use the best you can afford. I used Rogue River's Flora Nelle and I'd do it again. Pungent without smacking you in the face. This salad has no need for lettuce. Simple and stunning.
Blue Cheese Dressing
4 ounces blue cheese, crumbled
1/2 cup mayonnaise
1/2 cup sour cream
1/4 cup whole milk
1/2 teaspoon kosher salt
Directions
Combine everything in a bowl and stir to combine keeping large chunks of blue cheese intact.
Arrange thick cut slices of tomatoes and avocados onto a platter. Generously top with blue cheese dressing. Finish with fresh ground pepper.
Serve immediately.
Leftover dressing can be refrigerated for one week.

Tomato pesto
If you'd prefer to pass on the pasta slather this pesto on a sandwich instead. Perhaps grilled with a slice of provolone cheese.
 1 medium tomato, roughly chopped
½ cup sun-dried tomatoes (if using oil cured reserved 2 tablespoons of the oil to add in later)
1 garlic clove
½ cup fresh basil
1 tablespoon fresh tarragon (optional)
½ teaspoon sweet paprika
¼ cup toasted walnut halves
½ cup grated Parmesan
½ teaspoon salt
Directions:
In the bowl of a food processor add the tomatoes and garlic. Blend.
Add the basil, tarragon, paprika, walnuts, Parmesan, and salt then blend to combine. Taste and adjust seasoning.
Toss this with pasta and top with Parmesan and walnuts. Or simply use as a sandwich spread or a fresh vegetable dip.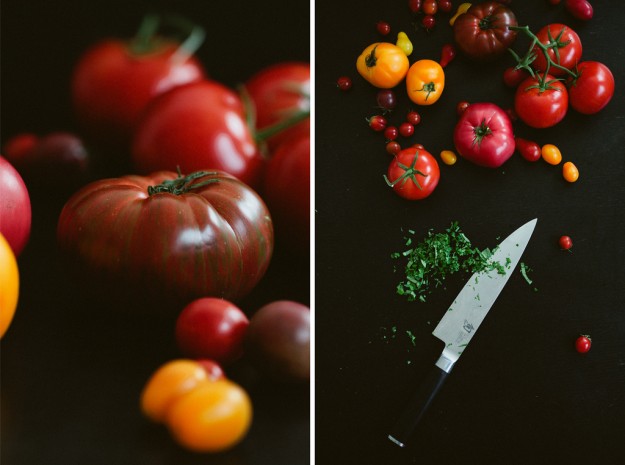 For more great ideas on how to cook with vegetables like tomatoes, peppers, eggplant, cabbage, beans and more, be sure to check out, Love Your Vegetables: Best Methods, Flavorful Techniques, one of the latest classes on Craftsy.
What's your favorite way to use a farm-fresh tomato?