Whether you consider yourself a beginner or an advanced quilter, sometimes you're just in the mood for a simple quilting project. For a quick baby shower gift or just a little therapeutic, relaxing quilting, simple quilts are ideal for their quick piecing and straightforward construction.
Here are a few simple quilting designs that can offer a much-needed break for advanced quilters and a place for beginners to practice the basics.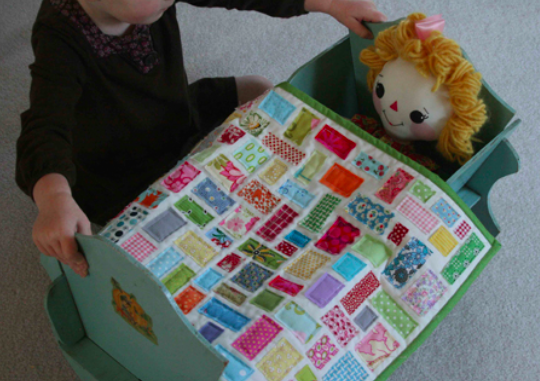 The Tiny Ticker Tape Quilt by Amanda Jean Nyberg for Sew Mama Sew is not only a great scrap quilting project, but it is a perfect quilt for beginners. After making your quilt sandwich, simply raw-edge applique the fabric scraps to the quilt top, which is an easy way to finish the quilting and piecing all in one step! Ticker tape quilting is the epitome of simple quilting, and yet it's a design that offers vintage-style charm.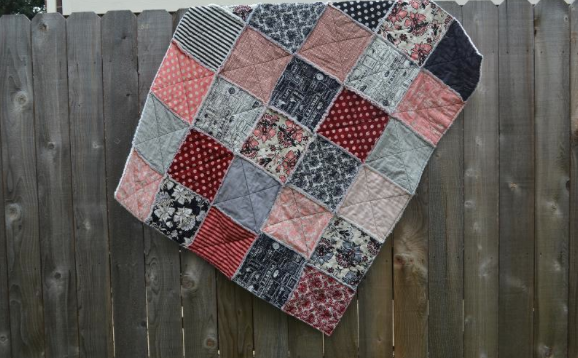 A Rag Quilt like this cute two-tone version from Beckskosh offers one of the simplest methods of both piecing and quilting. To make a rag quilt like hers, cut 60 10" squares and 30 10" squares of batting and sew the squares together with the wrong sides facing. Quilt each square with an "X" and snip the seams to encourage fraying. For more instructions on this simple quilting method, choose your favorite free rag quilt pattern.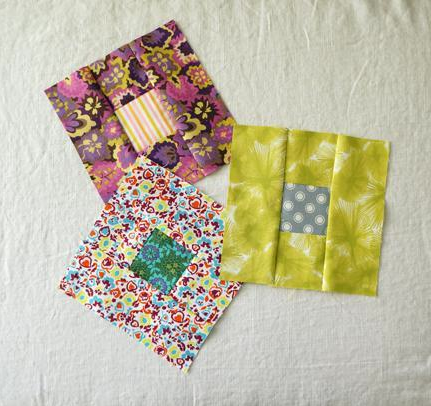 Quilting with squares and strips is an excellent way to get your feet wet with quilting, but it also offers a nice break for seasoned quilters looking to whip up a stress-free quilt. These Square in Square blocks by Sharon Holland are simple quilting blocks that can help you use up your fabric scraps or precut 2 1/2" strips. Enlarge these blocks and alternate with solid background squares for a quilt top that comes together in no time at all.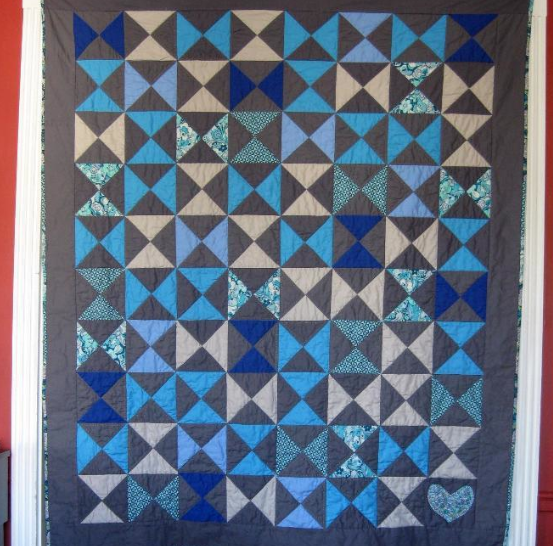 The hourglass quilt block is a simple yet striking pattern that is not too different from piecing half-square triangles. With practice, those points can line up just right! Suzanne's Quilt by Kendra Nitta shows how rotating a few hourglass blocks can add a personal touch to a traditional pattern. Learn how to make hourglass quilt blocks at Red Pepper Quilts.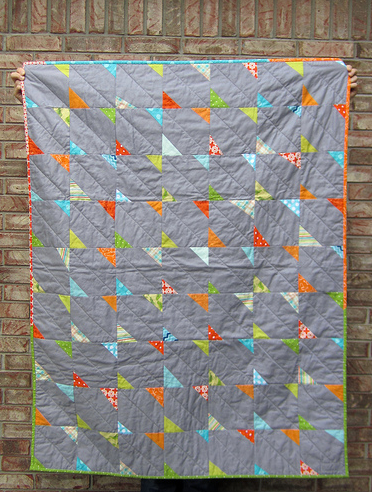 This Little Bow Ties quilt by Elizabeth Rea is based on simple quilt blocks with colorful corners. The background fabric blocks are cut into large squares, and triangle scraps are pieced on two opposite corners of each block. The corners do not need to be exact, which makes this an easy and quick block with a great visual impact. Get the free simple quilt pattern at Film in the Fridge.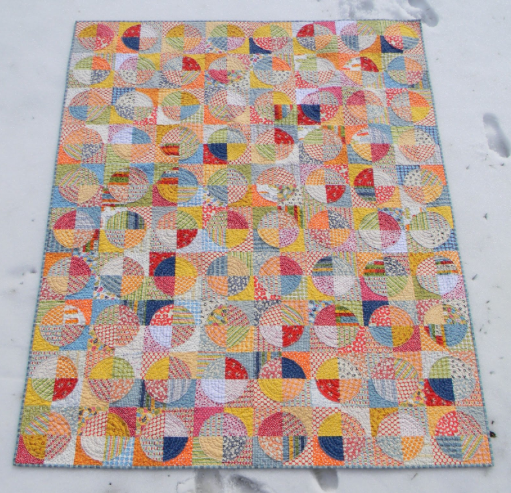 Remember that double wedding ring quilt you thought you'd just "throw together"? It's time to reward yourself by making a quick and simple quilt, like this Raw Edge Circle Quilt pattern from Allison Harris. The colorful version above is by Alex of Teaginny Designs. This pattern is great for a baby shower gift, and doesn't require any curved piecing thanks to the raw edge applique method.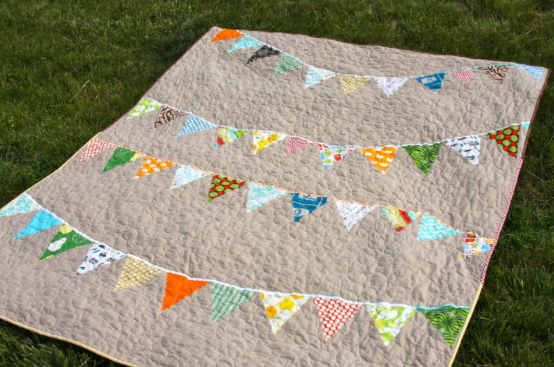 If quilt blocks aren't your idea of a simple quilt, how about easy applique? The Banner Quilt for Eli by Cristin Wilson is technically a whole cloth quilt made from a flat sheet with bunting triangles appliqued to the top before quilting. Although whole cloth quilts are sometimes very intricately quilted, Cristin opted for simple loops to match the whimsical design of a child's quilt. Prudent Baby offers an introduction to cheater quilts, which are a type of whole cloth quilt made from fabric that looks like patchwork blocks.
If you're in the mood for simple quilting and would like some additional guidance, be sure to check out Bluprint's class Pre-Cut Piecing Made Simple or our blog post featuring machine quilting patterns for beginners. What's your favorite simple quilting project that you've finished?