Sometimes you don't want a whole lot of huff and puff with wedding cakes, you just want a perfect, simple, beautifully designed cake with a handful of gorgeous fresh or sugar flowers to finish. As cake decorators, yes, we do love doing the ornate and strange and 5-day long jobs where our hands, fingers and eyes are sore for miles afterward and all we want to do is sleep. But sometimes, just give us the simple and beautiful.
Delectable cake, melt in your mouth buttercream with just enough sugar, or soft shades of fondant and colors pure and true. Perhaps offset with one simple floral sugar bloom. Yes, we can do that. Yes, we have that. Read on.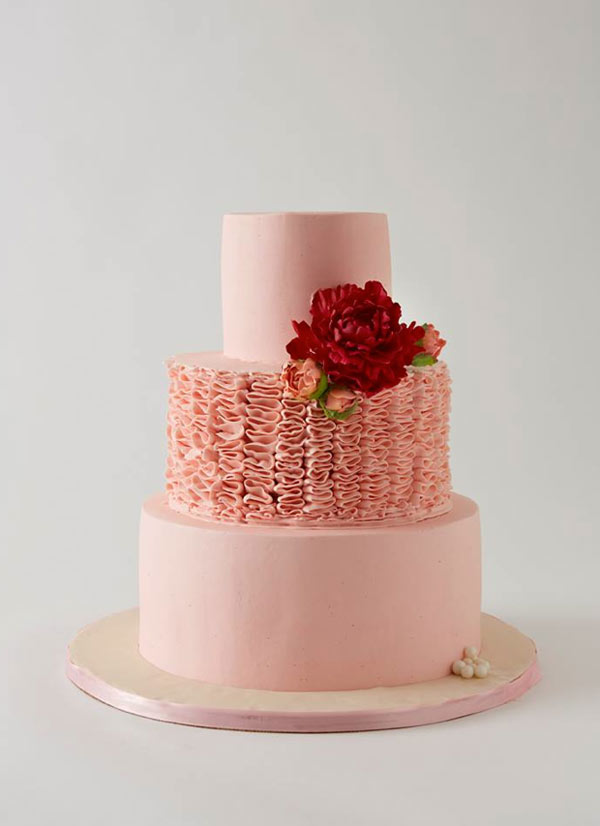 Photo via Lulu Cake Boutique
Perfectly pink buttercream ruffle cake:
Lulu Cake Boutique has such great cake-making style. I love this minimalist pink buttercream tiered cake with contrasting textured ruffle tier, all offset with the single ruby red sugar Juliet rose. The inside's nothing to scoff at, either: hazelnut genoise cake with gianduja mousse and torrone nougat. Delicious!
Learn how to make gorgeous sugar flowers like this in the Bluprint class The Ultimate Sugar Rose, taught by sugarcraft artist Nicholas Lodge. And if this cake is your style, you'll also love our roundup of pastel floral cakes.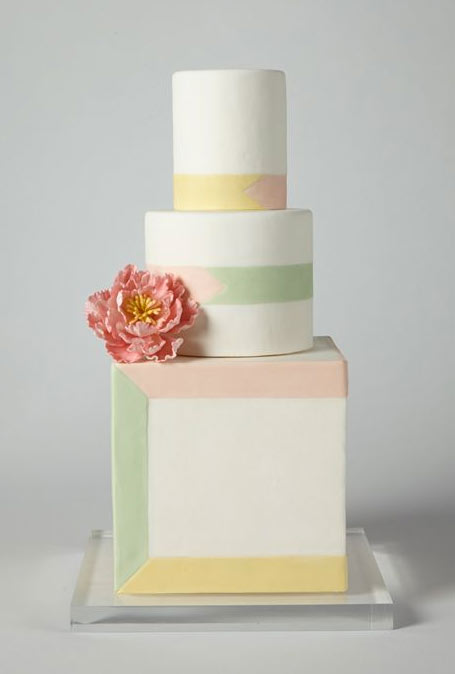 Photo via Wild Orchid Baking Company
Pastel lines square tiered modern cake:
Wow, I am in love with this simple but stunning cake. It reminds me of a modern art painting with its thoughtful simplicity. Perfect for a chic, modern wedding, and the angular shapes are offset by the feminine ruffle of a pretty pink sugar peony.
Nicholas Lodge demonstrates how to make pretty peonies like this, along with anemones and tulips in his class Classic Sugar Flowers.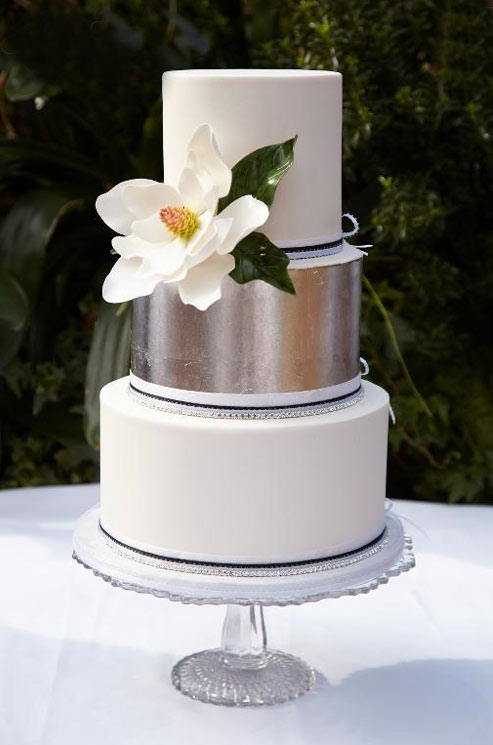 Photo via Bluprint member Sugar Art by Susan
Magnolia sugar flower wedding cake with silver tier:
Bluprint member Susan rocked this gorgeous cake, which was made as part of the Bluprint class Handcrafted Sugar Flowers with Jacqueline Butler. I love the silver cake tier, created using edible silver leaf. Susan explains: "you can order online or perhaps at your local cake supply store. They come in packets of individual squares separated by a lining of thin tissue-paper-like-paper." Very cool indeed!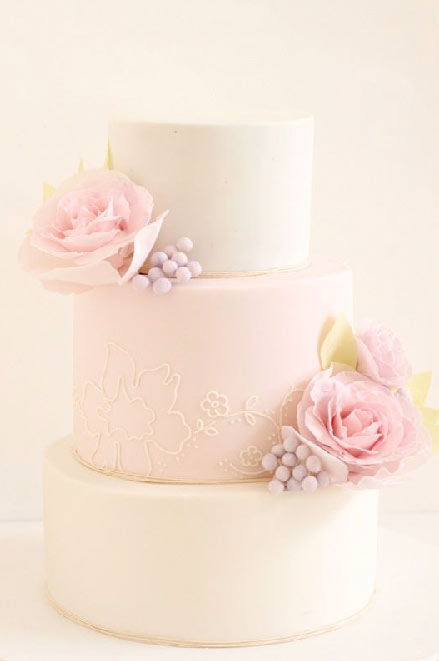 Photo via Hello Naomi
Pale pink rose cake:
Hello Naomi is the cake queen of simple and pretty – all of her cakes have a modern beautiful simple flair, always stylish and sweet. I love this three-tiered cream and pink tiered cake with the embroidered-look piping on the middle tier and the thin as paper delicate sugar pink roses in full bloom.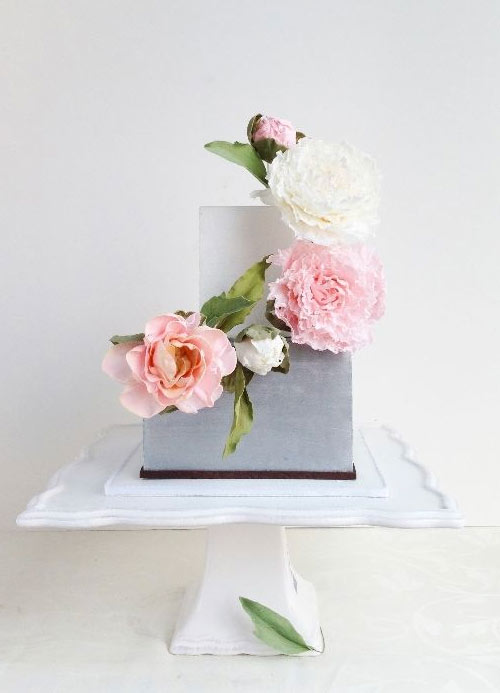 Photo via Cake Whisperer
Gray square cake with sugar roses:
Simple square tiers of dove gray and white are the perfect canvas for a collection of full bloom ethereal sugar flowers. Modern structure contrasts perfectly with soft romantic florals.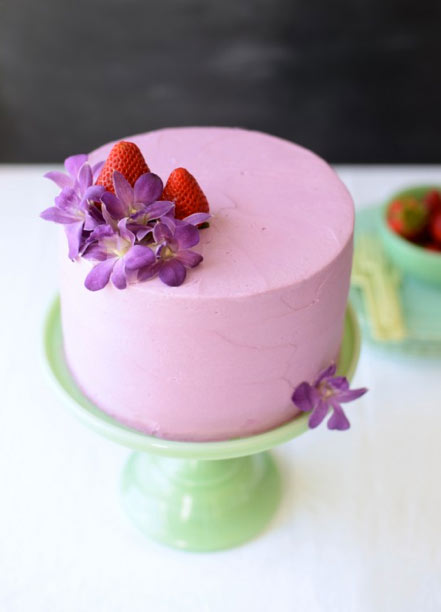 Photo via Sweetapolita
Strawberry lavender cake:
This simple and pretty pastel lavender buttercream iced cake is dressed daintily with just a few fresh purple flowers and two strawberry noses poking out. Pair a simple cake with an equally pretty cake stand and you have a match made in cake heaven.
Stands truly do elevate cakes! See our roundup of the coolest cake stands here.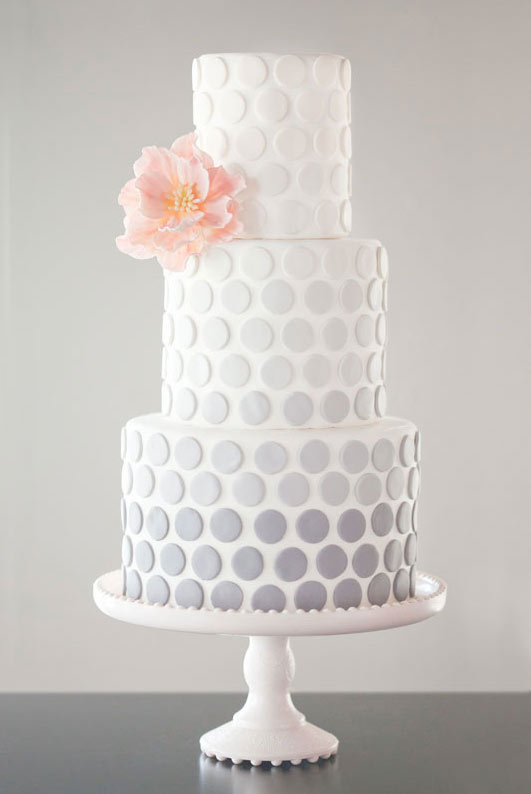 Photo via Wild Orchid Baking Company

Gray ombré dots cake:
This idea is so simple, yet the execution is so appealing — fondant circles in a soft gradient from silvery dove gray through to the lightest rain cloud all the way to white. To break up the pattern, a graceful looking pink sugar blossom peeks between the top and second tier.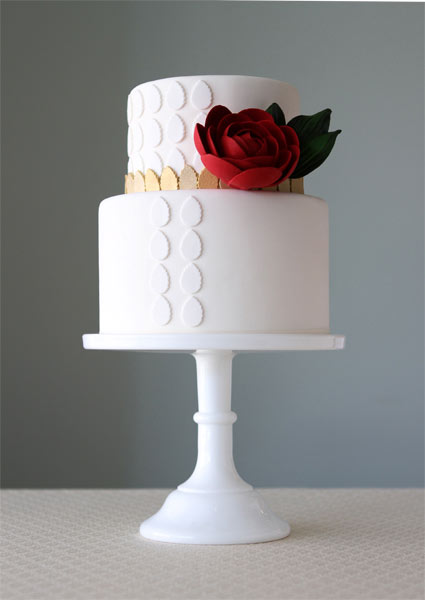 Photo via Charm City Cakes West
Monochromatic leaf cake with red rose:
I love the look of the monochromatic white leaves on a white cake with the border of gold leaves and, of course, the extra puffy almost Olive Oyl cartoonish red fantasy rose and rich green leaves. This would suit a modern bride's dream cake. The gold border almost reminds me of a gold belt on a white cocktail dress.
Are you on to the simple and modern cake trend? Dive into Bluprint's class Clean & Simple Cake Design with cake artist Jessica Harris! Then, top off your modern and lovely cake with an incredible sugar flower. Perhaps the brand new Bluprint class Spring & Summer Sugar Flowers with cake designer James Rosselle might be right up your alley?
Do you love these pretty and simple cake designs? Or do you "more is more" when it comes to wedding cakes?