Alfredo doesn't have to be a restaurant-only meal! I've found that it's actually one of the quickest and easiest sauces to make at home and it always satisfies! And to really impress your fellow diners, why not serve this on top of some delicious homemade Italian pasta!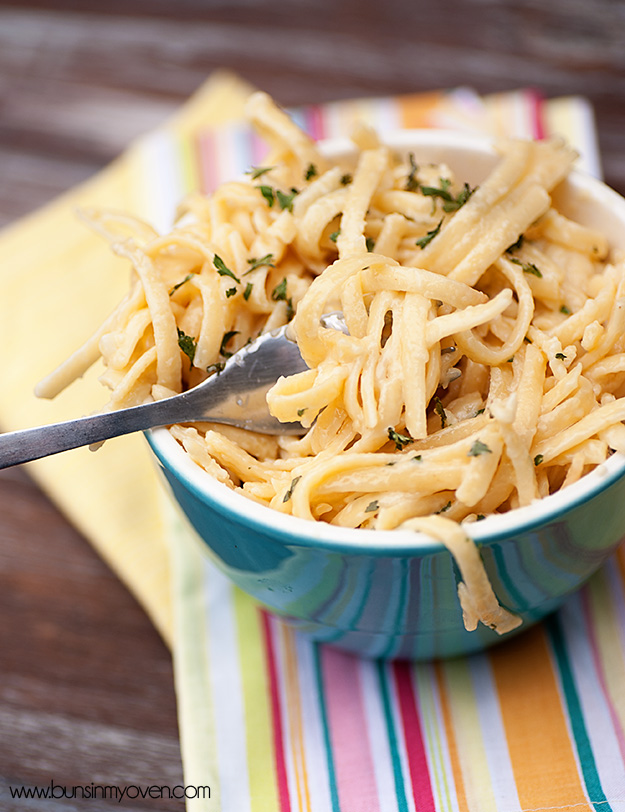 Photo via Buns In My Oven
What exactly is Alfredo sauce?
Alfredo is a creamy, rich sauce that has just a few simple ingredients. It was created in Rome by Alfredo Di Lelio in the 1920s, and has been a popular sauce ever since.
You can use it to add a smooth, creamy flavor to plenty of dishes beyond the classic fettuccine Alfredo. It works beautifully on pizza, in casseroles, and adds a touch of elegance to vegetables.
How do I make Alfredo sauce at home?
Unlike a lot of sauces that need plenty of time to simmer or require making a roux to thicken them, Alfredo sauce comes together beautifully and easily in just one pot with three everyday ingredients (plus a bit of salt and pepper, of course!).
For enough sauce to coat 1 pound of pasta, you'll need:
1 cup heavy cream
1/2 cup butter
1 1/2 to 2 cups of real Parmesan cheese (more for a thicker sauce)
Salt and pepper, to taste
Simply heat together the butter and cream until the butter has melted and stir in the cheese. Cook and stir until the cheese has melted, add a bit of salt and pepper to taste, and you have a classic sauce that will take any dish over the top!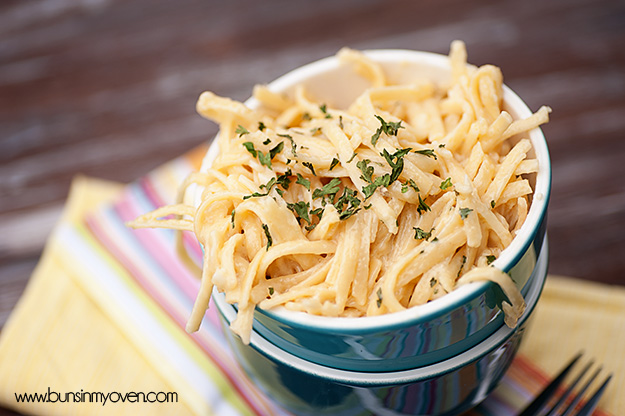 (photo source: Buns In My Oven)
Is Alfredo sauce just for fettuccine?
Absolutely not!
Alfredo sauce makes a great sauce for homemade white pizza. Top your pizza crust with Alfredo sauce, mozzarella, grilled chicken, tomatoes and basil for a creamy pizza that will soon become a favorite.
Breadsticks love a good dunk in Alfredo sauce! Truthfully, the only reason I eat breadsticks is for the generous amount of Alfredo that I manage to get in every bite.
You've probably had broccoli with a cheddar sauce, but how about an Alfredo sauce? Kids tend to love Alfredo sauce, as it's pretty mild, so you may even get them to enjoy broccoli if you pour on a bit of Alfredo first.
Try adding Alfredo sauce to casseroles. Below is a recipe below for a penne Alfredo with bacon and broccoli. It's a real kid-pleaser, but fancy enough to serve at dinner parties, too.
Can I add other flavors to Alfredo sauce?
Sure thing!
We love adding some Cajun flair to our Alfredo. I rub boneless, skinless chicken breasts in Cajun seasoning, grill them and slice into small pieces. Mix up some Alfredo sauce and toss with fettuccine. Top with the chicken and a sprinkling of extra Cajun seasoning.
Garlic is always welcome in Alfredo sauce. You can add roasted garlic to your sauce or just cook the garlic in the butter and cream mixture for a few minutes before adding the Parmesan.
Brown your butter before adding the cream and cheese for an extra depth of flavor that can't be beat. Just melt your butter over low heat, stirring constantly, until it turns a nice golden brown. Add in the cream and cheese and you're good to go.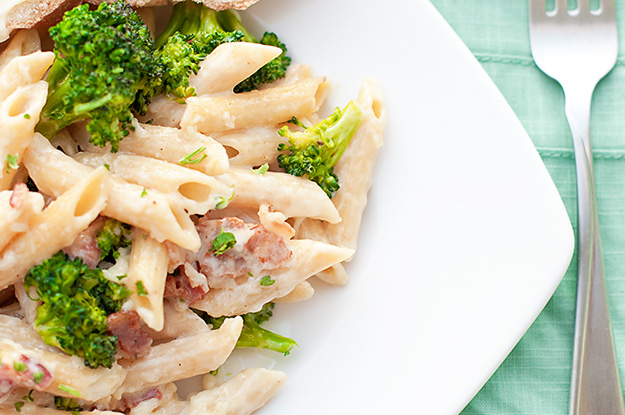 Penne Alfredo with bacon and broccoli recipe
1 pound penne pasta
2 cups chopped broccoli
5 slices bacon, diced
1/2 cup (1 stick) butter
1 cup heavy cream
1 1/2 cups grated Parmesan cheese
1/2 teaspoon garlic powder
Salt and pepper, to taste
Grilled chicken (optional)
Step 1:
Bring a large stock pot of water to a boil. Add penne and boil according to package directions.
Step 2:
While the pasta is boiling, fry the diced bacon until crisp. Add in the broccoli florets and cook, stirring occasionally, for about 5 minutes or until they are tender-crisp.
Step 3:
Meanwhile, in a small sauce pan, add the butter and heavy cream until heated through and butter is melted. Stir in the Parmesan cheese, garlic powder, salt and pepper. Continue stirring until the cheese is melted and the sauce is a smooth, creamy consistency.
Step 4:
Drain the pasta and add to a large serving bowl. Drain any extra grease from the bacon and broccoli. Pour the drained bacon and broccoli into the bowl of pasta and toss. Pour the Alfredo sauce over top of the penne and stir until well combined.
Step 5:
Top with grilled chicken if desired.
Serve with a side salad and garlic bread for a delicious dinner!
If you're really looking to go the extra mile with this meal, check out Homemade Italian Pasta to learn how to make delicious pasta by hand!
Ready for dessert? Come back to the Craftsy blog for a roundup of 11 creative pudding recipes!
What's your favorite way to enjoy Alfredo sauce?