A Block of the Month series, commonly called a BOM, offers a chance for quilters to learn new skills and techniques. It's typically structured in a way that teaches a new block each month, for a total of 12 blocks. At the end of the year, these blocks can be sewn into a sampler quilt top!
There are many Block of the Month clubs online, but you also might find patterns in magazines or stand-alone quilt patterns for purchase. Some of these also include fabric to make the blocks. The format of each pattern depends on whether or not you will pay to be a part of the BOM.
If you're looking for a free Block of the Month to join, you'll find many for free online.
If you haven't joined Bluprint Block of the Month 2013 with Laura Nownes, it's not too late to jump in!
This free online video course teaches 12 quilt blocks of various sizes, including techniques like partial seams, equilateral triangles, Y-seams and curved piecing.
Also included with the course is a basic lesson on how to assemble your blocks into a quilt and finish with binding. The polka-dot themed blocks seen above were made by Bluprint member Rosiecat, who uploads digital photos of each block as she completes it.
Is a Block of the Month for you? Here are some reasons why we love them!
Learn from others
One of the benefits of joining an online Block of the Month is the chance to quilt along with others and see how everyone interprets the same pattern. It's fun to see a block made in different fabric choices, and it's convenient to have others who you can go to for ideas, tips and inspiration.
The above blocks were made by Bluprint member Di4N4 for February, and you'll see many variations added as projects to the site.
Build your skills

If you're looking to grow as a quilter, a BOM is a great resource. During the year, you'll learn new blocks and techniques — many of which you may never would have tried on your own.
Bluprint member Harverster adapted the skills she learned for August's basket block (making a bias handle) to design her own block, a modified Celtic Knot, seen above.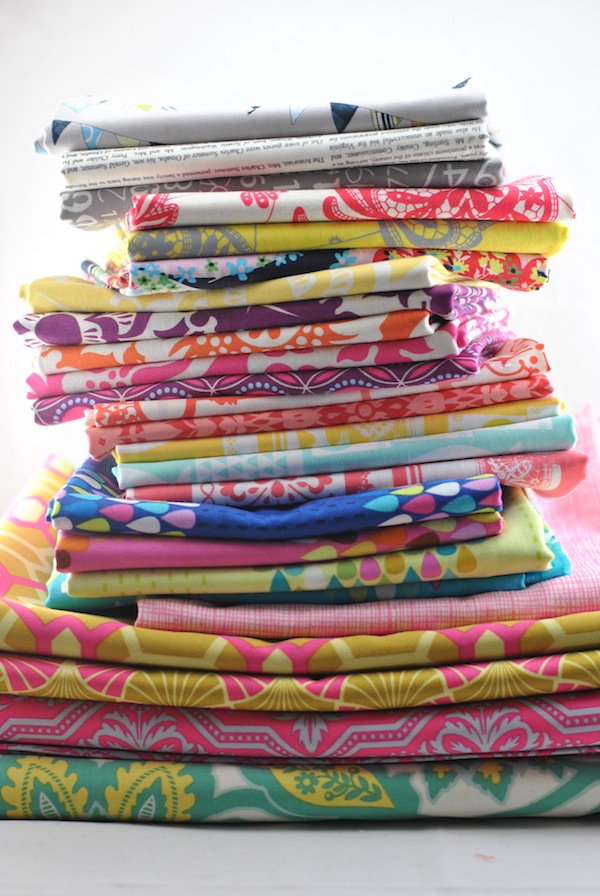 Find time to sew

Although there are no hard deadlines, joining a Block of the Month might encourage you to sew more often. Having the goal of at least one block per month is a good goal for many quilters who struggle to find time to sew! If you have a fabric stack like this sitting in your sewing space, perhaps it's time to join an online quilt-along and get sewing.
Make friends

Whether you join a Block of the Month class that's online or in person at a quilt shop, you'll have a chance to meet and interact with other quilters. In the midst of a busy week, sometimes it's just nice to share a little bit of life with others.
During the Bluprint Block of the Month 2012, Elizabeth of the blog Inspire Me Grey quilted along with two coworkers who were new to quilting. They met each month to work on their blocks and she blogged about their progress.
Are you ready to join a Block of the Month? It's not too late to join the Bluprint Block of the Month 2013 with Laura Nownes. Sign up for FREE today!
Have you completed (or started) a Block of the Month? What was your favorite part?