2015 is the year of the cake pop! Well, technically according to the Chinese zodiac, 2015 is the year of the "Yang" — goat or sheep, depending on who you ask.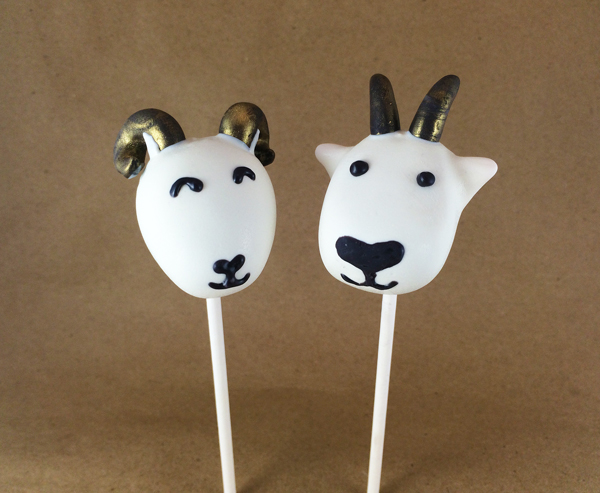 I wondered why there were two different animals in play here. I needed to know what kind of cake pops to make! Year of the goat cake pops? Or year of the sheep cake pops? I did some research and I learned that the word "Yang" in Chinese is a loose word that could mean either mountain sheep or mountain goat.
Whichever mountain animal you prefer to represent this new year, I've got you covered! I'll teach you how to make goat cake pops or how to make sheep cake pops with the exact same materials for each and just a couple of steps differ between the two.
Here's how to make "Year of the Yang" goat and sheep cake pops to kick off the new year!
You'll need
Lollipop sticks
Candy wafers in white
Candy wafers in dark brown
Starburst candies
Luster dust in gold
Toothpicks
Wax paper
Ziplock bag for piping
Styrofoam block
Step 1:
Line your work surface with wax paper and refer to this shaping tutorial to achieve perfect dough texture.
Roll cake pop dough into a ball and then into an oval to start.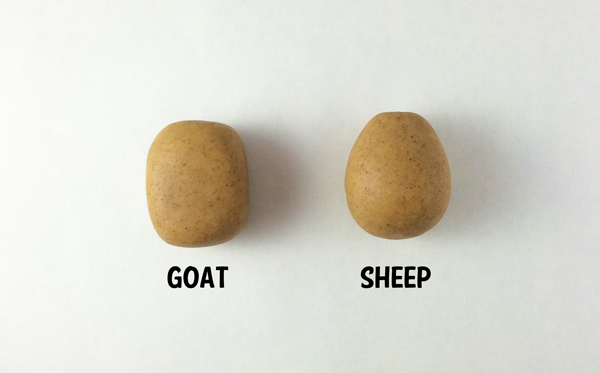 Goat: Use your flat work surface to gently tap flat sides onto the oval to create a rounded rectangular shape.
Sheep: Roll into a slight droplet.
Refrigerate all pieces.
Step 2:
The most noticeable difference between the two animals are their horns. Mountain sheep horns are large and curled, while goat horns are smaller and straight with a slight curl at the tip. We'll be using Starburst candies to shape their horns as well as their ears.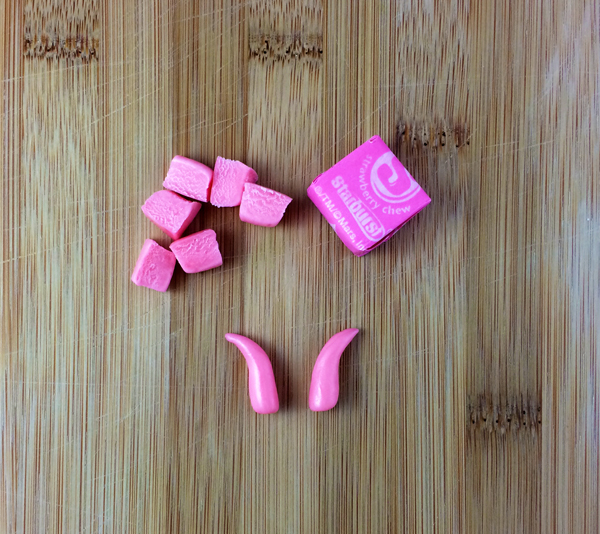 Goat horns: Using a knife, split one Starburst candy into 8 pieces. Shape into horns that taper and slightly curl at the top.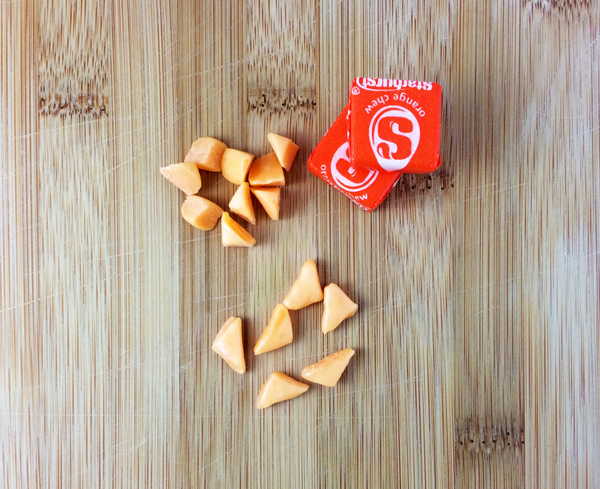 Goat ears: Split a Starburst candy into 16 pieces, cutting first into quarters, then each quarter diagonally into 4 triangles, for a total of 16 triangles. Then flatten the triangles.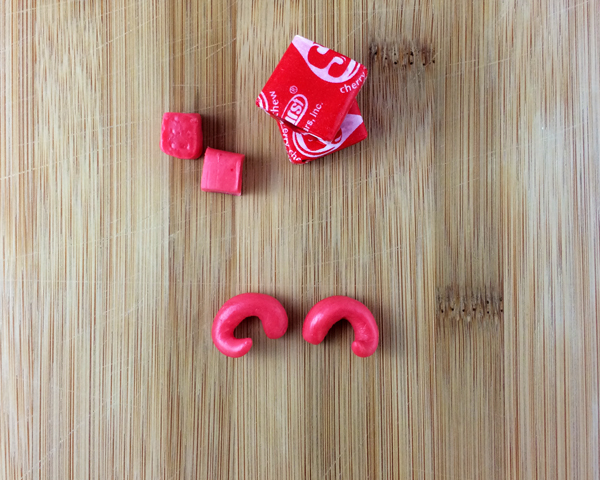 Sheep horns: Using a knife, split one Starburst candy into 4 pieces. Shape into horns that taper and curl them to create a spiral. Make sure you have them spiraling in the opposite direction!
Sheep ears: We will pipe these on later.
Step 3:
Melt white and brown candy coatings in separate containers. Refer to this dipping tutorial for instructions on properly melting and thinning candy coating. Set white coating aside for now, keep it in the microwave so it doesn't harden completely while we do these next steps.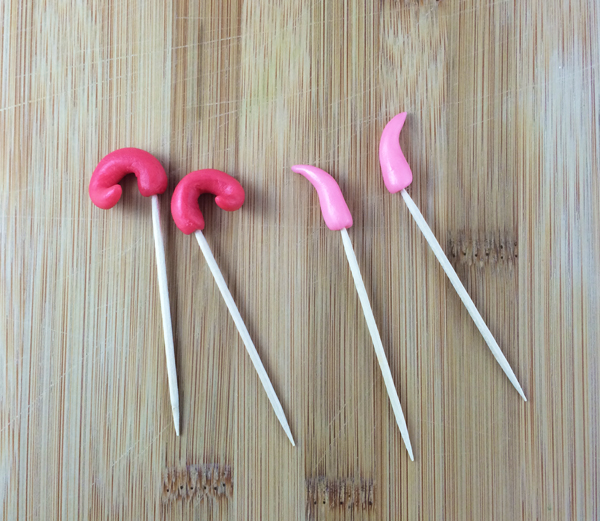 Place each horn on a toothpick.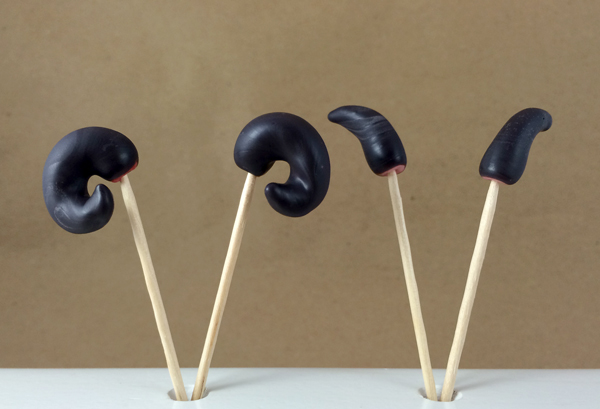 Dip into the dark brown candy coating and let dry completely.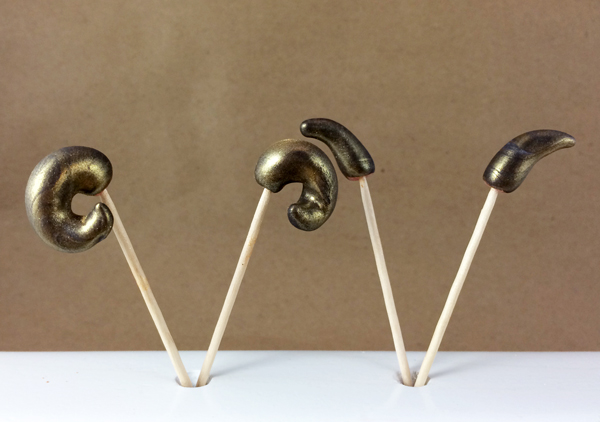 Dry brush with gold luster dust. I love how antiqued and realistic they look. We will apply these horns right after we dip the heads.
Step 4:
Remove heads from the fridge and let sit in room temp for about 10 minutes. Warm the white candy coating until smooth again and give it a good stir.
Dip about 1/3-inch of a lollipop stick into the candy coating, then insert the stick into the heads at a 45 degree angle. Make sure the larger end of the sheep head is toward the top. Repeat for all pieces.
Step 5:
Use the white candy to "glue" the goat ears onto the sides of the goat heads. If you're making sheep, move on to the next step.
Step 6:
Make sure your horns are nearby as we will attach them as we dip each head.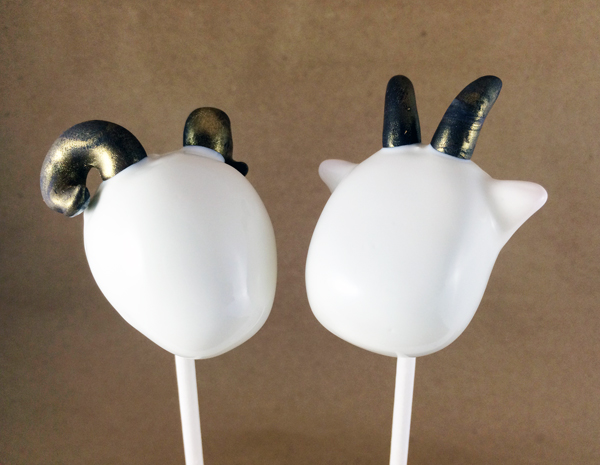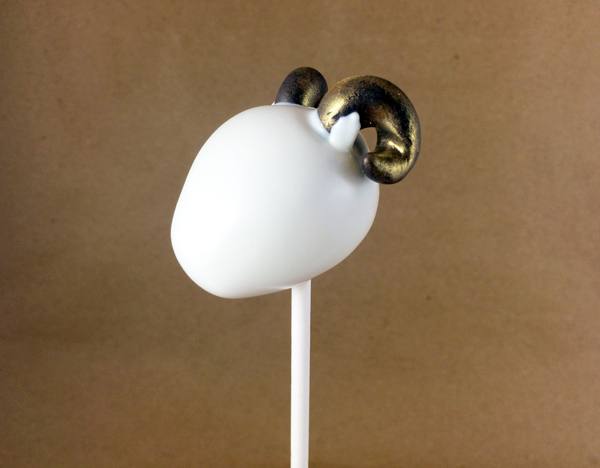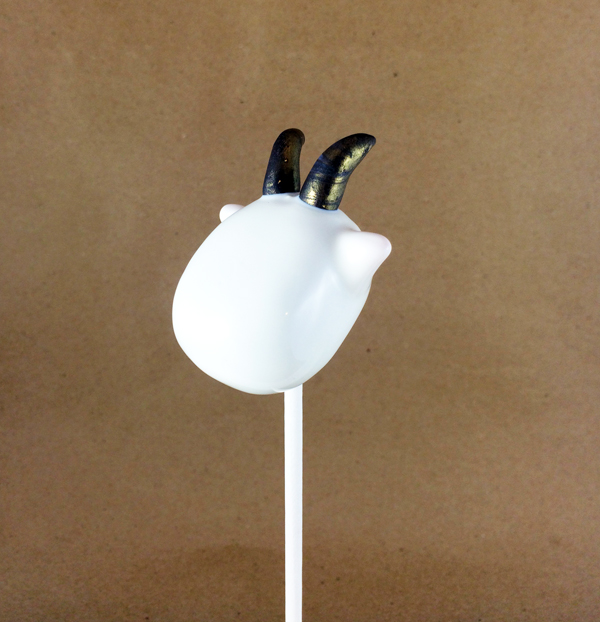 Dip each cake pop by submerging it completely until the coating meets the stick and then pulling it straight out. Gently shake to allow the excess to glide off. At this time, if you notice any air bubbles, pierce it with a toothpick and gently shake to allow the coating to even itself out.
Attach horns by gently pushing a horn into the head one at a time before the coating sets. Place it on the styrofoam block and let dry completely. Repeat for all the pieces.
Step 7:
Pour a little bit of the white coating into a ziplock bag to pipe the ears on the sheep.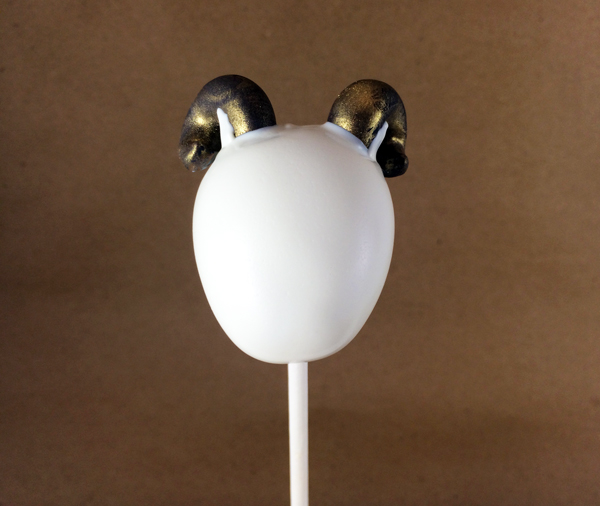 Snip the tip of the bag with scissors. Pipe ears on the sides of the horns.
Step 8:
Warm the brown candy and pour into a ziplock bag to pipe the eyes, nose and mouths.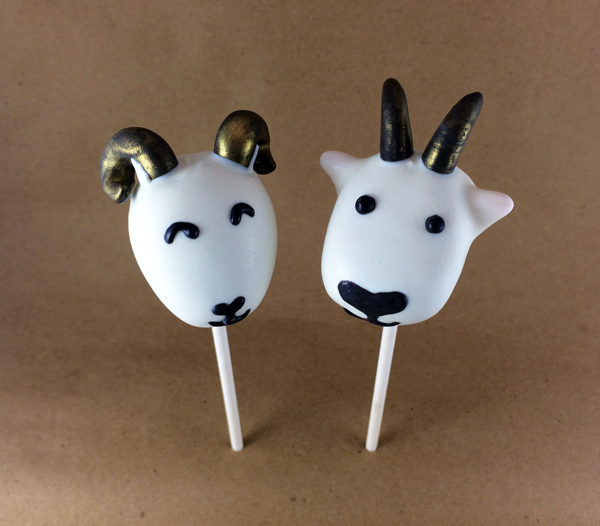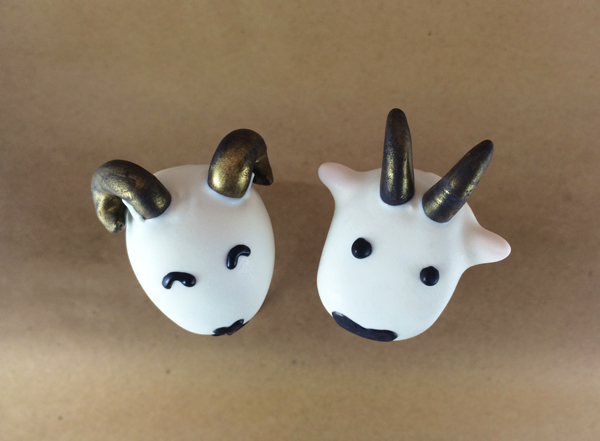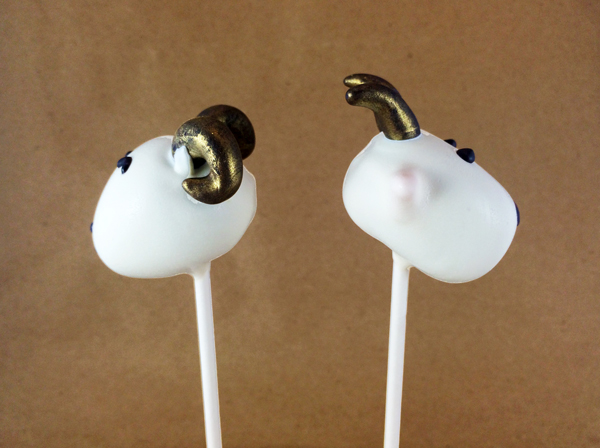 I like to do a combo of happy eyes and regular eyes. The nose shapes are similar to hearts;  wide hearts for the goats and smaller plump hearts for the sheep. Draw some mouth lines and you're done!
Happy New Year! May 2015 bring you joy, laughter, happiness and more baked goods!