V-necks are all the rage for spring 2014! They have appeared over and over again on the runway by designers such as Victoria Beckham, Chloé, Roberto Cavalli and Marni. And why wouldn't they? Wearing a V-neckline makes the wearer appear taller and thinner. Who doesn't want to appear taller and thinner? If you're tired of sewing your garments with the same old scoop neckline maybe it's time to give V-necklines a try!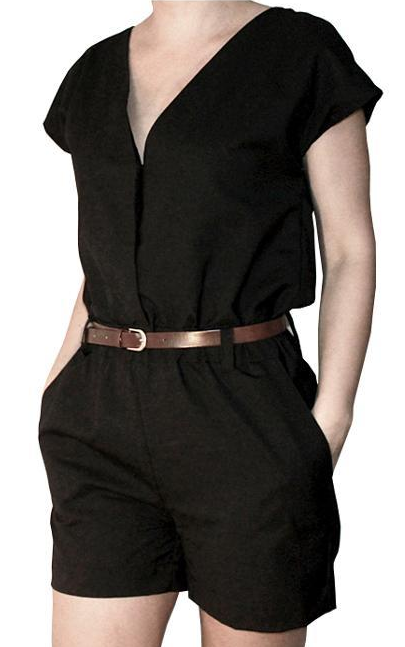 Photo via Bluprint member Salme Patterns
V-neckline with facing
First up, we have this lovely jumpsuit featuring a V-neckline with facing. It is so on trend right now because the it combines two major spring trends: V-necklines and jumpsuits! The pattern utilizes a facing to create the V-neckline, which gives the finished garment a clean, professional finish.
Tips for sewing a V-neckline facing:
Use a facing on more elegant garments like dresses and blouses.
Use interfacing on the facing, especially if you are sewing with knits.
Always clip the "V" corner closely and carefully before you turn and press the neckline.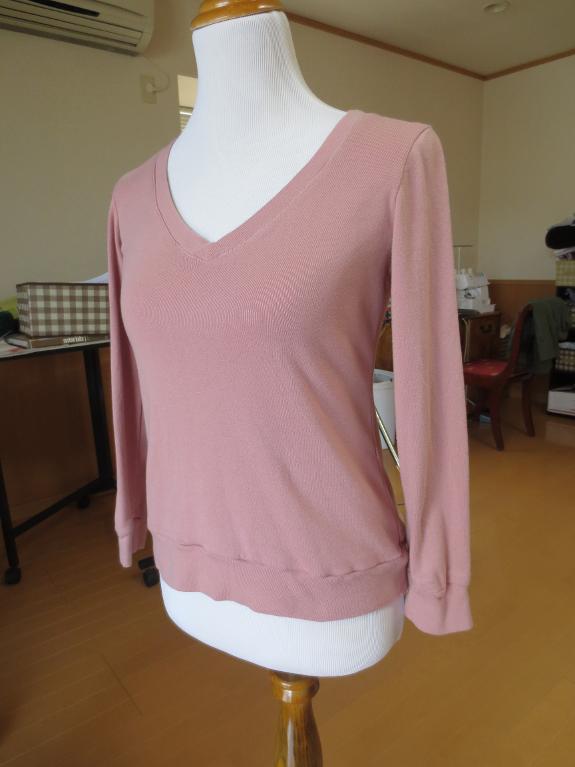 Photo via Bluprint member DatPixieGirl
Ribbed knit V-neckline
Next we have the ribbed knit V-neckline. This technique works beautifully for T-shirts and T-shirt dresses. There are two different ways to go about sewing a ribbed knit V-neck: one is the overlap (pictured above) and one is sewing right down the middle. If the garment is sporty, I would lean toward sewing the neckband down the middle, but for a more feminine or polished touch, the overlapping neckband is best.
Tips for sewing a ribbed knit V-neckline:
Use spray starch to keep the knit from stretching — take care not to stretch as you sew.
Pin every 1 inch all the way around the collar — the more pins the better.
Staystitch the "V" on the neckband before sewing it to the garment.
Photo via One Little Minute
Turning a scoop neck into a V-neckline
The last technique I'm going to show you is one that some might call a "cheater" technique but I think it's just too genius not to share. You can make a scoop neckline T-shirt into a V-neckline T-shirt by simply sewing a dart in the middle of the neckband. I love this idea because not only is it incredibly quick but it's also not permanent! This is the perfect technique to try if you just want to get your feet wet without committing to making your shirt a V-neck forever.
Tips for turning a scoop neckline into a V-neckline:
This technique works best for use with knit fabrics.
Don't cut off the excess. No one will ever see it, and you can always take it out later.
Be bold! Play around with this technique. Would you shirt look good if you made the dart bigger? What would happen if you made two darts?
[box type="shadow"]
Experimenting with different necklines might seem daunting, but it will open up a whole new world of spring wardrobe possibilities! Want more guidance? Apparel Arts founder Suzy Furrer teaches a class called Patternmaking + Design: Creative Necklines that is full of information from how to draft necklines to finishing skills. You can even learn to apply boning, something I've always wanted to learn!
[/box]
Will you be sewing any V-necklines this spring?