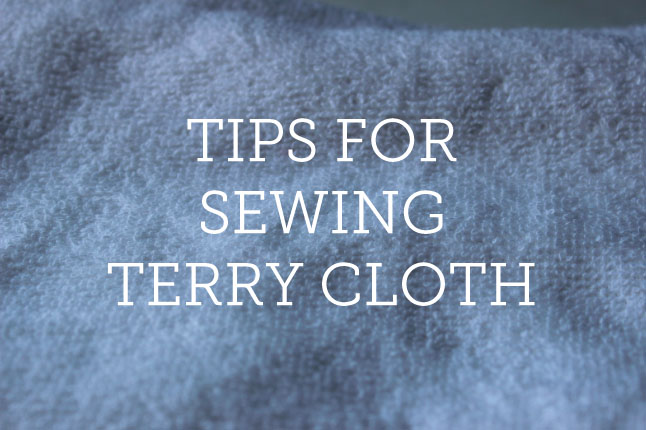 Terry cloth is a plush, absorbent fabric. While you won't be making ballgowns with it, it's the perfect choice for sewing projects designed to be near water, like a cozy bathrobe or a cute cover up to wear to the beach or pool.
You'll find terry cloth in various colors and thicknesses. Like most fabrics, terry cloth has its own quirks. Here are some sewing terry cloth tips to make your next project a success:
1. Terry cloth is messy! The fabric will shed quite a bit once you cut it because of the loops on the fabric, so be prepared. You might want to cover your work surface or keep a lint brush close by.
2. Terry cloth has a nap, so make sure you are cutting pattern pieces in the appropriate direction. When you run your hand over the fabric, one direction will feel rough and the other direction will feel smooth. The smooth direction is the nap of the fabric. The terry cloth will look different depending on if it's cut with the nap or not. You can be rebellious if you want and cut your pieces against the nap– ultimately, you just want all of the pieces to behave the same for a consistent look with your finished product.
3. Consider using a contrasting color thread on hidden seams. This is one of my favorite sewing terry cloth tips. Because of the fluffiness and the loops of the terry cloth, it can be hard to see your stitches when you use matching thread. This is no big deal until you make a mistake and need to rip out a seam. If you like the look, go ahead and use a contrasting thread on visible seams, too. Contrast stitching can be a great design element (and you'll have a much easier time correcting mistakes!).
4. Lengthen your stitch length. Terry cloth is bulky, so lengthening the stitch length is a must. Also make sure you are using a heavy-duty needle to accommodate the bulk of the terry cloth. If you are using a thinner terry cloth you might be able to get away with skipping this step, but be sure to run a test swatch first to double check.
5. Because the fabric will shed on cut edges, you'll need to pay special attention to finishing seams. All cut edges will need to be enclosed, so no quick use of pinking shears on raw edges this time. If you have a serger, you can, of course, finish the seams that way, but it's not a necessity.
Sewing terry cloth doesn't require a ton of skill or special techniques, just a bit of patience and planning for dealing with the shedding factor.
Do you have any sewing terry cloth tips? Let me know in the comments!