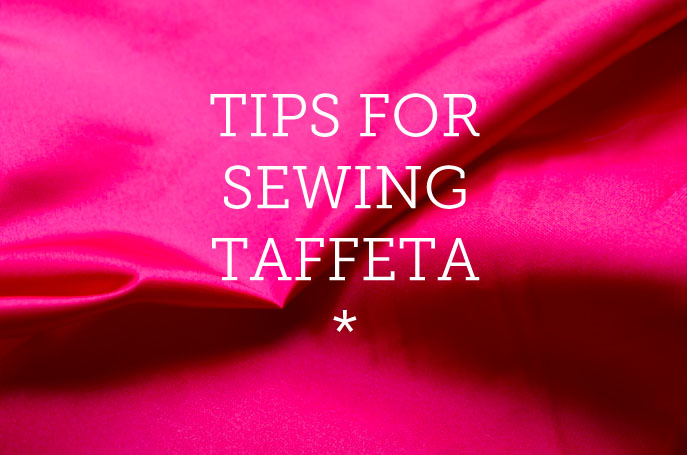 Taffeta is a luxurious fabric. Lightweight but crisp, it has a slight sheen to it and is the perfect choice for formal wear. It's also used in home decor projects. Taffeta has some qualities (delicate, slippery, prone to unraveling) that may make it a bit daunting to sewists. However, with a few sewing taffeta tips, you can face any project using this wonderful fabric without fear.
1. Don't skip the pre-wash before you begin your project. Washing will help reduce the stiffness of the fabric and make the taffeta easier to work with. Just be sure to follow the manufacturer's washing and drying instructions on the end of the fabric bolt.
2. Taffeta snags easily, so be sure to use sharp scissors and new, sharp pins. If you can, use weights instead of pins during the cutting process. And be sure to keep your pins within the seam allowance to avoid unsightly holes on your finished garment. You'll also want to make sure that it's not you snagging the fabric; it's best to remove any jewelry and take care of any callouses on your hands before working with taffeta.
3. When pressing seams, keep the iron temperature low and use a pressing cloth to avoid direct heat on the fabric. Taffeta is prone to water staining, so make sure your iron won't be spitting steam at the fabric. Your best bet, as always, is to test a few scraps first to see how your taffeta reacts to the heat of the iron.
4. Avoid using chalk or water soluble pens, for the same reason you want to avoid spitting irons. Both chalk and water soluble pens will be difficult to remove without causing water spots. Instead, use tailor's tacks instead to create any marks, or cut notches in the seam allowance.
5. Practice, practice, practice on scraps of your fabric first. If you follow one of my sewing taffeta tips, make it this one! Because the fabric is prone to holes and snags, you'll want to avoid ripping out stitches as much as possible. Adjust stitch length and tension before you really begin sewing. If you do need to rip out stitches, you can make holes less noticeable by rubbing your fingernail against it to coax the fibers back in place.
6. Taffeta has a bit of a slip to it, so it's prone to puckering seams. When sewing, be sure to hold the fabric taut as you feed in through the machine as well as at the back. Also make sure you are using a new, sharp needle. A dull one can cause holes in your fabric, in addition to puckered seams.
7. Taffeta ravels very easily, so don't skip finishing your seams. Pinking shears are quick option, but French seams, where the raw edge of the fabric is enclosed, are an especially nice touch, particularly on formal wear. Applying a light interfacing can also help control the fraying during sewing.
Have you worked with taffeta before? Do you have any sewing taffeta tips? Be sure to let me know in the comments!
You might also enjoy tips for sewing with chiffon, sewing satin, and sewing spandex. Come back to the Bluprint blog tomorrow for a free sewing pattern!