Keeping things organized in your sewing studio or space helps you have more time for the things you want to be doing: sewing, quilting and creating beautiful projects.

There are several ways to begin the task of sewing studio organization. Here are some tips I've learned along the way:

Make your space functional:
Make sure your quilting studio or sewing space is functional. Most experts recommend having cutting and pressing stations within close proximity to your sewing table. While you may not do large cutting tasks while sitting at your machine, having a way to cut and trim small pieces without having to walk across the room can save a lot of time. Having a portable ironing board and iron right next to where you sew is also another time-saver.

Use decorative storage options:
Since you have a lot of items to store in your quilting and sewing space, make the most of storage containers by making them part of the decor in your room.
Cute baskets can be used to store notions and trims.
Matching glass canisters can be used to keep storage items like buttons and threads dust-free.
Threads are colorful and as such can also be part of the decor when they are stored together.
Finally, store project ideas, fabric swatches and blocks on a decorative bulletin board — not only does this idea keep these things organized, but having them in plain sight will help you remember to work on them.

Store similar items together:
Not only is it a good idea to store threads together for decorative purposes, but there is also a practical benefit to storing similar items together. If all of your threads and bobbins are in one place, it's easy to match and find just the color you are looking for.
Binding supplies, including binding clips, thread, scissors and needles, can be stored together to make it easy to find everything and begin work on a project quickly.
Storing all of the supplies for hand-sewing projects together is a good idea, too.
Paper piecing supplies, hand appliqué essentials and embroidery projects can be collected and stored in containers so they are ready to grab and go.
Because you will surely gather different types of specialty rulers and gadgets as a quilter, keeping these items together makes it easy to find what you are looking for. Special ruler stands or pegboards can help corral rulers, and office supply caddies can be used to keep scissors and other small tools together and easily accessible.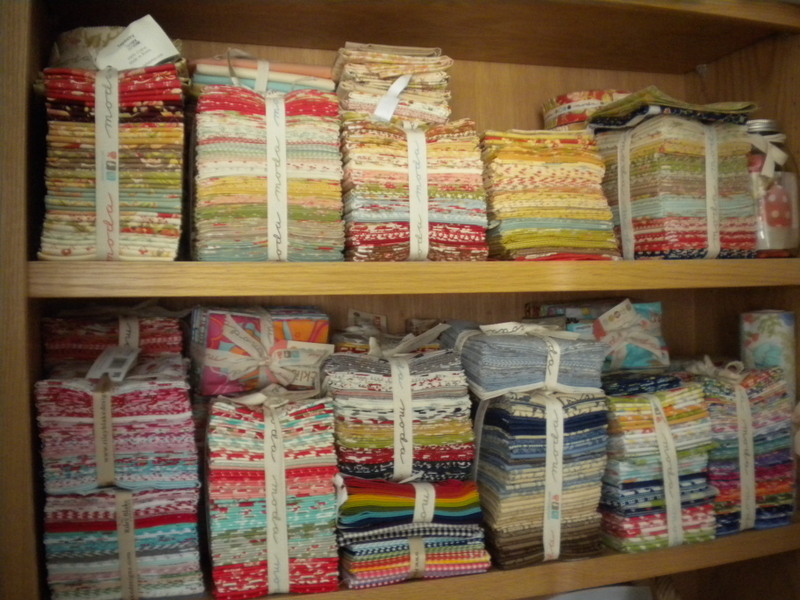 You may also enjoy our pattern storage tips and our list of our favorite quilting accessories.
Tomorrow on the Bluprint blog, we'll take a look at four different basting techniques.
What is your favorite tip for sewing studio organization?